TThe global loyalty management market was valued at USD 2101.5 million in 2017, and is expected to reach a value of USD 7448.2 million by 2023, at a CAGR of 23.3% over the forecast period (2018-2023).
Loyalty management is adopted by key companies across various industry verticals, whose primary focus is on client retention and further building of sustainable customer relationships. Moreover, high cost of customer acquisition is forcing companies to develop their own business model, focusing on client retention. The market has been driven by the need for customer centric strategies as well as the increasing number of card holders across the globe. However, the lack of awareness about loyalty programs is expected to hinder the growth of the loyalty management market.
Implementation of A Customer-Centric Approach Across Businesses
In a shift from product-centric strategies, businesses across major industry verticals are gradually shifting toward customer-centric approaches. It has been observed that, regardless of time, creating customer value and putting customers first — beyond a simple customer focus — generates the greatest and most lasting business value. As loyalty management revolves around pleasing/rewarding an organization's repeat customers, developing customer-centric strategies has become necessary to keep the customer retention rate high, thus driving the demand for loyalty management programs.
One of the examples of customer-centric companies is Amazon, which has 310 million active user accounts, as of 2016. They identify the customers who shop the most from their huge client base. These customers are rewarded as a part of the loyalty program in the form of gift cards and discounts on several products.
France To Witness Fastest Growth in the European Region
France has the lowest card penetration in Western Europe, with less than one payment card per person in circulation. However, the emergence of new channels, such as NFC payments, are expected to aid the market for loyalty management. Recently, retailers in the country have launched a pair of pilots with an NFC option, one for loyalty and the other to identify customers when customers pick up purchases after shopping online from home. Also, being the third most popular destination for cross-border online shopping and holiday destination among European countries, topped only by the United Kingdom and Germany, merchants in this region are adopting loyalty management services to attract more tourists. According to the association, Francaise du Sans Contact Mobile, approximately one million NFC-enabled handsets have been sold, and the figure was estimated at 2.5 million handsets in 2016. Major companies in this region are offering rewards or loyalty points to customers to increase the usage of NFC payments. In 2016, France's e-Commerce market reached USD 42 billion and is projected to surpass USD 56.45 billion by 2020. The number of digital buyers in the country is growing steadily, with over 30 million providing opportunities for the market players.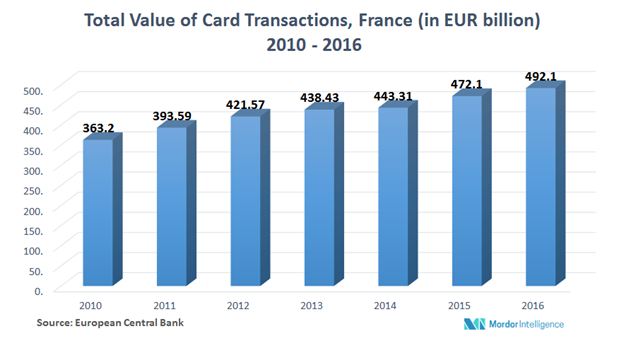 BFSI Sector to Hold a Lion's Share of the Market
In a highly competitive, complex, and dynamic banking industry, slight differences in financial services and products can matter. This, together with an increasingly demanding customer base, has led to the transformation of the industry toward adopting loyalty management solutions. Reward point programs offered by credit cards are one of the most active zones in the reward and incentive space. Loyalty management has been the stronghold for the banking industry, as vendors look to attain a high customer retention rate. It has been proven that more than 35% of the consumers believe that reward points/cashback incentives, among others, are the major factors that play vital role in influencing consumer preference while choosing among the banks for credit cards. Loyalty programs can be further enhanced through digitization. Most customers like to earn points with family and friends, but presently, only around one-fifth of the banks provide this capability. Therefore, banks can focus on providing customers with the ability to send and receive reward points using their mobile banking apps, which may further enhance consumer interest.
Key Developments in the Market
Oct 2017 – Tibco acquired Alpine Data to add collaborative project management for advanced analytics. The acquisition is expected increase the company's expertise in analytics to help customers get more out of data science and machine learning investments.
Oct 2017 – Aimia Inc. partnered with SuperValu, Ireland's leading grocery retailer, signed a multi-year contract with Musgrave, owner of SuperValu, Ireland's leading grocery retailer, to revamp its Real Rewards Program, underpinned by the Aimia Loyalty Platform.
Aug 2017 – Comrach opened its subsidiary office in Japan, which operates in IT systems for providers of telecommunications services, loyalty solutions, and products supporting customer relationship management and outsourcing services, IT infrastructure, and data center services.
Major Players: Aimia Inc., IBM Corporation, Oracle Corporation, Comarch SA, SAP SE, Epsilon Data Management LLC, Fidelity Information Services Inc., TIBCO Software, Martiz Holdings Inc., and Kobie Marketing Inc., amongst others.
Reasons to Purchase this Report
How the implementation of a customer-centric approach across businesses acts as a driver to the global market scenario?
Analyzing various perspectives of the market with the help of Porter's five forces analysis.
Which deployment and end-user vertical are expected to dominate the market?
Which regions are expected to witness the fastest growth during the forecast period?
Identify the latest developments, market shares and strategies employed by the major market players.
3-month analyst support along with the Market Estimate sheet (in excel).
Customization of the Report
This report can be customized to meet your requirements. Please connect with our analyst, who will ensure you get a report that suits your needs.
1. Introduction
1.1 Scope of the Study
1.2 Executive Summary
2. Research Scope & Methodology
3. Market Analysis
3.1 Market Overview
3.2 Porter's Five Force Analysis
3.2.1 Threat of New Entrants
3.2.2 Bargaining Power of Suppliers
3.2.3 Bargaining Power of Buyers
3.2.4 Threat of Substitute Products
3.2.5 Intensity of Competitive Rivalry
3.3 Industry Value Chain Analysis
4. Market Dynamics
4.1 Introduction
4.2 Market Drivers
4.2.1 Implementation Of A Customer-Centric Approach Across Businesses
4.2.2 Intensified Competition Increasing The Cost Of Customer Acquisition
4.2.3 Rewarding Schemes offfered by Organizations
4.3 Market Restraints
4.3.1 Lack Of Knowledge About Loyalty Program Benefits
4.4 Market Opportunities
5. Segmentation - By Type of Solution
5.1 B2C Solution
5.2 B2B Solution
5.3 Corporate
6. Segmentation By Industry Vertical
6.1 BFSI
6.2 Consumer Goods & Retail
6.3 Healthcare
6.4 IT & Telecom
6.5 Travel & Hospitality
6.6 Manufacturing
6.7 Others
7. Segmentation - By Deployment
7.1 On-premise
7.2 On-demand
8. Segmentation - By Geography
8.1 North America
8.1.1 United States
8.1.2 Canada
8.2 Europe
8.2.1 Germany
8.2.2 France
8.2.3 United Kingdom
8.2.4 Italy
8.2.5 Others
8.3 Asia-Pacific
8.3.1 China
8.3.2 India
8.3.3 Japan
8.3.4 Australia
8.3.5 Others
8.4 Latin America
8.4.1 Brazil
8.4.2 Mexico
8.4.3 Argentina
8.4.4 Others
8.5 Middle East & Africa
8.5.1 UAE
8.5.2 Saudi Arabia
8.5.3 South Africa
8.5.4 Nigeria
8.5.5 Others
9. Vendor Market Share Analysis
10. Competitive Intelligence - Key Vendor Profiles
10.1 Aimia Inc.
10.2 IBM Corporation
10.3 Oracle Corporation
10.4 Comarch SA
10.5 SAP SE
10.6 Epsilon Data Management LLC
10.7 Fidelity Information Services Inc.
10.8 TIBCO Software
10.9 Martiz Holdings Inc.
10.10 Kobie Marketing
11. Investment Analysis
12. Future of the Market