The global lithium ion energy accumulator market is expected to register a CAGR of 12.12%, over the forecast period (2018-2023). Over the last few decades, several forms of rechargeable batteries have found takers in consumer and utility scale applications. The general trend towards development of batteries with longer run times and higher energy density can be clearly witnessed in this market. New forms of lithium-ion batteries have been threatening to disrupt the energy accumulators market by offering best-in-class energy density and greater number of charge/discharge cycles.
The rising concern of global warming and the need for efficient systems lead to the introduction of electrically driven vehicles. These electrically driven vehicles are powered by batteries (thereby increasing the demand for Li-ion batteries).
Technological Advancements in Energy Storage Devices is Driving Market Growth
Electrical energy storage devices (EES) have undergone rapid transformation ever since their inception, owing to continual innovations and emergence of new technologies, which have greatly improved their capacity and retention. These devices are widely used in several applications such as portable devices, stationary energy resources, and automotive vehicles. Technological advancements in EES systems hold great potential for the future; the development of cost-effective solutions will greatly improve the deployment of renewable energy mechanisms across the world. Incremental innovations in EES systems will drive growth in the energy accumulators market over and beyond the reporting period globally.
Consumer Electronics Holds Major Share of the Market
The growing population in the urban regions is causing the demand for consumer electronic goods to increase at an exponential rate. However, the lack of awareness of the benefits of Lithium ion batteries and their high prices hamper the growth of the market. In transportation, the growing demand for hybrid/ electric vehicles is increasing greatly. These, vehicles require batteries to charge, thereby increasing the demand for Li-ion batteries. Regulations from the transport industry on the amount of lithium content to be transported are engulfing the growth aspects.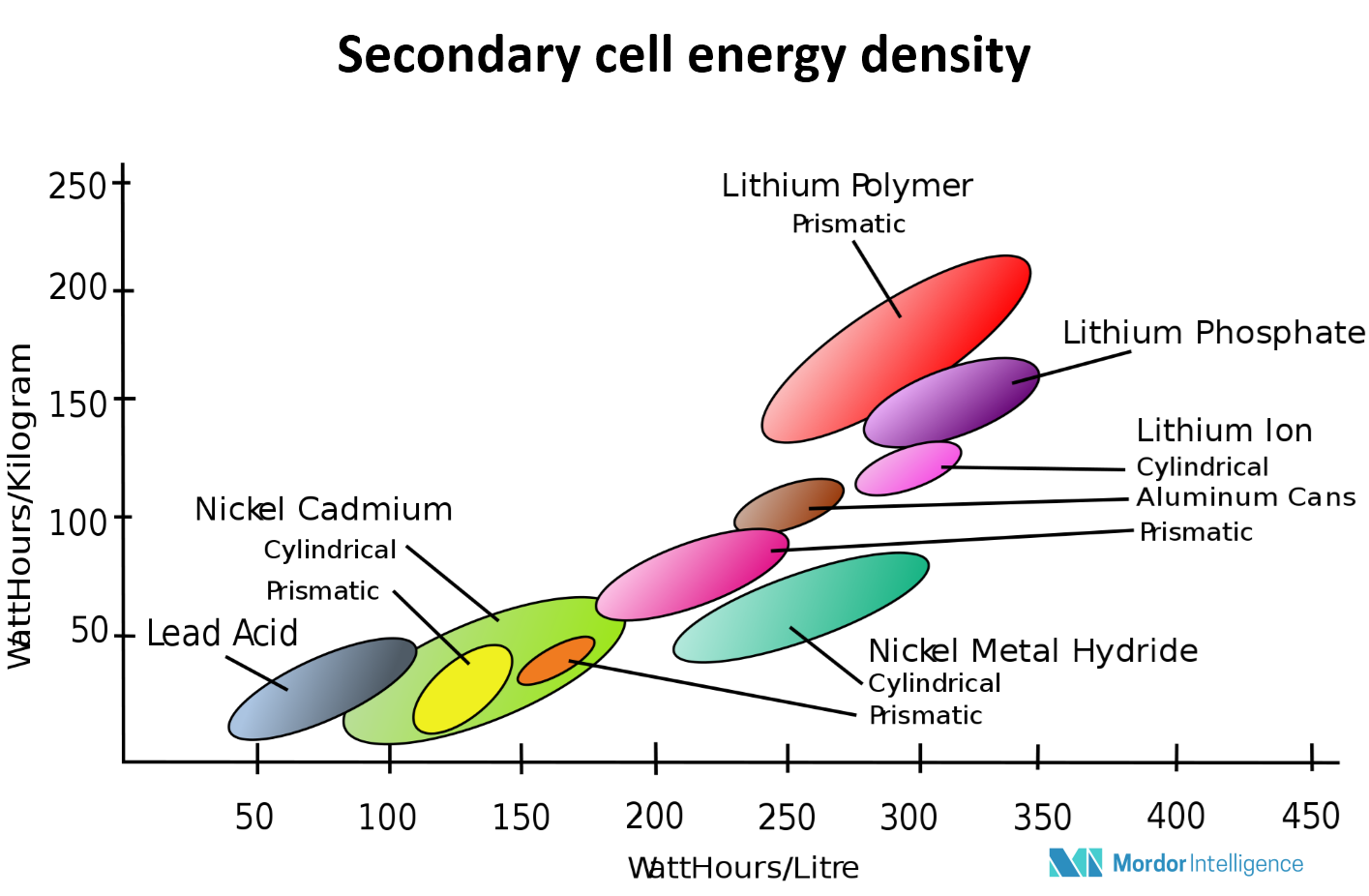 Middle East & Africa to Grow Exponentially
The Middle East & African region are late adopters of renewable energy resources. This region is richly endowed with abundant renewable resource potential. They are one of the largest benefactors of abundant sunshine and wind energy potential. Moreover, the MEA region has a vast amount of space conducive for the development of large-scale solar power plants. The renewable energy share of the overall energy consumption in the Middle East region has been pegged at less than 5% in several Middle Eastern countries. Even with the abundant resources, efficient energy storage plays an important role in proper utilization of these resources. Energy consumption in the MENA region has grown rapidly over the last few decades partly due to high economic growth and marked increase in urbanization. Regional consumption of electricity is estimated to grow at a rapid rate over the reporting period.
Key Developments in the Market
March 2018 – Panasonic Corporation began mass production of prismatic-type automotive lithium-ion batteries at its Dalian's factory, based in China.
October 2017 – Toshiba developed next-generation lithium-ion batteries with anode material. These new batteries realize the driving range of electric vehicles boosted to 320 kilometers on a 6 minute, ultra-rapid recharging (i.e., three times the distance possible with current lithium-ion batteries).
Major Players: Asahi Kasei Corp, Panasonic Corporation, Samsung SDI Co, Toshiba Corporation, Hitachi Ltd, TDK Corporation, LG Chem Ltd, Sony Corporation, China BAK Battery, Inc., and Amperex Technology Limited, among others
Reasons to Purchase the Report
Current and future lithium ion energy accumulator market analysis in the developed and emerging markets
Analyzing various perspectives of the market with the help of Porter's five forces analysis
The segment that is expected to dominate the market
Regions that are expected to witness fastest growth during the forecast period
Identify the latest developments, market shares, and strategies employed by the major market players
3 month analyst support, along with the Market Estimate sheet (in Excel).
Customization of the Report
This report can be customized to meet your requirements. Please connect with our representative, who will ensure you get a report that suits your needs.
1. Introduction
1.1 Key Deliverables of the Study
1.2 Study Assumptions
1.3 Market Definition
1.4 Key Findings of the Study
2. Research Approach and Methodology
3. Executive Summary
4. Market Insights
4.1 Market Overview
4.2 Industry Attractiveness – Porter's Five Industry Forces Analysis
4.2.1 Bargaining Power of Suppliers
4.2.2 Bargaining Power of Consumers
4.2.3 Threat of New Entrants
4.2.4 Threat of Substitute Products or Services
4.2.5 Competitive Rivalry among Existing Competitors
4.3 Industry Value Chain Analysis
5. Market Dynamics
5.1 Factors Driving the Market
5.1.1 Increased Adoption of ERP Solutions for Better Management
5.1.2 Real-time Data Analytics
5.2 Factors Restraining the Market
5.2.1 Difficulties in Customization According to Business Needs
6. Technology Snapshot
7. Global Lithium Ion Energy Accumulator Segmentation
7.1 By Application
7.1.1 Consumer Electronics
7.1.2 Transportation
7.1.3 Industrial
7.1.4 Others
7.2 By Geography
7.2.1 North America
7.2.2 Europe
7.2.3 Asia-Pacific
7.2.4 Middle East and Africa
7.2.5 Latin America
8. Competitive Intelligence – Company Profiles
8.1 Asahi Kasei Corp
8.2 Panasonic Corporation
8.3 Samsung SDI Co
8.4 Toshiba Corporation
8.5 Hitachi, Ltd
8.6 TDK Corporation
8.7 LG Chem Ltd
8.8 Sony Corporation
8.9 China BAK Battery, Inc.
8.10 Amperex Technology Limited
*List is Not Exhaustive
9. Investment Analysis
10. Outlook of the Market