The Indonesia plastics market is expected to witness a CAGR of 6.23% during the forecast period, 2018 to 2023. Polyolefins accounted for the largest share, more than 47%, in 2017 and the engineering plastics are expected to witness the fastest CAGR, during the forecast period. Plastics are products essential for general and industrial purposes.
Increasing Down-stream Processing Capacities
Indonesia depends heavily on imports for crude oil. Due to the growing population, economy, and middle-class income group, the consumption of oil in different industries is increasing in the country. PT KilangKaltim Continental, (KKC) is likely to build a modular refinery, at KIPI Maloy port and industrial park, Indonesia. Indonesia's state- owned energy company, Pertamina, is expanding the Balikpapan refinery, and plans to increase its capacity by 260,000-b/d, by the end of the year, 2020. With such a rapid increase in the down-stream processing and increase in production of oil in the country, Indonesia's refining capacity is expected to go up at healthy pace, in next 10-12 years. Thus, the increase in down-stream processing capacity additions is expected to drive the plastics market in Indonesia.
Packaging Industry to Dominate the Market
Packaging accounts for the largest application segment in the Indonesian plastics market. Plastics are primarily transparent, flexible, lightweight, and durable. They provide resistance to corrosion, chemicals, and water; have low electrical and thermal conductivity, and low toxicity. They are also easy to manufacture, and are comparatively lower in cost. The increasing demand for plastics is also fueled by the food & beverage industry, The plastic is used for various packaging applications, such as, for bottles, cups, bulk containers, pails, plastic pots, trays, returnable transit packaging, and various others applications; as it is safe and hygienic, and helps in the preservation and conservation of food. The barrier property of plastics helps to preserve the natural taste of food, while preventing external contamination.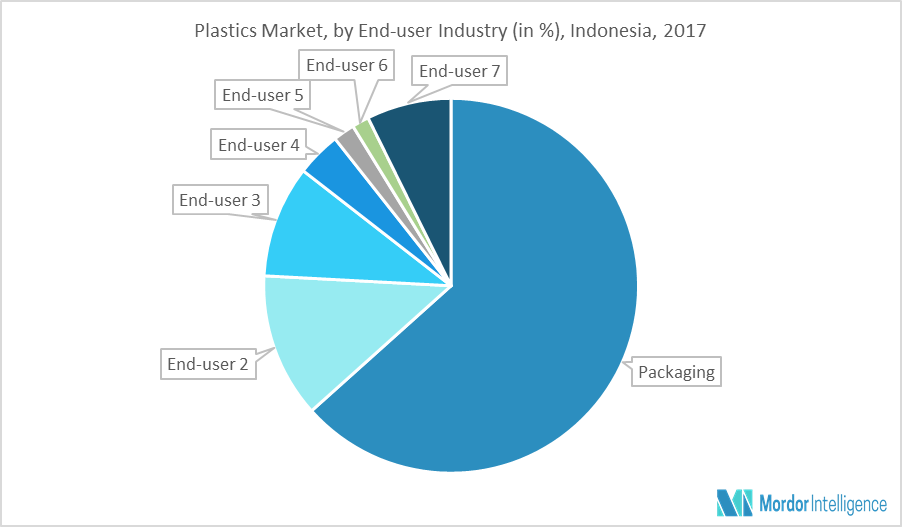 Major Players: Pertamina, PT Chandra Asri Petrochemical Tbk, PT Lotte Chemical Titan Tbk, Toray Industries, Inc., Lyondell Basell Industries Holdings BV, Polychem Indonesia Tbk, PT Asahimas Chemical, and PTT Global Chemical Public Company Limited among others.
Reasons to Purchase the Report
Analyzing various perspectives of the market with the help of Porter's five forces analysis
The segment that is expected to dominate the market
End-user segments that are expected to witness fastest growth during the forecast period
Identify the latest developments, market shares, and strategies employed by the major market players
3 months analyst support, along with the Market Estimate sheet (in excel).
Customization of the Report
This report can be customized to meet your requirements. Please connect with our representative, who will ensure you to get a report that suits your needs.
1. Introduction
1.1 Research Phases
1.2 Study Deliverables
1.3 Scope of the Report
2. Executive Summary
3. Market Insights
3.1 Industry Value Chain Analysis
3.2 Industry Attractiveness – Porter's Five Force Analysis
3.2.1 Bargaining Power of Suppliers
3.2.2 Bargaining Power of Buyers
3.2.3 Threat of New Entrants
3.2.4 Threat of Substitute Products and Services
3.2.5 Degree of Competition within the Industry
3.3 PESTEL Analysis
3.4 Imports and Exports
3.5 Machinery and Technology
3.6 Government Plans & Policies
3.7 Macroeconomic Factors
4. Market Dynamics
4.1 Drivers
4.1.1 Rapid Increase in the Downstream Processing Capacity Additions
4.1.2 Growing Demand from the End-user Industries
4.1.3 Government Policies
4.2 Restraints
4.2.1 Reliance on the Imports of Raw Materials
4.2.2 Hazardous In Nature
4.3 Opportunities
4.3.1 Eco-friendly Products
5. Market Segmentation and Analysis (Market Size, Growth, and Forecast)
5.1 By Type
5.1.1 Engineering Plastics
5.1.2 Polyethylene Terephthalate
5.1.3 Polyolefins
5.1.4 Polystyrene
5.1.5 Polyurethane
5.1.6 Polyvinyl Chloride
5.1.7 Elastomers
5.1.8 Epoxy Resin
5.1.9 Expanded Polystyrene
5.1.10 Fluoropolymers
5.1.11 Bioplastics
5.1.12 Thermosetting Plastics
5.1.13 Thermoplastics
5.2 By Technology
5.2.1 Injection Molding
5.2.2 Extrusion Molding
5.2.3 Blow Molding
5.2.4 Others
5.3 By Application
5.3.1 Packaging
5.3.2 Building & Construction
5.3.3 Automotive & Transportation
5.3.4 Electrical & Electronics
5.3.5 Furniture & Bedding
5.3.6 Household
5.3.7 Films & Sheets
5.3.8 Pipes & Fittings
5.3.9 Tarpaulin
5.3.10 Other Industries
6. Competitive Landscape
6.1 Mergers & Acquisitions, Joint Ventures, Collaborations, and Agreements
6.2 Market Share Analysis**
6.3 Strategies Adopted by Leading Players
7. Distribution Channels
7.1 Distribution Channel Structure and Plastic Product Circulation
7.2 Plastic Consumption Allocations in the Distribution Channel
7.3 Sale and Promotion Policies
8. Demand For Household Plastic Products (B2C)
8.1 Fulfilled Demand and Unfulfilled Demand For Plastic Product
8.2 Opportunities and Threats For Foreign Investor/Exporter
9. Demand For PET Preform (B2B)
9.1 Fulfilled and Unfulfilled Demand
9.2 Opportunities and Threats for Foreign Investor/Exporter
10. Demand For Industrial Plastic Product
10.1 Fulfilled and Unfulfilled Demand for Pallets, Trays, and Plastic Bottle Cases
10.2 Opportunities and Threats for Foreign Investor/Exporter
11. Future Of the Indonesia Plastic Industry
12. Company Profiles (Overview, Financials**, Products & Services, and Recent Developments)
12.1 Asahimas Chemical
12.2 BASF SE
12.3 Banshu Plastic
12.4 Lotte Titan Chemicals
12.5 Pt. Indonesia Nan Ya Indah Plastic Corporation
12.6 Pertamina
12.7 Polychem Indonesia Tbk
12.8 Premier Global Partners
12.9 Pt Chandra Asri Petrochemical Tbk (Tpia)
12.10 Lyondellbasell
12.11 Pt Standard Toyo Polymer (Tosoh Corporation)
12.12 Pt Sulfindo Adiusaha
12.13 Ptt Global Chemical Public Company Limited
12.14 Pt Solvay Chemicals
12.15 Toray Industries, Inc.
12.16 Trans Pacific Petrochemical Indotama (Tppi)
*List Not Exhaustive
13. Disclaimer
**Subject to Availability on Public Domain