Market Snapshot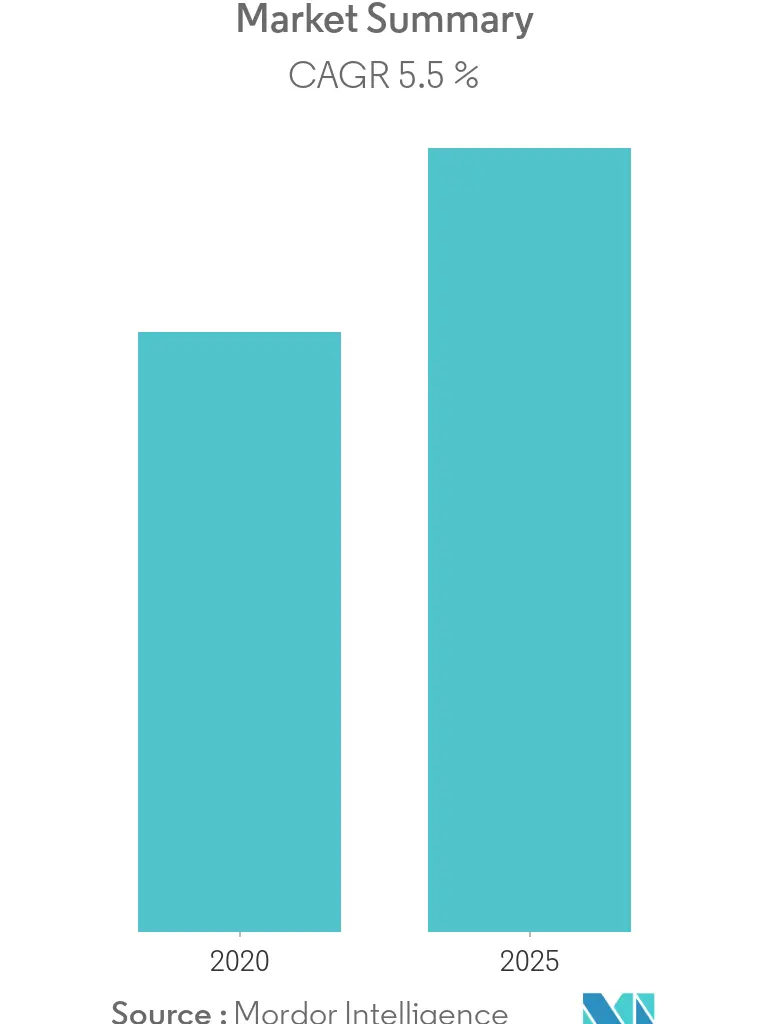 Study Period:
2016 - 2026
Base Year:
2021
CAGR:
5.5 %
Need a report that reflects how COVID-19 has impacted this market and its growth?
Market Overview
The market for Commercial Construction in Indonesia is estimated to be valued at more than USD XX billion and is estimated to grow at a CAGR of more than 5.5% during the forecast period.
Indonesia's Construction sector is expected to grow at a rapid pace over the forecast period, not being affected much, except short term disruption due to Coronavirus outbreak. Upgrade of commercial infrastructure is anticipated, after retention of the position by the Joko Widodo as the president, in 2019, and increasing cross border investments as part of the Belt and Road Initiative (BRI) from China, implementation of the 2030 Sustainable development Goals, Indonesia's Infrastructure plan and the increasing demographic interest towards modern commercial built environment, though, short term hefty losses worth several trillion USD, might result due to the regulation of cross border traffic from China to prevent spread of the novel COVID-19.
The National Medium-Term Development Plan, 202-24, has prime focus on the development of infrastructure across the country and commercial construction is set to rise further as a part of the plan and the increasing public as well as private investments. But, increasing the skill set as per the state-of -the art technologies are a challenge for the small-scale private competitors as state owned enterprises are getting the desired funding and development opportunities. This has made finding private partner in the PPP models challenging due to unhealthy competition thriving.
Investments worth 400 Billion USD have been floated into the infrastructure pipeline, as against a similar 350 Billion USD in the previous infrastructure plan by the Joko Government. Keeping in mind the low rank in terms of infrastructure in the WEF Global Competitiveness Index, 2019 (50th), this investment reflects the intent of the Govt to elevate the infrastructure setup in the country.
Scope of the Report
A complete background analysis of the Indonesia Commercial Construction market, which includes an assessment of the economy, market overview, market size estimation for key segments, and emerging trends in the market, market dynamics, and key company profiles are covered in the report.
Key Market Trends
Co-working Space, Retail Space and Hospitality space driving growth in the sector.
Despite relatively low office space market in Indonesia, coworking spaces have shown a steep rise in every part of the country, especially in the Centre of Business, Jakarta. Increased number of startups, facing unpredictability, primarily in the capital region, along with increased SMEs and overseas businesses, are responsible for the growth in demand. Leasing out optimum amount of space as per requirement, low cost due to sharing of lease money and readily available services like Wi-Fi, cleaning, meeting space, pantry etc. have favored the rise in Coworking space market. 2019 was marked by decrease in office supply, though the net share of Grade A office space was prominent and maintained, and the supply was majorly in the Central, and South Jakarta, with negligible new office space in other regions. Demand on the other hand was proportioned unequally among ITes Companies and Construction based companies, besides maximum office space being developer occupied. Office rentals decreased in 2019 and is expected to be going further down due to decrease in revenue of all the sectors, culprit being COVID-19. Agung Sedayu Group, Loka Mampang Indah Realty, Mardhika Artha Upaya, Ciputra Residence, Graha Kartika Anugrah, Ciputra Group, Waskita Realty & RNI Group, and Hutama Karya are some of the developers of office space active during 2019-20, in Indonesia. But, despite fluctuations, office market is tending growth post COVID breakout with huge investments coming in as part of the Infrastructure plan.
As per the Kearney Global Retail Development Index, 2019, Indonesia has been ranked 5th most attractive in the retail sector. This is primarily because of the increasing inclination of urban population towards retail and heavy investments from the private players in the commercial space construction. Furthermore, educational institutions, food and beverage outlets, fashion retailers have gradually increased the retails office absorption, as against the departmental stores dominant previously. Also, the hotel segment is fast becoming a major growth driver for private contractors, with Jakarta standing as one of the world's largest hotel construction markets, driven by rising foreign visitor arrivals and the growing business travel segment.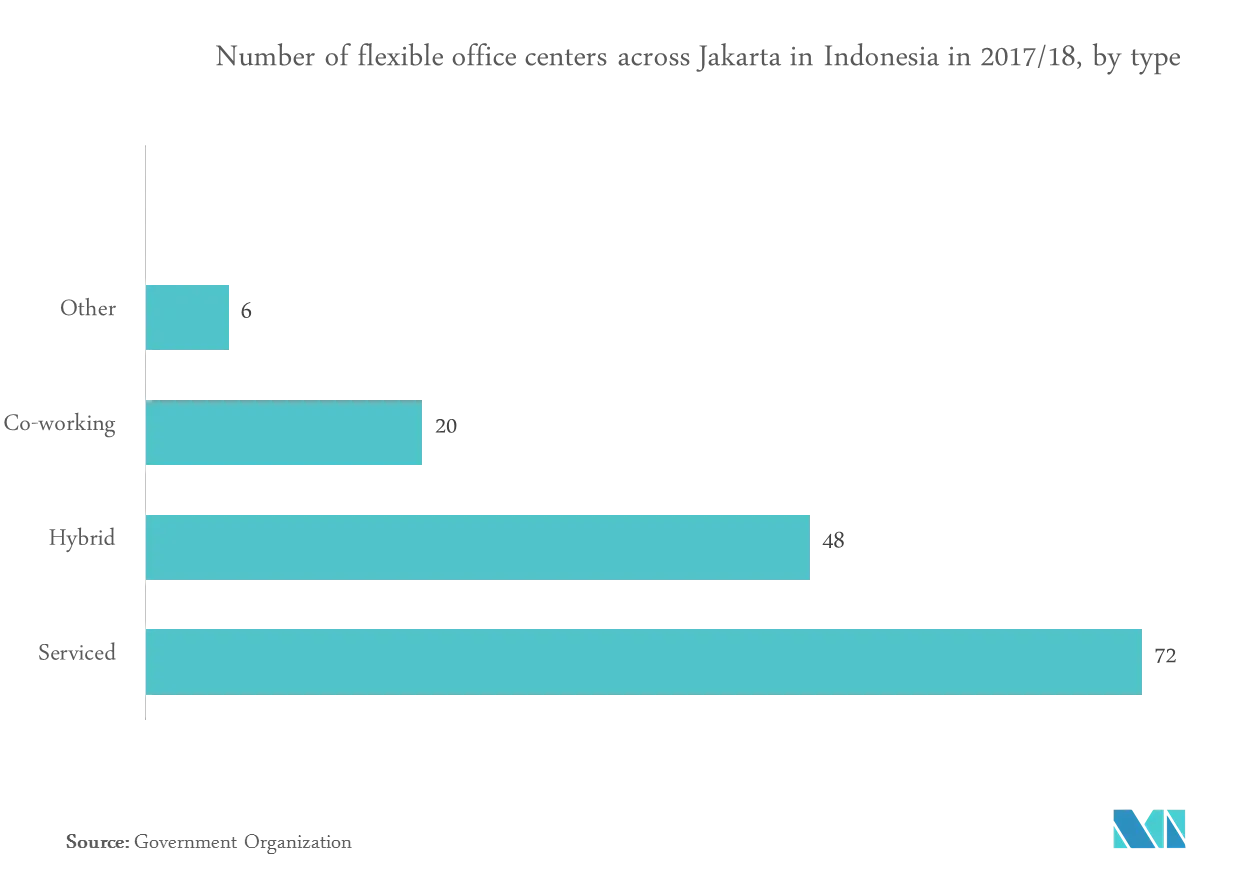 To understand key trends, Download Sample Report
Investment flow due to increased Government interest and foreign investment due to high attractiveness of the Indonesian Commercial Sector.
As per the World Economic Forum (WEF), Global Competitiveness Report, based on parameters including infrastructure, Indonesia lies at 50th, in 2019-20 as compared to 62nd in 2016-17, out of total 140 economies. Though there is a little bit of an improvement, but Indonesia still lies at a very low rank in terms of infrastructure of the country. The increasing attractiveness of the Indonesia commercial space is very visible from the fact that a Warbug Pincus backed retail real estate venture, Nirvana Wastu Pratama, better known as NWP Retail in Indonesia announced 2019's largest shopping Centre acquisition, buying a set of 5 malls for approximately 123.5 Million USD, adding nearly 185,000 square metres of retail space to the company's portfolio, expanding the platform to 1.2 million square metres of gross floor area (including projects still in progress).
In the wake of pro-business reforms and commitments pertaining to infrastructure development, some of the largest retailers have been investing and expanding their portfolio in the Indonesian Commercial Construction Market. The liberalization of the regulations by the government has brought decreased levels of risk and has increased the investors penetration into the market. Today, Indonesia is home to a mix of modern and traditional retail outlets, with an exponential increase in e-commerce activity, which is both advancing the growth of the modern retail sector and creating new opportunities for entrepreneurs.
Due to key regulatory changes, after a deep plunge from 1383.6 Million USD, in 2014, to 186.9 Million USD in 2016, investment is on the rise, and has reached 248.1Million USD in 2018, in the construction sector. Hence, the increase in investment as part of the Govt. Plans and increased private entrepreneur's interest is a key necessity in the current mixed market scenario, though commercial construction market shows a rise with variations over the forecast period.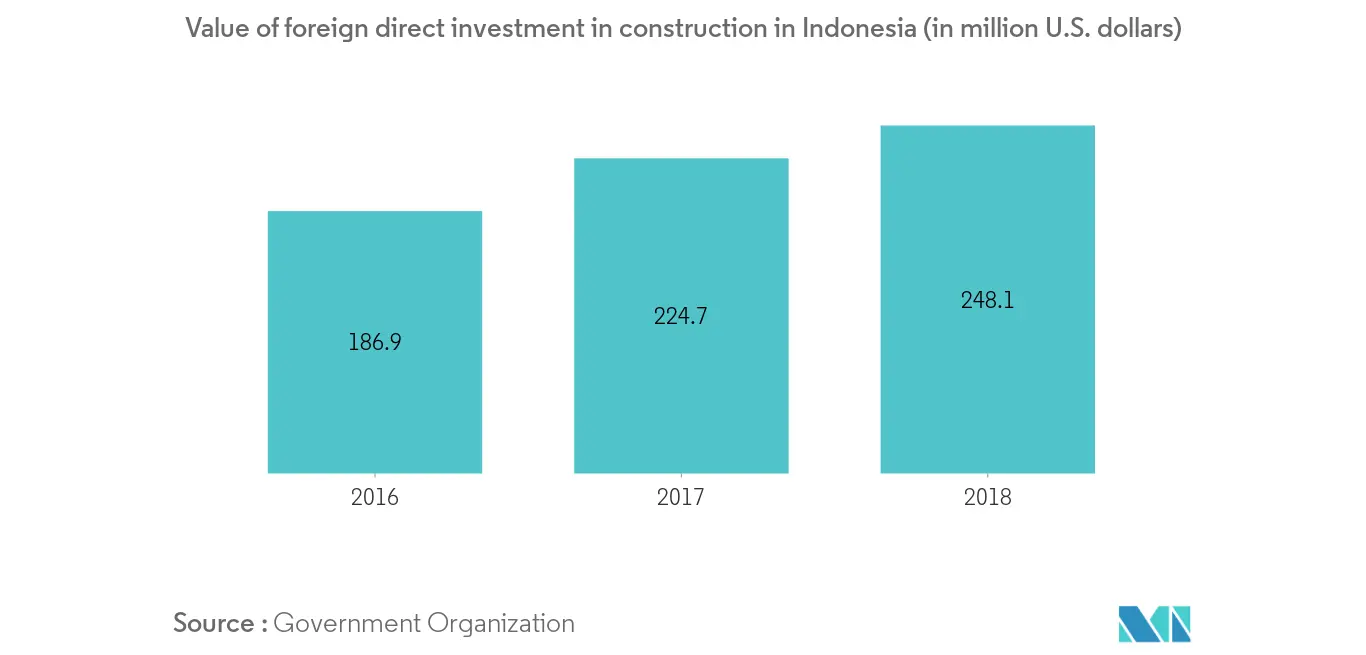 Competitive Landscape
The Indonesia commercial construction market is not very competitive, due to the imbalance between the public and private competitors in terms of funding and opportunities to improve the skillset in order to match the state-of-the art technology. Still, the market opens opportunities for small and medium players due to increasing govt investments in the sector. The Indonesian construction market presents opportunities for growth during the forecast period, which is expected to drive market competition.
A few key players in the market include PT Pembangunan Perumahan (PTPP) (Persero) Tbk, PT Wijaya Karya Bangunan Gedung Tbk, PT. Metropolitan Land TBK, PT. Total Bangun Persada TBK, PT. Nusa Raya Cipta, PT. Shimizu Bangun Cipta Kontraktor and PT. Tunas Jaya Sanur. Most of the companies manage several portfolios and commercial sector form a genuine share in the gross revenue. With the increasing investment by foreign players as a result of the ease in regulations forced by the Govt. recently, competition seems to be becoming fair over the forecast period.
Table of Contents
1. INTRODUCTION

1.1 Study Assumptions

1.2 Scope of the Study

2. RESEARCH METHODOLOGY

2.1 Analysis Methodology

2.2 Research Phases

3. EXECUTIVE SUMMARY

4. MARKET INSIGHTS

4.1 Current Market Scenario

4.2 Technological Trends

4.3 Government Regulations

4.4 Value Chain / Supply Chain Analysis

4.5 Overview of Commercial Construction Market in Indonesia

4.6 Brief on Construction Costs (average cost, office and retail space, per sq feet)

4.7 Insights into the newly office space completions (sq. feet)

4.8 Impact of COVID-19 on Indonesian Commercial Construction Market (Analyst View)

5. MARKET DYNAMICS

5.1 Drivers

5.2 Restraints

5.3 Opportunities

5.4 Industry Attractiveness - Porter's Five Forces Analysis

5.4.1 Bargaining Power of Suppliers

5.4.2 Bargaining Power of Consumers

5.4.3 Threat of New Entrants

5.4.4 Threat of Substitutes

5.4.5 Intensity of Competitive Rivalry

6. MARKET SEGMENTATION

6.1 By End Use

6.1.1 Office Building Construction

6.1.2 Retail Construction

6.1.3 Hospitality Construction

6.1.4 Institutional Construction

6.1.5 Others

7. COMPETITIVE LANDSCAPE

7.1 Market Concentration Overview

7.2 Company Profiles

7.2.1 PT Pembangunan Perumahan (PTPP) (Persero) Tbk

7.2.2 PT Wijaya Karya Bangunan Gedung Tbk

7.2.3 PT. Metropolitan Land TBK

7.2.4 PT. Total Bangun Persada TBK

7.2.5 PT. Nusa Raya Cipta

7.2.6 PT. Shimizu Bangun Cipta Kontraktor

7.2.7 PT. Tunas Jaya Sanur

7.2.8 The Mulia Group

7.2.9 PT. Tatamulia Nusantara Indah

7.2.10 PT. Takenaka

8. MARKET OPPORTUNITIES AND FUTURE TRENDS

9. APPENDIX

9.1 Macroeconomic Indicators (GDP Distribution by Activity, Contribution of Commercial Construction to economy)

9.2 Insights on Capital Flows (investments in Commercial Construction Sector)
You can also purchase parts of this report. Do you want to check out a section wise price list?
Frequently Asked Questions
What is the study period of this market?
The Indonesia Commercial Construction Market - Growth, Trends, Forecasts (2020 - 2025) market is studied from 2016 - 2026.
What is the growth rate of Indonesia Commercial Construction Market - Growth, Trends, Forecasts (2020 - 2025)?
The Indonesia Commercial Construction Market - Growth, Trends, Forecasts (2020 - 2025) is growing at a CAGR of 5.5% over the next 5 years.
Who are the key players in Indonesia Commercial Construction Market - Growth, Trends, Forecasts (2020 - 2025)?
PT Pembangunan Perumahan (PTPP) (Persero) Tbk, PT Wijaya Karya Bangunan Gedung Tbk, PT. METROPOLITAN LAND TBK, PT. TOTAL BANGUN PERSADA TBK , PT. NUSA RAYA CIPTA , PT. SHIMIZU BANGUN CIPTA KONTRAKTOR , PT. Tunas Jaya Sanur , The Mulia Group , PT. TATAMULIA NUSANTARA INDAH , PT. TAKENAKA are the major companies operating in Indonesia Commercial Construction Market - Growth, Trends, Forecasts (2020 - 2025).
80%

of our clients seek made-to-order reports. How do you want us to tailor yours?