The global high-throughput screening market is expected to register a CAGR of 7.8% during the forecast period (2018 - 2023). North America dominates the market, owing to large spending on pharmaceutical R&D and high adoption of high-throughput screening technology, in drug discovery.
Open Access to High-Throughput Screening Laboratories
The HTS centers in public domain have increased significantly over the past decade, ranging in size, from modestly-equipped academic screening centers, to well-endowed Molecular Libraries Probe Centers Network (MLPCN). These centers facilitate a comprehensive approach to probe discovery in academia, and utilize both classical and innovative assay technologies for executing primary and secondary screening campaigns. One of the major advantages of these centers was knowledge sharing among scientists, researchers, etc. In European countries, EU-Open-Screen, European counterpart of US NIH initiatives, is also working to get open access to all European organizations involved in chemical biology. Additionally, association of HTS centers is also emerging, which is aimed at sharing valuable information about the compound or target, or the whole process. The open access provide better platform for knowledge sharing, and can help optimize the entire process, which will drive the demand for HTS technology, among the end users.
Need for Extensive Automation Techniques
HTS systems allow tens of thousands or even hundreds of thousands of compounds to be evaluated in a single day. As the throughput increases, the amount of data for each experiment increases, and scientists analyze and derive results from large amounts of data. The need for these extensive automation techniques, is having a negative impact on the high-throughput market, since automation incurs heavy costs for machinery, and a huge one-time investment, which are roadblocks for small and moderate-sized research institutes, and new players that enter the market.
North America to Dominate the Market
North America dominates the global high-throughput screening market, owing to high adoption rate of HTS in the United States. The growth of the US high-throughput screening market can be attributed to the significant advances in combinatorial chemistry and in the field of genomics. In addition, huge investments by the pharmaceutical industry, for HTS technologies in terms of automation, miniaturization, and assay methodology, have further helped in the growth of the market. Furthermore, the end-users of this market have witnessed increasing numbers of leads, clinical candidates, and marketed drugs, arising from high-throughput screening.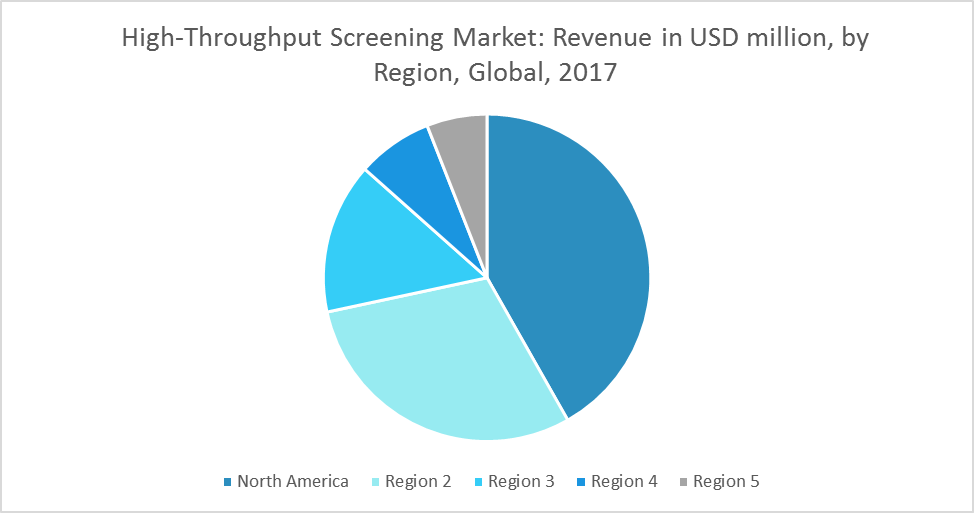 Key Developments in the Market
Major Players: Agilent Technologies Inc., Axxam SpA, Beckman Coulter Inc., Bio-Rad Laboratories Inc., Danaher Corporation, GE Healthcare, Merck Millipore, PerkinElmer, Inc., Tecan Group Ltd , and Thermo Fisher Scientific Inc.
Reasons to Purchase the Report
Current and future market outlook for global high-throughput screening, in the developed and emerging markets
Analyse various perspectives on the market, with the help of Porter's five forces analysis
The segment that is expected to dominate the market
Regions that are expected to witness the fastest growth, during the forecast period
Identify the latest developments, market shares, and strategies employed by the major market players
3-month analyst support, along with the market estimate sheet (in excel)
Customization of the Report
This report can be customized to meet your requirements. Please connect with our representative, who will ensure you get a report that suits your needs.
1. Introduction
1.1 Market Definition
2. Research Methodology
3. Executive Summary
4. Key Inferences
5. Market Overview
5.1 Current Market Scenario
5.2 Porter's Five Forces Analysis
5.2.1 Bargaining Power of Suppliers
5.2.2 Bargaining Power of Consumers
5.2.3 Threat of New Entrants
5.2.4 Threat of Substitute Products and Services
5.2.5 Competitive Rivalry within the Industry
6. Drivers, Restraints, Opportunities, and Challenges Analysis (DROC)
6.1 Market Drivers
6.1.1 Open Access to High-throughput Screening Laboratories
6.1.2 Technological Advancements in HTS
6.1.3 Increasing Usage in Universities and Research Centers
6.2 Market Restraints
6.2.1 High Capital Investment
6.2.2 Need for Extensive Automation Techniques
6.3 Opportunities
6.4 Key Challenges
7. Market Segmentation
7.1 By Technology
7.1.1 Ultra High-throughput Screening
7.1.2 Cell-Based Assays
7.1.3 Lab-On-A-Chip
7.1.4 Label-Free Technology
7.2 By Applications
7.2.1 Target Identification
7.2.2 Primary Screening
7.2.3 Toxicology
7.3 By Products & Services
7.3.1 Instruments
7.3.2 Reagents and Kits
7.3.3 Services
7.4 By End-users
7.4.1 Pharmaceutical and Biotechnology
7.4.2 Academia and Research Institutes
7.4.3 Contract Research Organization
7.5 By Geography
7.5.1 North America
7.5.1.1 United States
7.5.1.2 Canada
7.5.1.3 Mexico
7.5.2 Europe
7.5.2.1 France
7.5.2.2 Germany
7.5.2.3 United Kingdom
7.5.2.4 Italy
7.5.2.5 Spain
7.5.2.6 Rest Of Europe
7.5.3 Asia-Pacific
7.5.3.1 China
7.5.3.2 Japan
7.5.3.3 India
7.5.3.4 Australia
7.5.3.5 New Zealand
7.5.3.6 South Korea
7.5.3.7 Rest of Asia-Pacific
7.5.4 Middle East & Africa
7.5.4.1 GCC
7.5.4.2 South Africa
7.5.4.3 Rest of Middle East & Africa
7.5.5 South America
7.5.5.1 Brazil
7.5.5.2 Argentina
7.5.5.3 Rest of South America
8. Competitive Landscape
8.1 Mergers and Acquisition Analysis
8.2 Agreements, Collaborations, and Partnerships
8.3 New Product Launches
9. Key Players
9.1 Agilent Technologies Inc.
9.2 Axxam SpA
9.3 Beckman Coulter Inc.
9.4 Bio-Rad Laboratories Inc.
9.5 Danaher Corporation
9.6 GE Healthcare
9.7 Merck Millipore
9.8 PerkinElmer Inc.
9.9 Tecan Group Ltd
9.10 Thermo Fisher Scientific Inc.
9.11 Others
10. Future of the Market