The global pet food nutraceutical market is estimated to register a CAGR of 6.34% to reach a value of USD 8.25 billion by 2023. Owing to a surging population of aged pets and the growing acceptance for supplements by the veterinary community, the global pet food nutraceutical market is estimated to grow in the forecast period. Increasing use of nutritional supplements by pet owners as an alternative to veterinary visits is expected to drive the entire pet supplements segment, followed by therapeutic foods. The market sees huge potential in the form of natural and organic-based pet foods, and pet recalls, due to cases of contamination. This is expected to result in pet manufacturers strengthening their raw material sourcing practices and focusing more on good manufacturing practices (GMP) and labeling requirements to gain customer's trust.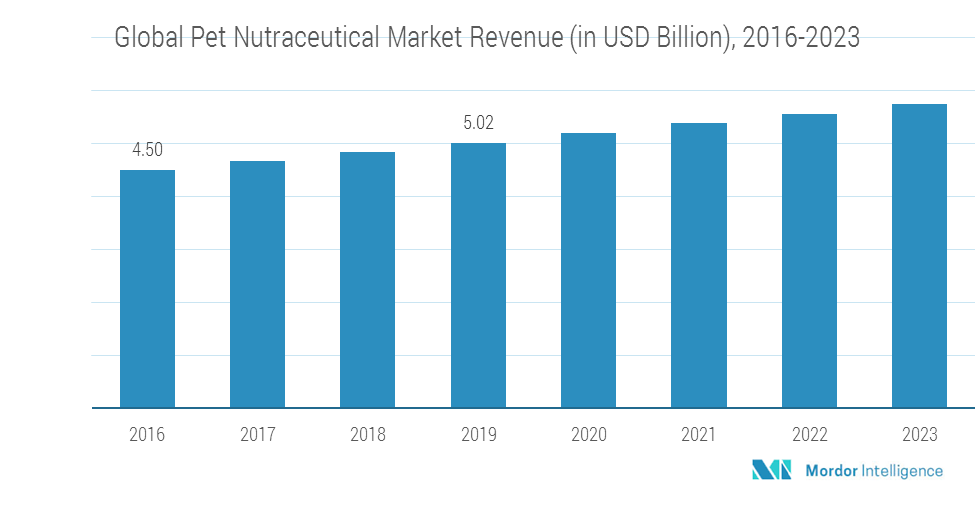 Brand value enhancement in emerging markets and customer preference for reputed brands are driving the market
Multinational players have more resources to invest in new product development and marketing. These brands are building their presence in emerging markets through increased marketing expenditure and campaigns, focusing on the credibility of their products for pet nutrition, as compared to cheaper competitor products. Strengthened consumer preference for foreign brands in the emerging countries of South East Asia, especially, India, which is the fastest growing market for functional pet food, has encouraged manufacturers from North America to take a stride in that direction. Companies are building on their brand equity in these countries through partnerships and mergers & acquisitions of small players. The market for private label brands continues to pose a threat to the presence of major brands. However, pet food recalls are continuing to trade down on the scaling up of private labels.
North America to Dominate the Market Growth
North America, Europe, Asia-Pacific, South America and Africa are the geographical regions considered in this study. North America dominates the market, while Asia-Pacific is estimated to be the fastest growing segment. The growth in the North American region is largely contributed to affluence trends, where an increased concern toward pet health is shaping the market. Surging disposable income and urbanization have resulted in declining birth rates, a rise in divorce rates, and an increase in single household families. The emerging countries of Latin America, Asia-Pacific and Northern Africa are largely driven by westernization, which is resulting in increased pet adoption in these countries.
Key Developments in the Market
November 2017: Creso Pharma has clinched a major milestone with the commercial launch of its first animal health product in Switzerland and Lichtenstein.
March 2017: Mars Inc. to invest USD 70 million in the United States manufacturing for improving its work efficiency.
March 2017: Mars partnered with Field To Market to find sustainable solutions, which will help in making meaningful changes throughout multiple raw materials, which are important to business.
Major Key Players: Kemin, DuPont, NUTRACEUTICALS INTERNATIONAL LLC, and ARCHER DANIELS MIDLAND, among others.
Reasons to Purchase the Report
Study on the adoption of electric and hybrid vehicles in the country and its effects on the automotive industry of the country.
Analyzing various perspectives of the market with the help of Porter's Five Forces Analysis.
Study on the type of vehicle expected to dominate the market during the forecast period.
Study on the region expected to witness the fastest growth during the forecast period.
Identify the latest developments, market shares and strategies employed by the major market players.
3-month analyst support along with the Market Estimate sheet (in Excel).
Customization of the Report
This report can be customized to meet your requirements. Please connect with our representative, who will ensure you get a report that suits your needs.
1. Introduction
1.1 Study Deliverables
1.2 General Study Assumptions
2. Research Methodology
2.1 Introduction
2.2 Analysis Methodology
2.3 Study Phases
2.4 Econometric Modelling
3. Executive Summary
4. Market Overview and Trends
4.1 Introduction
4.2 Market Trends
4.3 Porter's Five Forces Framework
4.3.1 Bargaining Power of Suppliers
4.3.2 Bargaining Power of Consumers
4.3.3 Threat of New Entrants
4.3.4 Threat of Substitute Products and Services
4.3.5 Competitive Rivalry within the Industry
5. Market Dynamics
5.1 Drivers
5.1.1 Increasing Number of People Adopting Pets
5.1.2 Rapid Urbanization
5.2 Restraints
5.2.1 Regulatory Bodies & Stringent Regulations
5.2.2 Lack of Recognition of Pet Food in Under-developed Countries Due to Low Incomes
5.3 Opportunities
5.3.1 Retail Grocery Chains Dominating Distribution & Marketing Space
6. Global Pet Food Nutraceutical Market Segmentation, by Pet Type
6.1 Dogs
6.2 Cats
6.3 Birds
6.4 Fish
6.5 Others
7. Global Pet Food Nutraceutical Market Segmentation, by Function Type
7.1 Nutrition/Therapeutic
7.2 Supplements
8. Global Pet Food Nutraceutical Market Segmentation, by Ingredient Type
8.1 Milk Bio-actives
8.2 Omega-3 Fatty Acids
8.3 Probiotics
8.4 Proteins and Peptides
8.5 Dietary Fiber
8.6 Others
9. Global Pet Food Nutraceutical Market Segmentation, by Region
9.1 North America
9.1.1 United States
9.1.2 Canada
9.1.3 Rest of North America
9.2 Asia-Pacific
9.2.1 China
9.2.2 Japan
9.2.3 India
9.2.4 Rest of Asia-Pacific
9.3 Europe
9.3.1 United Kingdom
9.3.2 Germany
9.3.3 France
9.3.4 Russia
9.3.5 Rest of Europe
9.4 Rest of the World
9.4.1 Brazil
9.4.2 South Africa
9.4.3 Others
10. Competitive Landscape and Introduction
10.1 Introduction
10.2 Market Share Analysis
10.3 Developments of Key Players
11. Key Vendor Analysis (Overview, Products & Services, Strategies)
11.1 Kemin
11.2 Symrise
11.3 BASF
11.4 Roquette Freres
11.5 DSM
11.6 DuPont
11.7 Darling International Inc.
11.8 Archer Daniels Midland
11.9 Nestle (Purina Petcare)
11.10 Boehringer Ingelheim Animal Health
11.11 Novotech Neutraceutical
11.12 Vit2be-Diana Group
11.13 Mars Petcare Europe
11.14 Zoetis Inc. (Pfizer Ltd.)
11.15 Dechra Pharmaceuticasl PLC
11.16 Virbac Animal Health
11.17 Ceva Sante Animale
11.18 NutriLabs
12. Disclaimer