The maleic anhydride market was estimated at USD 2,379.95 million (in terms of revenue) and 1,792.71 thousand tons (in terms of volume) in 2017. The market is projected to reach USD 3,178.39 million and 2,149.04 thousand tons by 2023, at an estimated CAGR of 5.96% and 3.69%, respectively, during the forecast period, 2018-2023. Copolymers based on Maleic anhydride enable the use of more sustainable raw materials, binding wood fibers into plastic, corrosion inhibitors, and protective coatings for wire and water repellants in screens. Through conversion to fumaric and malic acids, maleic anhydride is a vital component of gelling agents, flavor enhancers, and food preservatives.
Unsaturated Polyester Resin is expected to dominate the Market
The increasing global demand for unsaturated polyester resins (UPR) in the lubricant & automotive industry is likely to have a positive impact in the market. The market is driven primarily by the high demand of the polyester resin industry, and the increase of production capacity in China. Over half of the global maleic anhydride produced is used to manufacture unsaturated polyester resins, which in turn, are used in the production of sheet molding compounds, bulk molding compounds and fiberglass reinforced plastics that are used in a diverse range of consumer products, including boats, automobiles, buildings, piping, and electrical goods.
Asia-Pacific to Lead the Market
Asia-Pacific is the largest market for maleic anhydride. The second largest market is Europe, followed closely by North America. The growing automotive and construction industries in Asia-Pacific is anticipated to drive the demand for reinforced glasses and polymers in the region, which is expected to drive the demand for maleic acid in Asia-Pacific. This region is also expected to be the fastest-growing region, during the forecast period.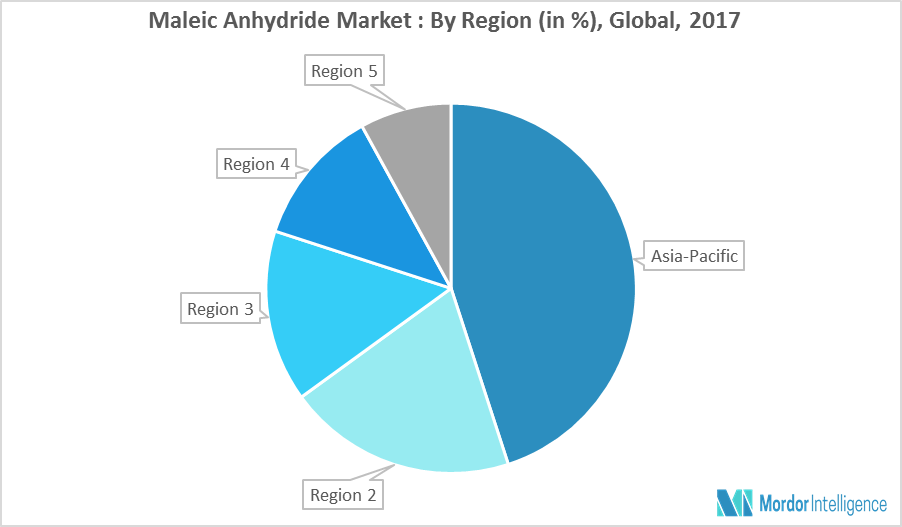 Notable Developments in the Market:
March 2018: Huntsman acquires Demilec, a leading North American spray polyurethane foam insulation manufacturer. Demilec has annual revenues of approximately $170 million and two manufacturing facilities located in Arlington, Texas and Boisbriand, Quebec.
Dec 2017: The Polynt–Reichhold Group announces strategic coating resins distribution alignment throughout the United States, Canada, and the Caribbean
Major Players: Huntsman Corporation, Jiangsu Yabang Group, Bohai Chemicals, Sasol-Huntsman, and Polynt, among others.
Reasons to Purchase this Report
To understand the impact of end-user applications on the market
Analyzing various perspectives of the market with the help of Porter's five forces analysis
Countries expected to witness the fastest growth during the forecast period
Identify the latest developments, market shares, and strategies employed by the major market players
3 months analyst support, along with the Market Estimate sheet (in Excel)
Customization of the Report
This report can be customized to meet your requirements. Please connect with our representative, who will ensure you to get a report that suits your needs.
1. Introduction
1.1 Research Phases
1.2 Study Deliverables
1.3 Scope of the Report
2. Executive Summary
3. Market Insights
3.1 Industry Value Chain Analysis
3.2 Industry Attractiveness - Porter's Five Forces Analysis
3.2.1 Bargaining Power of Suppliers
3.2.2 Bargaining Power of Consumers
3.2.3 Threat of New Entrants
3.2.4 Threat of Substitute Products and Services
3.2.5 Degree of Competition
3.3 Price Analysis
3.4 Trade Analysis
3.5 Feedstock Analysis
4. Market Dynamics
4.1 Drivers
4.1.1 Rising Global Demand for Unsaturated Polyster Resin (UPR)
4.1.2 Growing Demand in the Lubricant and Automotive Industries
4.1.3 Growth of End-user Industries In Emerging Nations
4.2 Restraints
4.2.1 Increasing Governmant Regulations
4.3 Opportunities
4.3.1 Commercialization of Bio-Based Maleic Anhydride
4.3.2 Upcoming Plant Projects and Involvement of Huge Capital Expenditure
5. Market Segmentation and Analysis (Market Size, Growth, and Forecast)
5.1 By End-user Industry
5.1.1 Construction
5.1.2 Automobile
5.1.3 Food & Beverage
5.1.4 Oil Products
5.1.5 Electronics
5.1.6 Personal Care
5.1.7 Pharmaceutical
5.1.8 Agriculture
5.2 By Type
5.2.1 Unsaturated Polyester Resin
5.2.2 BDO
5.2.3 Lubricant Additives
5.2.4 Maleic Anhydride Co-polymers
5.2.5 Malic Acid
5.2.6 Fumaric Acid
5.2.7 Alkyl Succinic Anhydrides
5.2.8 Surfactants and Plasticizers
5.2.9 Others
6. Regional Market Analysis (Market Size, Growth, and Forecast)
6.1 Asia-Pacific
6.1.1 China
6.1.2 India
6.1.3 Japan
6.1.4 South Korea
6.1.5 Rest of Asia-Pacific
6.2 North America
6.2.1 United States
6.2.2 Canada
6.2.3 Mexico
6.2.4 Rest of North America
6.3 Europe
6.3.1 Germany
6.3.2 United Kingdom
6.3.3 Italy
6.3.4 France
6.3.5 Spain
6.3.6 Russia
6.3.7 Rest of Europe
6.4 South America
6.4.1 Brazil
6.4.2 Argentina
6.4.3 Rest of South America
6.5 Middle East and Africa
6.5.1 Saudi Arabia
6.5.2 South Africa
6.5.3 UAE
6.5.4 Rest of Middle East and Africa
7. Competitive Landscape
7.1 Mergers and Acquisitions, Joint Ventures, Collaborations, and Agreements
7.2 Market Share Analysis**
7.3 Strategies Adopted by Leading Players
8. Company Profiles (Overview, Financials**, Products & Services, and Recent Developments)
8.1 Ashland Inc.
8.2 Bartek Ingredients Inc.
8.3 Bluestar Harbin Petrochemical Corp.
8.4 Changzhou Yabang Chemical Co. Ltd
8.5 Compania Espanola De Petroleos, SA
8.6 Flint Hills Resources
8.7 Fuso Chemical Co. Ltd
8.8 Helm Chemicals
8.9 Huntsman Corporation
8.10 Lanxes
8.11 Marathon Petroleum Corp.
8.12 Mitsui Specialty Chemicals Co. Limited
8.13 Mitsubishi Chemical Corporation
8.14 Nan Ya Plastics Co.
8.15 Ningbo Jiangning Chemical
8.16 Nippon Shokubai Co. Ltd
8.17 Polynt Group
8.18 Sasol-Huntsman
8.19 Shandong Hongxin Chemicals Co. Ltd
8.20 Taiyuan Qiaoyou Chemical Industrial Co. Ltd
8.21 Thirumalai Chemicals Ltd
8.22 Tianjin Bohai Chemical Industry I&E Corp.
8.23 Zibo Qixiang Tengda Chemical Co.
9. Disclaimer
**Subject to availability on public domain