Market Snapshot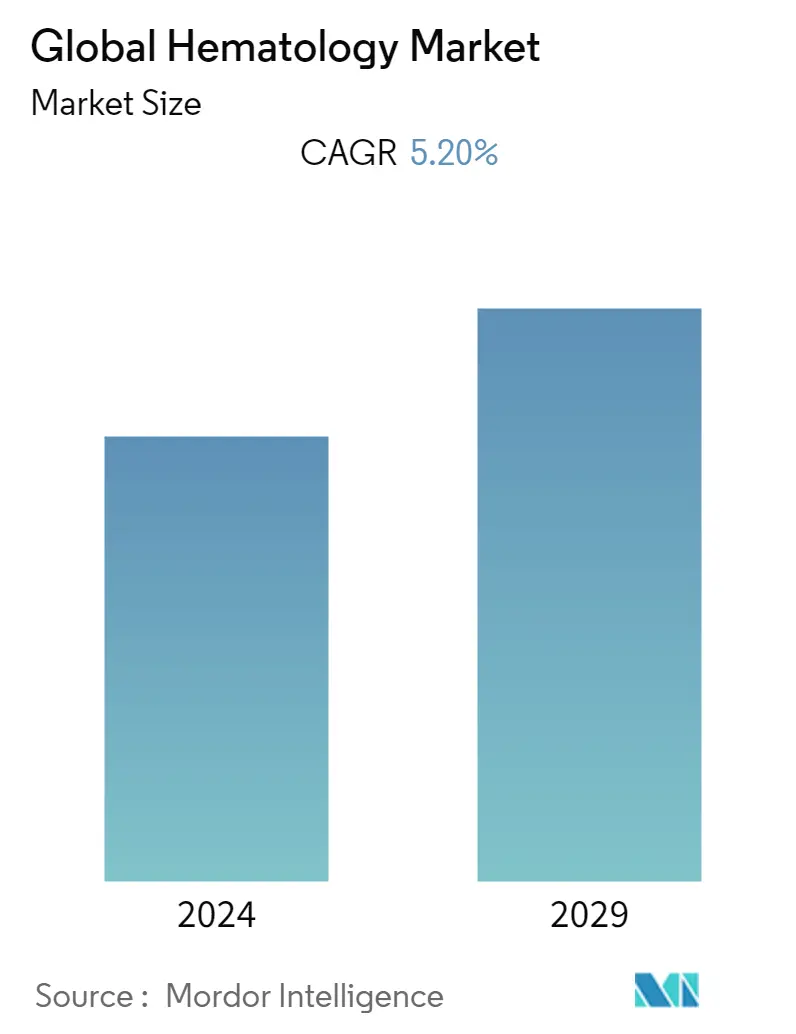 Study Period:
2019-2027
Base Year:
2021
Fastest Growing Market:
Asia Pacific
Largest Market:
North America
CAGR:
5.2 %
Need a report that reflects how COVID-19 has impacted this market and its growth?
Market Overview
The hematology market is expected to record a CAGR of 5.2% over the forecast period (2022-2027).
The COVID-19 outbreak is expected to have a significant impact on the hematology market as there is an increasing focus on hematology parameters for the assessment of COVID-19 around the world, and many hospitals have started using instruments such as hematology analyzers to test and monitor COVID-19 patients. According to the research article published in the International Journal of Laboratory Hematology, 2020, a clinical hematology laboratory has a critical role in providing a number of useful prognostic markers such as lymphopenia, neutrophilia, leukocytosis, and thrombocytopenia, which are common findings in patients infected with SARS-CoV2 virus. According to the report published in American Society of Hematology 2021, Patients with COVID-19 and sickle cell disease (SCD) remained at a higher risk of hospitalization, pneumonia development, and pain when compared to Black people without SCD. As the people with SCD were at higher risk of developing other infections, it was important to monitor their health which has considerably impacted the market. Thus, the growing importance of hematological testing in COVID-19 infected patients is expected to surge the demand for hematology products and reagents across various end users, thereby significantly impacting the studied market's growth during the pandemic era.
The growth of the hematology market is attributed to the increasing incidences of blood disorders and other diseases, rapid technological advances in hematology, and the emergence of high throughput hematology analyzers.
The increasing prevalence of chronic blood disorders is one of the major factors driving the market, as it is expected to drive the demand for hematology analyzers. Coagulation analyzers can accurately detect the clotting endpoint in various blood disorders, such as hemophilia. People can be affected by various types of blood conditions and blood cancers. Common chronic blood disorders include anemia, bleeding disorders such as hemophilia and blood clots, and blood cancers such as leukemia, lymphoma, and myeloma. As per the May 2022 update by Center for Disease Control and Prevention, sickle cell disease (SCD) affects approximately 100,000 Americans. It occurs among about 1 out of every 365 Black or African-American births. Early diagnosis and treatment are the best ways to protect the life of a patient with blood cell disorder.
Additionally, the technological advancements and product launches by key players have been driving the market growth. For instance, in October 2020, Becton, Dickinson and Company received 510(k) clearance from the United States Food and Drug Administration (FDA) for the BD FACSLyric Flow Cytometer with the Integrated BD FACSDuet Sample Preparation System.
Moreover launch of hematology tests across teh world will also propel the market growth. For instance, in June 2022, Thermo Fisher Scientific Inc. introduced the new EliA RNA Pol III and EliA Rib-P blood tests for aiding in the diagnosis of Systemic Sclerosis and Systemic Lupus Erythematosus (SLE), thus further expanding its comprehensive menu of automated connective tissue disease tests.
According to an article "RURAL Study to Use HemoScreen POC Hematology Analyzer" published in February 2021, the Risk Underlying Rural Areas Longitudinal Study (RURAL) was conducted to understand the health concerns facing people in rural communities who don't have the same healthcare access as urban parts. This study plans to deploy technology advanced HemoScreen hematology analyzers in the Mobile Examination Unit lab to test the performance characteristics of the HemoScreen in those setting. Thus, the researches proving the efficacy of technologically advanced product will boost the ongoing innovation in the market, thus fueling the market growth.
Thus, owing to the abovementioned factors, the hematology market is expected to witness significant growth over the forecast period. However, the high cost of the instruments and the low adoption of hematology analyzers in the emerging economies are anticipated to hamper the market growth in the coming years.
Scope of the Report
As per the scope of the study, hematology is a branch of medicine that deals with blood and blood-related disorders. Hematology tests include various tests on the blood, blood proteins, and blood-producing organs to evaluate a variety of blood conditions, including infection, anemia, inflammation, hemophilia, blood-clotting disorders, leukemia, and the body's response to chemotherapy treatments. The scope of the study includes various instruments and reagents that are used in hematology testing. The hematology market is segmented by product (hematology analyzers, flow cytometers, coagulation analyzers, slide stainers, centrifuges, hemoglobinometers, and other products), reagents (coagulation reagents, flow cytometry reagents, immuno-hematology reagents, and other reagents), application (drug testing, auto-immune diseases, cancer, diabetes mellitus, infectious diseases, and other applications), end user (hospitals, clinical testing institutes, patient self-testing, and other end users), and geography (North America, Europe, Asia-Pacific, Middle East & Africa, and South America). The market report also covers the estimated market sizes and trends for 17 countries across major regions globally. The report offers the value (USD million) for all the above segments.
By Product
Hematology Analyzers
Flow Cytometers
Coagulation Analyzers
Slide Stainers
Centrifuges
Hemoglobinometers
Other Products
By Reagent
Coagulation Reagents
Flow Cytometery Reagents
Immuno-hematology Reagents
Other Reagents
By Application
Drug Testing
Auto-immune Diseases
Cancer
Diabetes Mellitus
Infectious Diseases
Other Applications
By End User
Hospitals
Clinical Testing Institutes
Patient Self-testing
Other End Users
Geography

North America
United States
Canada
Mexico

Europe
Germany
United Kingdom
France
Italy
Spain
Rest of Europe

Asia-Pacific
China
Japan
India
Australia
South Korea
Rest of Asia-Pacific

Middle East & Africa
GCC
South Africa
Rest of Middle East & Africa

South America
Brazil
Argentina
Rest of South America
Key Market Trends
The Hematology Analyzers Segment is Expected to Register Significant Growth Over the Forecast Period
Hematology analyzers are instruments used to run tests based on blood samples. They are used to perform tests such as complete blood count, including red blood cell, white blood cell, platelet, and hemoglobin count, along with characterizing the blood cells to diagnose a disease condition. The growing burden of blood-related disorders, which drives the demand for hematology tests, and advancements in technology for the development of hematology analyzers with advanced features are the major drivers for the growth of the studied segment.
For instance, in May 2020, Beckman Coulter, a subsidiary of Danaher Corporation, launched its DxH 690T hematology analyzer in the United States, which enables mid-volume laboratories to streamline workflow and maximize uptime. Additionally, in July 2022, HORIBA Medical launched new products in its Yumizen H500 & H550 hematology product family, the compact benchtop hematology analyzers with enhanced performance, new features and increased benefits. These products have been designed to deliver a rapid and comprehensive hematology report with a throughput of 60 tests/hour, 40 tubes autonomy with continuous loading, urgent manual mode; and for running samples through multi analysis modes and sampling.
Moreover, rising research and development activities proving the efficacies of heamtology analyzers is expected to posutively contribute to the market growth. For instance, according to a study titled 'Establishment of improved review criteria for hematology analyzers in cancer hospitals' published in February 2021, the automated hematologic analyzers are widely used in medical laboratories. This condition in the hospitals will boost the studied hematology analyzers segment of the cell surface markers detection market.
Also, strategic alliances such as acquisitions, partnerships, and collaborations by key players are driving the segment growth. For instance, in September 2020, Cyient entered a manufacturing partnership with Agappe to manufacture certain key components of Mispa Count X at its ISO 13485-certified, state-of-the-art manufacturing facilities in India. The Mispa Count X is an indigenously designed and developed three-part hematology analyzer by Agappe.
Thus, due to the above-mentioned factors, the studied segment is expected to contribute positively to the market growth during stuyd period.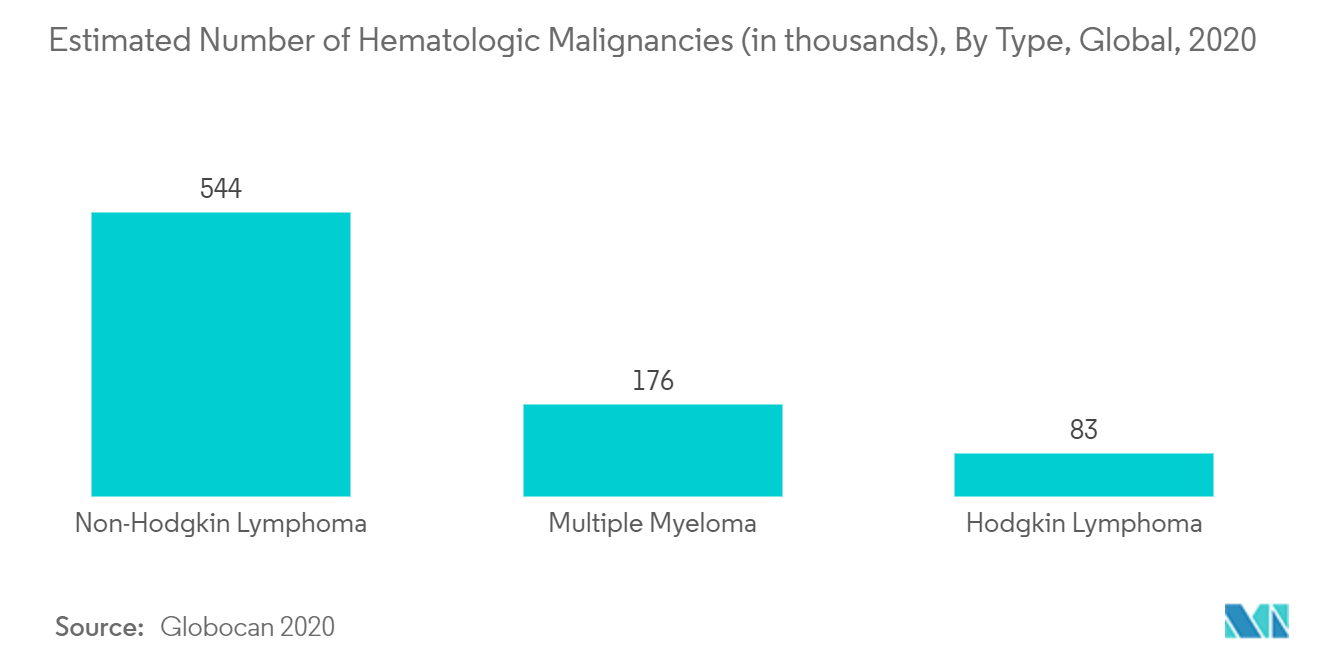 To understand key trends, Download Sample Report
The North American Region Holds the Largest Market Share, and it is Expected to Follow the Same Trend over the Forecast Period
The United States within North America is expected to witness significant growth in the hematology market in the coming years due to factors such as the increasing incidence of blood disorders, technological advancements, and increasing product launches in the region. As per an October 2021 update by the National Cancer Institute, acute myeloid leukemia is the most common type of acute leukemia in adults. In addition, as per the 2021 statistics by the Leukemia & Lymphoma Society, an estimated 397,501 people are living with or in remission from leukemia in the United States. The growing burden of blood disorders such as leukemia is expected to surge the demand for hematology instruments and reagents, thus driving the market growth in the region. According to the study "Decreased Iron Intake Parallels Rising Iron Deficiency Anemia and Related Mortality Rates in the United States Population" published in July 2021, the prevalence of estimated anemia in the United States ranged from 10.5% to 106% depending on the age and sex. Thus, the high prevalence of the disease in the country demand the high number of blood tests, thus driving the market.
Additionally, in October 2020, CellaVision AB received the United States Food and Drug Administration's 510(k) premarket approval for its CellaVision DC-1, which is an automated cell-locating device intended to be used in in vitro diagnostics in clinical laboratories, and CellaVision DC-1 PPA, which is intended for the differential count of white blood cells, characterization of red blood cell morphology, and platelet estimation. Further, in November 2020, Sysmex America announced that it would distribute the FDA cleared ClearVision DC-1 for low volume hematology laboratories in the United States and Canada. Additionally, in January 2022, Sight Diagnostics received Health Canada approval to provide Sight OLO analyzers for point-of-care settings. Through its distribution partner Inter Medico, Sight will bring the 5-part differential blood testing to emergency departments, hospitals, and other decentralized settings across Canada, thereby driving the market.
Thus, owing to the abovementioned factors, the market is expected to witness significant growth in the forecast period in the North American region.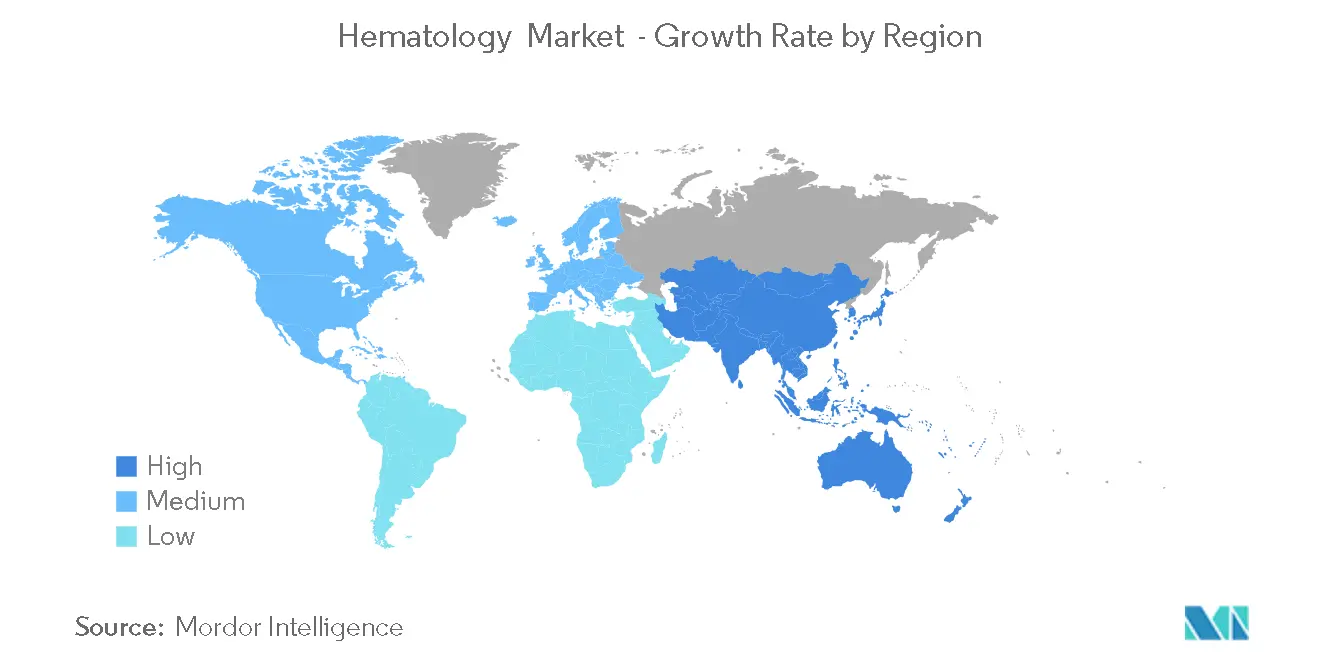 To understand geography trends, Download Sample Report
Competitive Landscape
The hematology market is fragmented and moderately competitive. Some key industry players include Abbott Laboratories, Bio-Rad Laboratories Inc., Danaher Corporation, Siemens Healthineers, F. Hoffmann-La Roche Ltd etc. The companies are implementing certain strategic initiatives, such as mergers, new product launches, acquisitions, partnerships, and investments in research and development activities, which help them strengthen their market positions globally.
Recent Developments
In April 2022, Sysmex Europe launched its new three-part differential system XQ-320 XQ-Series Automated Hematology Analyzer equipped with a multitude of different features allowing it to meet the diverse needs of the various types of laboratories in the healthcare facilities.
In March 2022, Mindray launched the new BC-700 Series, a revolutionary hematology analyzer series that incorporates both complete blood count (CBC) and erythrocyte sedimentation rate (ESR) tests.
Table of Contents
1. INTRODUCTION

1.1 Study Assumptions and Market Definition

1.2 Scope of the Study

2. RESEARCH METHODOLOGY

3. EXECUTIVE SUMMARY

4. MARKET DYNAMICS

4.1 Market Overview

4.2 Market Drivers

4.2.1 Increasing Incidences of Blood Disorders and Other Diseases

4.2.2 Rapid Technological Advances in Hematology

4.2.3 Emergence of High Throughput Hematology Analyzers

4.3 Market Restraints

4.3.1 High Cost of Instruments

4.3.2 Low Adoption of Hematology Analyzers in Emerging Economies

4.4 Porter's Five Forces Analysis

4.4.1 Threat of New Entrants

4.4.2 Bargaining Power of Buyers/Consumers

4.4.3 Bargaining Power of Suppliers

4.4.4 Threat of Substitute Products

4.4.5 Intensity of Competitive Rivalry

5. MARKET SEGMENTATION (Market Size by Value - in USD Million)

5.1 By Product

5.1.1 Hematology Analyzers

5.1.2 Flow Cytometers

5.1.3 Coagulation Analyzers

5.1.4 Slide Stainers

5.1.5 Centrifuges

5.1.6 Hemoglobinometers

5.1.7 Other Products

5.2 By Reagent

5.2.1 Coagulation Reagents

5.2.2 Flow Cytometery Reagents

5.2.3 Immuno-hematology Reagents

5.2.4 Other Reagents

5.3 By Application

5.3.1 Drug Testing

5.3.2 Auto-immune Diseases

5.3.3 Cancer

5.3.4 Diabetes Mellitus

5.3.5 Infectious Diseases

5.3.6 Other Applications

5.4 By End User

5.4.1 Hospitals

5.4.2 Clinical Testing Institutes

5.4.3 Patient Self-testing

5.4.4 Other End Users

5.5 Geography

5.5.1 North America

5.5.1.1 United States

5.5.1.2 Canada

5.5.1.3 Mexico

5.5.2 Europe

5.5.2.1 Germany

5.5.2.2 United Kingdom

5.5.2.3 France

5.5.2.4 Italy

5.5.2.5 Spain

5.5.2.6 Rest of Europe

5.5.3 Asia-Pacific

5.5.3.1 China

5.5.3.2 Japan

5.5.3.3 India

5.5.3.4 Australia

5.5.3.5 South Korea

5.5.3.6 Rest of Asia-Pacific

5.5.4 Middle East & Africa

5.5.4.1 GCC

5.5.4.2 South Africa

5.5.4.3 Rest of Middle East & Africa

5.5.5 South America

5.5.5.1 Brazil

5.5.5.2 Argentina

5.5.5.3 Rest of South America

6. COMPETITIVE LANDSCAPE

6.1 Company Profiles

6.1.1 Abbott Laboratories

6.1.2 Agilent Technologies Inc.

6.1.3 Bio-Rad Laboratories Inc.

6.1.4 Danaher Corporation

6.1.5 Diatron MI PLC (Stratec Biomedical Systems)

6.1.6 F.Hoffmann-La Roche AG

6.1.7 Novo Nordisk AS

6.1.8 Fluidigm Corporation

6.1.9 Drew Scientific Group

6.1.10 PerkinElmer Inc.

6.1.11 Thermo Fisher Scientific Inc.

6.1.12 Ortho Clinical Diagnostics

6.1.13 Siemens Healthineers

6.1.14 Sysmex Corporation

6.1.15 Shenzhen Mindray Bio-Medical Electronics Co. Ltd

*List Not Exhaustive

7. MARKET OPPORTUNITIES AND FUTURE TRENDS
**Competitive Landscape Covers - Business Overview, Financials, Products and Strategies, and Recent Developments
You can also purchase parts of this report. Do you want to check out a section wise price list?
Frequently Asked Questions
What is the study period of this market?
The Global Hematology Market market is studied from 2019 - 2027.
What is the growth rate of Global Hematology Market?
The Global Hematology Market is growing at a CAGR of 5.2% over the next 5 years.
Which region has highest growth rate in Global Hematology Market?
Asia Pacific is growing at the highest CAGR over 2021- 2026.
Which region has largest share in Global Hematology Market?
North America holds highest share in 2021.
Who are the key players in Global Hematology Market?
Danaher Corporation, Abbott Laboratories, Bio-Rad Laboratories Inc., Thermo Fisher Scientific Inc, Siemens Healthineers are the major companies operating in Global Hematology Market.
80%

of our clients seek made-to-order reports. How do you want us to tailor yours?