Market Snapshot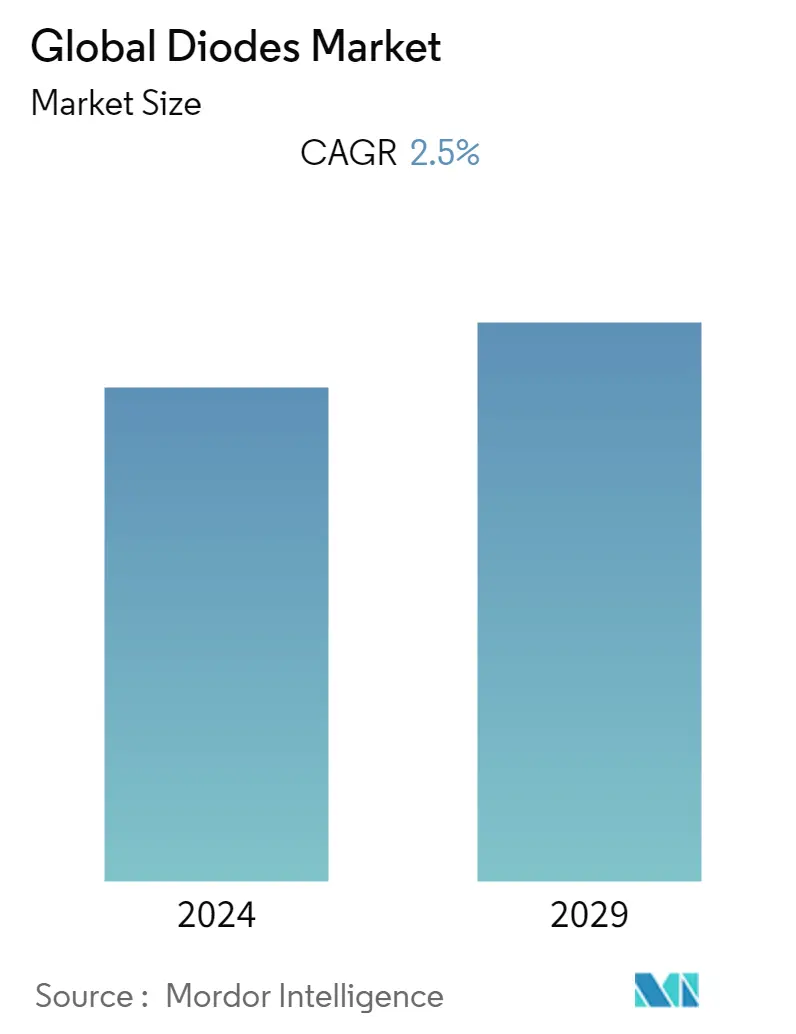 Study Period:
2020-2027
Base Year:
2021
Fastest Growing Market:
Asia-Pacific
Largest Market:
Asia-Pacific
CAGR:
2.5 %
Need a report that reflects how COVID-19 has impacted this market and its growth?
Market Overview
The global diodes market is expected to register a CAGR of 2.5% during the forecast period (2020-2027). Diodes are used in several applications such as surge protection, voltage regulation, switching, and power conversion. The growth of electronics applications in medical, consumer, industrial, and automobile is increasing rapidly, and hence it is driving the diodes market to grow. Some of the factors that are influencing the market growth are:
Miniaturization of electronic products is happening across consumer electronics segments. Minimal size with minimum power consumption and maximum power delivery is the motive of all electronic manufacturers. Due to this, the demand for innovative and customized diodes is increasing.
The increasing demand for smartphones with various functions, such as phones that can be used as an FM radio, MP3 player, MP4 player, handheld TV, memo recorder, camera, or even a projector, is increasing. This increased number of signals has increased the requirement for signal routing solutions. These solutions require diodes with smaller size and higher functionality, enabling mobile phone designers to continue pushing for smaller form factors while still providing enhanced features within their design. This technological need is driving the diodes market to grow.
Increasing demand for electric vehicles is also boosting the market growth of diodes. Various types of diodes are used in the manufacturing process of EVs. According to the International Energy Agency (IEA), in 2021, electric car sales will more than double compared to 2020 and reach 6.6 million. Electric cars represented nearly 9% of the global car market in 2021, with more than tripling the market share from two years earlier.
This advanced transformation requires manufacturers to continuously upgrade their products in designing, power consumption, processing power, and user interface to acquire a significant market share. To achieve the above-said specifications in their products, companies bear substantial initial costs. Providing higher functional products with minimum price points is a challenge in this market because before reaching economies of scale, a product in this segment always requires an upgradation.
COVID 19 has a negative impact on the diodes market as it has heavily impacted the supply chain and workforce of the market value chain. Due to the pandemic, most companies have delayed their hardware upgrades and other long-term migration projects. For instance, the launch of the 5G plan has been delayed across many countries for which the launch of commercial 5G services has been postponed. The infrastructures for 5G services require various diodes, and delays also delay the growth of diodes' requirements.
Scope of the Report
A diode is an electronic component with ideally zero resistance to current in one direction compared to ideally infinite resistance in the other. A diode acts as a valve with different applications depending on the property or type of diode used in the circuit.
There are different types of diodes, including power diodes, small signal diodes, and radiofrequency & microwave diodes. These electronic components are used across all the electronic devices across various industries like communication, consumer electronics, automotive, computer, and computer peripheral.
End-user Industry
Communications
Consumer Electronics
Automotives
Computer and Computer Peripherals
Others
Type
Zener Diodes
Schottky Diodes
Laser Diodes
Light Emitting Diode
Small Signal Diode
Others
Geography
North America
Europe
Asia-Pacific
Latin America
Middle-East and Africa
Key Market Trends
Increase In The Need of Advance and Complex Electronic Devices In Automobiles is Driving The Market Growth
Vehicles utilize diodes because of their application in allowing current flow in only one direction. This critical component protects the vehicle's LED headlamp against current spikes. This further reduces the risk of damage to components and the electrical system of an automobile. Schottky diodes can rectify a current flow in automotive applications by allowing a rapid change from conducting to blocking state. They have a low reverse-leakage current at high temperatures, which reduces circuit losses and increases protection against thermal runaway. The diode manufacturing company is adding innovative high-performance diodes to their product lists. For example, STMicroelectronics, a leading semiconductor manufacturer, has developed an automotive-grade Schottky diode that is AEC-Q101 qualified and intended for a DC-DC converter and can operate at a junction temperature range from- -40 °C to as high as +175 °C.
High-voltage silicon-carbide diodes are essential for hybrid and electric vehicle power-supply designers to improve electrical efficiency and battery autonomy. This diode is ideal for power factor correction circuits, onboard battery chargers, and motor drives that can handle large surges. Furthermore, these diodes are developing synchronous buck converters with a wide input voltage range of 2.4V to 5.5V to satisfy the requirement for more streamlined and efficient automobile point-of-loads (POLs). These 3A-rated devices are designed for usage in telematics, ADAS, power and infotainment systems, and instrument clusters in automobiles.
Diodes convert alternating current to direct current electricity. Diodes can be found in an automobile's electrical system, including alternators. For the vehicle charging system, alternator diodes provide three essential tasks: conversion from AC to DC Power, Feedback Preventer, and Proper Polarity for Charging a Battery. Electronic devices, batteries, and charging adaptors are becoming more common in automobiles, positively boosting the diode market growth. Major companies are focusing on manufacturing advanced Sic diodes to increase EVs' battery capacity and charging speed. For example, Infineon Technology's first-generation silicon carbide technology has helped EV manufacturer clients increase the Battery capacity range by 7% for their 800-V–based EV. The company is assuring that its next-generation Cool Sic will raise that to about 10%.
In automobiles, diodes are used to connect solenoids. When the B+ is turned off, the coil's magnetic field collapses, including the current flow in the coil, and the current passes through the diode as the current is in the same direction as the diode arrow, which was previously blocking the B+. This current flow induced in the coil's electric field allows it to collapse itself. The ECM is protected from damage, and no spark is produced. Being a leading manufacturer of semiconductors company, NXP has developed a Programmable solenoid controller PT2000 which will be used in Automotive (12 V), truck, and industrial (24 V) power trains. In this system, diodes are used for the device's smooth functioning and flexible operation.
The battery is unplugged during the powering or switching of inductive loads in automobiles to avoid undesirable spikes or transients. These transients would be propagated along the power line if they were not addressed, causing individual electronics and sensors to malfunction or permanently destroying the vehicle's electrical system, compromising overall reliability. As a result, TVS diodes are becoming more popular because they can protect sensitive electronics from transients caused by load dumps and other transient voltage occurrences. For example, Vishay Intertechnology has launched its TVS diodes series named XClampR™, which can operate in extremely low clamping voltage and sustain its functioning up to 175 °C junction temperature.
To understand key trends, Download Sample Report
Asia-Pacific to Witness a Significant Growth in the Global Diode Market
The diodes market in the Asia-Pacific region is expanding rapidly, owing to the extensive presence of electronics and vehicle manufacturing companies and rising consumer spending power.
Because of rising awareness, the adoption of electric vehicles helps reduce emissions, fleet emissions, and stringent government rules and regulations regarding vehicle emissions. Moreover, the electric light commercial vehicles segment is expected to grow fastest in the APAC region. The electrical and electronic components of these vehicles use a variety of diodes. The market for power, small-signal, and RF and microwave diodes in this region will grow exponentially.
Smartphone adoption and digitization of industrial processes are also increasing in the region. As the diodes are essential components of all electrical products, thus owing to the rising smartphones and electronics, the diodes market in Asia-Pacific is also witnessing growth.
The increasing demand for consumer electronics across Asia-Pacific countries such as China, the Republic of Korea, India, and Singapore pushes numerous corporations to create manufacturing facilities in the region. The vast supply of raw materials and inexpensive start-up and labor costs are assisting enterprises in establishing production centers in the region.
Consumer electronics and the smart wearable industry, which require powerful miniaturized diodes, are growing at the fastest rate in the Asia-Pacific region. For example, the 0402-sized Schottky barrier diodes are 44 percent smaller than the traditional 0603 sizes (0.6mm 0.3mm), with a 56 percent less mounting space. They are used in smart wearables, and the demand for these small, powerful diodes will grow in the region due to the rise in the demand for smart wearables.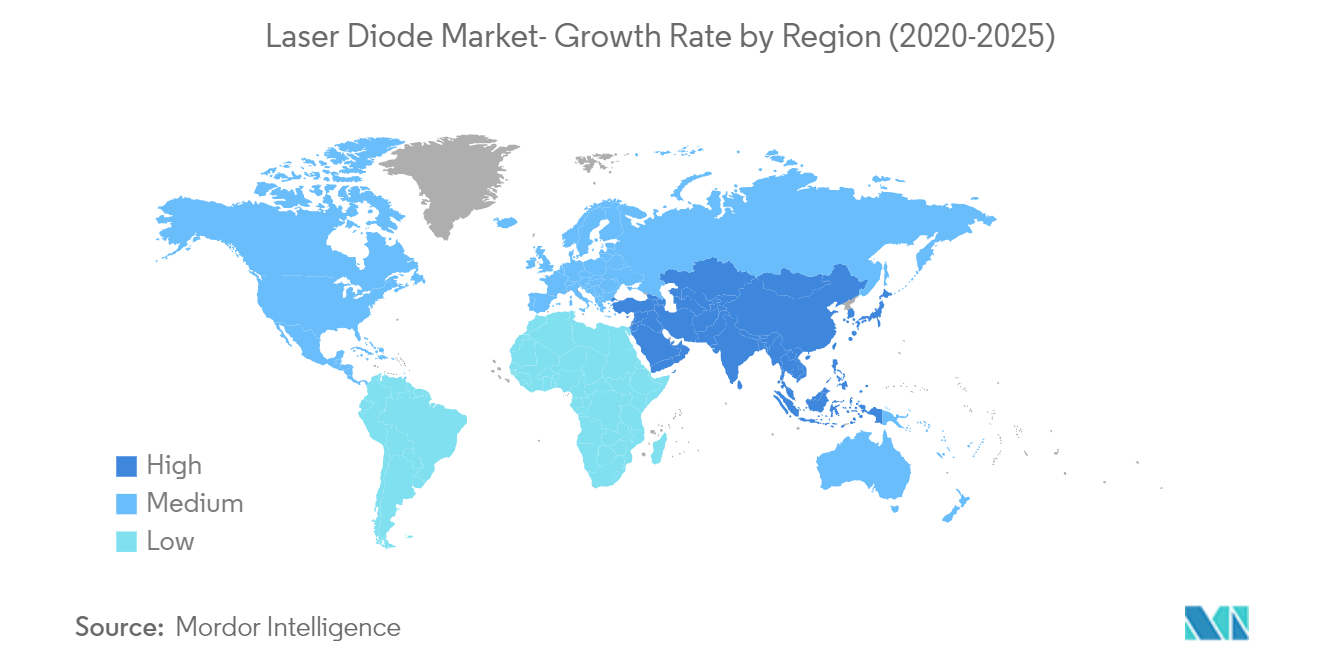 To understand geography trends, Download Sample Report
Competitive Landscape
The Global Diode Market is fragmented and highly competitive, owing to the presence of various small and large players across the globe. The key players are involved in product innovation, partnerships, mergers, and acquisitions, among others, to have a competitive edge over others.
In November 2020, Diodes Incorporated acquired Lite-on Semiconductor, a global electronic power supply manufacturer with total cash paid of approximately USD 446 million. With this acquisition, the company has widened its product portfolio.
In May 2022, Power Technology, a leader in the photonics industry for more than 50 years, launched a new high-power laser diode module at 532nm for OEM applications. This new module offers more stable semiconductor alternatives to DPSS lasers at nearly 1W of output power.
In May 2022, Micross Components, Inc., a provider of high-reliability microelectronic product and service solutions for defense, space, aerospace, medical and industrial applications and a portfolio company of Behrman Capital, announced the acquisition of Semtech Corporation, a leading global supplier of high-performance analog and mixed-signal semiconductors and advanced algorithms.
Recent Developments
In April 2022, Diodes Incorporated launched the new series of high-current Schottky rectifiers in ultra-compact chip-scale packages. The products like SDM5U45EP3 (5A, 45V), SDM4A40EP3 (4A, 40V), and SDT4U40EP3 (4A, 40V) of the company achieved the industry's highest current densities in their class, addressing market demands for smaller and more powerful electronic systems.
In February 2022, Infineon Technologies AG is strengthening its market leadership in power semiconductors by adding manufacturing capacities in wide bandgap semiconductors. The company is investing more than EUR 2 billion in building the third module in Kulim, Malaysia.
Table of Contents
1. INTRODUCTION

1.1 Study Deliverables

1.2 Study Assumptions

1.3 Scope of the Study

2. RESEARCH METHODOLOGY

3. EXECUTIVE SUMMARY

4. MARKET DYNAMICS

4.1 Market Overview

4.2 Market Drivers

4.2.1 Increase in the Need of Advance and Complex Electronic Devices In Every Sectors

4.2.2 Miniaturization of discrete electronic products

4.3 Market Restraints

4.3.1 Matching required price point of diodes with all desired specification

4.4 Value Chain / Supply Chain Analysis

4.5 Porter's Five Force Analysis

4.5.1 Threat of New Entrants

4.5.2 Bargaining Power of Buyers/Consumers

4.5.3 Bargaining Power of Suppliers

4.5.4 Threat of Substitute Products

4.5.5 Intensity of Competitive Rivalry

4.6 COVID-19 Impact on the Market

5. MARKET SEGMENTATION

5.1 End-user Industry

5.1.1 Communications

5.1.2 Consumer Electronics

5.1.3 Automotives

5.1.4 Computer and Computer Peripherals

5.1.5 Others

5.2 Type

5.2.1 Zener Diodes

5.2.2 Schottky Diodes

5.2.3 Laser Diodes

5.2.4 Light Emitting Diode

5.2.5 Small Signal Diode

5.2.6 Others

5.3 Geography

5.3.1 North America

5.3.2 Europe

5.3.3 Asia-Pacific

5.3.4 Latin America

5.3.5 Middle-East and Africa

6. COMPETITIVE LANDSCAPE

6.1 Company Profiles

6.1.1 Central Semiconductor Corp.

6.1.2 Diodes Incorporated

6.1.3 Hitachi Power Semiconductor Device Ltd

6.1.4 Infineon Technologies AG

6.1.5 Littelfuse Inc.

6.1.6 MACOM

6.1.7 NXP Semiconductors NV

6.1.8 ON Semiconductor Corp.

6.1.9 Renesas Electronics Corp.

6.1.10 ROHM Co. Ltd

6.1.11 Semtech Corp.

6.1.12 Vishay Intertechnology Inc.

6.1.13 Toshiba Electronic Devices & Storage Corporation

6.1.14 Mitsubishi Electric Corporation

6.1.15 Microsemi

6.1.16 SEMIKRON

6.1.17 SHINDENGEN ELECTRIC MANUFACTURING CO. LTD

*List Not Exhaustive

7. Investment Analysis

8. Future of the Market
You can also purchase parts of this report. Do you want to check out a section wise price list?
Frequently Asked Questions
What is the study period of this market?
The Global Diodes Market market is studied from 2020 - 2027.
What is the growth rate of Global Diodes Market?
The Global Diodes Market is growing at a CAGR of 2.5% over the next 5 years.
Which region has highest growth rate in Global Diodes Market?
Asia-Pacific is growing at the highest CAGR over 2021- 2026.
Which region has largest share in Global Diodes Market?
Asia-Pacific holds highest share in 2021.
Who are the key players in Global Diodes Market?
Diodes Incorporated, Infineon Technologies AG, ROHM Co. Ltd, NXP Semiconductors NV, Vishay Inter technology Inc. are the major companies operating in Global Diodes Market.
80%

of our clients seek made-to-order reports. How do you want us to tailor yours?