Market Snapshot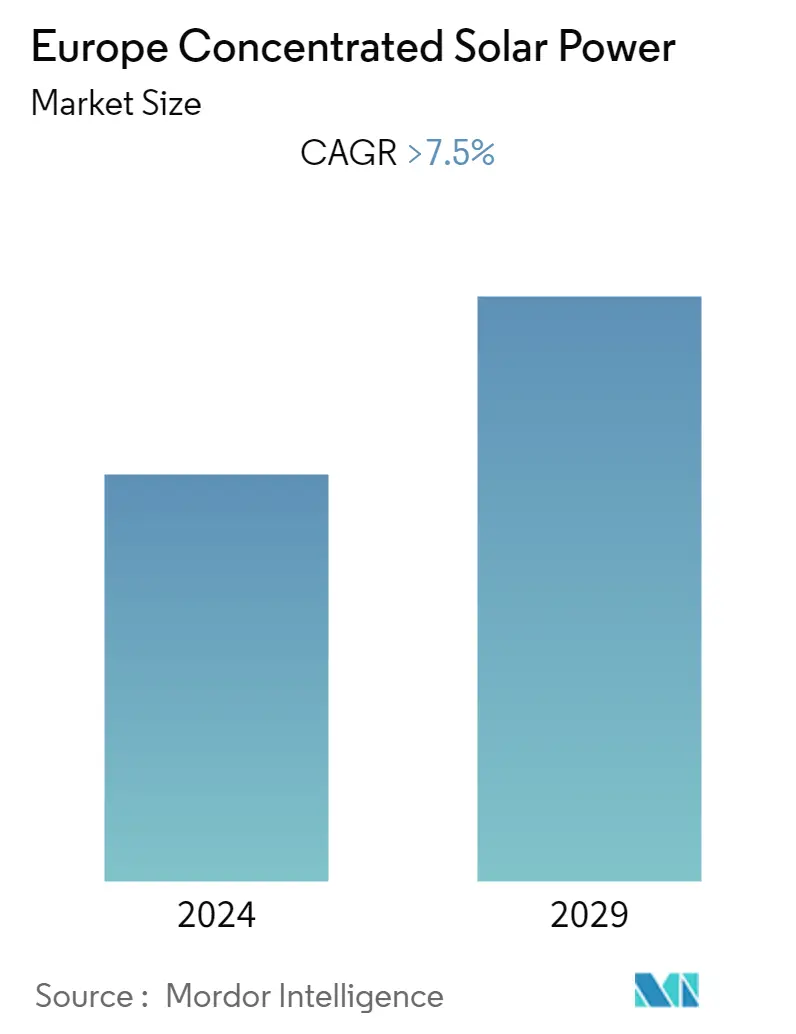 Study Period:
2019-2027
Base Year:
2021
CAGR:

>

7.5 %
Market Overview
Europe concentrated solar power market is expected to rise at a CAGR of 7.5% during the forecast period of 2022-2027. Like many other industries, Concentrated solar market has been dramatically hit by COVID 19 pandemic. Covid 19 has disrupted the supply chain industry and caused difficulty in sourcing equipment for the active projects and shutdown of commercial and industrial facilities, causing electrical demand to drop, affecting the operation of existing infrastructure. Factors such as the declining cost of CSP components and increased adoption of renewable energy sources to limit emissions are likely to drive the Concentrated solar power market during the forecast period. However, high capital investments are expected to restrain the concentrated solar power market.
The molten salt technology segment is expected to dominate the concentrated solar power market during the forecast period.
Technology improvements and integration of Concentrated solar power in hybrid power plants. This will positively impact the environment, and climate change is expected to create several opportunities for Concentrating solar power market in the future.
Spain is the fastest growth country in the concentrated solar power market during the forecast period owing to a number of new projects being planned in the country.
Scope of the Report
The Europe Concentrated Solar Power market report includes:
Technology
Power Tower
Dish/Stirling
Parabolic Trough
Linear Fresnel
Heat Transfer Fluid
Molten Salt
Water-Based
Oil-Based
Other Heat Transfer Fluids
Countries
Germany
Spain
France
Rest of Europe
Key Market Trends
Molten Salt Segment to Dominate the Market
Molten salts of sodium and potassium are used as heat transfer fluid in CSP plants due to their capability to operate at temperatures beyond 500°C. They improve power efficiency to about 40% and reduce the cost of electricity. However, due to the comparatively low freezing point of about 250°C, auxiliary power is required during shut-off periods to keep them in a molten state.
Molten salt technology accounts for 75% of the thermal energy storage developed for electricity applications. It increases solar power plants' efficiency and storage capacity while reducing solar thermal energy costs. These applications also support CSP projects and dispatch electricity outside peak sunshine hours.
In Europe, several projects are underway of such technology type owing to declining CSP costs and increasing shift towards renewable energy sources to contain emissions. In 2015, In Europe, the installed CSP capacity stood at 4750 MW, which rose to 6379 MW in 2020.
In November 2021, SENER Renewable Investments has begun construction on Spain's first hybrid solar project, which combines CSP with molten salt storage and photovoltaic technologies. The Solgest-1 plant now features a CSP unit with a storage capacity of over 6 hours and a gross power generation of 110 MWe, allowing it to generate energy at night or in overcast conditions.
Hence, owing to the above points, the Molten salt technology segment is likely to see significant growth in the market during the forecast period.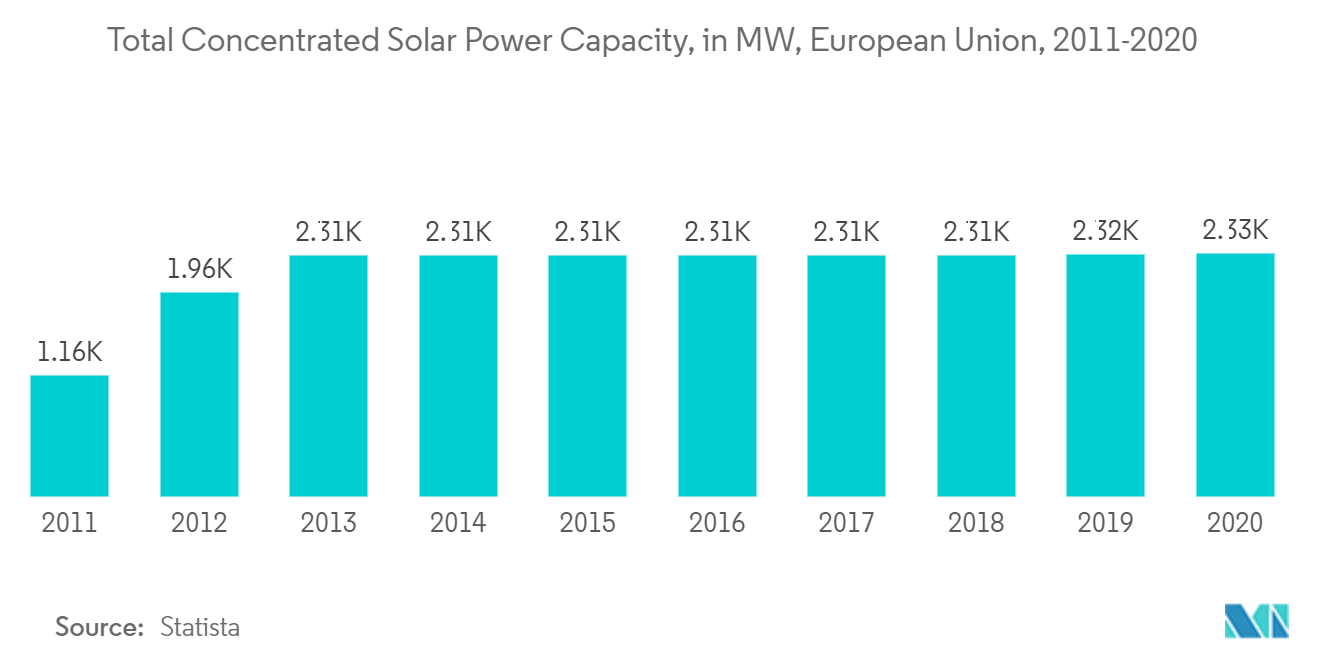 To understand key trends, Download Sample Report
Spain Expected to Witness Significant Growth
Spain is one European country that receives a significantly high number of hours of sunshine. The region was significant in the development of solar electricity. Actual prices for grid-connected solar power were provided to encourage the industry.
In 2020, the total installed concentrated solar power in Spain has 2304 MW, and it is the leading country in the world. After Spain, US total installed capacity is 1758 MW. Spain is the top market, driven by the country's government support schemes and feed-in tariffs.
Spain has the largest fleet of operating CSP plants globally (2.3 GW), and a recent government plan has announced 5,000 MW of additional CSP capacity by 2030 as part of a plan to expand renewable energy to cover 74 percent of electricity demand by 2030.
In 2020, In Spain, 6.1% of energy production came from Solar power, 21.7% from wind, and 22.2% from nuclear.
More technological advancements and novel market solutions are required to boost efficiency, lower prices, and enable utilities to rely on solar power.
Hence, owing to the above points, Spain is expected to see significant market growth during the forecast period.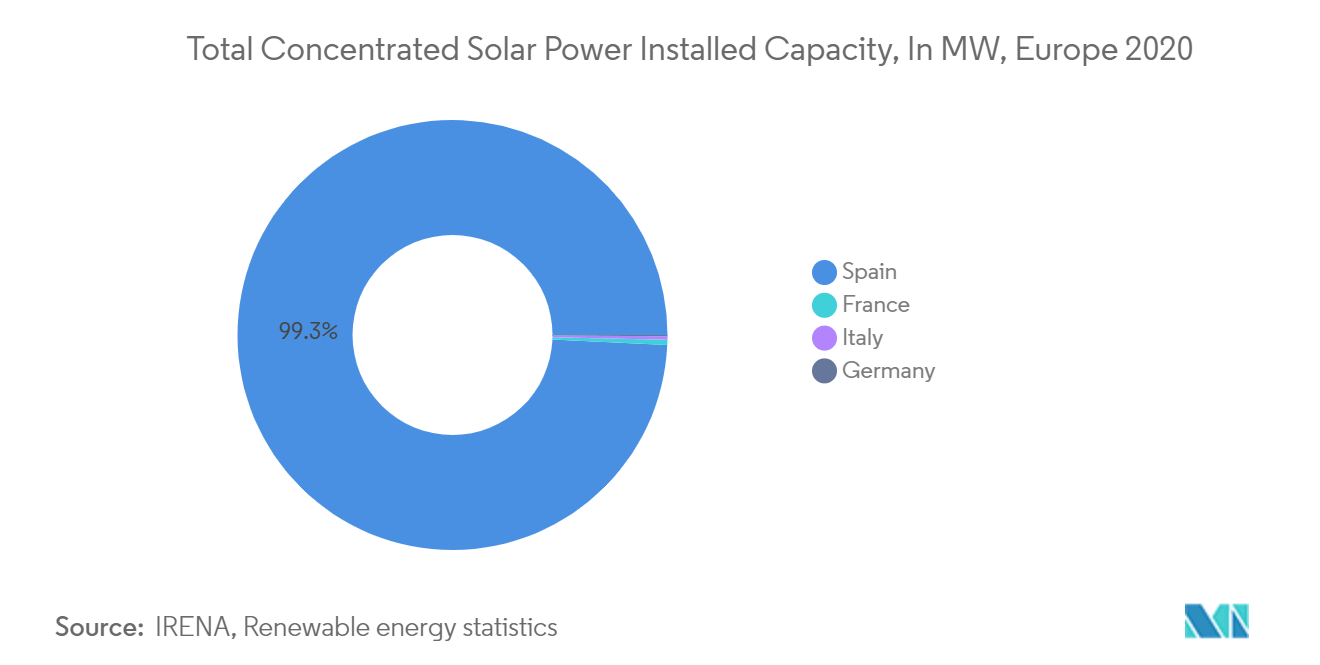 To understand geography trends, Download Sample Report
Competitive Landscape
The Europe concentrated solar power (CSP) market is consolidated. Some of key players in this market include Abengoa SA, Acciona SA, ACWA Power, Torresol Energy, and Engie SA.
Major Players
*Disclaimer: Major Players are sorted alphabetically
Recent Development
In November 2021, SENER Renewable Investments launched the first hybrid solar project in Spain that merges CSP technology with molten salt storage and photovoltaic technology. In its current configuration, the Solgest-1 plant has a CSP unit with a storage capacity of more than 6 hours and a gross power generation of 110 MWe, making it capable of generating electricity at night or in cloudy weather.
In November 2021, the European Commission approved the EUR 2.27 billion, three year incentive program planned by Greece to drive the deployment of more renewable energy generation capacity. The program is set to run untill 2025 and the Greek government aims to achieve 4.2 GW of renewables generation capacity.
Table of Contents
1. INTRODUCTION

1.1 Scope of the Study

1.2 Market Definition

1.3 Study Assumptions

2. EXECUTIVE SUMMARY

3. RESEARCH METHODOLOGY

4. MARKET OVERVIEW

4.1 Introduction

4.2 Market Size and Demand Forecast in USD billion, till 2027

4.3 Recent Trends and Developments

4.4 Government Policies and Regulations

4.5 Market Dynamics

4.5.1 Drivers

4.5.2 Restraints

4.6 Supply Chain Analysis

4.7 Porter's Five Force Analysis

4.7.1 Bargaining Power of Suppliers

4.7.2 Bargaining Power of Consumers

4.7.3 Threat of New Entrants

4.7.4 Threat of Substitutes Products and Services

4.7.5 Intensity of Competitive Rivalry

5. MARKET SEGMENTATION

5.1 Technology

5.1.1 Power Tower

5.1.2 Dish/Stirling

5.1.3 Parabolic Trough

5.1.4 Linear Fresnel

5.2 Heat Transfer Fluid

5.2.1 Molten Salt

5.2.2 Water-Based

5.2.3 Oil-Based

5.2.4 Other Heat Transfer Fluids

5.3 Countries

5.3.1 Germany

5.3.2 Spain

5.3.3 France

5.3.4 Rest of Europe

6. COMPETITIVE LANDSCAPE

6.1 Mergers, Acquisitions, Collaboration and Joint Ventures

6.2 Strategies Adopted by Key Players

6.3 Company Profiles

6.3.1 Abengoa SA

6.3.2 Masdar

6.3.3 Suncnim

6.3.4 Engie SA

6.3.5 Torresol Energy

6.3.6 GE Renewable energy

6.3.7 Kraftblock GmbH

6.3.8 RWE

*List Not Exhaustive

7. MARKET OPPORTUNITIES AND FUTURE TRENDS
Market Definition
Vehicle Types

- Passenger Vehicles, Commercial Vehicles and Motorcycles are the vehicle types considered under the automotive lubricants market.

Product Types

- For the purpose of this study, lubricant products such as engine oils, transmission oils, greases and hydraulic fluids are taken into consideration.

Service Refill

- Service refill is the primary factor considered while accounting the lubricant consumption for each of the vehicle segments, under the study.

Factory Fill

- First lubricant fill-ups for newly produced vehicles are considered.
Research Methodology
Mordor Intelligence follows a four-step methodology in all our reports.
Step-1: Identify Key Variables:

The quantifiable key variables (industry and extraneous) pertaining to the specific product segment and country are selected from a group of relevant variables & factors based on desk research & literature review; along with primary expert inputs. These variables are further confirmed through regression modeling (wherever required).

Step-2: Build a Market Model:

In order to build a robust forecasting methodology, the variables and factors identified in Step-1 are tested against available historical market numbers. Through an iterative process, the variables required for market forecast are set and the model is built on the basis of these variables.

Step-3: Validate and Finalize:

In this important step, all market numbers, variables and analyst calls are validated through an extensive network of primary research experts from the market studied. The respondents are selected across levels and functions to generate a holistic picture of the market studied.

Step-4: Research Outputs:

Syndicated Reports, Custom Consulting Assignments, Databases & Subscription Platforms
80%

of our clients seek made-to-order reports. How do you want us to tailor yours?