The Egyptian protective coatings market is anticipated to register a CAGR of 2.1% during 2018-2023 (the forecast period). The end-user segment of the market is expected to be dominated by the infrastructure sector. The water-borne is likely to be the fastest growing segment, based on technology.
Shift toward Environment-friendly Coatings is set to propel the Market Growth
Environment-friendly coating has become a significant and inevitable part of the coating industry. Increasing regulations, related to the use of paints and coatings, have led many countries in MEA, including Egypt, to shift from solvent-based coatings to water-based coatings. The water-based coating virtually emits no VOC and is one of the safest options for the environment and human health. Moreover, this type of coating is quite cost effective. The aforementioned shift is expected to, in turn, help the protective paints & coatings market in the country to witness a healthy growth.
Infrastructure Segment to Account for the Largest Market Share, by End User, During the Forecast Period
The growth of infrastructure coatings is closely linked to the construction activities of railroads and bridges in the region. The total infrastructure segment is estimated to cover over one-third of the total market. Recently, Egypt has been receiving significant investments from countries, like China, to improve its existing infrastructure. In 2016, it received about USD 15 billion to improve the infrastructure pertaining to the energy and power sector. The Egyptian parliament also approved a new investment law in May 2017, which is set to attract foreign and domestic investment. All the aforementioned factors are anticipated to help infrastructure to be a dominating end-user segment during the forecast period.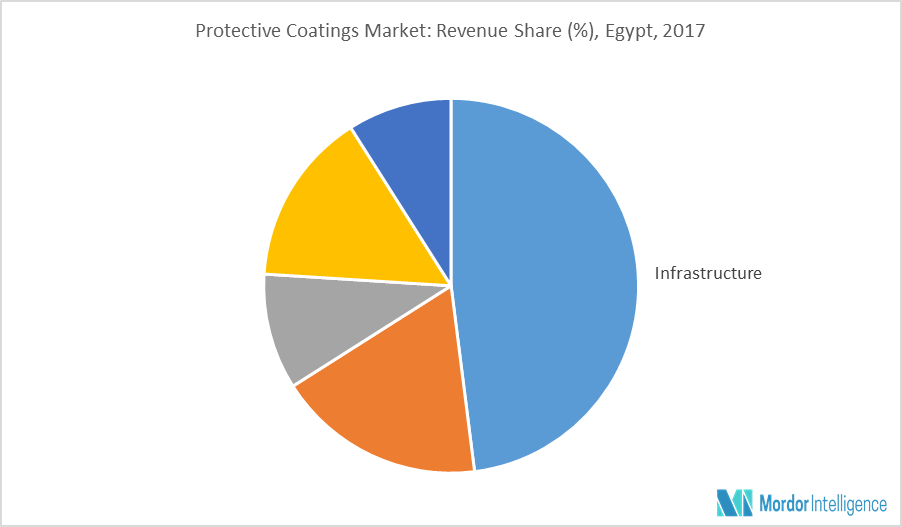 Notable Developments in the Market
There are no notable development for the Egyptian protective coatings market.
Major Players: PPG Industries, Akzo Nobel NV, PACHIN, and Jotun A/S, among others
Reasons to Purchase this Report
To understand the impact of increasing stringent regulations on the market
Various perspectives of the market with the help of Porter's five forces analysis
To understand the dominating technology in the market
Countries expected to witness the fastest growth rates during the forecast period
Identify the latest developments, market shares, and strategies that are employed by the major market players
3 months analyst support, along with the Market Estimate sheet (in Excel)
Customization of the Report
This report can be customized to meet your requirements. Please connect with our representative, who will ensure you to get a report that suits your needs.
1. Introduction
1.1 Scope of the Report
1.2 Research Phases
1.3 Study Deliverables
2. Executive Summary
3. Market Insights
3.1 Industry Value Chain Analysis
3.2 Industry Attractiveness – Porter's Five Force Analysis
3.2.1 Bargaining Power of Suppliers
3.2.2 Bargaining Power of Consumers
3.2.3 Threat of New Entrants
3.2.4 Threat of Substitute Products and Services
3.2.5 Degree of Competition
4. Market Dynamics
4.1 Drivers
4.1.1 Increasing Infrastructure Activities across the Region
4.1.2 Demand for Eco-friendly Coatings
4.1.3 Other Drivers
4.2 Restraints
4.2.1 Regulations related to the VOCs
4.2.2 Rise in Prices of Raw Materials
4.2.3 Decline in the indigenous crude oil production
4.3 Opportunities
4.3.1 Increasing infrastructure investments in the region
4.3.2 Other Opportunities
5. Market Segmentation and Analysis - (Market size, Growth, and forecast)
5.1 By Resin Type
5.1.1 Epoxy
5.1.2 Polyester
5.1.3 Polyurethane
5.1.4 Vinyl Ester
5.1.5 Others
5.2 By Technology
5.2.1 Water-borne
5.2.2 Solvent-borne
5.2.3 Powder Coatings
5.2.4 UV Cured
5.3 By End User
5.3.1 Oil & Gas
5.3.2 Mining
5.3.3 Power
5.3.4 Infrastructure
5.3.5 Others
6. Future of the Market
7. Competitive Landscape
7.1 Mergers and Acquisitions, Joint Ventures, Collaborations, and Agreements
7.2 Market Share Analysis**
7.3 Strategies Adopted by Leading Players
8. Company Profiles (Overview, Financials**, Products & services, Recent Developments, and Analyst View)
8.1 Akzo Nobel NV
8.2 BASF SE
8.3 H.B. Fuller Company
8.4 Hempel
8.5 Jotun A/S
8.6 Kansai Paint Co. Ltd
8.7 KAPCI Coatings
8.8 MIDO Coatings
8.9 Nippon Paints
8.10 PACHIN
8.11 PPG Industries
8.12 RPM International
8.13 SCIB
...List not exhaustive
9. Disclaimer
**Subject to Availability of Public Domain