The global ECG telemetry devices market is expected to grow at a CAGR of 8.3% during the forecast period. ECG telemetry devices are very useful in addressing the requirements of patients, who are extremely vulnerable to cardiac disorders and require continuous medical intervention. These ECG telemetry devices are gaining acceptance and support from the post-coronary care and ambulatory service providers.
Increase in Cardiovascular Diseases Rates
The world's population is around 7.5 billion and increasing. And along with the rising population, the number of people in old age is also growing, and the number of deaths due to cardiovascular diseases, is on the rise. Cardiovascular diseases are one of the leading causes of premature death in the world; the cardiac diseases include heart attacks, strokes, and other circulatory diseases. According to the American Heart Association, the number of people living with heart failure increased from 5.7 million (2012) to 6.5 million people (2014). So, every year, the percentage of people living with cardiac diseases is increasing, and thispopulation is expected to use the diagnostic tests, such as the ECG. So, the ECG telemetry devices usage is also expected to increase. Hence the increased cardiovascular disease rate is driving the ECG telemetry market. The factors, like increasing number of homecare monitoring devices and the increase in a number of service providers, are driving the market.
Cost Constraint
ECG telemetry devices are high-cost, and this cost is becoming a major restraint for the growth of the market. For example, if continuous monitoring is required for the patient, it costs around $300 or more per night, excluding the bed and hospital costs. So, the cost is becoming a heavy burden for the patients financially, as telemetry beds are quite expensive. Hence, people are not opting ECG telemetry devices, which is hindering the market growth. Also, the continuous need of wireless communication mode is restraining the market growth.
The United States has the Highest Market Share
In North America, the United States is dominating the ECG telemetry devices market, due to the availability of reimbursement policies, government initiatives, and investment in patient healthcare expenditure. Asia-Pacific is expected to record a substantial growth over the forecast period.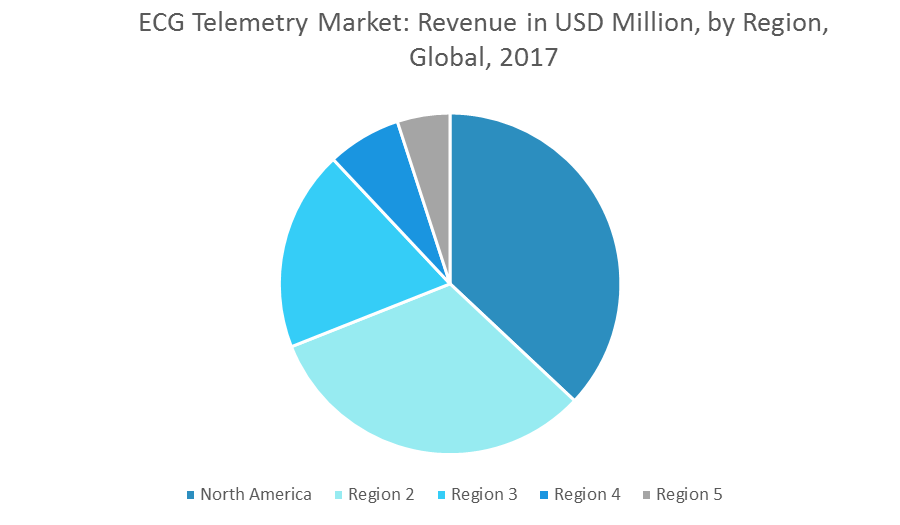 Key Developments in the Market
March 2017: GE Healthcare acquired Monica.
Major Players: Aerotel Medical Systems Ltd, Cardiac Science Corporation, GE Healthcare Inc., Medtronic Inc., Mindray Medical International Ltd, Nihon Kohden Corporation, Philips Healthcare, Schiller AG, Siemens Healthcare, and Welch Allyn Inc.
Reasons to Purchase the Report
Current and future market outlook for ECG telemetry devices in the developed and emerging markets
Analyze various perspectives on the market with the help of Porter's five forces analysis
The segment that is expected to dominate the market
Regions that are expected to witness the fastest growth, during the forecast period
Identify the latest developments, market shares, and strategies employed by the major market players
3-month analyst support, along with the market estimate sheet (in excel)
Customization of the Report
This report can be customized to meet your requirements. Please connect with our analyst, who will ensure you get a report that suits your needs.
1. Introduction
1.1 Market Definition
2. Research Methodology
3. Executive Summary
4. Key Inferences
5. Market Overview
5.1 Current Market Scenario
5.2 Porter's Five Forces Analysis
5.2.1 Bargaining Power of Suppliers
5.2.2 Bargaining Power of Consumers
5.2.3 Threat of New Entrants
5.2.4 Threat of Substitute Product and Services
5.2.5 Competitive Rivalry within the Industry
6. Drivers, Restraints, Opportunities, and Challenges Analysis (DROC)
6.1 Market Drivers
6.1.1 Homecare Monitoring Devices
6.1.2 Increase in Cardiovascular Diseases Rates
6.1.3 Increase in the Number of Service Providers
6.2 Market Restraints
6.2.1 Cost Constraint
6.2.2 Continuous Need of Wireless Communication Mode
6.3 Opportunities
6.4 Key Challenges
7. Market Segmentation
7.1 Segmentation -by Use
7.1.1 Suspected Heart Attack
7.1.2 Suspected Pulmonary Embolism
7.1.3 Cardiac Murmur
7.1.4 Perceived Cardiac Dysrhythmias
7.1.5 Monitoring the Effects of a Heart Medication
7.2 Segmentation -by Application
7.2.1 Arrhythmias
7.2.2 Increase in Wall Thickness or Size of the Atria and Ventricles
7.2.3 Myocardial Ischemia and Infarction
7.2.4 Drug Effect
7.2.5 Electrolyte Imbalance
7.2.6 Pacemaker Monitoring
7.2.7 Others
7.3 Segmentation - by Geography
7.3.1 North America
7.3.1.1 United States
7.3.1.2 Canada
7.3.1.3 Mexico
7.3.2 Europe
7.3.2.1 France
7.3.2.2 Germany
7.3.2.3 United Kingdom
7.3.2.4 Italy
7.3.2.5 Spain
7.3.2.6 Rest Of Europe
7.3.3 Asia-Pacific
7.3.3.1 China
7.3.3.2 Japan
7.3.3.3 India
7.3.3.4 Australia
7.3.3.5 New Zealand
7.3.3.6 South Korea
7.3.3.7 Rest of Asia-Pacific
7.3.4 Middle East & Africa
7.3.4.1 GCC
7.3.4.2 South Africa
7.3.4.3 Rest of Middle East & Africa
7.3.5 South America
7.3.5.1 Brazil
7.3.5.2 Argentina
7.3.5.3 Rest of South America
8. Competitive Landscape
8.1 Mergers and Acquisition Analysis
8.2 Agreements, Collaborations, and Partnerships
8.3 New Product Launches
9. Key Players
9.1 Aerotel Medical Systems Ltd
9.2 Cardiac Science Corporation
9.3 GE Healthcare Inc.
9.4 Medtronic Inc.
9.5 Mindray Medical International Ltd
9.6 Nihon Kohden Corporation
9.7 Philips Healthcare
9.8 Schiller AG
9.9 Siemens Healthcare
9.10 Welch Allyn Inc.
9.11 Others
10. Future of the Market