China construction chemicals market was estimated at USD 13,291.55 million in 2018. The market is expected to register a CAGR of 7.45% in terms of revenue, during the forecast period, 2018 to 2023. The residential sector dominated the China construction chemicals market, while the industrial segment is estimated to register the fastest CAGR during the forecast period.
Increasing Construction Activities in China Driving the Market
China is the largest market for construction chemicals, accounting for around 64% of the regional market share in terms of revenue in 2018. China's real estate sector has been growing rapidly with increased investment by the government. In 2016, property prices in China rose by about 30.0% due to increased activity in the real estate space. In China, the housing authorities of Hong Kong have launched a number of measures to push-start the construction of low-cost housing. The authorities has projected the capital expenditure in construction of HK$ 23,923 million in its proposed budget for 2018-19, i.e. 7% higher than the budget allotted for the FY2017, in order to the construct more affordable flats. The growth in construction is expected to boost the construction chemicals market in the country during the forecast period.
Concrete Admixtures the Dominant Product Type
Concrete admixtures reduce the concrete construction cost by modifying the properties of hardened concrete, ensuring better quality during mixing, transporting, placing, and curing, and thus, overcoming the most emergencies during concrete operations. China has the largest market for concrete admixture, owing to the increasing government investments in transport infrastructure in the country. There have been investments of CNY 823.8 billion and CNY 801.5 billion in China's rail infrastructure in 2015 & 2016, respectively. Various incentives by the government to promote the infrastructural sector, coupled with the blooming residential sector (owing to the rising middleclass population), have largely facilitated the growth of the construction market in China over the years.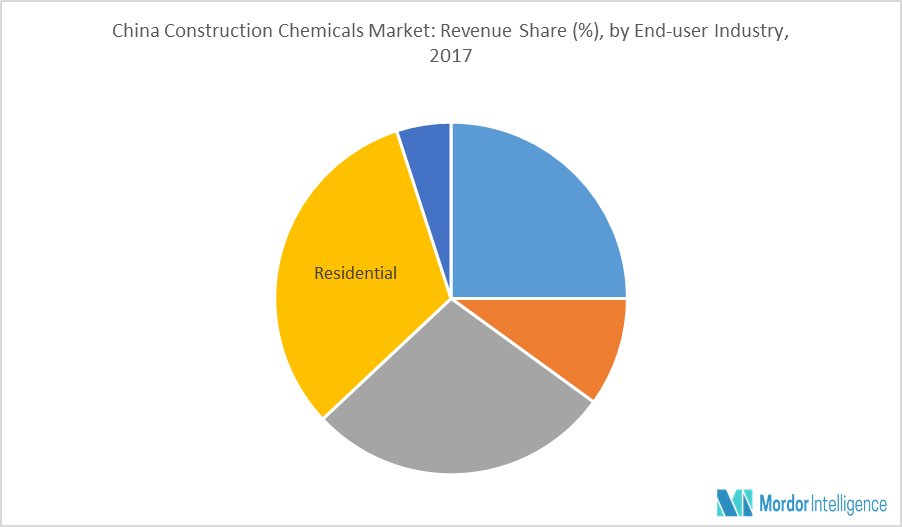 Notable Developments in the Market
May 2017: Arkema announced the acquisition of CMP Specialty Products by Bostik, the flooring and floor preparation business of US based specialist CGM
Major Players: Mapei Inc., Sika AG, BASF SE, and W.R. Grace & Co., among others
Reasons to Purchase this Report
To understand the impact of end-user applications on the market
Analyzing various perspectives of the market with the help of Porter's five forces analysis
To understand the dominating product type in the market
Identify the latest developments, market shares, and strategies employed by the major market players
3-month analyst support, along with the Market Estimate sheet (in Excel)
Customization of the Report
This report can be customized to meet your requirements. Please connect with our representative, who will ensure you to get a report that suits your needs
1. Introduction
1.1 Research Phases
1.2 Study Deliverables
1.3 Scope of the Report
2. Executive Summary
3. Market Insights
3.1 Industry Value-Chain Analysis
3.2 Industry Attractiveness – Porter's Five Forces Analysis
3.2.1 Bargaining Power of Suppliers
3.2.2 Bargaining Power of Consumers
3.2.3 Threat of New Entrants
3.2.4 Threat of Substitute Products and Services
3.2.5 Degree of Competition
4. Market Dynamics
4.1 Drivers
4.2 Restraints
4.3 Opportunities
5. Market Segmentation and Analysis (Market Size, Growth and Forecast)
5.1 By Product Type
5.1.1 Concrete Admixture
5.1.2 Surface Treatments
5.1.3 Repair and Rehabilitation
5.1.4 Protective Coatings
5.1.5 Industrial Flooring
5.1.6 Water Proofing
5.1.7 Adhesives
5.1.8 Sealants
5.1.9 Grouts and Anchors
5.1.10 Cement Grinding Aids
5.2 By End-user Industry
5.2.1 Commercial
5.2.2 Industrial
5.2.3 Infrastructure
5.2.4 Residential
5.2.5 Publice Space
6. Competitive Landscape
6.1 Mergers & Acquisitions, Joint Ventures, Collaborations, and Agreements
6.2 Market Share Analysis**
6.3 Strategies Adopted by Leading Players
7. Company Profiles (Overview, Financials**, Products & Services, and Recent Developments)
7.1 3M
7.2 Adco
7.3 Albemarle Corporation
7.4 Arkema SA
7.5 Ashland Inc.
7.6 BASF SE
7.7 Bolton Group
7.8 Cemetaid (N.S.W.) Pty. Ltd.
7.9 CHRYSO
7.10 CICO Technologies Ltd.
7.11 CONMIX Ltd.
7.12 DowDuPont
7.13 Fosroc
7.14 Franklin International
7.15 Henkel AG & Company, KGaA
7.16 Lafarge
7.17 Mapei, Inc.
7.18 MUHU Construction Materials Co. Ltd.
7.19 Pidilite Industries
7.20 RPM International Inc.
7.21 Selena FM S.A.
7.22 Sika AG
7.23 Structural Waterproofing
7.24 W.R. Grace & Co.
7.25 Thermax Global
*List not exhaustive
8. Disclaimer
**Subject to availability on public domain