The global ceiling tiles market is expected to register a moderate CAGR during the forecast period, 2018 to 2023. Asia-Pacific region is estimated to lead the market owing to its rapid increase in construction activities. Commercial segment is expected to be the fastest growing by end-user industry.
Growing Demand for Ceiling Tiles from Construction Industry
According to the European Construction Industry Federation (FIEC), construction activity in the whole EU grew by 2.2%, in 2016 when compared to 2015, reaching a total of EUR 1,278 billion. The Dubai Expo 2020, which is set to take place over the six-month period between October 2020 and April 2021, is estimated to attract more than 25 million tourists; this is expected to propel the construction market in Dubai. Additionally, FIFA World-Cup in Qatar (2022) is anticipated to provide significant demand for admixtures in construction activities. The National Infrastructure Plan 2014-18 of Mexico involves the development of roads, housings, water, health, and other infrastructure segments in the country. Government of India has announced allotment of about INR 50,000 crore (USD 7.34 billion) for the construction of smart cities, across the country. The Chinese government has projected the capital expenditure in construction of HK$ 23,923 million in its proposed budget for 2018-19, i.e. 7% higher than the budget allotted for the FY2017, in order to the construct more affordable flats.
Commercial - The Fastest Growing End-user Industry
In the commercial sector, ceilings are mostly used in offices, retail stores, educational institutions, hospitals, hospitality industry, multiplexes, home theaters, auditoriums, etc. Office buildings require strength, durability, and good aesthetic value ceilings, and thus, the ceiling tiles used in this sector cater to the aforementioned needs. The major ceiling tile types used in office buildings are, drop ceilings tiles and planks, among others. Growing number of malls and retail stores across every region, is driving the market for ceiling tiles in the retail segment. Hospitals require some specific ceiling tiles to maintain a hygienic environment. With continuous increase in the number of hospitals, primarily, in North America and the Middle East, the adoption of ceiling tiles is expected to rise in the medical industry.
Europe Region to Lead the Market
Europe is going through an expansion phase in the retail segment, with new construction of malls all across the continent. The Metropol Mall in Turkey, Vegas Kuntsevo in Russia, Mall of Scandinavia in Sweden, Westfield Bradford in the United Kingdom, Weberzeile Ried in Austria, Mall of Europe in Belgium, and Lublin Mall in Poland, are some of the recent constructions in Europe. Germany has the largest construction industry in Europe. According to industry experts, the demand for new houses in Germany, is estimated to be around 350,000 per year, until 2020, which is expected to boost the construction sector. According to the European Construction Industry Federation (FIEC), construction activity in the whole EU grew 2.2% in 2016, when compared to 2015, reaching a total of EUR 1,278 billion. Construction activities in all 19 EUROCONSTRUCT countries has increased by 3.23% in 2017, owing to growing demand in construction in these countries. Furthermore, the market is further expected to rise by around 6% through 2020.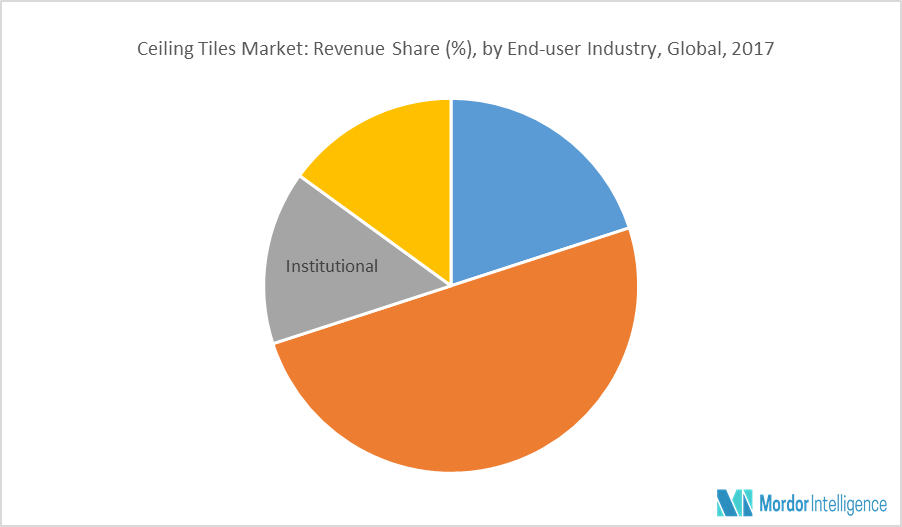 Major Players: IMREYS, New Ceiling Tiles LLC, Saint Gobain SA, Dexune, and SAS International, amongst others.
Reasons to Purchase this Report
To understand the impact of end-user applications on the market
Analyzing various perspectives of the market with the help of Porter's five forces analysis
To understand the dominating technology in the market
Countries expected to witness the fastest growth during the forecast period
Identifying the latest developments, market shares and strategies employed by the major market players
3-month analyst support, along with the Market Estimate sheet in excel
Customization of the Report
This report can be customized to meet your requirements. Please connect with our representative, who will ensure you to get a report that suits your needs
1. Introduction
1.1 Research Phases
1.2 Scope of the Market
1.3 Study Deliverables
2. Executive Summary
3. Market Insights
3.1 Industry Value Chain Analysis
3.2 Industry Attractiveness - Porter's Five Forces Analysis
3.2.1 Bargaining Power of Suppliers
3.2.2 Bargaining Power of Consumers
3.2.3 Threat of New Entrants
3.2.4 Threat of Substitute Products and Services
3.2.5 Degree of Competition
4. Market Dynamics
4.1 Drivers
4.1.1 Growing Demand for Ceiling Tiles from Construction Industry
4.1.2 Reduced Carbon Impacts in Processing of Raw Materials for Manufacturing Ceiling Tiles
4.2 Restraints
4.2.1 Threat of Substitutes, such as, Asphalt and Mortar
4.2.2 Other Restraints
4.3 Opportunities
4.3.1 Innovation in Gypsum Tiles for its Biodegradable Properties
4.3.2 Other Opportunities
5. Market Segmentation and Analysis (Market Size, Growth, and Forecast)
5.1 By Raw Material
5.1.1 Mineral Wood
5.1.2 Metal
5.1.3 Gypsum
5.1.4 Others
5.2 By End-user Industry
5.2.1 Residential
5.2.2 Commercial
5.2.3 Industrial
5.2.4 Institutional
6. Regional Market Analysis (Market Size, Growth, and Forecast)
6.1 Asia-Pacific
6.1.1 China
6.1.2 India
6.1.3 Japan
6.1.4 South Korea
6.1.5 Australia & New Zealand
6.1.6 Rest of Asia-Pacific
6.2 North America
6.2.1 United States
6.2.2 Canada
6.2.3 Mexico
6.2.4 Rest of North America
6.3 Europe
6.3.1 Germany
6.3.2 United Kingdom
6.3.3 Italy
6.3.4 France
6.3.5 Spain
6.3.6 Russia
6.3.7 Rest of Europe
6.4 South America
6.4.1 Brazil
6.4.2 Argentina
6.4.3 Rest of South America
6.5 Middle East & Africa
6.5.1 Saudi Arabia
6.5.2 South Africa
6.5.3 Rest of Middle East & Africa
7. Competitive Landscape
7.1 Mergers and Acquisitions, Joint Ventures, Collaborations and Agreements
7.2 Market Share Analysis**
7.3 Strategies Adopted by Leading Players
8. Company Profiles (Overview, Financials**, Products & Services, and Recent Developments)
8.1 Armstrong World Industries Inc.
8.2 Dexune
8.3 Foshan Ron Building Material Trading Co. Ltd
8.4 Guangzhou Tital Commerce Co. Ltd
8.5 Haining Shamrock Import & Export Co. Ltd
8.6 IMREYS
8.7 Knauf
8.8 Mada Gypsum
8.9 New Ceiling Tiles LLC
8.10 Odenwald Faserplattenwerk GmbH (OWA)
8.11 Rockfon
8.12 Saint Gobain SA
8.13 SAS International
8.14 Shandong Huamei Building Materials Co. Ltd
8.15 Techno Ceiling Products
8.16 USG Corporation
*List Not Exhaustive
9. Disclaimer
**Subject to availability on public domain