Market Snapshot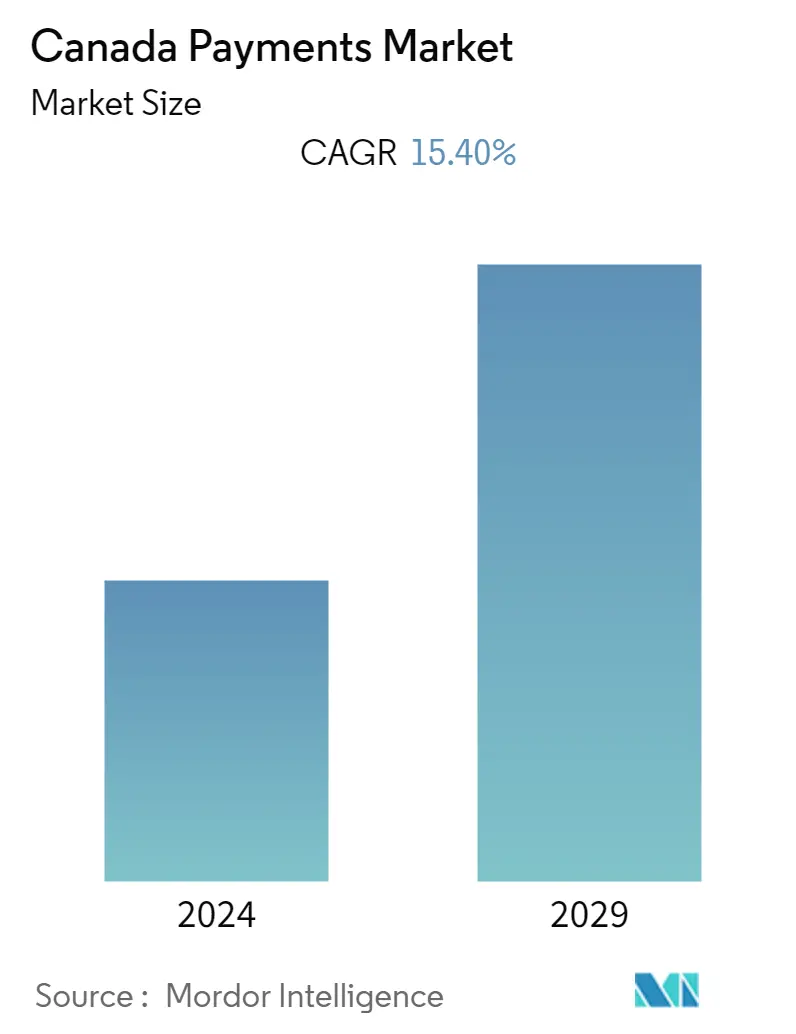 Study Period:
2020-2027
Base Year:
2021
CAGR:
15.4 %
Need a report that reflects how COVID-19 has impacted this market and its growth?
Market Overview
The Canada payments market is expected to register a CAGR of 15.4% during the period of 2022-2027. The primary factor driving the growth of the market in the region is the recurring payments setups, online payments, and robust growth in E-commerce, among others.
New payment technologies give Canadians more choice, and the options are getting faster, easier to use, and more convenient. Likewise, payment systems now offer more speed; and more than ever, they're globally connected and easy to access. The Bank of Canada invests in backup systems to ensure smooth and resilient operations, even in disruptive events.
Furthermore, as per the Bank of Canada, about 30 million financial transactions take place in Canada daily. Credit cards, debit cards, and electronic fund transfers are Canada's most preferred payment options.
Payments Canada operates the country's two main payment systems, which the Bank oversees: The Large Value Transfer System (LVTS) and The Automated Clearing Settlement System (ACSS). Banks and other financial institutions use the LVTS to make very large payments safely and instantly. At the same time, ACSS settles small-value retail transactions between buyers and sellers that are paid by cheque, debit, or pre-authorized payments.
There has been a rapid technological change in the field of electronic money and payments in recent years in the region. The trend toward electronic payments is likely to accelerate in the future. These developments can fundamentally change how Canadians pay for goods and services over the Internet and in traditional point-of-sale transactions.
Innovation in payment technology has increased the country's productivity and expanded the size of the Canadian economy. Banks in Canada are heavily invested in Payment Canada's payment modernization project, including the Real-time Rail, which will allow Canadians to make payments and receive funds in seconds every hour of every day. This is in addition to investments that have been made in Canada's high-value payment system, which is the backbone of Canada's financial market infrastructure.
However, payment constraints and transfer limits are the most prevalent payment challenges in the Canadian payments market, which can hamper the market's growth. These encounters primarily relate to either limits on transfer amounts or payment choice constraints when consumers cannot choose their preferred payment method.
The COVID-19 pandemic deeply impacted the payment industry in Canada. Lockdowns and brick-and-mortar business closures restricted Canadians from making in-person purchases and changed the way they transacted before the outbreak. While overall spending decreased due to concerns about the economy and personal finances, Canadians spent more money online, accelerating the shift from cash to digital payments. At the same time, there was a sharp rise in contactless payment solutions, such as cards, smartphones, and wearable devices.
Scope of the Report
The Canada Payments Market is segmented by Mode of Payment (Point of Sale (Card Payments, Digital Wallet, Cash), Online Sale (Card Payments, Digital Wallet)), and by End-user Industries (Retail, Entertainment, Healthcare, Hospitality). E-commerce payments include online purchases of goods and services such as purchases made on e-commerce websites and online booking of travel and accommodation. The scope of the market excludes online purchases of motor vehicles, real estate, utility bill payments (such as water, heating, and electricity), mortgage payments, loans, credit card bills, or purchases of shares and bonds. As for Point-of-Sale, all transactions that occur at the physical point of sale are included in the scope of the market. It includes traditional in-store transactions and all face-to-face transactions regardless of the location of the transaction. Cash is also considered for both cases (cash-on-delivery for e-commerce sales).
The study tracks key market metrics, underlying growth influencers, and significant industry vendors, providing support for Canada's market estimates and growth rates throughout the anticipated period. The study looks at COVID-19's overall influence on the Canadian payment ecosystem.
By Mode of Payment

Point of Sale
Card Payments (includes Debit Cards, Credit Cards, Bank Financing Prepaid Cards)
Digital Wallet (includes Mobile Wallets)
Cash
Others

Online Sale
Card Payments (includes Debit Cards, Credit Cards, Bank Financing Prepaid Cards)
Digital Wallet (includes Mobile Wallets)
Others (includes Cash on Delivery, Bank Transfer, and Buy Now, Pay Later)
By End-user Industry
Retail
Entertainment
Healthcare
Hospitality
Other End-user Industries
Key Market Trends
High Proliferation of E-commerce, Including the Rise of M-commerce, is expected to drive the Payments Market
Canada is a lucrative and high-spending e-commerce market. As per the IMF, Canada's economy is forecast to grow by 3.9% in 2022 and 2.85 in 2023. Furthermore, as per World Bank data, the average Canadian earns USD 43,450 a year, 27% more than the average EU citizen.
The COVID-19 pandemic helped fuel sharp growth in e-commerce payments in 2020. Due to lockdown and emergency stay-at-home orders, consumers replaced in-store with online shopping. It is likely that Canadians will continue to leverage online platforms for everyday needs, even after the COVID-19 pandemic. Many businesses transformed by moving to e-commerce sales platforms for the first time. This contributed to the rise in online purchases, as Canadians had more choices for online shopping.
A PayPal Canada survey revealed that Canadians, in general, are spending USD 178 each month online, an increase of USD 69 from pre-pandemic, even as Canadians emerge from lockdown. Overall, this increase represents more than USD 2 billion in monthly online spending.
Furthermore, the innovative payment solutions offered by leading E-commerce companies further paved the way for the growth of the E-commerce market. Lucrative cashback and loyalty programs on the credit card used for online shopping heavily influence the shift. As per Payments Canada, 78% of Canadians have a reward linked to their cards. Most of these reward programs issue points in various ways, including travel, general, and cashback rewards.
Moreover, in Canada, the evolution of M-commerce is further proliferating online shopping, supported by a high internet penetration rate and mobile penetration rate. Furthermore, innovative payment solutions offered by E-commerce companies make payments checkout easy, with many of them offering digital wallets for online purchases. Furthermore, many E-commerce companies offer real-time payments like BNPL, attracting consumers to move toward E-commerce.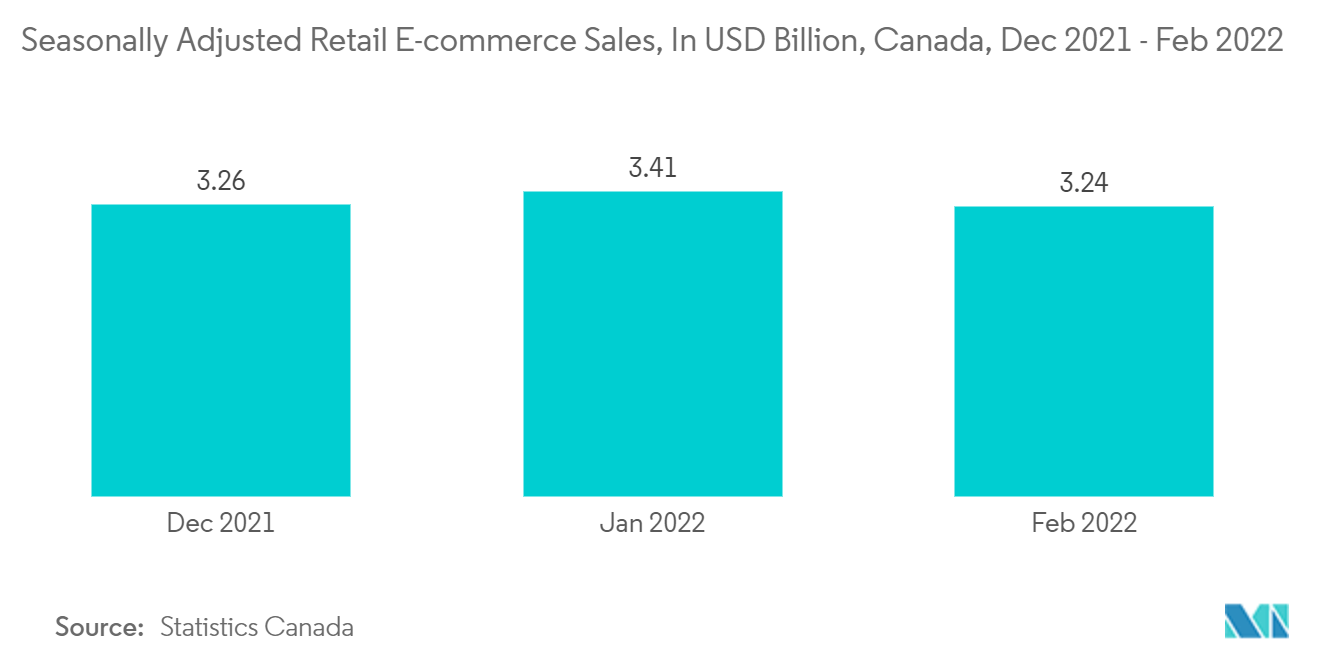 To understand key trends, Download Sample Report
Real-time Payments are expected to gain significant traction in the country
Buy Now Pay Later services are rapidly evolving in the Canadian payments market. BNPL allows consumers to divvy up an online purchase into multiple payments, often at 0% interest and without fees. Various leading payments providers such as Klarna, Affirm, PayBright, and Afterpay is providing Real-time payments such as Buy Now Pay Later services to consumers in the region.
Furthermore, many modern BNPL services can be accessed almost instantly online at the point of sale and can be used to pay for a much broader (and less expensive) range of products and services than before, including clothing, household essentials, groceries, entertainment, travel, and so on. This factor is further proliferating the growth of Real-time payments in the region.
Payments Canada is a public purpose organization that owns and operates Canada's payments systems. Payments Canada is working closely with the Real-time payments ecosystem to modernize Canada's payments and to launch Canada's Real-time payment system, Real-Time Rail. Operated by Payments Canada and regulated by the Bank of Canada, the RTR will allow Canadians to initiate payments and receive irrevocable funds in seconds, 24/7/365. Leveraging the ISO 20022 data standard, the system will support payment information traveling with every payment. The RTR is expected to launch in 2022.
Payments Canada is partnering with the leading payments solutions provider companies in the region for the Real-Time Rail Payments system. For instance, in March 2021, Payments Canada announced the selection of Interac Corp. as the exchange solution provider for Canada's real-time payments system, the Real-Time Rail (RTR). The announcement follows a selection process that includes participation from the Bank of Canada.
Furthermore, the exchange solution provided by Interac will allow Payments Canada members participating in the RTR to send and receive RTR payment messages. The partnership will leverage Interac's existing infrastructure in Canada's payment ecosystem and its existing connectivity to nearly 300 financial institutions. To enable the settlement of RTR payments in real-time, the exchange solution will interface with the clearing and settlement solution being provided by Mastercard's Vocalink. This will further enhance the capabilities of the Canada payments market in real-time payments.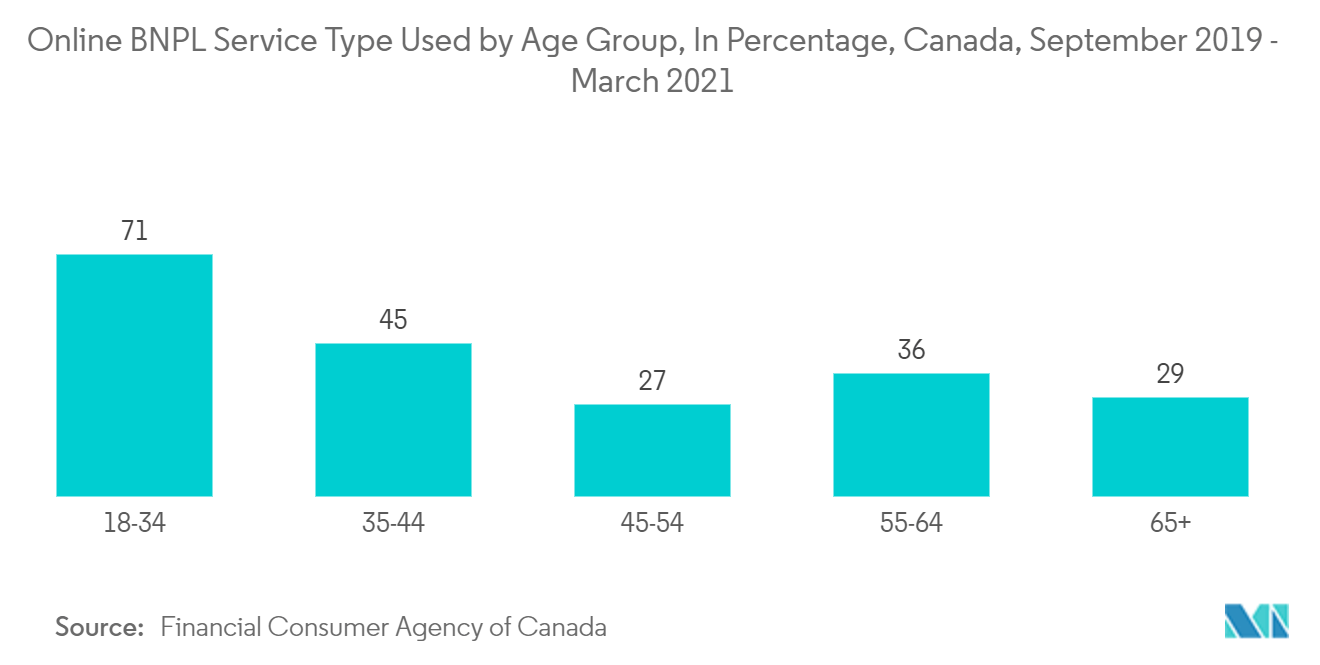 Competitive Landscape
The competition in the Canadian payments market appears to be moderate as few of the major players currently hold significant market share. These major players are offering innovative electronic fund transfer technologies and indulging in mergers and acquisitions to gain more market share. Major players in the Canada payments market include Mastercard Inc., Visa Inc., Interac Corp., and PayPal, among others.
May 2022 - As part of its ongoing commitment to strengthening Canadian innovation, Mastercard unveiled the "Experience Centre" at its Global Intelligence and Cyber Centre of Excellence ("Centre of Excellence") in Vancouver, BC, where local, national, and international tech communities are invited to collaborate on cyber security innovation. The Experience Centre also features emerging Mastercard products and solutions that are already securing digital payments globally, including those developed locally in Vancouver.
April 2022 - VoPay, a leader in payment innovation, announced that it has partnered with HES FinTech, a European-based lending software vendor, to continue the fintech company's growing loan management portfolio. The strategic partnership will enable Canadian lenders to access more innovative loan technology and real-time bank account payments using a single solution with rich functionality, helping lenders scale up while outperforming competitors in the growing lending market.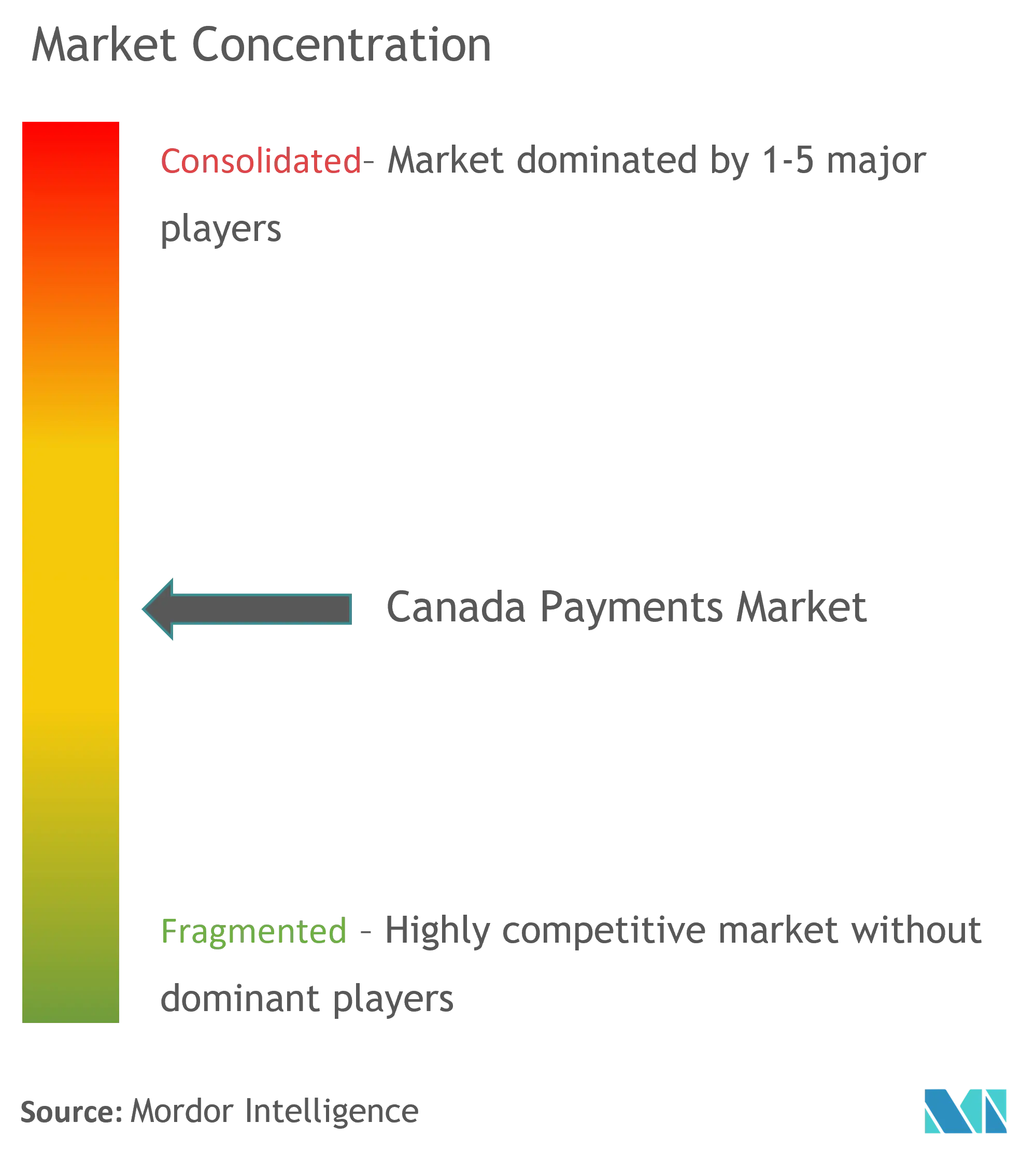 Recent Development
May 2022 - WooCommerce, the flexible, open-source commerce solution built on WordPress, and Affirm, the payment network that empowers consumers and helps merchants drive growth, today announced a deepened partnership to provide WooCommerce merchants the opportunity to offer consumers the ability to pay over time through Affirm. Eligible WooCommerce businesses will now be able to seamlessly offer Affirm at checkout in a few simple clicks in the U.S. and Canada via PayBright, an Affirm company and one of Canada's leading providers of installment payment plans.
April 2022 - Payments Canada, Canada's largest payment organization, has entered into a strategic partnership with Tata Consultancy Services (TCS) to transform its payment system operations and help implement the Real-Time Rail (RTR), the new real-time payments system that will allow Canadians to initiate payments and receive irrevocable funds in seconds. TCS will leverage its deep knowledge of the Canadian payments industry and extensive experience in designing and implementing large payment systems for its Canadian financial services clients to help Payments Canada create and execute an integration roadmap for the RTR.
January 2022 - With a strong desire to meet the growing needs of technology partners and U.S. and Canadian merchants, Merrco Payments Inc. has added functionality to its PayHQ platform to ensure businesses are able to process integrated payments legally, securely and seamlessly. With PayHQ, technology solution providers, including Point of Sale (POS) and Integrated/Independent Software Vendor (ISV) partners, can grow their brick-and-mortar and e-commerce client base with a Payment Card Industry Data Security Standards compliant checkout experience while minimizing payment credential management. Merrco's payment portal enables omnichannel payment processing across the U.S. and Canada through a single connection and interface.
Table of Contents
1. INTRODUCTION

1.1 Study Assumptions and Market Definitions

1.2 Scope of the Study

2. RESEARCH METHODOLOGY

3. EXECUTIVE SUMMARY

4. MARKET INSIGHTS

4.1 Market Overview

4.2 Industry Stakeholder Analysis

4.3 Industry Attractiveness-Porter's Five Forces Analysis

4.3.1 Bargaining Power of Suppliers

4.3.2 Bargaining Power of Buyers/Consumers

4.3.3 Threat of New Entrants

4.3.4 Threat of Substitute Products

4.3.5 Intensity of Competitive Rivalry

4.4 Evolution of the payments landscape in Canada

4.5 Key market trends pertaining to the growth of cashless transaction in Canada

4.6 Impact of COVID-19 on the payments market in Canada

5. MARKET DYNAMICS

5.1 Market Drivers

5.1.1 High Proliferation of E-commerce, Including the Rise of M-commerce, is expected to drive the Payments Market

5.1.2 Enablement Programs by Key Retailers and Government encouraging digitization of the market

5.1.3 Growth of Real-time Payments, especially Buy Now Pay Later and Rise of Real-Time Rail Payments in Canada

5.2 Market Challenges

5.2.1 Payment Constraints and Limits on Transfer Amounts

5.3 Market Opportunities

5.3.1 New Entrants to Drive Innovation Leading to Higher Adoption

5.3.2 Sending and Receiving Money Internationally Presents Strong Growth Prospect

5.4 Key Regulations and Standards in the Digital Payments Industry

5.5 Analysis of major case studies and use-cases

5.6 Analysis of key demographic trends and patterns related to payments industry in Canada (Coverage to include Population, Internet Penetration, Banking Penetration/Unbanking Population, Age & Income etc.)

5.7 Analysis of the increasing emphasis on customer satisfaction and convergence of global trends in Canada

5.8 Analysis of cash displacement and rise of contactless payment modes in Canada

6. Market Segmentation

6.1 By Mode of Payment

6.1.1 Point of Sale

6.1.1.1 Card Payments (includes Debit Cards, Credit Cards, Bank Financing Prepaid Cards)

6.1.1.2 Digital Wallet (includes Mobile Wallets)

6.1.1.3 Cash

6.1.1.4 Others

6.1.2 Online Sale

6.1.2.1 Card Payments (includes Debit Cards, Credit Cards, Bank Financing Prepaid Cards)

6.1.2.2 Digital Wallet (includes Mobile Wallets)

6.1.2.3 Others (includes Cash on Delivery, Bank Transfer, and Buy Now, Pay Later)

6.2 By End-user Industry

6.2.1 Retail

6.2.2 Entertainment

6.2.3 Healthcare

6.2.4 Hospitality

6.2.5 Other End-user Industries

7. Competitive Landscape

7.1 Company Profiles

7.1.1 Matercard Inc.

7.1.2 Visa Inc.

7.1.3 Interac Corp.

7.1.4 PayPal

7.1.5 Apple Pay (Apple Inc.)

7.1.6 Google Pay (Google LLC)

7.1.7 American Express Company

7.1.8 Wealthsimple Cash (Wealthsimple Technologies Inc.)

7.1.9 Stripe, Inc

7.1.10 Clearly Payments Inc.

*List Not Exhaustive

8. Investment Analysis

9. Future Outlook of the Market
You can also purchase parts of this report. Do you want to check out a section wise price list?
Frequently Asked Questions
What is the study period of this market?
The Canada Payments Market market is studied from 2020 - 2027.
What is the growth rate of Canada Payments Market?
The Canada Payments Market is growing at a CAGR of 15.4% over the next 5 years.
Who are the key players in Canada Payments Market?
Matercard Inc., Visa Inc., PayPal, Apple Pay (Apple Inc.), Interac Corp. are the major companies operating in Canada Payments Market.
80%

of our clients seek made-to-order reports. How do you want us to tailor yours?