Market Snapshot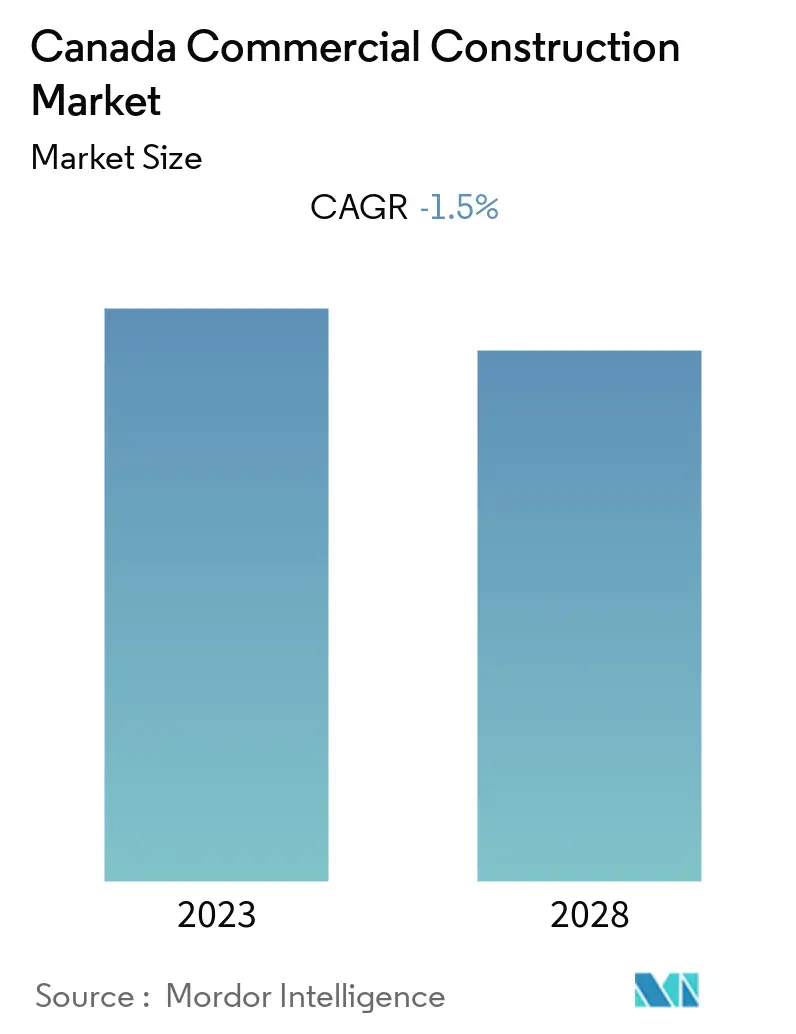 Study Period:
2016 - 2026
Base Year:
2021
CAGR:
-1.5 %
Need a report that reflects how COVID-19 has impacted this market and its growth?
Market Overview
The market for Commercial Construction in Canada is estimated to be valued at more than USD XX billion and is estimated to shrink at a CAGR of around 1.5% during the forecast period.
GDP of Canada is on a decline ever since, the pandemic struck early 2020. The figure hovering around +2%, has shown a steep decline, and was reported at -5.8% in March 2020. The financial condition of common household has been rescued to certain extent by promoting deflation, with Consumer Price Index (base year, 2002) showing a value of -0.2%, in April 2020, as compared to +2.4% in January. This shows a positive sign, with effective economic control measures being taken by the government to retain household debt: Asset ratio and maintain Household net worth. The GDP in construction sector accounts for around 104.38 Billion USD in 2019 as against 104.85, 103.73, and 99.34 Billion USD reported in 2018, 2017 and 2016 respectively.
Average revenue of commercial construction businesses (reported on the basis of 9423 businesses surveyed by Canadian Government authorities in 2018), was computed to be 485.8 thousand USD with major expenditure on labour cost, which accounted for around 12% of the total revenue. This average figure is much higher as compared to overall construction sector's average value which turns out to be 324 thousand USD. Total expenditure computed amounts to 90.6% of the revenue leaving net profit margin as 9.4%. Quality indicators indicated that 79% of the business were profitable with Net Profit Margin coming out to be positive and overall industry quality reported to be Very good. Further, interest coverage ratio was reported to be 6.7, indicating good liquidity, and financial health of the businesses in the commercial construction industry business. 23.47 USD/hour has been reported as the wages in construction sector which can be considered to be handsome, keeping the labour productivity of -2.3% in mind.
Value of Commercial Building Permits (including new constructions, foundations, Superstructures or parts of structure, installation of prefabricated units, improvements, additions and alterations) have shown a tremendous decline, with a value of 0.76 Billion USD reported in April, 2020, as against 1.55 Billion USD reported in Dec, 2019 for commercial office and retail. Institutional Commercial also showed a decline from 0.7 Billion USD in Dec, 2019 to 0.34 Billion USD in April, 2020. Even on accounting the seasonal adjustment, the decline was reported to be from 1.54 Billion USD to 0.90 Billion USD and 0.77 Billion USD to 0.39 Billion USD for Commercial office, retail and Commercial Institutional permit respectively.
LEED registered projects, let it be in case of office building (1906), retail (865), public assembly (509), office-mixed use (457), healthcare (306), public order and safety (246), higher education (210), elementary school (200), Laboratory (102), Lodging (33), or other commercial construction (533) have become prominent market trend. This is in lieu of the Sustainable development goals and green construction, with maximum efficiency in electrical or resource utilization. Big data, artificial intelligence and virtual reality are radically changing architectural, engineering and construction practices in the commercial building design and construction industry. Virtual reality in the form of virtual bots are being used to detect flaws in architectural design as compared to the practical engineering possible. Even so, these bots are being utilized to suggest solutions based on their intelligence. Virtual reality is being used to reflect the actual structure even before construction, to the smallest element used. It could be used in addition, for the training purposes in virtual reality with use of, "net zero ready building".
Scope of the Report
A complete background analysis of the Canada Commercial Construction market, which includes an assessment of the economy, market overview, market size estimation for key segments, and emerging trends in the market, market dynamics, and key company profiles are covered in the report.
Key Market Trends
Investments in Commercial construction on a decrease
Statistics Canada has reported an increase in the overall household debt, due to the decrease in the financial credit available, amid pandemic. A net decline in household worth, amounting to 3.8%, has been reported, during the Q1, 2020, as an immediate consequence of 15.5% decline in the equity and investment funds. This shows the lack of liquidity in the households, leading to lesser investment and hence demand. Investments in non-residential building construction (NRBC), are facing a decline, with a decrease of around 4.3%, reported in March, 2020 (Compared to November 2020), taking investment value to 3.61 Billion USD. Prince Edward Island showed contrary trends, with Biovectra Manufacturing facility's expansion leading to increase in BRBC investment by 1.4%, taking the figure to 13.9 Million USD. Commercial NRBC posted the largest decrease of 4.2%, taking the figure to 2.14 Billion USD. Quebec (-14.1%) and British Columbia (-4.6%) reported the majority of the declines in March, while Ontario was the only province to post an increase, edging up 0.3% to 0.81 billion USD. But taking the whole Q1 into consideration, non-residential investment increased quarter over quarter, up 1.2% to 11.07 billion USD. Ontario and Quebec had the strongest growth, while British Columbia, Alberta and Saskatchewan reported the largest declines. Commercial office and retail investment increased 1.8% to 6.6 billion USD, while institutional and other commercial investment edged up 0.3% to 2.5 billion USD. Commercial office and retail building construction market share was 59.1%, totalling to an investment of 2.13 Billion USD, representing an year-over-year increase of 6.6% or 131.53 million USD. Commercial Institutional market share was 22.8%, total investment totalled 820.61 million USD, representing a year-over-year decrease of 0.8% or 6.42 million USD.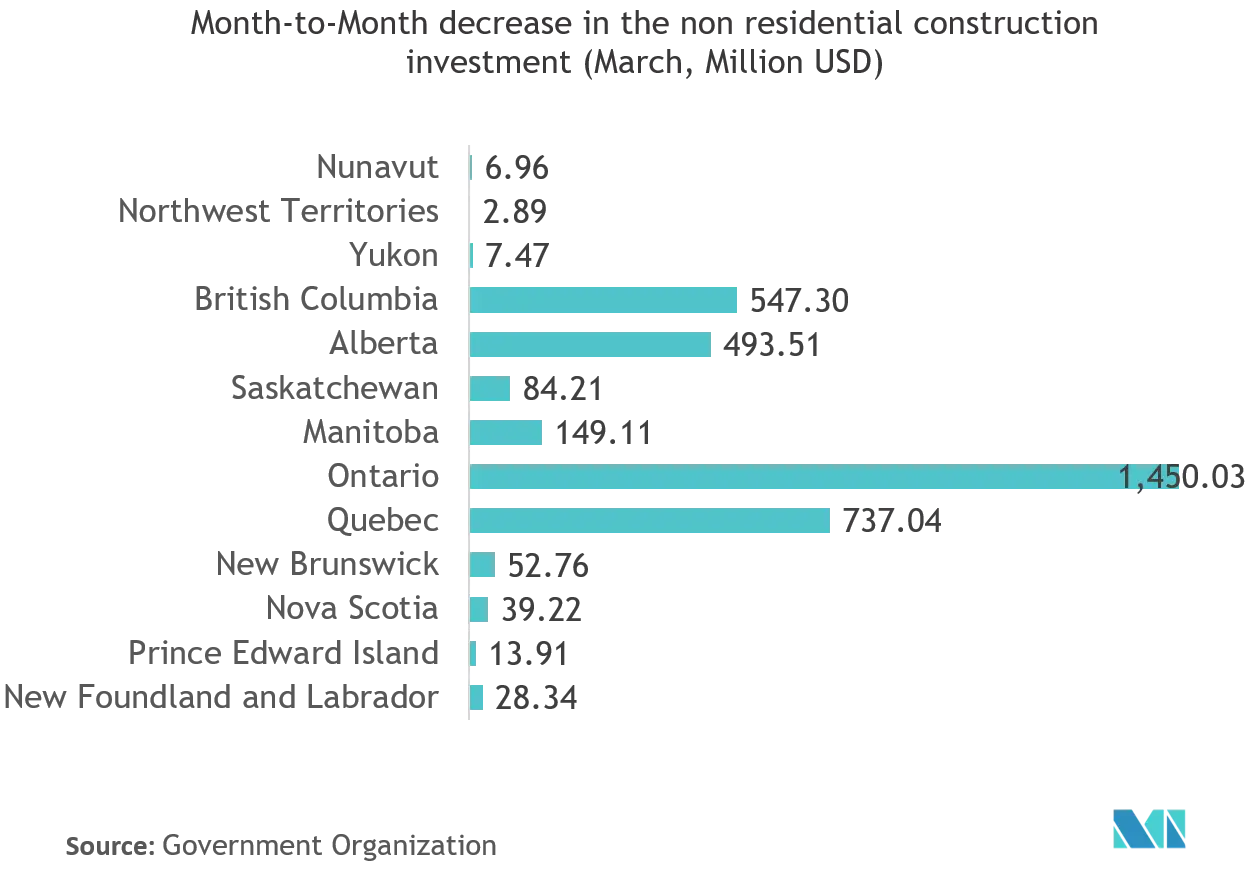 To understand key trends, Download Sample Report
Commercial Space construction and absorption showing a mixed trend
Gross office Space area under construction increased from 9.76 Million square feet in 2016 to 11.17, 14.63, and 16.72 Million square feet in 2017, 2018, and 2019 respectively. This clearly shows the increasing demand and entailing supply of office space in the country. This is against the trend of office space supply amounting to 9.07, 5.99, 4.28, and 1.49 Million square feet from 2016-2019. Clearly the increasing construction shows a change of trend in the office space construction market, and shows positive sign amid downsizing construction industry, Canada has a very firm position in terms of retail space per capita, with 16.8 square feet of retail space per capita in Canada, second only to United States (23.5), as compared to Australia (11.2), United Kingdom (4.6), Japan (4.4), Netherlands (4.1), France (3.8), Switzerland (3.6), Spain (3.4), China (2.8), Italy (2.8), Taiwan (2.4), Germany (2.3), South Korea (2,2), Russia (1.4), and Indonesia (1).
Healthcare facility construction worth Billions of USD is upcoming in the Canada with some of the major projects like Windsor Acute Care hospital facility (Ontario), New Edmonton hospital & health campus project (Alberta), Ottawa civic hospital - new construction (Ontario), Hospital Maisonneuve - Rosemont modernization (Quebec), Design/build Hospital Vaudreuil-Soulanges construction (Quebec), Royal Alexandra Hospital - Acute Care Tower renewal (Alberta), Burnaby General Hospital redevelopment (British Columbia), St. Paul's Hospital relocation project (British Columbia), Design build finance maintain - West Park Healthcare Centre (Ontario) and RFP - compliance mechanical engineering St Paul's Hospital redevelopment project (British Columbia).
Retail, Wholesale and Warehouse Commercial construction worth Billions of USD is under progress in the country. The Omni mixed use development (Calgary, Alberta, 222 Million USD), James Snow Parkway warehouse/distribution centre (Campbellsville, Ontario, 190 Million USD), U.C retail development (Oshawa, Ontario, 130 Million USD), Walmart distribution centre (Surrey, British Columbia, 130 Million USD), Design Build industrial warehouse building (Brampton, Ontario, 107 Million USD), Grand Market District, phase one (Kitchener, Ontario, 74 Million USD), Costco retail/warehouse and gas station (Rimouski, Quebec, 70 Million USD), Township commercial development, phase one (Calgary, Alberta, 63 Million USD), 5 depot facilities, new salt sand facilities, phase 2 and 3 (Sudbury, Ontario, 61 Million USD), Villmark Crossing - mixed use development and phase one (Markham, Ontario, 59 Million USD).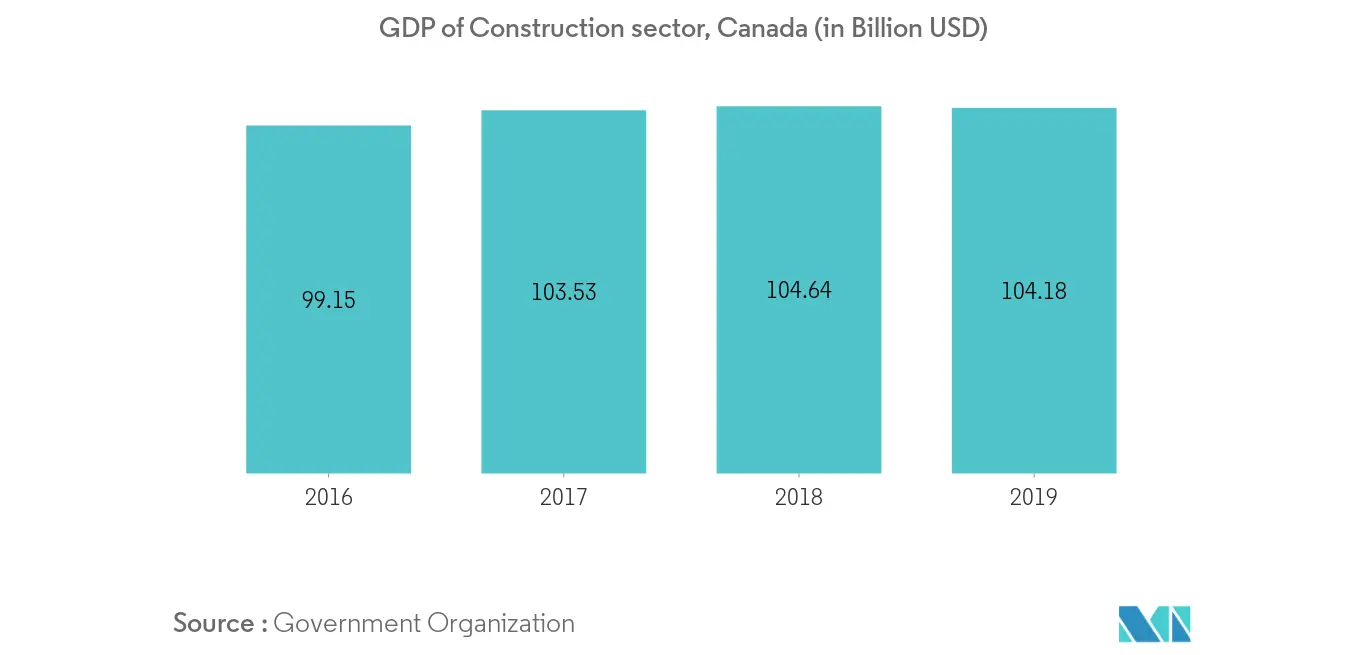 Competitive Landscape
The Canada commercial construction market is highly competitive, with the major local and international players having created enough competitive environment in the sector. Still, the market opens opportunities for small and medium players due to increasing govt investments in the sector. The market presents opportunities for growth during the forecast period, which is expected to further drive market competition. With large players competing others for a significant share leaves the industry with no observable levels of consolidation.
A few key players in the market include SNC-Lavalin Group Inc., PCL Construction, EllisDon Group, Pomerleau, Inc., Bird construction company and IDL projects Limited.
Table of Contents
1. INTRODUCTION

1.1 Study Assumptions

1.2 Scope of the Study

2. RESEARCH METHODOLOGY

2.1 Analysis Methodology

2.2 Research Phases

3. EXECUTIVE SUMMARY

4. MARKET INSIGHTS

4.1 Current Market Scenario

4.2 Technological Trends

4.3 Government Regulations

4.4 Value Chain / Supply Chain Analysis

4.5 Overview of Commercial Construction Market in Canada

4.6 Brief on Construction Costs (average cost, office and retail space, per sq feet)

4.7 Insights into the newly office space completions (sq. feet)

4.8 Impact of COVID-19 on Canada Commercial Construction Market (Analyst View)

5. MARKET DYNAMICS

5.1 Drivers

5.2 Restraints

5.3 Opportunities

5.4 Industry Attractiveness - Porter's Five Forces Analysis

5.4.1 Bargaining Power of Suppliers

5.4.2 Bargaining Power of Consumers

5.4.3 Threat of New Entrants

5.4.4 Threat of Substitutes

5.4.5 Intensity of Competitive Rivalry

6. MARKET SEGMENTATION

6.1 By End Use

6.1.1 Hospitality Construction

6.1.2 Office Building Construction

6.1.3 Retail Construction

6.1.4 Institutional Construction

6.1.5 Others

7. COMPETITIVE LANDSCAPE

7.1 Market Concentration Overview

7.2 Company Profiles

7.2.1 SNC-Lavalin Group Inc.

7.2.2 PCL Construction

7.2.3 EllisDon Group

7.2.4 Pomerleau, Inc.

7.2.5 Bird construction company

7.2.6 IDL Projects Inc

7.2.7 Graham Group Ltd.

7.2.8 Dalcon Inc

7.2.9 Heatherbrae Builders

7.2.10 Chandos Construction Ltd

8. MARKET OPPORTUNITIES AND FUTURE TRENDS

9. APPENDIX

9.1 Macroeconomic Indicators (GDP Distribution by Activity, Contribution of Commercial Construction to economy)

9.2 Insights on Capital Flows (investments in Commercial Construction Sector)
You can also purchase parts of this report. Do you want to check out a section wise price list?
Frequently Asked Questions
What is the study period of this market?
The Canada Commercial Construction Market - Growth, Trends, Forecasts (2020 - 2025) market is studied from 2016 - 2026.
Who are the key players in Canada Commercial Construction Market - Growth, Trends, Forecasts (2020 - 2025)?
SNC-Lavalin Group Inc., PCL Construction, EllisDon Group, Pomerleau, Inc., Bird construction company , IDL Projects Inc , Graham Group Ltd. , Dalcon Inc , Heatherbrae Builders , Chandos Construction Ltd are the major companies operating in Canada Commercial Construction Market - Growth, Trends, Forecasts (2020 - 2025).
80%

of our clients seek made-to-order reports. How do you want us to tailor yours?