The Global Calcium Peroxide Market is expected to register a moderate CAGR, during the forecast period (2018-2023), due to the increased use of calcium peroxide as a dough conditioner in the food industry, and as an oxidizing agent in the agricultural sector.
Dough Conditioning Application in the Bakery Industry is Driving the Market
Calcium peroxide is widely used as a dough conditioner in the manufacturing of bread and cakes. Calcium Peroxide allows the surface of dough to be dry. The demand of bakery products is expected to increase in Asia-Pacific countries, such as, India and China. India is also the second largest manufacturer of biscuits after the United States. The bakery industry is expected to grow by 18-20% in the next five years, with increase of brands, such as, Bauli, which, in turn, is likely to drive the calcium peroxide market.
Intermediate Application Making Chemical the Dominating End-User Industry
The global calcium peroxide market, based on the end-user industry, can be broadly segmented into food & beverages, agrochemicals, chemicals, pharmaceuticals, pulp & paper, and others. The chemical industry is expected to dominate the calcium peroxide market. Calcium peroxide is used as an intermediate in the production of perhydrates and organic peroxide, which is further used as a solvent in the chemical industry. As the chemical industry continues to grow globally, the consumption of calcium peroxide is also expected to continue to increase, during the forecast period.
Pre-sowing Treatment of Crops is driving the Asia-Pacific Market
In terms of consumption in 2017, Asia-Pacific was the largest regional market for calcium peroxide. Calcium Peroxide is an important ingredient in the pre-sowing treatments of crops, including rice, and witnessed significant demand in China and India. The increasing focus of Asia-Pacific countries towards water treatment activities, due to strict environmental regulations and strong government initiatives, is likely to drive the calcium peroxide market.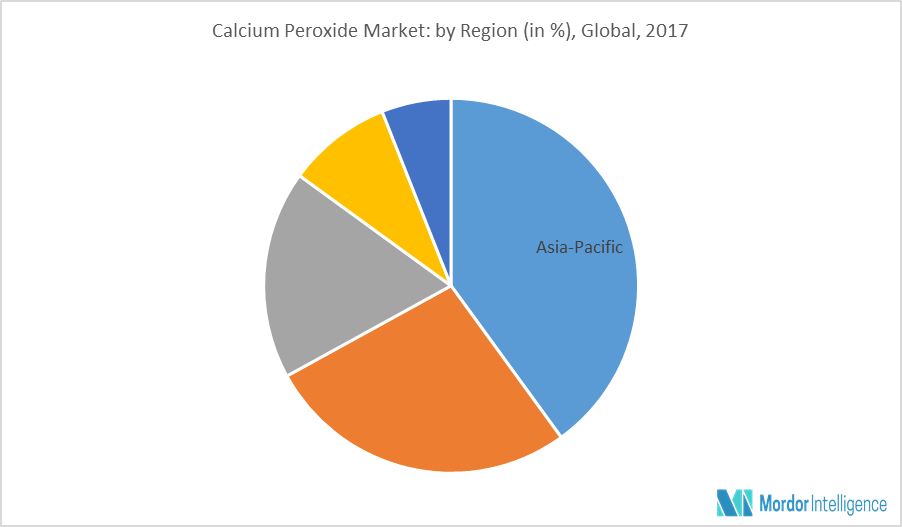 Notable Developments
In Aug 2017, Supersmile, a toothpaste producer, has announced to launch an extra-strength teeth whitener, which contains encapsulated calcium peroxide and minerals.
Major Players: Solvay SA, PeroxyChem, Shangyu Jie Hua Chemical Co., Nikunj Chemicals, and Carus Group Inc. among others.
Reason to Purchase the Report
To understand the impact of various grade types on the market.
Analyzing various perspectives of the market with the help of Porter's five forces analysis.
To understand the dominating grade, application, and end-user industry in the market.
Countries expected to witness the fastest growth during the forecast period.
Identify the latest developments, market shares, and strategies employed by major market players.
3 months analyst support, along with the Market Estimate sheet (in Excel)
Customization of the Report
This report can be customized to meet your requirements. Please connect with our representative, who will ensure you get a report that suits your needs.
1. Introduction
1.1 Research Phases
1.2 Study Deliverables
1.3 Scope of the Report
2. Executive Summary
3. Market Insights
3.1 Industry Value Chain Analysis
3.2 Industry Attractiveness – Porter's 5 Force Analysis
3.2.1 Bargaining Power of Suppliers
3.2.2 Bargaining Power of Consumers
3.2.3 Threat of New Entrants
3.2.4 Threat of Substitute Products and Services
3.2.5 Degree of Competition
3.3 Feedstock Analysis
3.3.1 Global Capacity by Key Feedstock
3.4 Technological Snapshot
3.5 Regulatory Policy Analysis
4. Market Dynamics
4.1 Drivers
4.1.1 Increase in Utilization as Dough Conditioner in the Food Industry
4.1.2 Increase in Usage in the Oral Care Industry
4.2 Restraints
4.2.1 Potential Hazardous Effects of Calcium Peroxide
4.2.2 Other Restraints
4.3 Opportunities
4.3.1 Increasing Environmental Concern Regarding Soil Remediation and Oil-Spill Recovery
4.3.2 Improved Crop Establishment Using Seed Pelleting with Calcium Peroxide
5. Market Segmentation and Analysis (Market Size, Growth and forecast)
5.1 By Grade
5.1.1 Food
5.1.2 Industrial
5.2 By Application
5.2.1 Seed Disinfectant
5.2.2 Bleaching Agent
5.2.3 Dough Conditioner
5.2.4 Oxidizing Agent
5.2.5 Intermediary Chemicals
5.2.6 Others
5.3 By End-user Industry
5.3.1 Food & Beverages
5.3.2 Agrochemicals
5.3.3 Chemicals
5.3.4 Pharmaceuticals
5.3.5 Paper & Pulp
5.3.6 Others
6. Regional Market Analysis (Market Size, Growth and forecast)
6.1 North America
6.1.1 United States
6.1.2 Canada
6.1.3 Mexico
6.1.4 Rest of North America
6.2 Europe
6.2.1 Germany
6.2.2 United Kingdom
6.2.3 Italy
6.2.4 France
6.2.5 Rest of Europe
6.3 Asia-Pacific
6.3.1 China
6.3.2 India
6.3.3 Japan
6.3.4 South Korea
6.3.5 Rest of Asia-Pacific
6.4 South America
6.4.1 Brazil
6.4.2 Argentina
6.4.3 Rest of South America
6.5 Middle East & Africa
6.5.1 Saudi Arabia
6.5.2 South Africa
6.5.3 Rest of MEA
7. Future of the Market
8. Competitive Landscape
8.1 Mergers & Acquisitions, Joint Ventures, Collaborations and Agreements
8.2 Market Share Analysis**
8.3 Strategies Adopted by Leading Players
9. Company Profiles (Overview, Financials**, Products & services, and Recent Developments)
9.1 Solvay SA
9.2 Noshly Pty. Ltd.
9.3 Nikunj Chemicals
9.4 PeroxyChem
9.5 American Elements
9.6 Shangyu Jie Hua Chemical Co.
9.7 STP Chem Solutions Co., Ltd.
9.8 Zhengzhou Huize Biochemical Technology Co., Ltd
9.9 Carus Group Inc.
9.10 Mahalaxmi Enterprise
9.11 Sunway Lab
9.12 Pioneer Enterprise
*List not exhaustive
10. Disclaimer
**Subject to availability of public domain