Bone and Joint Health Ingredients Market insights
The global bone and joint health ingredients market was valued at 2307.8 USD million in 2017 and is expected to reach 3345.3 USD million by the end of 2023 growing at a value CAGR of 6.4% over the forecast period. The global population particularly in the developed economies are approaching ages nearing or surpassing the life expectancy of human beings and maintaining bone and joint health becomes very crucial, the market for bone & joint health ingredients has exceeded USD 9 billion and is thus exhibiting a promising trend.
"By 2020, Osteoarthritis will become the fourth most common cause of disability worldwide due to aging population." - The World Health Organization (WHO)
The bone & joint health ingredients are a value-added ingredients consumed in order to strengthen and maintain healthy bones and joints. They also impart higher flexibilities that are otherwise lost with the process of aging.
The market for bone & joint health ingredients is expected to be a high potential market owing to the rising awareness among the consumers regarding bone and joint health.
Bone and Joint Health Ingredients Market Dynamics
The World Health Organization (WHO) has estimated that almost 22 million individuals in Europe and 14 million in the United States, alone will be suffering from osteoporosis. In 2017, it has been estimated that more than 200 million people were suffering from osteoporosis. These alarming figures have given significant momentum to the bone and joint health ingredient market. The rise in aging population segment is expected to be the major driving force of global bone and joint health ingredients market.
Aging, as a biological process, leads to weakening of bone and joints, diminished functions and restricted movements. This makes the body more prone to bone fractures, arthritis, back and neck pain, osteoporosis and injuries. The number of senior citizens globally are expected to double in the next 50 years consequently pushing the demand of bone and joint health ingredients in foreseeable future. The geriatric population that are conscious about these ingredients composition are also seeking for plant-based herbal ingredients, such as turmeric, boswelia, and tart cherry, in contrast to animal-derived ingredients, such as glucosamine and chondroitin.
The athletics and gym goers have also realized the importance of bone and joint health supplements and have started adopting them in order to prevent bone deterioration in the later parts of their lives. The market has recently witnessed the emergence of sports nutrition products that promotes bone health. Sports nutrition products catering to bone health have also successfully lessen the chances of bone injury, and are thus becoming regular choice of products for athletes and sportspersons.
Bone and Joint Health Ingredients Market Segmentation
The global bone & joint health ingredients market is segmented based on type, application and geography. Based on type of ingredients, the report contains key and widely-used ingredients like calcium, soy isoflavone, collagen, glucosamine and chondroitin.
Calcium is the most widely used bone ingredient, representing a mature market sentiment. Based on the application areas, the market is segmented into dietary supplements and functional food beverages. Soy isoflavones are another class of ingredients, gaining popularity due to its properties to reduce the leaching of calcium thereby indirectly maintaining bone mineral density (BMD) and preventing bone loss. Poor dietary choices are noted as a contributor to bone health problems, which can lead to deficiencies in key bone health nutrients. Calcium is deposited and withdrawn daily in bones like money in a bank. Plant based calcium is the most popular among the consumers for its purity and additional minerals that occur naturally within it.
Bone and joint health ingredients are increasingly being incorporated into functional foods industry, with calcium fortification, glucosamine, and soy supplements gaining popularity. The dietary supplements which were once confined to health food stores and pharmacies, are now found in much broader supply chains than before in supermarkets, and national discount chain stores and are also sold through mail order catalogues, televisions and the internet which has eased the distribution of products in midst the consumers ultimately driving the market growth.
Bone and Joint Health Ingredients Market Regional Analysis
The bone and joint ingredient market is highly competitive in developed regions of North America and Europe but it represents significant untapped potential in emerging economies of Asia-Pacific and Middle East. The more mature markets of the North America like US and Canada are switching to more wholesome aspects of bone and joint health ingredients. There has been a robust demands for functional and fortified foods that contributes to overall bone health. The bone health consciousness has also penetrated among the other countries of North America leading to higher availability of such supplements and products in retail stores and on online platforms.
A leaping urbanization in Asia Pacific region has led to a majority of population suffer from vitamin D insufficiency, which has given an opportunity to the major manufacturers of dietary supplements and functional foods and beverages to expand their footprints and strengthen their position as a leader among the regional market. This factor is expected to drive the market growth over the forecast period.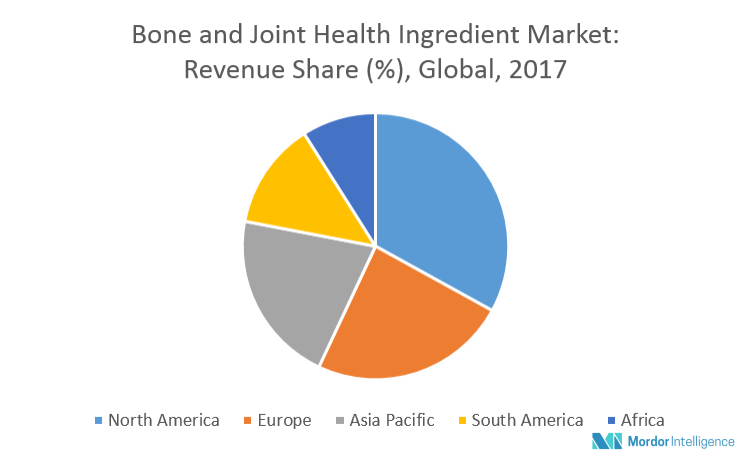 Bone and Joint Health Ingredients Market Key Developments
May 2017 - Archer Daniels Midland (ADM) aims to drive the European market with non-GMO options, as the company operates one of the world's largest soy isoflavone facilities, manufacturing quality isoflavone products sources from non-GMO soybean varieties.
January 2017 - BASF opened 'Newtrition Lab' in Singapore in order to boost the regional R&D activities. The new technical application lab will provide analytical products and services development support to customers in the country.
Bone and Joint Health Ingredients Market Competitive Landscape
The major players include - Synutra Inc., Rousselot BV, Archer Daniels Midland Company, BASF Group, Royal DSM, Food Chem, International, Glanbia PLC, Holista Colltech Ltd, Stratum Nutrition- ESM Technologies, Bergstorm Nutrition Inc., Gelita AG amongst others.
Companies operating in bone and joint ingredient market are exploring new opportunities such as blending well-established ingredients with other innovative and safe ingredients for promoting joint and bone health.
The companies are playing on set targets for growth in sales and profit for each year with the scope of major expansion across the high growth potential markets, like Asia-Pacific and Africa, as a strategy to enhance and strengthen the company's global footprints. Evolving food industry is the primary reason for the key players to expand in these regions.
Reasons to Purchase this Bone and Joint Health Ingredients Market Report
Analyzing outlook of the market with the recent trends and Porter's five forces analysis
Market dynamics which essentially consider the factors which are impelling the present market scenario along with growth opportunities of the market in the years to come
Market segmentation analysis including qualitative and quantitative research incorporating the impact of economic and non-economic aspects
Regional and country level analysis integrating the demand and supply forces that are influencing the growth of the market
Competitive landscape involving the market share of major players along with the key strategies adopted for development in the past five years
Comprehensive company profiles covering the product offerings, key financial information, recent developments, SWOT analysis and strategies employed by the major market players
3 months analyst support along with the Market Estimate sheet in excel.
Customization of the Bone and Joint Health Ingredients Market Report
This report can be customized to meet your requirements. Please connect with our analyst, who will ensure you get a report that suits your needs.
1. Introduction
1.1 Key Deliverables of the Study
1.2 Study Assumptions
1.3 Market Definitions
2. Research Approach and Methodology
2.1 Introduction
2.2 Research Design
2.3 Study Timelines
2.4 Study Phases
3. Market Overview
3.1 Drivers
3.1.1 Robust Demand from the Geriatric Population
3.1.2 Evolving Target Market Segments
3.2 Restraints
3.2.1 Allopathic Substitutes and Surgeries
3.3 Opportunities
3.3.1 Elderly-friendly social-security schemes.
3.3.2 Developed Markets – Regional Hotspots
3.4 Porter's Five Forces Analysis
3.4.1 Bargaining Power of Suppliers
3.4.2 Bargaining Power of Buyers
3.4.3 Threat of New Entrants
3.4.4 Threat of Substitute Products and Services
3.4.5 Degree of Competition
4. Market Segmentation
4.1 By Type
4.1.1 Vitamin D
4.1.2 Vitamin K
4.1.3 Calcium
4.1.4 Collagen
4.1.5 Magnesium
4.1.6 Glucosamine
4.1.7 Omega-3
4.1.8 Others
4.2 By Application
4.2.1 Dietary Supplement
4.2.2 Functional Food & Beverage
4.2.3 Others
4.3 By Region
4.3.1 North America
4.3.1.1 United States
4.3.1.2 Canada
4.3.1.3 Mexico
4.3.1.4 Rest of North America
4.3.2 Europe
4.3.2.1 Spain
4.3.2.2 United Kingdom
4.3.2.3 France
4.3.2.4 Germany
4.3.2.5 Russia
4.3.2.6 Italy
4.3.2.7 Rest of Europe
4.3.3 Asia-Pacific
4.3.3.1 China
4.3.3.2 India
4.3.3.3 Japan
4.3.3.4 Australia
4.3.3.5 Rest of Asia-Pacific
4.3.4 South America
4.3.4.1 Brazil
4.3.4.2 Argentina
4.3.4.3 Rest of South America
4.3.5 Africa
4.3.5.1 South Africa
4.3.5.2 Rest of Africa
5. Competitive Landscape
5.1 Strategy Adopted by Key players
5.2 Most Active Companies
5.3 Market Share Analysis
6. Company Profiles
6.1 Synutra Inc.
6.2 Rousselot BV
6.3 Archer Daniels Midland Company
6.4 BASF Group
6.5 Royal DSM
6.6 Food Chem, International
6.7 Glanbia PLC
6.8 Holista Colltech Ltd
6.9 Stratum Nutrition- ESM Technologies
6.10 Bergstorm Nutrition Inc.
6.11 Gelita AG