Market Snapshot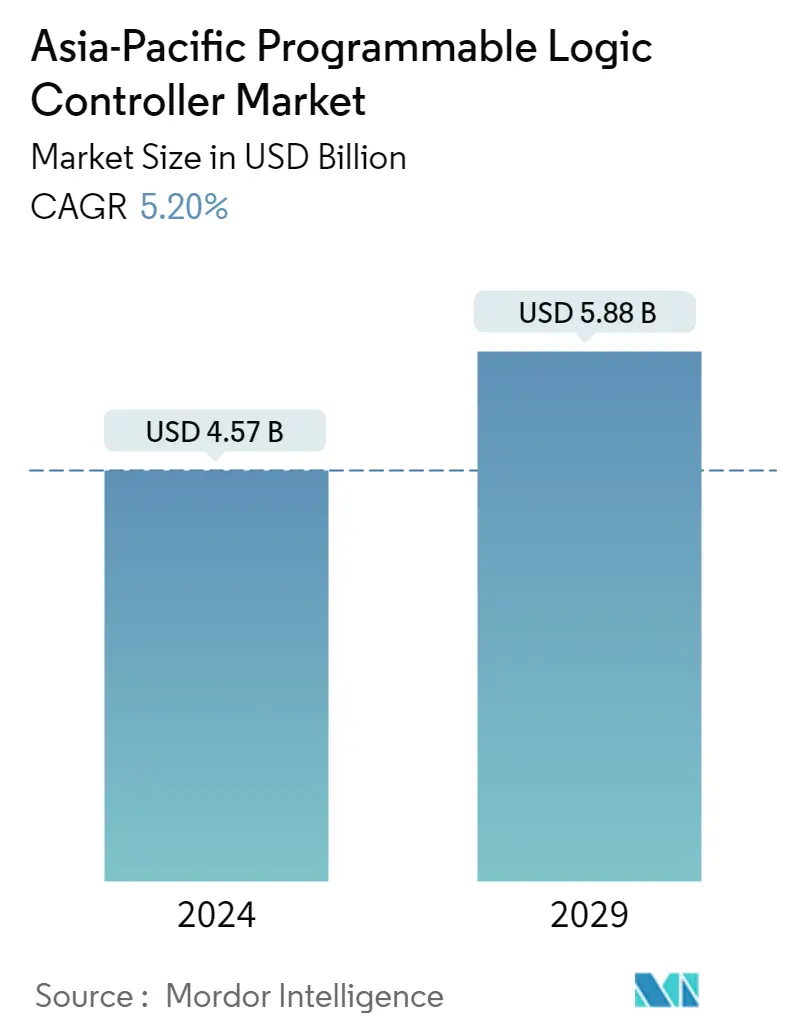 Study Period:
2020-2027
Base Year:
2021
CAGR:
5.4 %
Need a report that reflects how COVID-19 has impacted this market and its growth?
Market Overview
The Asia Pacific Programmable Logic Controllers market is expected to reach a CAGR of 5.4% during the forecast period (2022 - 2027). PLC is the primary computing system that controls automated machines. The system also helps detect any errors or flaws and alerts the technician. PLC systems are also preferred over traditional systems, like relays and switch boxes, due to their compact sizes. Another advantage of PLCs is their multi-functionality, owing to their programmable nature that can be used for multiple operations depending on the application.
PLCs are crucial to any production line, and as the fourth industrial revolution, more internet-connected sensors and systems are interfacing with PLCs. For instance, in a food and beverage manufacturing facility that produces ingredients for chocolate or baking, it is important to track all chemicals in a mixture and monitor critical events, such as a faulty boiler.​ In recent years it has become possible for robots to handle delicate food items directly. The arrival of new and improved gripper technology and innovative vision systems has transformed the industry. For instance, improvements in gripper technology that mimics human touch make it possible for robots to pack fruits and vegetables.​
The adoption of industrial control systems, with many businesses offering diverse solutions, has aided the market's expansion in India, defined by recent innovations. For example, Delta Electronics sells various automation products and solutions, such as human-machine interfaces, sensors, and robots. In March 2021, ABB India reported that it had attained a cumulative 5-gigawatt milestone in providing PLC-based solar plant automation in India.
Japan intends to attain "Society 5.0" by fully leveraging the fourth industrial revolution's technology innovation, such as IoT, AI, and Big Data. To achieve this, the government established 'Connected Industries,' a new framework in which industries are expected to develop innovative solutions to societal problems by connecting many aspects of modern life, such as persons, machines, systems, and businesses. Such policies will drive the studied market.
Due to the demand for high-voltage operating devices, Nano PLCs have also been a popular choice among discrete sectors and small businesses. Because of its simplicity of control at high voltages, fixed nano PLCs are employed in electronic applications like converters, inverters, and other base controllers. Furthermore, PLCs' ability to perform a single set of tasks with superior reliability and performance, except under real-time constraints, combined with their ability to withstand extreme temperatures, humidity, vibration, and electrical noise, has propelled PLCs' adoption in a variety of industrial applications.
The recent coronavirus outbreak has been causing significant disruption to the global economy and has drastically changed how many industries operate daily. With work-from-home protocols implemented and shelter-in-place orders continue to propagate, allied market players evaluated and revised their preparedness and response strategies for cyber-incidents. This is particularly evident for players that have implemented industrial control systems (ICS) (PLC) to monitor and control critical equipment and processes.
Scope of the Report
PLC is the primary computing system that controls automated machines. The system also helps detect any errors or flaws and alerts the technician. PLC systems are also preferred over traditional systems, like relays and switch boxes, due to their compact sizes. Another advantage of PLCs is their multi-functionality (owing to their programmable nature that can be used for multiple operations depending on the application). The PLC consists of hardware, software, and services. The basic architecture of the PLC consists of main components: the processor module, the power supply, and the I/O modules.
The Asia-Pacific Programmable Logic Controller Market is Segmented by Type (Hardware and Software, Services), End-User (Food, Tobacco, and Beverage, Automotive, Chemical and Petrochemical, Energy and Utilities, pulp and paper, oil and gas, Water and Wastewater Treatment, Pharmaceutical), and country. The segmentation comprises an in-depth coverage of the revenue generated from the sale of Programmable Logic Controllers in the Asia Pacific region, along with the unit shipments.
Key Market Trends
Automotive Industry Driving Significant Growth
PLCs are used in the automotive sector to replace hard-wired relay logic systems with flexible, durable, and easily programmable controllers. For instance. According to Japan Automobile Manufacturing Association, In 2021, Japanese automakers are expected to produce roughly 16.46 million automobiles outside of Japan, up from 15.38 million in the previous year. This was more than double the amount produced in the United States. Such Huge production will create an opportunity for the studied market to grow in the region.
Successful integration of different automation stages in the automobile manufacturing industry leads to value creation in the supply chain, which ensures a long-term competitive edge and price reduction for the domain. India's EV finance industry is expected to reach INR  3.7 lakh crore (USD 50 billion) by 2030, according to Rocky Mountain Institute (RMI) and NITI Aayog. According to a survey by the India Energy Storage Alliance, the EV market in India is expected to grow at a CAGR of 36% until 2026.
A brand like Hyundai has been investing heavily in smart mobility solutions to stay ahead of its competitors. With cars becoming smarter and more connected, having a company specializing in robotics and AI can be a great asset in the long run. In June 2021, Hyundai Motor Company recently confirmed that they had bought a controlling interest in Boston Dynamics from SoftBank. According to the deal, the American robotics developer has been valued at USD 1.1 billion, and Hyundai has 80 % shares while SoftBank still owns 20%. This will provide local players to develop new products or incorporate new features in the existing products to cater to the need of the customer.
Machine downtime is one of the significant factors that impact the automobile manufacturing efficiency of an industry. According to data from ISA.org ( International Society of Automation), it has been observed that downtime is responsible for 5-20% of the manufacturing losses incurred during operation. Machine downtime can be reduced from 20% to 4% by using automated PLC systems. The increased need for reducing system downtime is driving the growth of the market studied. Their capabilities make PLCs more exclusive than conventional personal computers (PCs) and workstation arenas. The PLCs can share data rapidly within and between companies. This rapid data sharing has helped reduce downtime as PLCs can automate the FTP and web servers, international databases, and email sending.
I/O modules are devices that transfer data to or from a computer, such as a PLC. The growing field devices such as sensors and actuators drive the need for I/O modules. The sensor signal representing a process variable such as liquid flow is converted by an Input I/O module and stored in the PLC. The actuator receives an operating signal from an I/O module.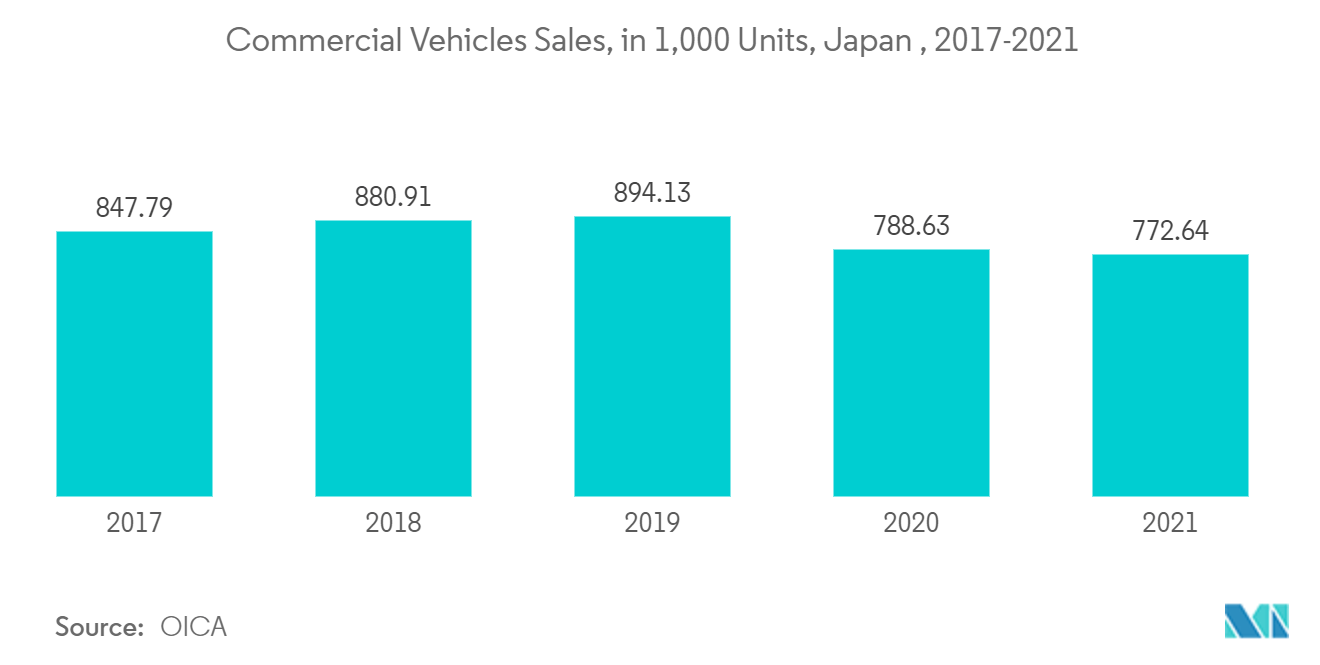 To understand key trends, Download Sample Report
China is one of the Region Driving the Market
The Firms in the region are developing new products to carter the wide range needs of the customer. For instance, in July 2021, Shanghai Baosight Software Co Ltd launched a huge programmable logic controller product that was created in-house. Baosight Software independently studied and created the huge PLC product, a crucial component in industrial control systems. Baosight has finally conquered the technology problems in precise control and high-speed communication after a decade of dedicated research.
Furthermore, The companies in the region are enhancing their product portfolio to meet the demands of different end users. For Example, SINOVO PLC is a programmable logic memory controller with many applications. Machine tool, textile, package, printing, plastic cerement, paper-making, pharmacy, petroleum, chemical industry, elevator, hoisting machines, cables, ceramics, building automation, fan pumps, vehicles, rail transit, CNC machine tools, and other systems and control equipment all use SINOVO electric products.
The market studied is strongly impacted by the industrial output and the investment funneled into computers and software. These PLC systems have traditionally been the foundation of process and discrete factory automation. The growing adoption of Industry 4.0 across the industrial verticals augmented the market studied.
The demand for factory automation includes the demand for automated production lines and supply chain and has driven it towards the factory automation sphere and has been supported by favorable investments. Several investments mark the country to further the growth of the studied market, with major key players expanding into the region and the injection of funds by venture capitalists into the emerging start-ups with potential. For instance, in April 2021, Youibot, a start-up company that makes industrial robots, closed an investment of USD 15.47 million in the funding round led by SoftBank Ventures Asia alongside others. The company generates 80% of its annual revenue in China and has plans to spend the raised funds on research and development.
In a drive to boost the sector's technology and market competitiveness in a new phase of severe global competition in advanced manufacturing, In December 2021, China launched a five-year plan for smart manufacturing, promising that large manufacturers will complete digitalization by 2025. According to the plan, more than 70% of large-scale Chinese firms should be digitalized by 2025, and more than 500 demonstration manufacturing facilities will be created around the country. Also, according to the strategy, intelligent manufacturing equipment and industrial software's technological level and market competitiveness should be significantly increased, with market satisfaction rates exceeding 70% and 50%, respectively.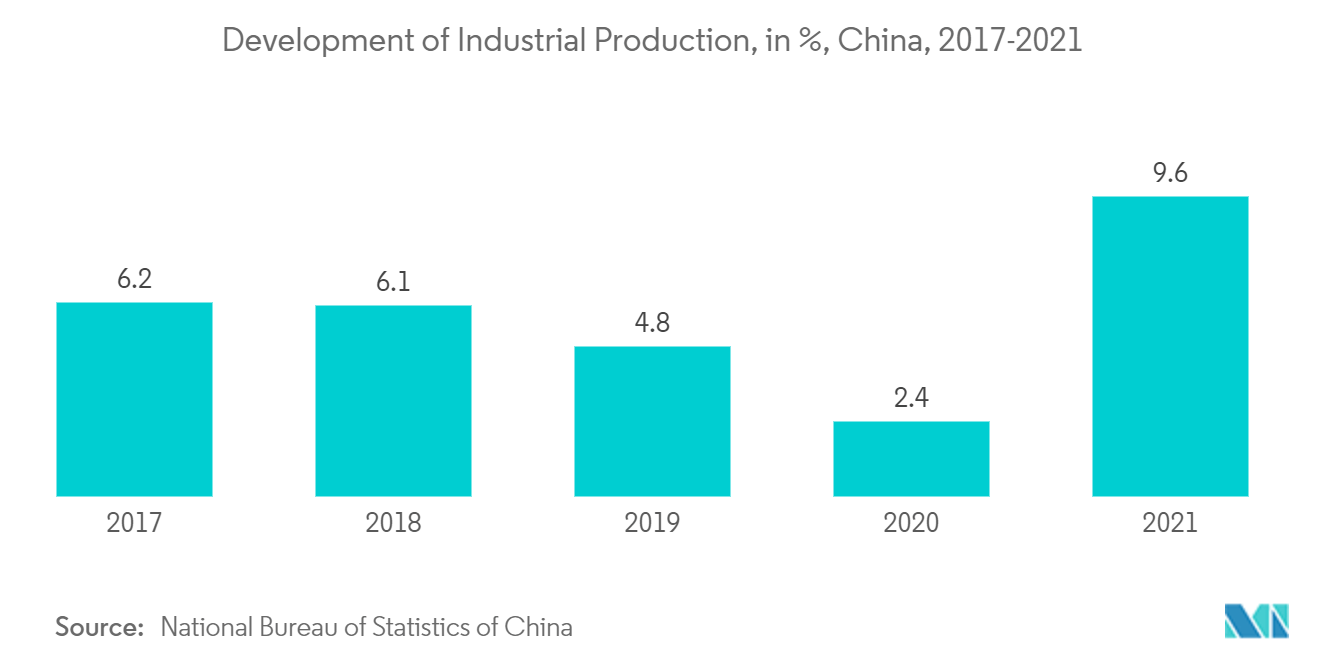 To understand geography trends, Download Sample Report
Competitive Landscape
The Asia-Pacific Programmable Logic Controller Market is a moderately competitive market with significant players like ABB Ltd., Mitsubishi Electric Corporation, Schneider Electric SE, Rockwell Automation, etc. The players in the market are innovating advanced products through collaborations, mergers, and extensive R&D investments.
January 2022- ABB, an automation expert, and HASCO, China's significant automotive components supplier, announced the formation of a joint venture to push China's automotive industry's next generation of smart production. The joint venture will build on the two businesses' current successful partnership, resulting in the vital development of highly flexible and sustainable car parts production within HASCO's China operations.
February 2021- Honeywell agreed to offer integrated control, telecommunications, safety, and security systems to the King Salman International Complex for Maritime Industries and Services shipyard under a deal with SEPCO Electric Power Construction Corporation (SEPCO). ControlEdgeProgrammable Logic Controllers (PLCs), Data Concentrators, Safety Manager SCs, and Experion Process Knowledge System (PKS) Supervisory Control and Data Acquisition (SCADA) systems are all included.
Recent Developments
May 2022 - The advanced Programmable Logic Controller (PLC) and Supervisory Control and Data Acquisition (SCADA) software for process automation systems has been launched by Electronics Corporation of India Limited (ECIL) Hyderabad, a public sector unit under the Department of Atomic Energy. PLC and SCADA are widely utilized in industrial control applications, and ECIL was a player in their development. PLC and SCADA systems supplied by ECIL have been effectively operating at nuclear plants and ISRO centers for the past four decades.
August 2021 - Bosch Rexroth is boosting the Factory of the Future for both manual and automated production with the intelligent integration of critical systems such as the TS 2plus palletized conveyor, a Cartesian 3-axis robot integrating CKK compact linear modules, and cabinet-free IndraDriveMi servo drive, all controlled by IndraControlXM22 PLC with Safety PLC. The working demo will show how i4.0 data is collected and shared with other systems through an onboard IoT Gateway for real-time manufacturing transparency at ATX West 2021.
Table of Contents
1. INTRODUCTION

1.1 Study Deliverables

1.2 Study Assumptions

1.3 Scope of the Study

2. RESEARCH METHODOLOGY

3. EXECUTIVE SUMMARY

4. MARKET INSIGHTS

4.1 Market Overview

4.2 Industry Attractiveness - Porter's Five Forces Analysis

4.2.1 Bargaining Power Of Suppliers

4.2.2 Bargaining Power Of Buyers

4.2.3 Threat Of New Entrants

4.2.4 Threat Of Substitutes

4.2.5 Intensity Of Competitive Rivalry

4.3 Value Chain Analysis

4.4 Assessment of the Impact of Covid-19 on the Market

5. MARKET DYNAMICS

5.1 Market Drivers

5.1.1 Increased deployments of programmable logic controller system in automotive industry.

5.1.2 Technological advancements in manufacturing industry.

5.2 Market Restraints

5.2.1 High Cost of Adoption

6. MARKET SEGEMENATION

6.1 By Type

6.1.1 Hardware and Software

6.1.1.1 Large PLC

6.1.1.2 Nano PLC

6.1.1.3 Small PLC

6.1.1.4 Medium PLC

6.1.1.5 Software

6.1.1.6 Other Types

6.1.2 Services

6.2 By End User

6.2.1 Food, Tobacco, and Beverage

6.2.2 Automotive

6.2.3 Chemical and Petrochemical

6.2.4 Energy and Utilities

6.2.5 Pulp and Paper

6.2.6 Oil and Gas

6.2.7 Water and Wastewater Treatment

6.2.8 Pharmaceutical

6.2.9 Other End-user Industries

6.3 By Geography

6.3.1 India

6.3.2 China

6.3.3 Japan

6.3.4 Rest of Asia-Pacific

7. COMPETITIVE LANDSCAPE

7.1 Company Profiles

7.1.1 ABB Ltd

7.1.2 Mitsubishi Electric Corporation

7.1.3 Schneider Electric SE

7.1.4 Rockwell Automation

7.1.5 Siemens AG

7.1.6 Honeywell International Inc.

7.1.7 Omron Corporation

7.1.8 Panasonic Corporation

7.1.9 Robert Bosch GmbH

7.1.10 Emerson Electric Co. (GE)

7.1.11 Hitachi Ltd

7.1.12 Toshiba International Corporation

*List Not Exhaustive

8. INVESTMENT ANALYSIS

9. FUTURE OUTLOOK OF THE MARKET
You can also purchase parts of this report. Do you want to check out a section wise price list?
Frequently Asked Questions
What is the study period of this market?
The Asia-Pacific Programmable Logic Controller Market market is studied from 2020 - 2027.
What is the growth rate of Asia-Pacific Programmable Logic Controller Market?
The Asia-Pacific Programmable Logic Controller Market is growing at a CAGR of 5.4% over the next 5 years.
Who are the key players in Asia-Pacific Programmable Logic Controller Market?
ABB Ltd, Siemens AG, Rockwell Automation, Mitsubishi Electric Corporation, Schneider Electric SE are the major companies operating in Asia-Pacific Programmable Logic Controller Market.
80%

of our clients seek made-to-order reports. How do you want us to tailor yours?