Aptamers Market Size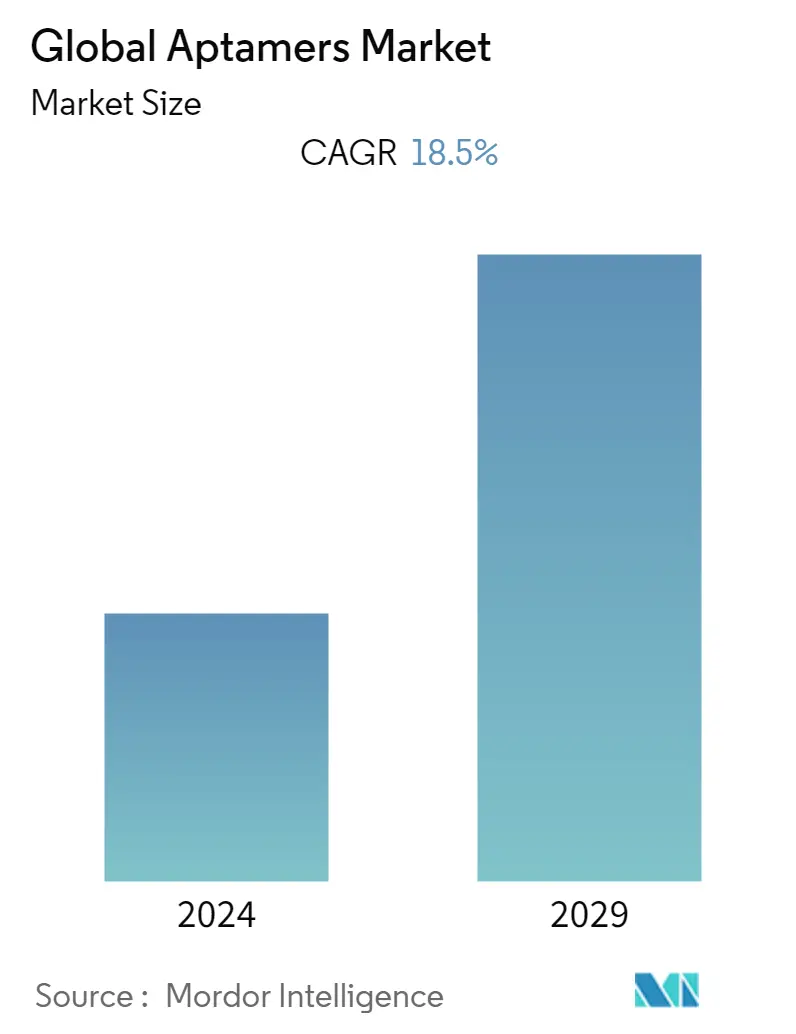 Study Period
2018 - 2028
Base Year For Estimation
2022
Forecast Data Period
2023 - 2028
CAGR
18.50 %
Fastest Growing Market
Asia-Pacific
Largest Market
North America

Major Players

*Disclaimer: Major Players sorted in no particular order
Need a report that reflects how COVID-19 has impacted this market and its growth?
Aptamers Market Analysis
The Aptamers Market is expected to register a CAGR of 18.5% over the forecast period.
Globally, COVID-19 is an intractable health challenge resulting in an aberrant rate of morbidity and mortality. The mode of entry for SARS-CoV-2 into host cells occurs through clathrin-mediated endocytosis. As part of the efforts to mitigate COVID-19 infections, rapid and accurate detection methods, as well as vaccine and drug designs with SARS-CoV-2 targeting capabilities are critically needed. According to a research study by Caleb Acquah et al., published in Cellular and Molecular Bioengineering Journal, January 2021, globally, there is an urgent need to develop safe innovative biomedical technologies to mitigate the direct impact of COVID-19 on public health. Moreover, research advances into aptameric systems bode well with the fact that they can be engineered for the development of effective and affordable diagnostics, therapeutics, and prophylactic vaccines for SARS-CoV-2 and other infectious pathogens. Furthermore, according to a research study by Vamkudoth Koteswara Rao et al., published in Frontiers in Nanotechnology Journal, February 2021, the study results found that aptamer-based detection is the most specific, inexpensive, and rapid detection of COVID-19 without laboratory tools. In addition, more than 900 SARS-nCoV-2 test kits are in pipeline and a few test kits are developed using Aptamer technology.
Some of the factors that are driving the market growth include high advantage of aptamers compared to antibodies, advancements in the field of aptamer development technologies and growing investment in the companies and research institutes.
Numerous advantages offered by these small molecules, in comparison to established antibodies, have also led to higher demand for these molecules across a diverse range of medical applications. They are chemically synthesized, which eliminates batch-to-batch variation and demands less time for development. Along with this, continuous advancement in technologies is expected to stimulate market growth. According to a research study by Geanina Ștefan et al., published in Electrochimica Acta Journal April 2021, the study results found that aptamers have come into the spotlight as bio-mimetic molecular recognition elements in the field of biomedicine due to various applications in diagnostics, drug delivery, therapeutics, and pharmaceutical analysis. Aptamers are composed of nucleic acid strands (DNA or RNA) that can specifically interact in a three-dimensional tailored design with the target molecule.
The market players are adopting various strategies such as product launches, developments. collaborations, partnerships, and expansions to increase market share. For instance, in August 2020, Aptamer Sciences Inc., in co-operation with POSTECH, discovered a number of aptamers that specifically bind to the COVID-19 spike protein using ViroSELEX technology, a unique aptamer discovery technology, and applied for a material patent. However, many aptamers have failed to meet the requisite safety and efficacy standards in clinical studies. Thus, companies had to terminate their clinical investigation during late-stage clinical studies. This factor is likely to affect the growth of this market negatively. In addition, other factors, such as unfavorable pharmacokinetic properties of aptamers and low awareness level and incomplete regulatory policies, may hamper the overall market growth.
Aptamers Market Trends
This section covers the major market trends shaping the Aptamers Market according to our research experts:
Diagnostics Segment is Expected to Witness a Healthy Growth Rate Over the Forecast Period
Appropriate diagnosis is the most crucial factor for the treatment of diseases, especially viral diseases. Over the past few years, aptamer technology has observed a significant rise in its demand and usage all across the world. It has been used in a wide range of diagnostic as well as therapeutic applications, and several strategies are currently being explored, in a definitive or conclusive way, using aptamers against virus proteins.
The outbreak of COVID-19 and lack of specific treatment and gold-standard diagnostic system for diagnosis has made the situation more complicated. Efforts have led to the production of several diagnostic kits that are associated with limitations such as accuracy and inadequate sensitivity. Aptamers are considered as multipotent biological probes that could be promising candidates to design sensitive and specific biosensors. Moreover, few studies have introduced specific aptamer types of coronavirus, that may help to select the best approach to obtain specific aptamers for the SARS-CoV-2 virus. For instance, according to a research study by Raheleh Torabi et al., published in Molecular and Cellular Probes Journal, October 2020, the study results found that helicase enzyme has an important role in viral replication and proliferation. Therefore, it could be considered as a potent target to develop the coronavirus therapeutic aptamers. N protein could be also a potent target to detect and inhibit COVID-19 due to its crucial role in the synthesis of viral RNA and SARS detection. By applying aptamers as sensitive diagnostic elements, it will be able to fabricate rapid, sensitive, low-cost, and user-friendly diagnostic tools of small volume clinical samples.
In addition, according to a research study by Sapna Devi et al., published in Saudi Journal of Biological Sciences May 2021, Aptamer (oligonucleotide or short peptides) that can specifically bind to target molecules have increasingly become popular in developing biosensors for sensitive detection of analytes, pathogens (bacteria, virus, fungus, prions), drug residues, toxins, and cancerous cells. Thus, aptamers were found to be successful in in-vivo application in disease diagnosis. From a diagnostic point of view, aptamers are presently being designed as a bio-recognition element in a variety of diagnostic systems to detect viral proteins, either in the blood (serum or plasma) or the infected cells.
The market players are adopting various strategies such as product launches, developments. collaborations, partnerships, and expansions to increase market share. For instance, in September 2020, Aptamer Group and Cytiva entered into a new collaboration agreement to produce a rapid test for the COVID-19 infection. In addition, in June 2020, in South Korea, Aptamer Sciences Inc., launched a non-small cell lung cancer risk test which is the world's first diagnostic kit to apply aptamer technology, and it is expected to help increase the rate of an early lung cancer diagnosis with convenience and high accuracy. Hence, the above-mentioned factors are expected to drive the segment growth over the forecast period.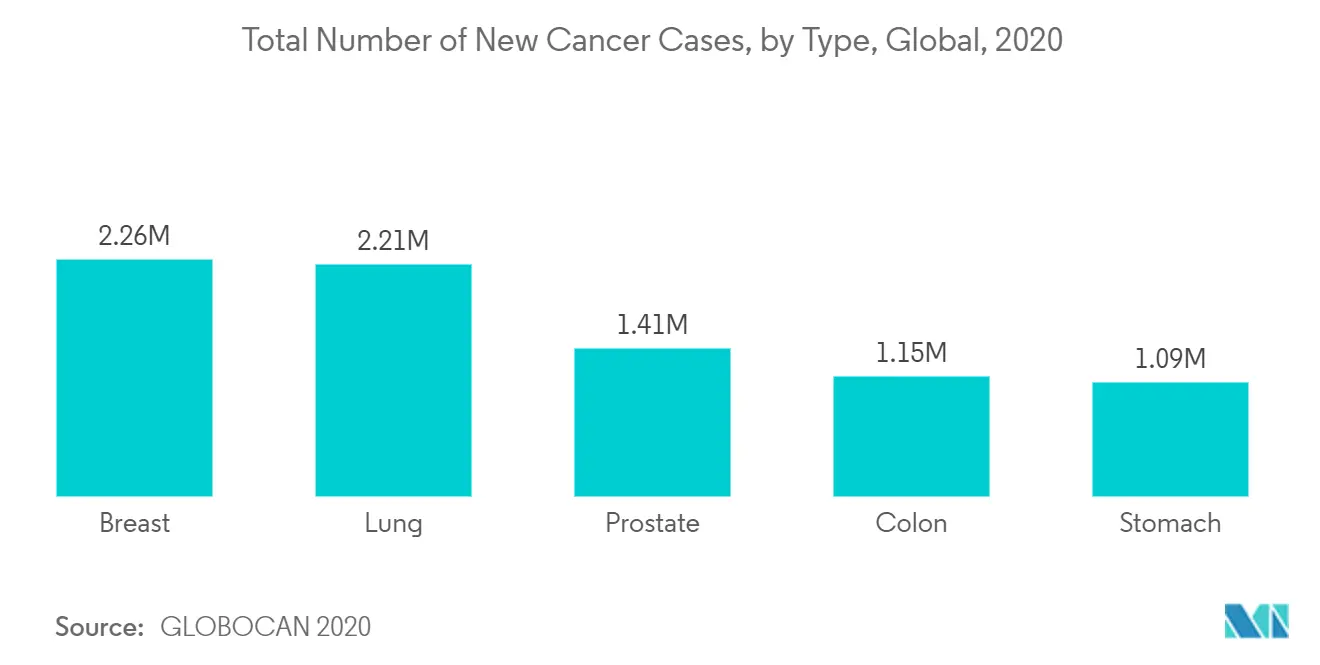 To understand key trends, Download Sample Report
North America Dominates the Market and Expected to do Same in the Forecast Period
The North American region dominates the aptamers market due to rapid technological advancements and high investment and funding to support the development of aptamers. The United States has been the hub of all major R and D activities related to aptamers. The first aptamer therapeutic product ''Macugen'' was approved in 2004 by the US FDA (United States Food and Drugs Administration).
Aptamers, explicitly synthesized for the nucleocapsid protein of SARS-CoV-2, are deployed and provide a rapid result. No refrigeration or preparation of the sample is required. The nanosensor-based assay will be able to detect COVID-19 in both symptomatic and asymptomatic cases accurately and distinguish the novel coronavirus from influenza and other common respiratory pathogens. According to a Canadian research study by Jiuxing Li et al., published in Nucleic Acids Research Journal, June 2021, the study results found that aptamers maintained full binding activity with the S1 protein spiked into 50% human saliva, which could support home-testing or rapid testing in congregate settings. Based on this finding, developed a simple colorimetric sandwich assay using the MSA1 aptamer as an molecular recognition elements (MRE) and showed that it was capable of detecting pseudotyped lentivirus in 50% saliva with a limit of detection of 400 fM. The study has confirmed the potential of the aptamers as diagnostic tools for COVID-19 detection in an easily accessed patient sample.
In the North America region, research and development happens to be the most active area of application of aptamers. A significant proportion of demand is seen in research applications, which is also responsible for generating revenues in the market. Furthermore, the growing acceptance of personalized medicine is also one of the major factors driving the growth of the market. Aptamers have evolved rapidly in the past ten years, and aptamers have targeted a range of molecules involved in tumor progression and metastasis, present at different sites. In March 2021, in United States, Eastern Virginia Medical School initiated a phase I clinical trial to determine whether a tenofovir (TFV) aptamer-based biosensor (aptasensor) can detect TFV in biological fluids from women randomized to different dosing regimens representing high and low adherence. The trial is expected to complete in January 2022. Hence, owing to above mentioned factors, the market is expected to grow over the forecast period in the region.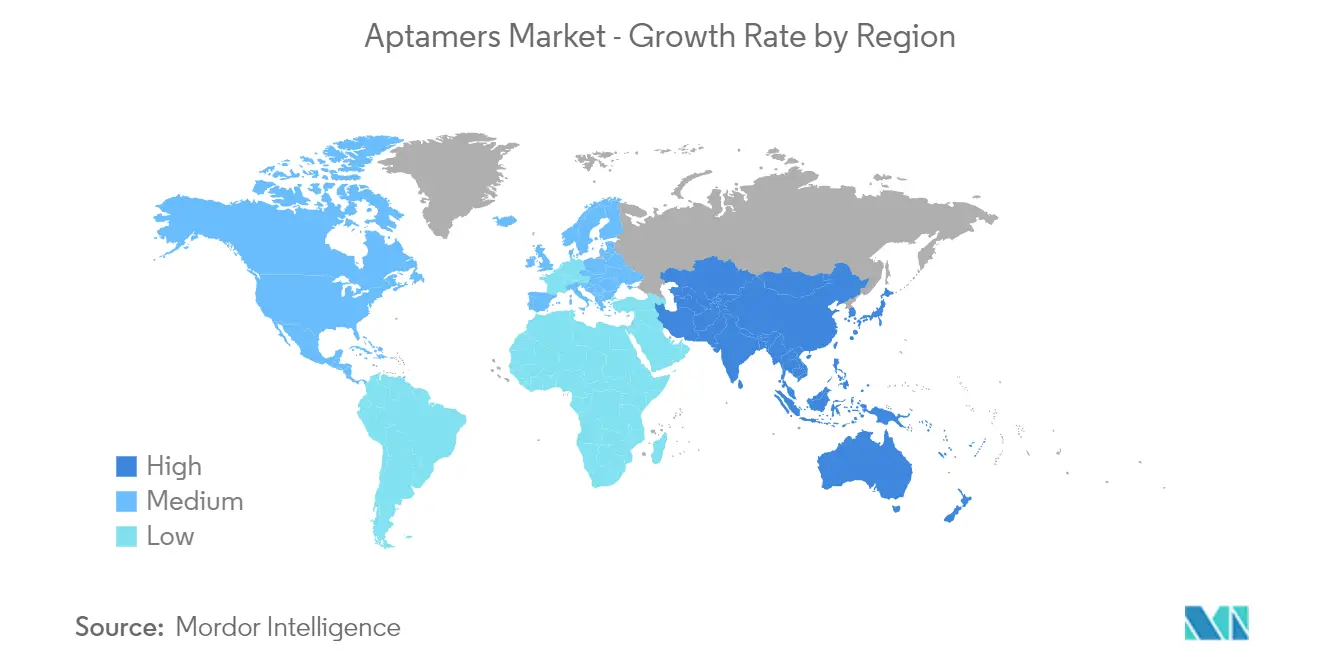 To understand geography trends, Download Sample Report
Aptamers Industry Overview
The Aptamers Market is consolidated competitive. The companies are implementing certain strategic initiatives, such as mergers, new product launches, acquisitions, and partnerships, which help them in strengthening their market position. Some of the market players include Aptagen, LLC, Aptamer Sciences Inc., Base Pair Biotechnologies Inc., Aptamer Group, Aptus Biotech S.L., among others.
Aptamers Market Leaders
Aptagen, LLC

Aptamer Sciences Inc.

Base Pair Biotechnologies Inc.

Aptamer Group

Aptus Biotech S.L.
*Disclaimer: Major Players sorted in no particular order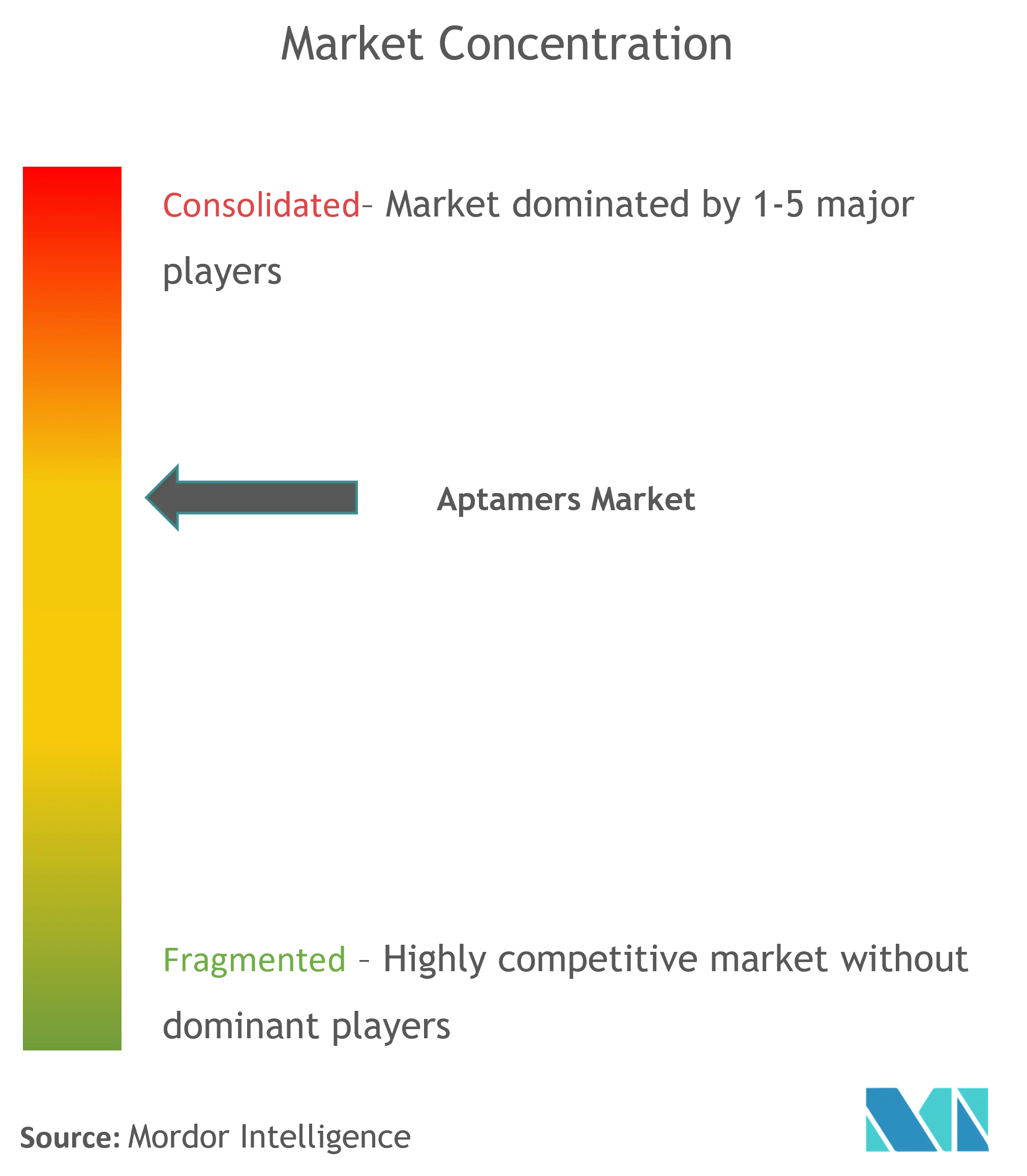 Aptamers Market News
In July 2021, Aptamer Sciences announced that a candidate material for 'Corona 19 virus neutralizing aptamer' has been selected as a non-clinical support project of the COVID-19 treatment and vaccine new drug development project group.
In June 2021, Aptamer Group Limited, the developer of Optimer Therapeutics, and PinotBio, a clinical-stage oncology-focused biotechnology company, has entered into a strategic collaboration agreement. The agreement is to develop Optimer-drug conjugates for targeted drug delivery combining Aptamer Group's Optimer technology with PinotBio's technology using the chemotherapeutic FL-118 compound with a specific linker.
Aptamers Market Report - Table of Contents
1. INTRODUCTION

1.1 Study Assumptions and Market Definition

1.2 Scope of the Study

2. RESEARCH METHODOLOGY

3. EXECUTIVE SUMMARY

4. MARKET DYNAMICS

4.1 Market Overview

4.2 Market Drivers

4.2.1 High Advantage of Aptamers, Compared to Antibodies

4.2.2 Advancements in the Field of Aptamer Development Technologies

4.2.3 Growing Investment in the Companies and Research Institutes

4.3 Market Restraints

4.3.1 Unfavorable Pharmacokinetic Properties of Aptamers

4.3.2 Low Awareness Level and Incomplete Regulatory Policies

4.4 Porter's Five Force Analysis

4.4.1 Threat of New Entrants

4.4.2 Bargaining Power of Buyers/Consumers

4.4.3 Bargaining Power of Suppliers

4.4.4 Threat of Substitute Products

4.4.5 Intensity of Competitive Rivalry

5. MARKET SEGMENTATION

5.1 By Type

5.1.1 Nucleic Acid

5.1.2 Peptide

5.2 By Application

5.2.1 Diagnostics

5.2.2 Therapeutics

5.2.3 Research and Development

5.2.4 Other Applications

5.3 Geography

5.3.1 North America

5.3.1.1 United States

5.3.1.2 Canada

5.3.1.3 Mexico

5.3.2 Europe

5.3.2.1 Germany

5.3.2.2 United Kingdom

5.3.2.3 France

5.3.2.4 Italy

5.3.2.5 Spain

5.3.2.6 Rest of Europe

5.3.3 Asia-Pacific

5.3.3.1 China

5.3.3.2 Japan

5.3.3.3 India

5.3.3.4 Australia

5.3.3.5 South Korea

5.3.3.6 Rest of Asia-Pacific

5.3.4 Middle East and Africa

5.3.4.1 GCC

5.3.4.2 South Africa

5.3.4.3 Rest of Middle East and Africa

5.3.5 South America

5.3.5.1 Brazil

5.3.5.2 Argentina

5.3.5.3 Rest of South America

6. COMPETITIVE LANDSCAPE

6.1 Company Profiles

6.1.1 AM Biotechnologies LLC

6.1.2 Aptagen LLC

6.1.3 Aptamer Sciences Inc.

6.1.4 Aptamer Group

6.1.5 Aptus Biotech S.L.

6.1.6 Base Pair Biotechnologies Inc.

6.1.7 NOXXON Pharma

6.1.8 SomaLogic Inc.

6.1.9 Baush Health Companies Inc.

6.1.10 Maravai Lifesciences (Trilink Biotechnologies)

6.1.11 NeoVentures Biotechnology, Inc.

6.1.12 Vivonics, Inc.

*List Not Exhaustive

7. MARKET OPPORTUNITIES AND FUTURE TRENDS
**Competitive Landscape covers- Business Overview, Financials, Products and Strategies and Recent Developments
Aptamers Industry Segmentation
As per the scope of the report, aptamers are short, single-stranded DNA or RNA (ssDNA or ssRNA) molecules, which can selectively bind to a specific target, including peptides, proteins, small molecules, carbohydrates, toxins, and even live cells. Aptamers assume various shapes, owing to their tendency to form helices or single-stranded loops. These molecules are extremely versatile and are used to bind targets with high specificity and selectivity. The aptamers market is segmented by Type (Nucleic Acid and Peptide), Application (Diagnostics, Therapeutics, Research and Development, and Other Applications), and Geography (North America, Europe, Asia-Pacific, Middle East and Africa, and South America). The market report also covers the estimated market sizes and trends for 17 different countries across major regions globally. The report offers the value (in USD million) for the above segments.
By Type
Nucleic Acid
Peptide
By Application
Diagnostics
Therapeutics
Research and Development
Other Applications
Geography

North America
United States
Canada
Mexico

Europe
Germany
United Kingdom
France
Italy
Spain
Rest of Europe

Asia-Pacific
China
Japan
India
Australia
South Korea
Rest of Asia-Pacific

Middle East and Africa
GCC
South Africa
Rest of Middle East and Africa

South America
Brazil
Argentina
Rest of South America
Aptamers Market Research FAQs
What is the current Global Aptamers Market size?
The Global Aptamers Market is projected to register a CAGR of 18.5% during the forecast period (2023-2028).
Who are the key players in Global Aptamers Market?
Aptagen, LLC, Aptamer Sciences Inc., Base Pair Biotechnologies Inc., Aptamer Group and Aptus Biotech S.L. are the major companies operating in the Global Aptamers Market.
Which is the fastest growing region in Global Aptamers Market?
Asia-Pacific is estimated to grow at the highest CAGR over the forecast period (2023-2028).
Which region has the biggest share in Global Aptamers Market?
In 2023, the North America accounts for the largest market share in the Global Aptamers Market.
Aptamers Industry Report
Statistics for the 2023 Aptamers market share, size and revenue growth rate, created by Mordor Intelligence™ Industry Reports. Aptamers analysis includes a market forecast outlook to 2028 and historical overview. Get a sample of this industry analysis as a free report PDF download.
Aptamers Market Report Snapshots
80%

of our clients seek made-to-order reports. How do you want us to tailor yours?