Market Insights
The global algae omega 3 ingredient market records a revenue of USD 431.5 million in 2016 and is expected to grow at a CAGR of 11.5 % during the forecast period of 2018 – 2023. Algae, as a source, accounts for 18% of the global omega 3 ingredient market. The market is highly fragmented with the regional domestic players and the international players.
Strong Demand in Infant Formula Products – Boosting the Market Growth
The demand for algae omega 3 is growing at a faster rate in infant food fortification as it provides the same benefit that of fish oil, but it has no off odor or taste. Omega 3 obtained from algae is considered as more bioavailable and sustainable for production which is highly required at present time, where overfishing is a major problem. Another benefit associated with algae Omega 3 is, it is vegan. Moreover, the product quality of algae Omega 3 is superior as compared to fish oil because it is free from any toxic pollutants, and possesses high purity in terms of form of fatty acid, and off sensory properties. The major restraining factor with market is the high cost of product due to higher downstream processing cost. However, with passage of time due to technological advancement, the market can be highly competitive.
High Adoption of Docosahexanoic acid (DHA)
Commercially, there are two types of essential Omega 3 fatty acid derived from algae: Eicosapentanoic acid (EPA) and Docosahexanoic acid (DHA). DHA holds the largest share in the market due to its high demand in infant formula products and legal recommendations on it. EPA is the fastest growing market supported by the various health benefits, which has increased its importance in drug formulation.
By concentration type, global algae omega 3 ingredient market is divided into high concentrated, concentrated and low concentrated product. Currently, low concentrated and concentrated algae ingredient are capturing the market demand. Dietary supplement holds the largest share in the algae omega 3 ingredient market followed by infant formula application. Growing awareness among consumers regarding the daily dosage of Omega 3 has focused the demand of high concentrated products.
The use of algae omega 3 ingredient in dietary supplements accounts for the largest share of 53.5% in 2016. Increasing demand by pharmaceutical companies for Omega 3 oils sourced from algae is driving its demand in pharmaceuticals. Animal nutrition is another major growing segment for the market due to increased health concern among pet owners.
North America to Dominate the Market
North America followed by Europe dominates the market. Increased consumption of omega 3 supplements in countries like the US is driving the market in developed regions. Asia-Pacific is the fastest growing region due to growing fortified food market and increased consumer awareness. Japan and China are the significant market in Asia- Pacific captured with major domestic players. South America is another growing market for algae omega 3 ingredient market driven by the high consumption of fortified products.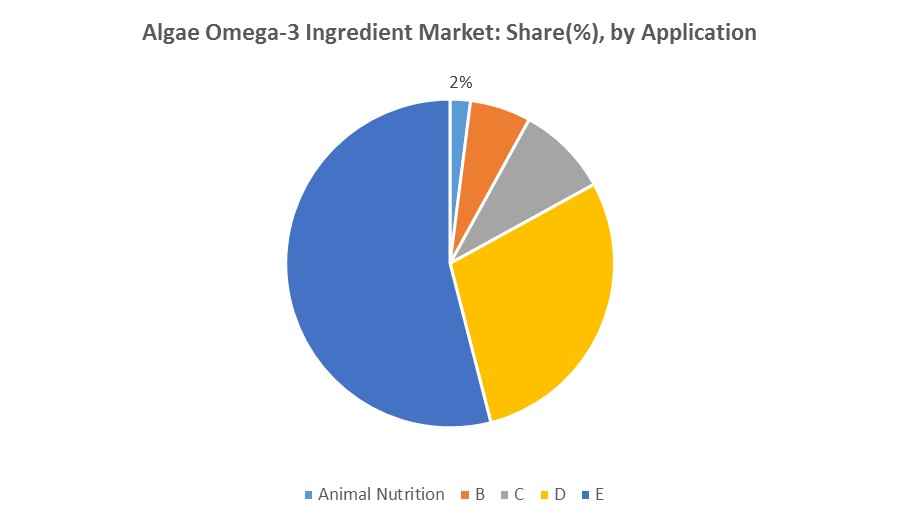 Key Developments
2018- Startup Triton Algae is bringing healthy and safe non GMO, and vegan algae powder rich in omega – 3, 6, and 9 fatty acids, vitamin A/ Betacarotene and iron. This is an excellent source of high protein.
2017-Nordic Naturals® Introduces Five New Children's Products. The new products offer concentrated, triglyceride-form omega-3 fish oil in age-appropriate formulations for cognition, learning and attention, mood health, and more, plus a kid-friendly, fast-melt probiotic powder.
Competitive Landscape:
Some of the key players in the market include DSM Nutritional Products, Bioprocess Algae, Llc, Neptune Wellness Solutions, Source-Omega, Qualitas Health, Nordic Naturals, ADM, Algaecytes, Simris Alg, Algisys, Polaris, Terravia (Solazyme) and Bioceuticals amongst others.
Reasons to Purchase this Report
Analyzing outlook of the market with the recent trends and Porter's five forces analysis
Market dynamics which essentially consider the factors which are impelling the present market scenario along with growth opportunities of the market in the years to come
Market segmentation analysis including qualitative and quantitative research incorporating the impact of economic and non-economic aspects
Regional and country level analysis integrating the demand and supply forces that are influencing the growth of the market
Competitive landscape involving the market share of major players along with the key strategies adopted for development in the past five years
Comprehensive company profiles covering the product offerings, key financial information, recent developments, SWOT analysis and strategies employed by the major market players
3 months analyst support along with the Market Estimate sheet in excel.
Customization of the Report
Value chain analysis
Consumer behavior analysis in country level
1. Introduction
1.1 Key Deliverables of the s=Study
1.2 Study Assumptions
1.3 Market Definition
2. Research Approach and Methodology
2.1 Introduction
2.2 Research Design
2.3 Study Timeline
2.4 Study Phases
2.4.1 Secondary Research
2.4.2 Discussion Guide
2.4.3 Market Engineering & Econometric Modelling
2.4.4 Expert Validation
3. Market Overview
3.1 Market Dynamics
3.1.1 Drivers
3.1.1.1 Increased Demand for Infant Formula Products in Developing Region Such as China
3.1.1.2 Sustainable Source of Omega-3 Fatty Acid Suitable for Vegetarian Label
3.1.1.3 Superior Product Quality and Best Alternative for Fish Oil Omega-3
3.1.2 Restraints
3.1.2.1 High Downstream Processing Cost Which Increases the Price
3.1.2.2 Low Consumer Awareness
3.1.3 Opportunities
3.1.3.1 Growing Demand for Algae EPA in Drug Application
3.1.3.2 High Demand for Premium Quality Omega-3 Products in Developed Regions
3.1.4 Porter's Five Forces Analysis
3.1.4.1 Bargaining Power of Suppliers
3.1.4.2 Bargaining Power of Buyers
3.1.4.3 Threat of New Entrants
3.1.4.4 Threat of Substitute Products and Services
3.1.4.5 Degree of Competition
4. Market Segmentation
4.1 By Type
4.1.1 Eicosapentanoic Acid (EPA)
4.1.2 Docosahexanoic a=Acid (DHA)
4.2 By Concentration Type
4.2.1 High-Concentrated
4.2.2 Concentrated
4.2.3 Low-Concentrated
4.3 By Purity/Quality Type
4.3.1 Premium
4.3.2 Others
4.4 By Application
4.4.1 Food & Beverages
4.4.1.1 Infant Formula
4.4.1.2 Fortified Food & Beverages
4.4.2 Dietary Supplement
4.4.3 Pharmaceuticals
4.4.4 Animal Nutrition
4.5 By Geography
4.5.1 North America
4.5.1.1 United States
4.5.1.2 Canada
4.5.1.3 Mexico
4.5.1.4 Others
4.5.2 Europe
4.5.2.1 Spain
4.5.2.2 UK
4.5.2.3 France
4.5.2.4 Germany
4.5.2.5 Russia
4.5.2.6 Italy
4.5.2.7 Others
4.5.3 Asia-Pacific
4.5.3.1 China
4.5.3.2 India
4.5.3.3 Japan
4.5.3.4 Australia
4.5.3.5 Others
4.5.4 South America
4.5.4.1 Brazil
4.5.4.2 Argentina
4.5.4.3 Others
4.5.5 Africa
4.5.5.1 South Africa
4.5.5.2 Others
5. Competitive Landscape
5.1 Strategies Adopted by Key Players
5.2 Most Active Companies in the Past Five Years
5.3 Market Share Analysis
6. Company Profiles
6.1 DSM Nutritional Products
6.2 Bioprocess Algae, LLC
6.3 Neptune Wellness Solutions (Biogroga)
6.4 Source-Omega
6.5 Qualitas Health
6.6 Nordic Naturals
6.7 ADM
6.8 Algaecytes
6.9 Simris ALG
6.10 Algisys
6.11 Polaris
6.12 TerraVia (Solazyme)
6.13 Xiamen Huison Biotech
6.14 Nature's Way (Ascenta Health)
7. Appendix
7.1 Disclaimer
7.2 Sources
List to Tables:
Algae Omega 3 Ingredient Market: Market Share, Global, 2015-2023
Algae Omega 3 Ingredient Market: Market Share, North America, 2015-2023
Algae Omega 3 Ingredient Market: Market Share, US, 2015-2023
Algae Omega 3 Ingredient Market: Market Share, Canada, 2015-2023
Algae Omega 3 Ingredient Market: Market Share, Mexico, 2015-2023
Algae Omega 3 Ingredient Market: Market Share, Other North America, 2015-2023
Algae Omega 3 Ingredient Market: Market Share, Europe, 2015-2023
Algae Omega 3 Ingredient Market: Market Share, UK, 2015-2023
Algae Omega 3 Ingredient Market: Market Share, Italy, 2015-2023
Algae Omega 3 Ingredient Market: Market Share, Germany, 2015-2023
Algae Omega 3 Ingredient Market: Market Share, France, 2015-2023
Algae Omega 3 Ingredient Market: Market Share, Spain, 2015-2023
Algae Omega 3 Ingredient Market: Market Share, Other Europe, 2015-2023
Algae Omega 3 Ingredient Market: Market Share, Asia-Pacific, 2015-2023
Algae Omega 3 Ingredient Market: Market Share, China, 2015-2023
Algae Omega 3 Ingredient Market: Market Share, India, 2015-2023
Algae Omega 3 Ingredient Market: Market Share, Japan, 2015-2023
Algae Omega 3 Ingredient Market: Market Share, Australia, 2015-2023
Algae Omega 3 Ingredient Market: Market Share, Other Asia-Pacific, 2015-2023
Algae Omega 3 Ingredient Market: Market Share, South America, 2015-2023
Algae Omega 3 Ingredient Market: Market Share, Brazil, 2015-2023
Algae Omega 3 Ingredient Market: Market Share, Argentina, 2015-2023
Algae Omega 3 Ingredient Market: Market Share, Other South America, 2015-2023
Algae Omega 3 Ingredient Market: Market Share, Other Africa, 2015-2023
Algae Omega 3 Ingredient Market: Market Share, By Type, 2015-2023
Algae Omega 3 Ingredient Market: Market Share, By Type, EPA, Global, 2015-2023
Algae Omega 3 Ingredient Market: Market Share, By Type, DHA, Global, 2015-2023
Algae Omega 3 Ingredient Market: Market Share, By Concentration Type, High-Concentrated, Global, 2015-2023
Algae Omega 3 Ingredient Market: Market Share, By Concentration Type, Concentrated, Global, 2015-2023
Algae Omega 3 Ingredient Market: Market Share, By Concentration Type, Low-Concentrated, Global, 2015-2023
Algae Omega 3 Ingredient Market: Market Share, By Application, Low-Concentrated, Global, 2015-2023
Algae Omega 3 Ingredient Market: Market Share, By Application, Food and Beverage, Global, 2015-2023
Algae Omega 3 Ingredient Market: Market Share, By Application, Infant Formula, Global, 2015-2023
Algae Omega 3 Ingredient Market: Market Share, By Application, Fortified Food and Beverage, Global, 2015-2023
Algae Omega 3 Ingredient Market: Market Share, By Application, Dietary Supplements, Global, 2015-2023
Algae Omega 3 Ingredient Market: Market Share, By Application, Pharmaceuticals, Global, 2015-2023
Algae Omega 3 Ingredient Market: Market Share, By Application, Animal-Nutrition, Global, 2015-2023