Market Snapshot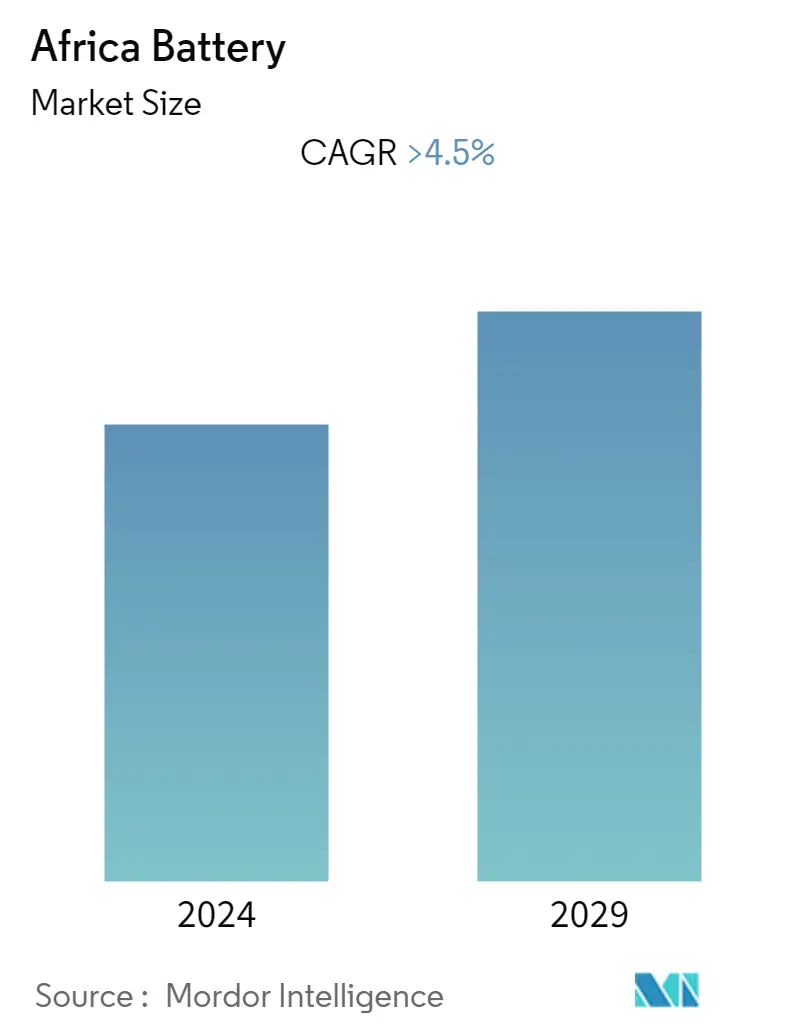 Study Period:
2019-2027
Base Year:
2021
CAGR:

>

4.5 %
Market Overview
The Africa Battery market is expected to rise at a CAGR of 4.5% during the forecast period of 2022-2027. Like many other industries, the Battery market has been dramatically hit by COVID 19 pandemic. Covid 19 has disrupted the supply chain industry due to travel bans and restrictions, and Consumer electronics, manufacturing, and electric vehicles saw sales decline. To avoid market saturation, battery producers had to limit output. Factors such as the declining cost of lithium batteries and increased adoption of renewable energy are likely to drive the Battery market during the forecast period. However, However, a mismatch in demand and supply of raw materials for battery manufacturing is expected to hinder the market growth during the forecast period.
• Lithium-ion Battery segment, because of major cost reductions in manufacturing and retail, has become more accessible to individuals, such as mobile phones and other electronic devices. It is the fastest-growing segment in the African battery market during the forecast period.
• Solar energy is an intermittent source that generates electricity only during the day, the Sub-Saharan African region is projected to be a key hotspot for off-grid solar projects. Combining off-grid solar power with energy storage increases the utilization of solar PV systems. As a result, energy storage with solar PV has been gaining popularity in developed countries, likely creating a massive opportunity for the battery market soon.
• South Africa is the fastest-growing country in the Battery market during the forecast period because of its increasing solar and wind energy installation and upcoming projects to generate clean energy.
Scope of the Report
The Africa Battery market report includes:
Type
Primary Battery
Secondary Battery
Technology
Lithium-ion Battery
Lead-acid Battery
Others
Application
Automotive batteries
Industrial Batteries
Portable Batteries
Other
Countries
South Africa
Nigeria
Kenya
Egypt
Rest of Africa
Key Market Trends
Lithium-ion Batteries to Dominate the Market
Lithium-ion batteries are a rechargeable batteries commonly used in electronic devices and energy vehicles. These batteries are also being used to store energy from renewable energy sources such as solar and wind.
The price of lithium-ion batteries declined steeply over the past ten years. In 2021, the cost of a lithium-ion battery was valued at approximately USD 123 per kWh. The price fell continuously over the past few years, and it decreased by more than 85% in 2021 compared to 2010. ​The decline in average lithium-ion battery prices is expected to continue and reach around USD 74/kWh by 2026, making it much more cost-competitive with other battery types.​
Lithium-ion battery systems propel the plug-in hybrid and electric vehicles. Due to its fast recharge, high energy density, and high discharge power, lithium-ion batteries are the only available technology capable of meeting OEM standards for car driving range and charging time. Because of their lower specific energy and heavier weight, lead-based traction batteries are not competitive in total hybrid electric vehicles or electric vehicles.​
In March 2020, the President of Algeria called for the promotion of electric cars to reduce the country's carbon footprints. Therefore, the government has announced new specifications governing the activity of the automotive industry in Algeria. The government took several measures to promote electric vehicles in the country, such as restricting the importation of second-handed fossil fuel cars with fewer than three years and prohibiting diesel-based cars from importation. These restrictions on second-handed fossil fuel-based cars are expected to drive the electric vehicles sector in the country, which uses lithium-ion batteries for generating power.
Hence, owing to the above points, the lithium-ion batteries segment is likely to see significant growth in the market during the forecast period.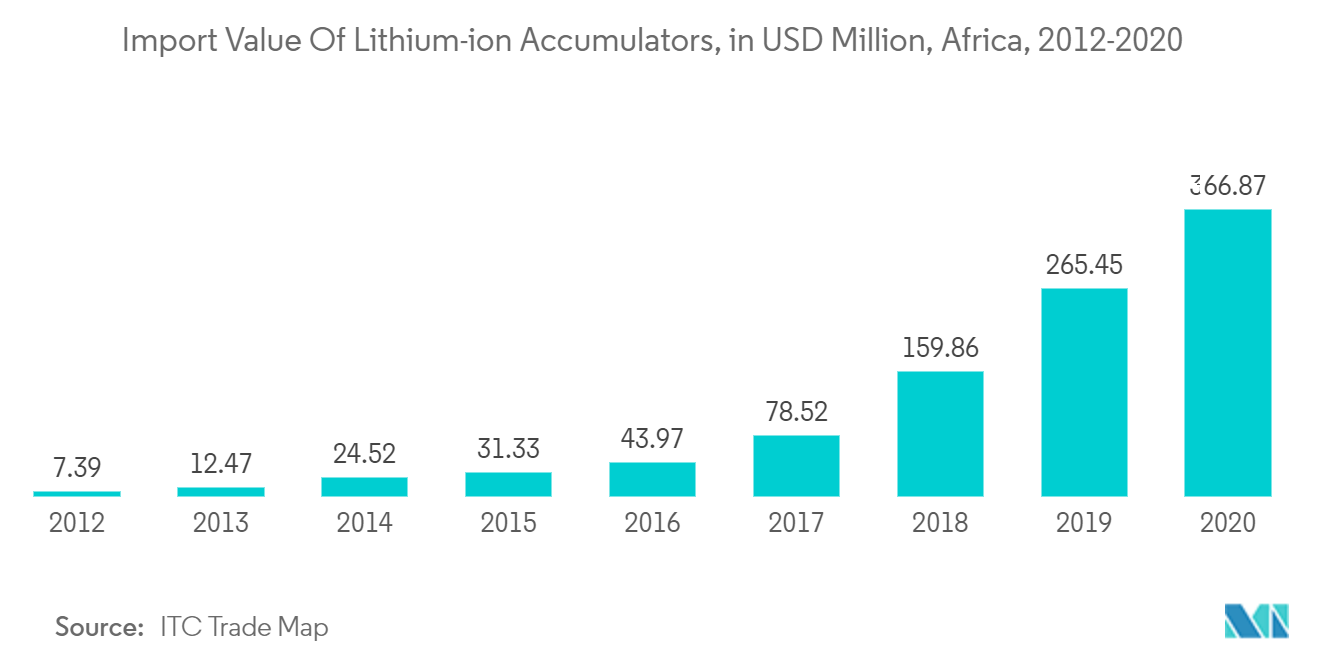 To understand key trends, Download Sample Report
South Africa Expected to Witness Significant Growth
The South African government is committed to increasing the country's power generation capacity and energy security. As a result, many energy storage projects are being-planned in collaboration between public and private entities.
Scatec, a Norwegian energy business, won a government tender in South Africa in June 2021 for 540MW of solar projects with 225MW/ 1,140MWh of battery storage. The company's involvement in the initiative was part of the Risk Mitigation Power Procurement Programme (RMPPP), which aims to expand the sources of energy dispatch in times of fluctuating demand.
The government is keen to expand the country's power generation and energy security. Therefore many energy storage projects are in the works, with state-owned and private groups working together.
Renewable Energy Independent Power Producer Procurement Programme (REIPPPP), a government initiative in South Africa, is mainly responsible for the country's increase in energy storage projects. The Battery Energy Storage Systems (BESS) project, which will create a 360MW storage system across several renewable energy plants controlled by Eskom, South Africa's state-owned utility, was announced in November 2021.
Hence, owing to the above points, South Africa is expected to see significant market growth in the Battery market during the forecast period.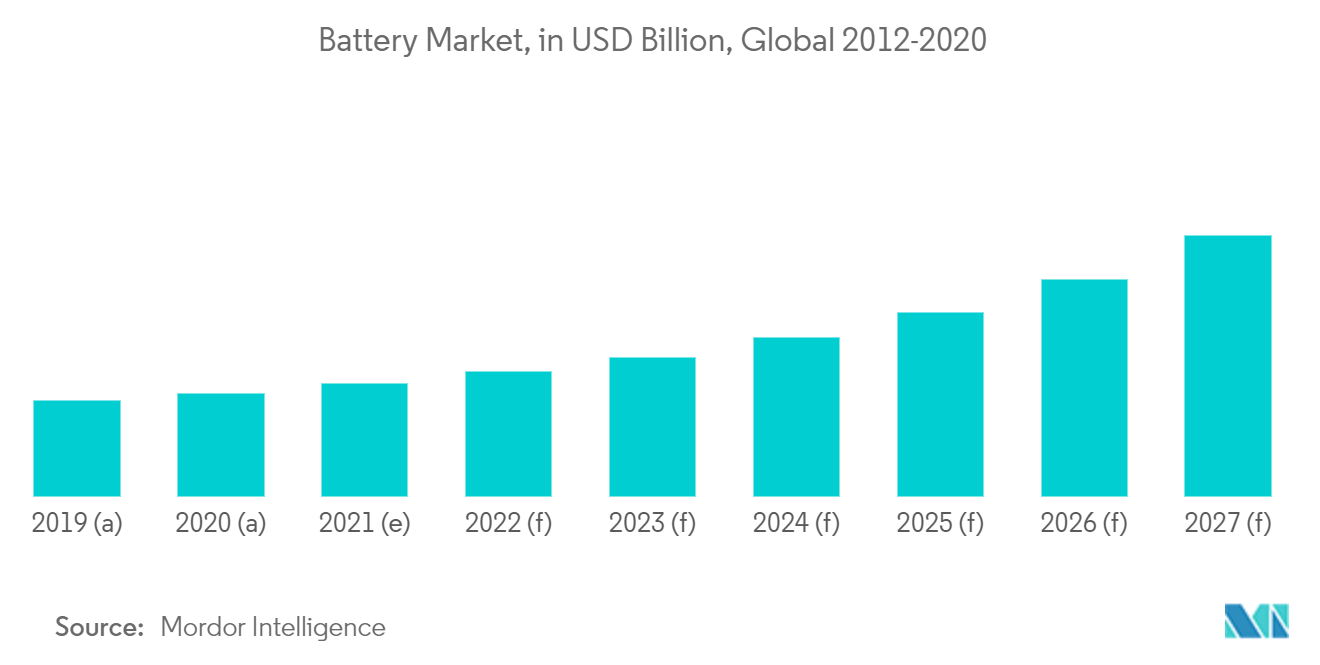 To understand geography trends, Download Sample Report
Competitive Landscape
Africa Battery market is fragmented. Some of key players in this market include Toshiba Corp, Murata Manufacturing Co., Ltd., Exide Industries Ltd, Panasonic Corporation, and Duracell Inc.
Major Players
*Disclaimer: Major Players are sorted alphabetically
Recent Development
In Jan 2022, The South African government established the uYilo jumpstart fund to promote electric vehicle innovation. The RAND 1 million fund for EV projects was part of the country's National uYilo e-mobility programme, which began in 2013. The South African government has hinted at establishing a local value chain for lithium battery manufacturing, notably for the EV sector.
In March 2021, South Africa has a new hybrid power plant plan that includes solar, wind, and lithium-ion battery storage. Following an agreement with G7 Renewable Energies, a Capetown-based energy producer, the Oya Energy Hybrid Facility announced plans to build a 128MW hybrid power plant in the Karoo, South Africa.
Table of Contents
1. INTRODUCTION

1.1 Scope of the Study

1.2 Market Definition

1.3 Study Assumptions

2. EXECUTIVE SUMMARY

3. RESEARCH METHODOLOGY

4. MARKET OVERVIEW

4.1 Introduction

4.2 Market Size and Demand Forecast in USD billion, till 2027

4.3 Recent Trends and Developments

4.4 Government Policies and Regulations

4.5 Market Dynamics

4.5.1 Drivers

4.5.2 Restraints

4.6 Supply Chain Analysis

4.7 Porter's Five Force Analysis

4.7.1 Bargaining Power of Suppliers

4.7.2 Bargaining Power of Consumers

4.7.3 Threat of New Entrants

4.7.4 Threat of Substitutes Products and Services

4.7.5 Intensity of Competitive Rivalry

5. MARKET SEGMENTATION

5.1 Type

5.1.1 Primary Battery

5.1.2 Secondary Battery

5.2 Technology

5.2.1 Lithium-ion Battery

5.2.2 Lead-acid Battery

5.2.3 Others

5.3 Application

5.3.1 Automotive batteries

5.3.2 Industrial Batteries

5.3.3 Portable Batteries

5.3.4 Other

5.4 Countries

5.4.1 South Africa

5.4.2 Nigeria

5.4.3 Kenya

5.4.4 Egypt

5.4.5 Rest of Africa

6. COMPETITIVE LANDSCAPE

6.1 Mergers, Acquisitions, Collaboration and Joint Ventures

6.2 Strategies Adopted by Key Players

6.3 Company Profiles

6.3.1 Duracell Inc

6.3.2 Panasonic Corporation

6.3.3 Toshiba Corporation

6.3.4 Exide Industries ltd

6.3.5 Murrata manufacturing co ltd

6.3.6 Uganda Batteries Limited

6.3.7 Energizer Holdings, Inc

6.3.8 Luminous power technology

*List Not Exhaustive

7. MARKET OPPORTUNITIES AND FUTURE TRENDS
Market Definition
Vehicle Types

- Passenger Vehicles, Commercial Vehicles and Motorcycles are the vehicle types considered under the automotive lubricants market.

Product Types

- For the purpose of this study, lubricant products such as engine oils, transmission oils, greases and hydraulic fluids are taken into consideration.

Service Refill

- Service refill is the primary factor considered while accounting the lubricant consumption for each of the vehicle segments, under the study.

Factory Fill

- First lubricant fill-ups for newly produced vehicles are considered.
Research Methodology
Mordor Intelligence follows a four-step methodology in all our reports.
Step-1: Identify Key Variables:

The quantifiable key variables (industry and extraneous) pertaining to the specific product segment and country are selected from a group of relevant variables & factors based on desk research & literature review; along with primary expert inputs. These variables are further confirmed through regression modeling (wherever required).

Step-2: Build a Market Model:

In order to build a robust forecasting methodology, the variables and factors identified in Step-1 are tested against available historical market numbers. Through an iterative process, the variables required for market forecast are set and the model is built on the basis of these variables.

Step-3: Validate and Finalize:

In this important step, all market numbers, variables and analyst calls are validated through an extensive network of primary research experts from the market studied. The respondents are selected across levels and functions to generate a holistic picture of the market studied.

Step-4: Research Outputs:

Syndicated Reports, Custom Consulting Assignments, Databases & Subscription Platforms
80%

of our clients seek made-to-order reports. How do you want us to tailor yours?