Active & Passive Electronic Components Market Size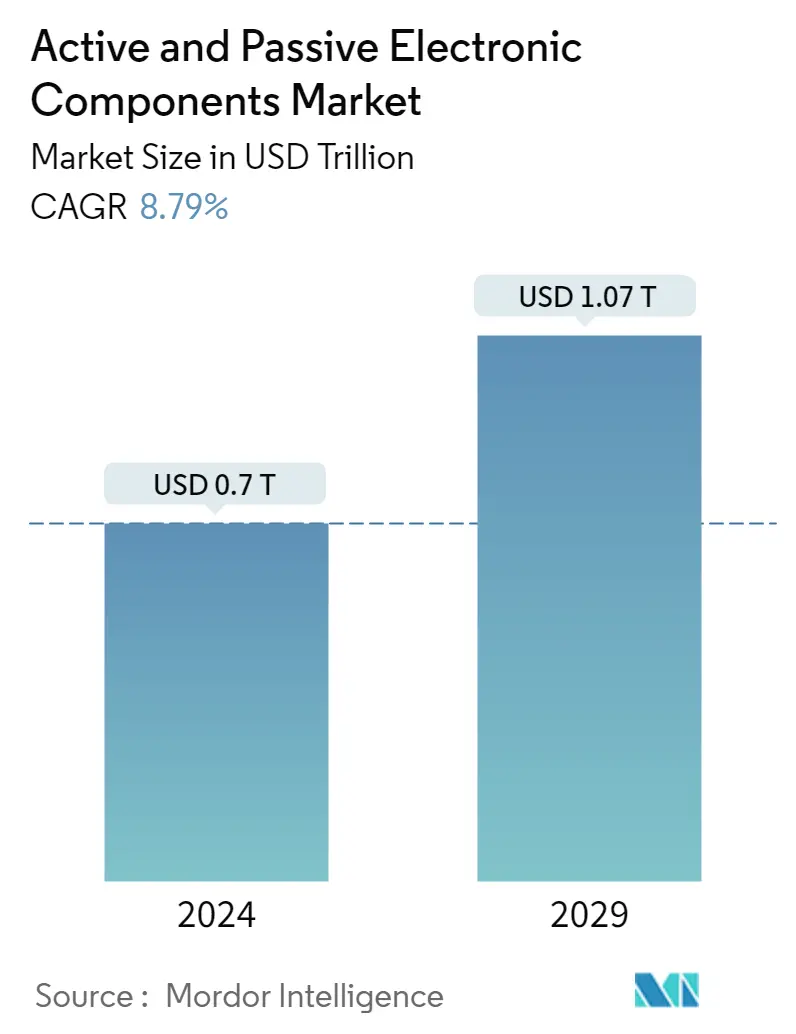 Study Period
2018 - 2028
Market Size (2023)
USD 646.21 Billion
Market Size (2028)
USD 984.73 Billion
CAGR (2023 - 2028)
8.79 %
Fastest Growing Market
Asia-Pacific
Largest Market
Asia-Pacific

Major Players

*Disclaimer: Major Players sorted in no particular order
Need a report that reflects how COVID-19 has impacted this market and its growth?
Active & Passive Electronic Components Market Analysis
The Active and Passive Electronic Components Market size is estimated at USD 646.21 billion in 2023, and is expected to reach USD 984.73 billion by 2028, growing at a CAGR of 8.79% during the forecast period (2023-2028).
Active and passive electronic components are any semiconductor/electronic device's building blocks. With their simple functionalities, these components play a crucial role in powering an electronic system. While active components are part of an electronic circuit that relies on an external power source to modify/control electrical signals, passive electronic components do not need an external power source to function. They use other properties to control the electrical signal.
The active and passive electronics market witnessed significant growth over the past few years, primarily due to the increasing digitalization of various sectors. This resulted in the growing adoption of consumer electronics across sectors and the rising need for connectivity and mobility. With these developments, the complexity of electronic products also increased. This accelerated the need for components, especially in the automotive and consumer electronics industries.
One of the current trends in the consumer electronics industry is the growing demand and need for smaller, lighter, and higher-performing electronics, i.e., the miniaturization of electronics and components. Rapid technological advances have led to the availability of products that incorporate multiple features on a single platform.
The consumer electronics industry is among the major consumer of active and passive electronic components. These components are among the fundamental building blocks of the circuitry in devices such as computers, cell phones, and several other electronic devices. For instance, a transistor performs various functions such as amplification, voltage regulation, switching, signal modulation, and oscillators.
The raw materials prices, such as silicon, iron, nickel, and molybdenum, have recently seen significant changes. With the pandemic's influence, the global precious metal market is further witnessing adverse effects of supply chain issues, which also impact the market prices. This increase in the price of palladium, nickel, and ruthenium impacts the overall cost of production for specific large-volume components, challenging the market's growth.
During the COVID-19 pandemic, the demand for active and passive components increased significantly across the medical and healthcare sector to speed up the detection and treatment process as well as to enhance remote patient monitoring capabilities; healthcare institutions significantly invested in advanced electronic devices, which in turn drove the demand for components such as transistors, capacitors, amplifiers, etc.
For instance, the demand for electrochemical transistors with a modular architecture witnessed a notable increase in use in sensing devices for the rapid quantification of single-molecule-to-nanomolar levels of specific antigens in complex bodily fluids. Furthermore, various use cases of laser-induced graphene field-effect transistors (LIG-FET) for detecting SARS-CoV-2 were also observed during the COVID period. With these components proving beneficial, further technological innovations are expected to open new growth opportunities in the post-COVID-19 period.
Active & Passive Electronic Components Market Trends
This section covers the major market trends shaping the Active & Passive Electronic Components Market according to our research experts:
Increasing Adoption of 5G Technology is Driving the Market
5G has been a groundbreaking innovation not just for the communication industry but is expected to significantly impact the growth of various industries, including consumer electronics, automotive, industrial, etc., as the fast and low latency connectivity offered by 5G will significantly expand use cases across these industries.
According to Ericsson, the global number 5G subscriptions are expected to expand rapidly, growing up from a mere 12.69 million in 2019 to 4,372.73 million by 2027. Furthermore, Northeast Asia is expected to hold the largest number of 5G subscribers, reaching 1,705.6 million subscribers by 2027.
Such trends are expected to open up a new world of possibilities for every tech industry as the low-latency and fast speed offered by 5G is what is needed for further advances in intelligent automation, Artificial Intelligence (AI), the Internet of Things (IoT), autonomous cars, extended reality, blockchain, and several other technologies yet to be explored.
According to a study by Qualcomm, 5G will generate more than USD 2.4 trillion across the automotive industry by 2035. As millions of vehicles leverage mobile technology for real-time navigation, emergency services, connected infotainment, etc., the advent of 5G will spawn a new range of applications such as Vehicle-2-Vehicle, Vehicle-2-Network (V2N), Vehicle-2-Infrastructure (V2I), and Vehicle-2-Pedestrian (V2P) communications.
Furthermore, 5G is also expected to have a similar impact on the growth of the consumer electronics industry. The demand for IoT-connected consumer devices will grow due to the availability of low latency and fast connectivity networks. Such trends combinedly will support the growth of the studied market during the forecast period.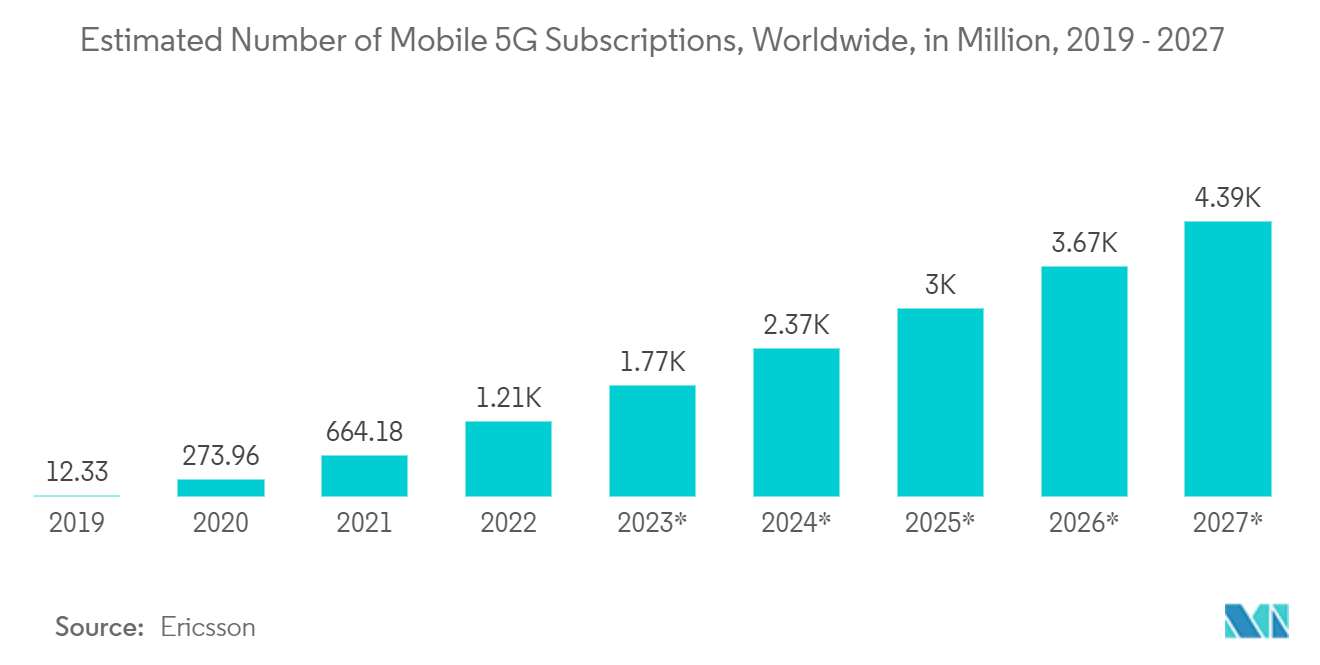 To understand key trends, Download Sample Report
Asia Pacific is Expected to Witness Significant Growth
The growing electronics industry is attracting several MNCs to set up manufacturing plants in Asian countries either independently or through a joint venture with different regional companies. This includes large global organizations such as Tyco Electronics, FCI OEN, Molex, Vishay, and EPCOS. ​This is further anticipated to boost the local manufacturing activity of resistors in the Asia Pacific region.​
In China, the growth of the studied market can also be attributed to the booming electronics industry. Electronics is one of the largest industries in China and is a significant contributor to the country's overall economic growth. For instance, as per the State Council of the People's Republic of China, during the two months from January to February 2022, the added value of major electronics manufacturers rose 12.7% year-on-year, compared with the 7.5% growth seen in the overall industrial sector in the country. China is the world's leading producer of electronic devices such as TVs, smartphones, laptops and PCs, refrigerators, and air conditioners.
Japan's electronic products industry, which is one of the largest in the world, is the most significant factor driving demand for sales of semiconductors in the country. As per the Japan Electronics and Information Technology Industries Association (JEITA), in 2021, the production value of electronic devices in Japan grew by 10.6% compared to the previous year, reaching a value of about JPY 3.94 trillion in 2021. The rising disposable income of the people and their preferences for smart homes and smart business environments are important drivers for the growth of consumer electronics in Japan.
Korea acquired a prominent position in the global semiconductor memory market. The data center market in Korea is one of the fastest growing and is attracting increasing investments from many foreign players. For instance, in April 2022, Digital Edge (Singapore) Holdings Pte. Ltd planned to develop a data center in Incheon, South Korea, through a partnership with the SK eco plant. The companies will jointly build and promote a 120MW hyper-scale data center development project in the National Industrial Complex in Bupyeong-gu, Incheon.
Electronics manufacturing is a significant contributor to Taiwan's total Gross domestic product (GDP). Taiwan Semiconductor Manufacturing Company (TSMC) is the most important semiconductor manufacturer in the region. Recently TSMC reported its Q2 2022 earnings results, presenting a strong revenue growth of 36.6% year over year. As per the company, one of the most important reasons for this remarkable growth was the rapid expansion of its customers in the high-performance computing (HPC) industry. These include artificial intelligence researchers, data centers for cloud providers like Amazon's Amazon Web Services, and edge computing networks. HPC revenue grew 14% quarter over quarter in Q2 and now makes up 43% of TSMC's overall revenue.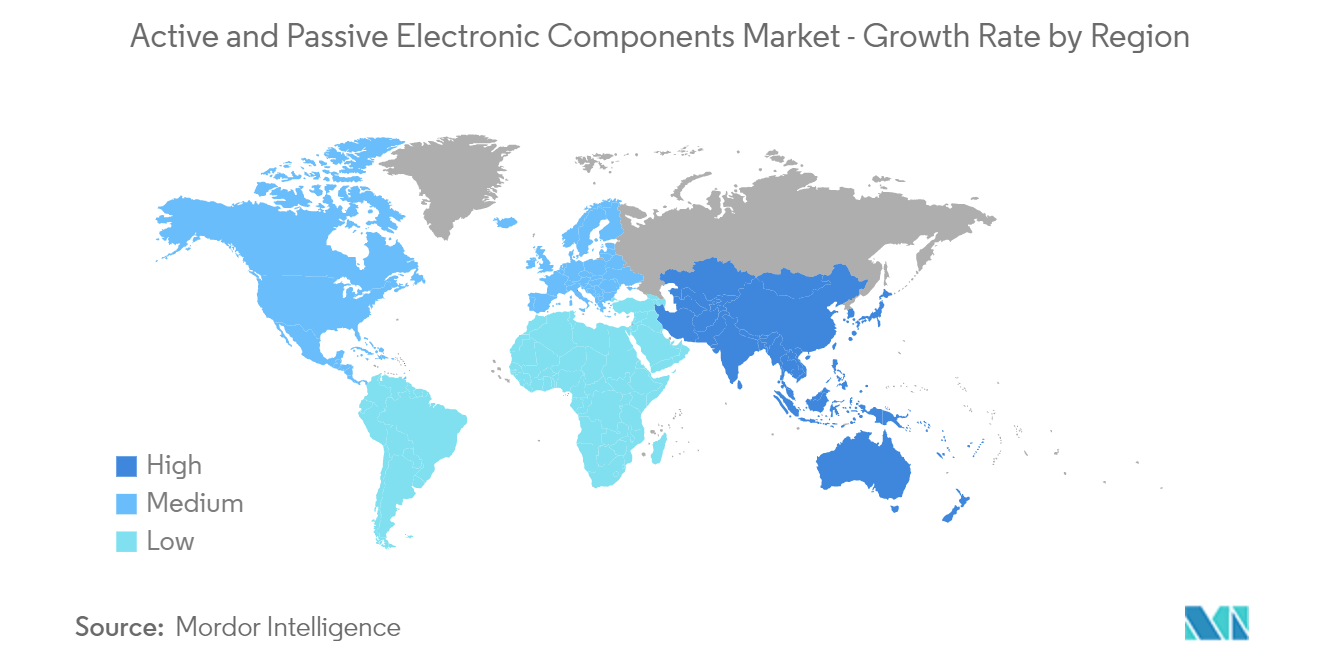 To understand geography trends, Download Sample Report
Active & Passive Electronic Components Industry Overview
The active and passive electronic components market comprises long-standing established players who have made significant investments in the product. The new players entering the market require high investments. The companies can sustain themselves through powerful competitive strategies. Product innovations can also work in favor of new players as they can target emerging and less explored application areas to expand their market presence further. The degree of competition is high in the market and is expected to remain the same for the forecasted period.
In December 2022, ModCap HF, a modular capacitor designed for DC link applications that can operate at extremely high switching frequencies, was offered by TDK Corporation. The six newly created power capacitors in the B25647A* series are rated for between 900 to 1600 volts and have capacitance ranges between 640 to 1850 microfarads. The highest allowable hot spot temperature is 90 °C, and the rated currents range from 160 A to 210 A depending on the kind.
In October 2022, YAGEO Group, the world's top supplier of passive components, released the automotive grade thin film chip resistor - RP Series. The RP series' unique passivation design creates a waterproofing interface. This cover shields the resistive layer, preventing moisture from entering from the outside. With this defense, the RP Series can maintain high resistance stability in challenging conditions, making it ideal for power systems, industrial/medical equipment, telecommunications, industrial/automotive electronics, and industrial/industrial equipment.
Active & Passive Electronic Components Market Leaders
Infineon Technologies AG

NXP Semiconductors NV

Texas Instruments, Inc.

Panasonic Corporation

Murata Manufacturing Co. Ltd
*Disclaimer: Major Players sorted in no particular order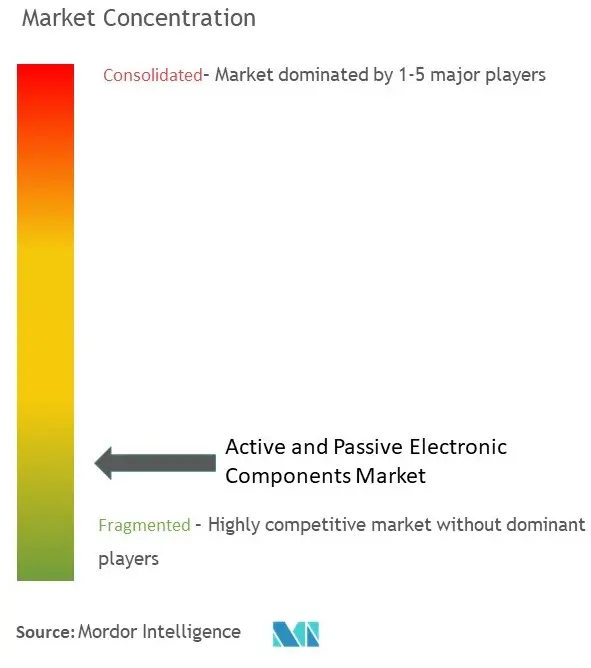 Active & Passive Electronic Components Market News
January 2023: Infineon Technologies AG's MOTIX family for automotive and commercial motor control applications provides a wide range of products with different levels of integration. Infineon releases the MOTIX 3-phase gate driver IC 6ED2742S01Q to broaden its product line. The 160 V silicon-on-insulator (SOI) gate driver comes in a QFN-32 package with a thermally efficient exposed power pad and has an integrated power management unit (PMU). Because of this, the simple-to-integrate device is perfect for battery-powered industrial BLDC motor control drives, such as those used in robotics, drones, cordless power tools, and light electric vehicles.
November 2022: YAEGO introduced the HCV X7R MLCCs to suit the strict specifications of industrial applications. The newest model, the YAGEO HCV X7R, has a case size range (inches) of 0402 to 1210 and features the largest capacitance and rated voltage—47uF and 100 volts, respectively. YAGEO is the most competitive provider of HCV MLCCs since its new facility will operate in 2023 to satisfy the rising demand and has a larger manufacturing capacity.
Active & Passive Electronic Components Market Report - Table of Contents
1. INTRODUCTION

1.1 Study Assumptions and Market Definition

1.2 Scope of the Study

2. RESEARCH METHODOLOGY

3. EXECUTIVE SUMMARY

4. MARKET INSIGHTS

4.1 Market Overview

4.2 Industry Value Chain Analysis

4.3 Industry Attractiveness - Porter Five Forces

4.3.1 Bargaining Power of Suppliers

4.3.2 Bargaining Power of Consumers

4.3.3 Threat of New Entrants

4.3.4 Intensity of Competitive Rivalry

4.3.5 Threat of Substitutes

4.4 Impact of COVID-19 on the industry

5. MARKET DYNAMICS

5.1 Market Drivers

5.1.1 Increasing Preference For Miniaturized Designs

5.1.2 Growing Number of Computing, Communications, and Consumer Electronics

5.1.3 Increasing Adoption of 5G Technology

5.2 Market Restraints

5.2.1 Rising Metal Prices Impacting Component Production Costs

6. MARKET SEGMENTATION

6.1 By Component

6.1.1 Active Components

6.1.1.1 Transistors

6.1.1.2 Diode

6.1.1.3 Integrated Circuits (ICs)

6.1.1.4 Amplifiers

6.1.1.5 Vacuum Tubes

6.1.2 Passive Components

6.1.2.1 Capacitors

6.1.2.2 Inductors

6.1.2.3 Resistors

6.2 By End-user Industry

6.2.1 Automotive

6.2.2 Consumer Electronics and Computing

6.2.3 Medical

6.2.4 Industrial

6.2.5 Communications

6.2.6 Other End-user Industries

6.3 By Geography

6.3.1 North America

6.3.2 Europe

6.3.3 Asia Pacific

6.3.4 Latin America

6.3.5 Middle East and Africa

7. COMPETITIVE LANDSCAPE

7.1 Company Profiles

7.1.1 Infineon Technologies AG

7.1.2 NXP Semiconductors NV

7.1.3 Texas Instruments, Inc.

7.1.4 Panasonic Corporation

7.1.5 Murata Manufacturing Co. Ltd

7.1.6 Eaton Corporation

7.1.7 TE Connectivity Ltd.

7.1.8 Honeywell International Inc.

7.1.9 Toshiba Corp.

7.1.10 Vishay Intertechnology Inc.

7.1.11 YAGEO Corporation

7.1.12 TDK Corporation

7.1.13 KEMET Corporation (Yageo Corporation)

7.1.14 AVX Corporation (Kyocera Corp)

7.1.15 Lelon Electronics Corporation

7.1.16 Taiyo Yuden Co. Ltd

*List Not Exhaustive

8. INVESTMENT ANALYSIS

9. FUTURE OF THE MARKET
**Subject to Availability
Active & Passive Electronic Components Industry Segmentation
Active electronic components refer to the components that require an external and conditional source to operate in a circuit. Integrated circuits, transistors, and diodes are some of the active electronic components. Passive electronic components are made up of capacitors, resistors, and inductors/magnetics. These components do not require any external source to operate in the circuit.
The study tracks various types of active and passive electronic components. Active components cover transistors, diodes, ICs, amplifiers, and vacuum tubes, while passive equipment includes capacitors, inductors, and resistors. The applications and demand across various end-user industries, such as automotive, consumer electronics and computing, Industrial, and communications, among others, are considered. The revenue generated from the sales of active and passive components is considered to arrive at the market size. Moreover, the report covers key regions, such as North America, Europe, Asia Pacific, Latin America, and the Middle East & Africa. Further, the market study also focuses on the impact of the COVID-19 pandemic on the market ecosystem.​ The market sizes and forecasts are provided in terms of value in USD billion for all the above segments.
By Component

Active Components
Transistors
Diode
Integrated Circuits (ICs)
Amplifiers
Vacuum Tubes

Passive Components
Capacitors
Inductors
Resistors
By End-user Industry
Automotive
Consumer Electronics and Computing
Medical
Industrial
Communications
Other End-user Industries
By Geography
North America
Europe
Asia Pacific
Latin America
Middle East and Africa
Active & Passive Electronic Components Market Research FAQs
How big is the Active and Passive Electronic Components Market?
The Active and Passive Electronic Components Market size is expected to reach USD 646.21 billion in 2023 and grow at a CAGR of 8.79% to reach USD 984.73 billion by 2028.
What is the current Active and Passive Electronic Components Market size?
In 2023, the Active and Passive Electronic Components Market size is expected to reach USD 646.21 billion.
Who are the key players in Active and Passive Electronic Components Market?
Infineon Technologies AG, NXP Semiconductors NV, Texas Instruments, Inc., Panasonic Corporation and Murata Manufacturing Co. Ltd are the major companies operating in the Active and Passive Electronic Components Market.
Which is the fastest growing region in Active and Passive Electronic Components Market?
Asia-Pacific is estimated to grow at the highest CAGR over the forecast period (2023-2028).
Which region has the biggest share in Active and Passive Electronic Components Market?
In 2023, the Asia-Pacific accounts for the largest market share in the Active and Passive Electronic Components Market.
Active and Passive Electronic Components Industry Report
Statistics for the 2023 Active and Passive Electronic Components market share, size and revenue growth rate, created by Mordor Intelligence™ Industry Reports. Active and Passive Electronic Components analysis includes a market forecast outlook to 2028 and historical overview. Get a sample of this industry analysis as a free report PDF download.
Active and Passive Electronic Components Report Snapshots
80%

of our clients seek made-to-order reports. How do you want us to tailor yours?