Instantánea del mercado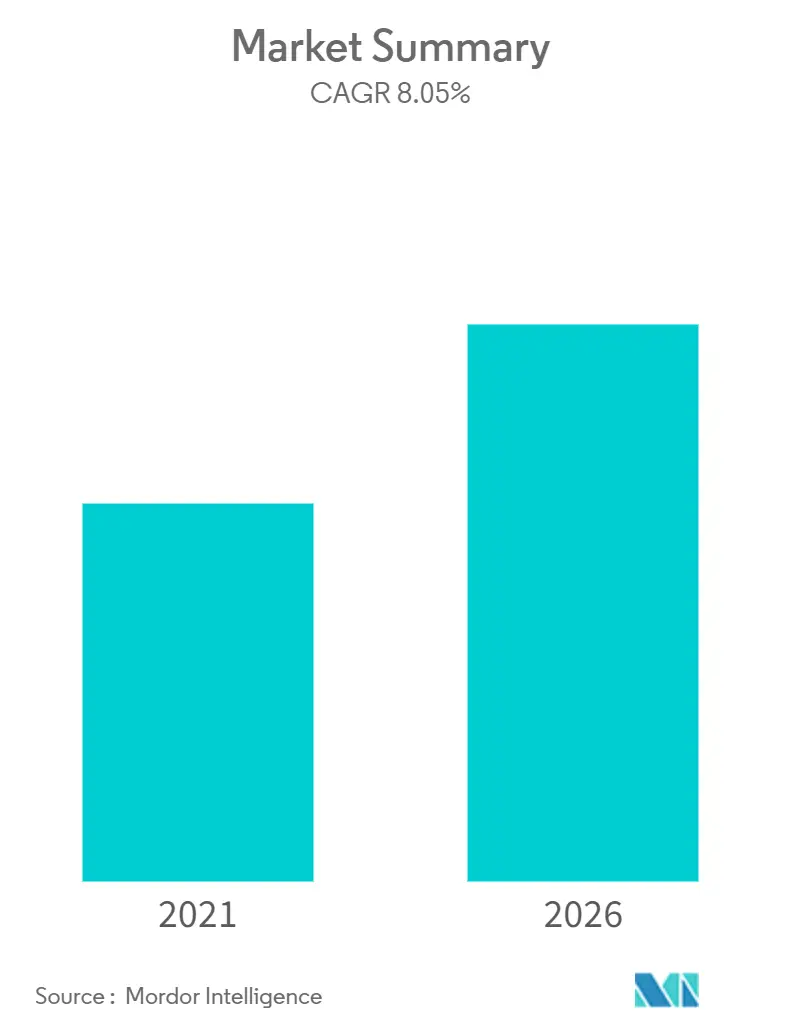 Study Period:
2016-2026
Base Year:
2020
Fastest Growing Market:
North America
Largest Market:
Asia Pacific
CAGR:
8.05 %
Need a report that reflects how COVID-19 has impacted this market and its growth?
Visión general del mercado
Se estima que el mercado de nutricosméticos registrará una CAGR de 8.05% durante el período de pronóstico, 2021-2026.
Durante el brote de la pandemia de COVID-19, las empresas de nutricosméticos experimentaron una disminución en sus ingresos inicialmente, debido al cierre de múltiples tiendas y al desabastecimiento en todos los países. Sin embargo, el crecimiento del comercio electrónico impulsó las ventas de nutricosméticos disponibles a través de canales online. Además, las empresas que operan en este espacio se enfocaron en fortalecer su presencia en línea mediante la colaboración con minoristas en línea de terceros como Amazon, y también comenzaron a ofrecer consultas virtuales personalizadas a los consumidores a través de sus propios sitios web oficiales. Además, factores como la piel poco saludable, provocada por el uso constante de máscaras faciales, junto con una mayor demanda de suplementos para la salud de la piel debido a la conciencia de salud entre los consumidores, atrajeron a nuevos consumidores a optar por suplementos de belleza, aumentando así el crecimiento del mercado.
A medio plazo, el mercado de la nutricosmética está impulsado por la creciente concienciación de los consumidores sobre los problemas de su piel, como el antienvejecimiento, las arrugas, la caída del cabello, los problemas del cuero cabelludo, etc., que se asocian con diversas deficiencias de nutrientes, lo que lleva a un cambio de paradigma hacia prácticas preventivas de gestión de la salud en medio de los crecientes costos de atención médica y la creciente carga de enfermedades relacionadas con el estilo de vida. Así, insistiendo en el consumo de nutricosméticos en todo el mundo.
Además, la fuerte demanda de productos que contienen vitaminas y Omega-3, especialmente para el cuidado de la piel, tiene una participación significativa en el mercado. Además, el enfoque de la belleza desde adentro está ganando popularidad entre la generación del milenio, ya que es una combinación atractiva de belleza y salud. Sin embargo, no existe una demarcación clara para los productos basados ​​en nutracéuticos, con variaciones entre los diferentes países. Por lo tanto, la complejidad de los aspectos regulatorios, legislativos y tecnológicos actúa como un obstáculo importante para el crecimiento del mercado.
Alcance del Informe
La nutricosmética se podría definir como la combinación de nutrientes y cosméticos. El término engloba los efectos beneficiosos sobre la belleza derivados del consumo de nutrientes mediante el uso de complementos alimenticios. Este informe sobre el mercado mundial de nutricosméticos (en adelante, el mercado estudiado) proporciona un análisis en profundidad de las ventas y las perspectivas de crecimiento de los nutricosméticos en todo el mundo, junto con un énfasis en las tendencias y oportunidades actuales y futuras en el mercado.
El mercado global de nutricosméticos está segmentado por tipo de producto, forma, canal de distribución y geografía. Por tipo de producto, el mercado se ha segmentado en cuidado de la piel, cuidado del cabello y cuidado de las uñas. Por forma, el mercado se ha segmentado en tabletas y cápsulas, polvo y líquido, y gomitas y masticables blandas. Por canal de distribución, el mercado estudiado se ha segmentado en supermercados/hipermercados, droguerías/farmacias, tiendas especializadas, retail online y otros canales de distribución. Por geografía, el mercado de nutricosméticos está segmentado en América del Norte, Europa, Asia-Pacífico y Resto del Mundo. Resto del mundo incluye los subsegmentos de América del Sur y Medio Oriente y África. Para cada segmento, el tamaño del mercado y las previsiones se han realizado sobre la base del valor (en millones de USD).
By Product Type
Skin Care
Hair Care
Nail Care
By Form
Tablets and Capsules
Powder and Liquid
Gummies and Soft Chews
By Distribution Channel
Supermarkets/Hypermarkets
Drug Stores/Pharmacies
Specialist Stores
Online Retail
Other Distribution Channels
By Geography

North America
United States
Canada
Mexico
Rest of North America

Europe
United Kingdom
Germany
Spain
France
Italy
Russia
Rest of Europe

Asia-Pacific
China
Japan
India
Australia
Rest of Asia-Pacific

Rest of the World
South America
Middle-East and Africa
Tendencias clave del mercado
El cuidado de la piel tiene una participación destacada del mercado
El enfoque preventivo, holístico y con conciencia ecológica está generando un crecimiento acelerado del segmento del cuidado de la piel, con ofertas que respaldan los ingredientes activos clínicamente estudiados. Además, el mercado de nutricosméticos para el cuidado de la piel está presenciando ingredientes emergentes para una piel sana, como el pycnogenol y el licopeno. Además, los intereses de los consumidores se inclinan hacia la compra de productos para el cuidado de la piel que contengan nutrientes como la vitamina A, la vitamina D y los ácidos grasos omega-3, que se han relacionado con el apoyo a la salud de la piel, lo que ofrece a los fabricantes una gran cantidad de oportunidades para innovar. Además, los jugadores en el mercado compiten en términos de innovaciones en términos de ingredientes, forma del producto, materiales de empaque y otros. También, Las empresas que operan en este segmento están incorporando ingredientes activos naturales para alternativas limpias, que van desde hongos en suplementos hasta café molido en exfoliantes para la piel y algas marinas en el cuidado de la piel. Por ejemplo, en 2020, Ajinomoto Health and Nutrition anunció el lanzamiento de polvo de proteína de colágeno marino índigo, que proporciona una forma sencilla de ayudar a disminuir los efectos del envejecimiento mientras revitaliza la piel.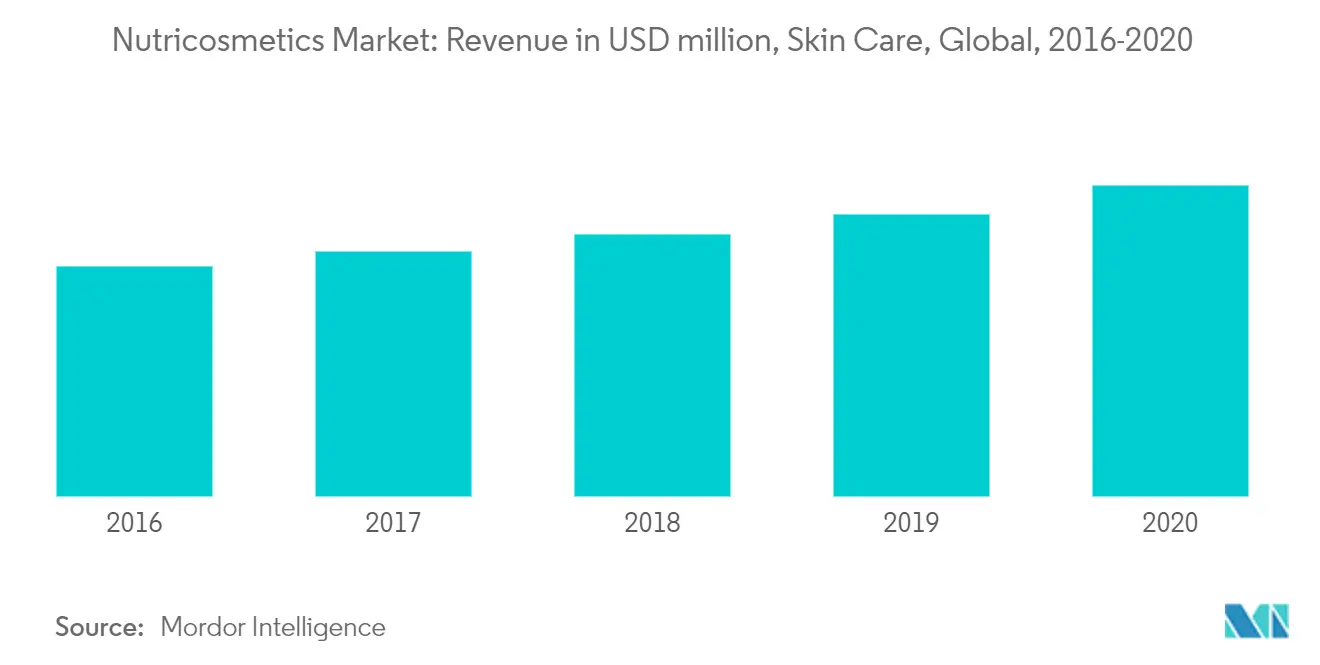 To understand key trends, Download Sample Report
América del Norte es el mercado de más rápido crecimiento
América del Norte es la región de más rápido crecimiento en el mercado global de nutricosméticos. Los consumidores de la región, predominantemente de Estados Unidos y Canadá, tienden a mostrarse escépticos ante la idea de los "alimentos de belleza" y es más probable que exijan productos como protección UV y productos para suavizar las arrugas, lo que crea un látigo en el lanzamiento del producto. Por ejemplo, en 2020, SDIN® lanzó SunISDIN™ Softgel Capsules en el mercado estadounidense, una combinación avanzada de antioxidantes, vitaminas y un mineral esencial para preparar la piel para combatir el fotoenvejecimiento, prevenir el estrés oxidativo y apoyar la salud general de la piel. Además, según la Asociación Estadounidense de Pérdida de Cabello, a la edad de treinta y cinco años, dos tercios de los hombres estadounidenses experimentarán algún grado de pérdida de cabello apreciable, y a la edad de cincuenta años, aproximadamente el 85% de los hombres tienen un adelgazamiento significativo del cabello. Por lo tanto, Viviscal presentó una línea de suplementos en polvo para mezclar para mejorar la salud del cabello tanto para hombres como para mujeres, formulados de manera diversa con biotina y colágeno marino. Por lo tanto, se proyecta que los fabricantes presenten continuamente nuevas ofertas de productos con el objetivo de satisfacer la creciente demanda para impulsar el mercado estudiado considerablemente.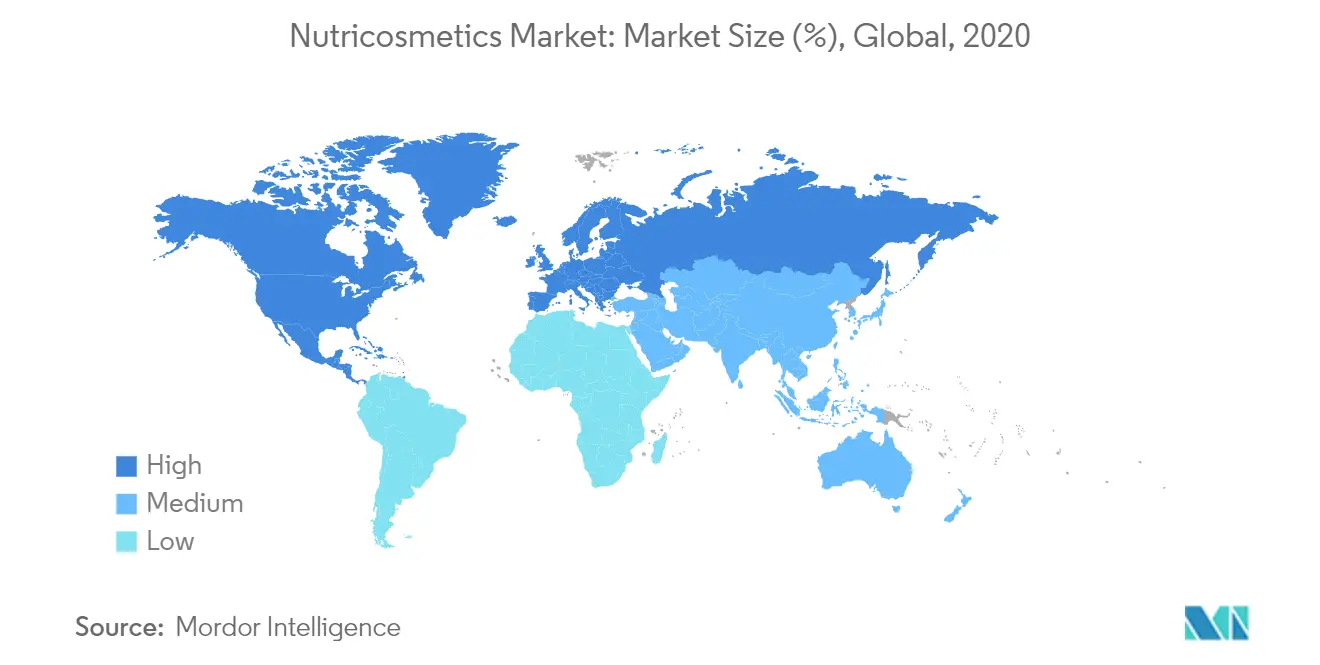 To understand geography trends, Download Sample Report
Panorama competitivo
El mercado global de nutricosméticos está fragmentado y es altamente competitivo con la fuerte presencia de actores regionales y globales en el mercado, donde la demanda está impulsada principalmente por la mejora de la belleza y las afirmaciones de etiqueta limpia. La conciencia del consumidor sobre los conocimientos de la marca está atrayendo a más empresas emergentes al mercado. Además, con la creciente demanda de nutricosméticos, jugadores clave como GlaxoSmithKline PLC, Herbalife Nutrition Limited, GNC Holdings Inc., Suntory Holdings Limited y Amway Corporation, entre otros, están siguiendo varias estrategias como fusiones y adquisiciones e I+D para atender al segmento. con una mejor historia que conecta a los consumidores y ofrece experiencias con el producto.
Recent Developments
In August 2021, Herbalife Nutrition announced the launch of its multi-ingredient beauty supplement "Herbalife SKIN LycoGlow" based on Lycored Nutrient Complex, a tomato extract procured from an Israeli firm 'Lycored'. The new supplement is heavy on lycopene along with other carotenoids found in the fruit.
In August 2021, United Kingdom-based indie brand 'Beauty Kitchen' unveiled its latest business venture "Vitamin Kitchen"- a vegan vitamin gummies brand that offers three plant-based vitamin gummies to cover a range of nutritional needs. The range included a Hair, Skin & Nails product made using a blend of Biotin, Vitamin C, and Zinc, packed in a recyclable, heat-sealed pouch to protect the gummies. This range of products has been made available online via the company's own website, and British retailer Planet Organics' stores & website.
In March 2021, French company Nexira launched a nutricosmetics line called "NutriBeauty". The range features three products namely- Glow & Beauty for Skin, Youth & Prevention for Anti-aging, and Hair & Nails Care. Glow & Beauty contains a flagship prickly pear ingredient called Cactinea along with nettle lead, Ascophyllum, Oli-Ola olive extract, and VinOseed grade seed extract, while another product Youth & Prevent contains a natural marine magnesium called Simag, pomegranate extract, hibiscus extract, acerola extract, and VinOseed grape seed extract. Hair & Nails contains a hydrolyzed rice protein called Prothy, and nettle leaf extact that offer an intense sensory experience, with a fruity flavor that can be utilized in dosage formats such as drinks, vials, droppers, and gummies. The NutriBeauty line is certified organic, vegan, and non-GMO.
In October 2020, Herbalife Nutrition expanded its nutricosmetics market in Malaysia with the launch of its beauty-from-within skin supplement product "Collagen Plus Powder".
In April 2019, GNC featured a first-ever beauty end-cap display in each of its 6,000 stores. The brands that would be displayed on the end-cap include GNC Hair, Skin & Nails, Body Kitchen, Neocell, and ResVitale. The company would invest in brands like Body Kitchen and Earth Genius that operate under beauty ingestible brands.
In August 2018, Kora Organics launched the Noni Glow Skinfood Supplement, a powdered formula that offers a synergistic blend of phytonutrients and antioxidants. The product is designed to support daily beauty and wellness.
Table of Contents
1. INTRODUCTION

1.1 Study Assumptions and Market Definition

1.2 Scope of the Study

2. RESEARCH METHODOLOGY

3. EXECUTIVE SUMMARY

4. MARKET DYNAMICS

4.1 Market Drivers

4.2 Market Restraints

4.3 Porter's Five Forces Analysis

4.3.1 Threat of New Entrants

4.3.2 Bargaining Power of Buyers/Consumers

4.3.3 Bargaining Power of Suppliers

4.3.4 Threat of Substitute Products

4.3.5 Intensity of Competitive Rivalry

5. MARKET SEGMENTATION

5.1 By Product Type

5.1.1 Skin Care

5.1.2 Hair Care

5.1.3 Nail Care

5.2 By Form

5.2.1 Tablets and Capsules

5.2.2 Powder and Liquid

5.2.3 Gummies and Soft Chews

5.3 By Distribution Channel

5.3.1 Supermarkets/Hypermarkets

5.3.2 Drug Stores/Pharmacies

5.3.3 Specialist Stores

5.3.4 Online Retail

5.3.5 Other Distribution Channels

5.4 By Geography

5.4.1 North America

5.4.1.1 United States

5.4.1.2 Canada

5.4.1.3 Mexico

5.4.1.4 Rest of North America

5.4.2 Europe

5.4.2.1 United Kingdom

5.4.2.2 Germany

5.4.2.3 Spain

5.4.2.4 France

5.4.2.5 Italy

5.4.2.6 Russia

5.4.2.7 Rest of Europe

5.4.3 Asia-Pacific

5.4.3.1 China

5.4.3.2 Japan

5.4.3.3 India

5.4.3.4 Australia

5.4.3.5 Rest of Asia-Pacific

5.4.4 Rest of the World

5.4.4.1 South America

5.4.4.2 Middle-East and Africa

6. COMPETITIVE LANDSCAPE

6.1 Most Active Companies

6.2 Most Adopted Strategies

6.3 Market Share Analysis

6.4 Company Profiles

6.4.1 Amway Corporation

6.4.2 GRUPO CANTABRIA LABS

6.4.3 Fit & Glow Healthcare Private Limited

6.4.4 Herbalife Nutrition Ltd

6.4.5 Blackmores Limited

6.4.6 GNC Holdings Inc.

6.4.7 PurpleRock UTA Opco LLC

6.4.8 GlaxoSmithKline PLC

6.4.9 Suntory Holdings Limited

6.4.10 KORA ORGANICS

*List Not Exhaustive

7. MARKET OPPORTUNITIES AND FUTURE TRENDS

8. IMPACT OF COVID-19 ON THE MARKET

9. DISCLAIMER
**Subject to Availability
You can also purchase parts of this report. Do you want to check out a section wise price list?
Frequently Asked Questions
¿Cuál es el período de estudio de este mercado?
El mercado de Mercado de nutricosméticos se estudia desde 2016 hasta 2026.
¿Cuál es la tasa de crecimiento del mercado Nutricosméticos?
El mercado de los nutricosméticos está creciendo a una CAGR del 8,05 % en los próximos 5 años.
¿Qué región tiene la tasa de crecimiento más alta en el mercado Nutricosméticos?
América del Norte está creciendo a la CAGR más alta durante 2021-2026.
¿Qué región tiene la mayor participación en el mercado Nutricosméticos?
Asia Pacífico tiene la mayor participación en 2020.
¿Quiénes son los jugadores clave que operan en el mercado Nutricosmeticos?
Herbalife Nutrition Ltd, GlaxoSmithKline PLC, GNC Holdings, Inc., Suntory Holdings Limited, Amway Corporation son las principales empresas que operan en el mercado de los nutricosméticos.
80%

of our clients seek made-to-order reports. How do you want us to tailor yours?