Instantánea del mercado
Study Period:
2016 - 2026
Fastest Growing Market:
Asia Pacific
Largest Market:
Asia Pacific
CAGR:
5.1 %

Major Players

*Disclaimer: Major Players sorted in no particular order
Need a report that reflects how COVID-19 has impacted this market and it's growth?
Visión general del mercado
Se anticipa que el mercado de acaricidas registrará una CAGR de 5.1% durante el período de pronóstico (2021-2026). Después de la emergencia de salud global de COVID-19, se impusieron cierres a nivel nacional en todo el mundo, lo que resultó en interrupciones en la cadena de suministro en todo el mundo. Los cierres globales con un aumento en el número de casos, la escasez de mano de obra y el cierre de instalaciones dieron como resultado una baja producción de agroquímicos, incluidos los acaricidas. Por lo tanto, la pandemia ha impactado indirectamente en los suministros de acaricidas a nivel mundial. Por lo tanto, se espera que el mercado observe un impacto moderado de COVID-19 en 2021.
A largo plazo, la creciente demanda de alimentos con el aumento de la población, la disminución de la tierra cultivable, el aumento de la demanda de productos naturales y la creciente demanda de prácticas agrícolas sostenibles son algunos de los principales impulsores de la creciente demanda de acaricidas. Se ha estimado que las pérdidas de rendimiento por ataques de ácaros pueden llegar al 13,8% en muchos cultivos. Los ácaros sobreviven en climas secos y, con el aumento de las temperaturas globales, los ácaros se han convertido en una plaga importante. Se prevé que el mercado de acaricidas crezca a un ritmo acelerado debido a la creciente incidencia de sequías prolongadas en todo el mundo en los últimos años. Sin embargo, se espera que las estrictas regulaciones sobre el uso de acaricidas restrinjan el crecimiento del mercado en los próximos años.
Las frutas y verduras que se cultivan en las zonas subtropicales y templadas del mundo son las más susceptibles a los ácaros. El mercado en Asia-Pacífico está creciendo a un ritmo impresionante, especialmente en la agricultura, debido al uso cada vez mayor de productos químicos para la protección de cultivos para controlar la propagación de enfermedades transmitidas por garrapatas y ácaros.
Alcance del Informe
Los acaricidas son productos químicos para la protección de cultivos que se utilizan para controlar los ácaros. Los ácaros son plagas importantes en la agricultura, no solo por los daños que provocan en los cultivos por sí mismos, sino también por su papel como vector de enfermedades víricas. El mercado de acaricidas está segmentado por tipo (organofosforados, carbamatos, organoclorados, piretrinas, piretroides y otros tipos), aplicación (rociado, inmersión, vendaje manual y otras aplicaciones) y geografía (Norteamérica, Europa, Asia-Pacífico, Sur América y África).
By Chemical Type
Organophosphates
Carbamates
Organochlorines
Pyrethrins
Pyrethroids
Other Chemical Types
By .Application
Spray
Dipping
Hand Dressing
Other Applications
Geography

North America
United States
Canada
Mexico
Rest of North America

Europe
Germany
United Kingdom
Spain
France
Italy
Russia
Rest of Europe

Asia-Pacific
China
India
Japan
Australia
Rest of Asia-Pacific

South America
Brazil
Argentina
Rest of South America

Africa
South Africa
Rest of Africa
Tendencias clave del mercado
Creciente demanda de productos naturales
Con las crecientes preocupaciones ambientales y el aumento de la superficie dedicada a la agricultura orgánica, la demanda de productos naturales para la protección de cultivos ha aumentado significativamente en todo el mundo. La creciente demanda de los productores agrícolas de productos naturales para tratar sus cultivos ha llevado a las empresas a introducir productos de base biológica en el mercado. Por ejemplo, en febrero de 2020, Oro Agri lanzó su nuevo insecticida/acaricida, Oroganic, en HortiContact en Gorinchem, Países Bajos. Este producto fitosanitario ha sido aprobado recientemente por la Junta Holandesa para la Autorización de Productos Fitosanitarios (CTGB) y está basado en aceite de naranja, una sustancia activa de origen natural. Este es un producto fitosanitario obtenido a partir de un 6% de aceite de naranja, con propiedades insecticidas, acaricidas y fungicidas a la vez, que combate enfermedades y plagas como el oídio, el mildiu o los trips de forma eficiente y sostenible. Posteriormente, en marzo de 2020, la biotecnológica Idai Nature llegó a un acuerdo de distribución en exclusiva con la sudafricana Oro Agri para desarrollar comercialmente en España su producto natural registrado, OROCIDE.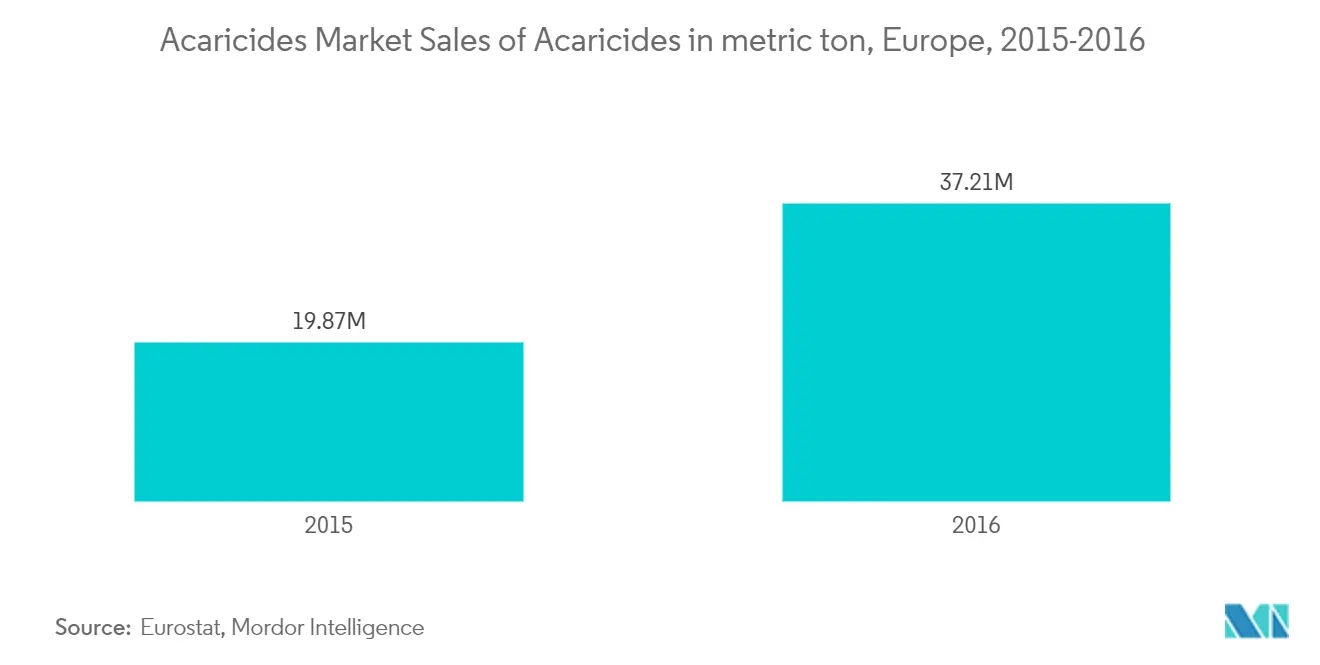 To understand key trends, Download Sample Report
Asia-Pacífico domina el mercado de acaricidas
La industria agrícola en la región de Asia y el Pacífico está evolucionando rápidamente, y China e India son los principales consumidores de acaricidas. Los insecticidas o acaricidas convencionales se utilizan ampliamente para controlar las plagas chupadoras, pero la mayoría de ellos han fallado debido a la menor eficacia y al desarrollo de altos pliegues de resistencia. Los ácaros rojos se consideran una plaga importante en China y causan pérdidas considerables a lo largo de los años. Tienen generaciones superpuestas, una fuerte capacidad reproductiva, cuerpos de insectos pequeños y alta resistencia a los insecticidas, lo que los hace difíciles de controlar. En 2020, Chengdu Newsun Crop Science Co. Ltd lanzó su novedoso e innovador acaricida botánico, "Marvee", para controlar la araña roja.
De manera similar, en la India, muchas plagas chupadoras, incluidos los ácaros, no solo causan daños al alimentarse directamente, sino que la mayoría de ellos también actúan como vectores de varios virus patógenos de plantas, particularmente en vegetales. Para hacer frente a estos desafíos, la empresa líder en agroquímicos Insecticidas (India) Limited (IIL) lanzó en 2019 'Kunoichi', un acaricida que es efectivo en todas las etapas del ácaro. Kunoichi contiene cyenopyrafen 30% SC, y fue inventado y desarrollado por Nissan Chemical Corporation, Japón. IIL es socio de Nissan Chemical Corporation, Japón, en India para la comercialización de sus productos.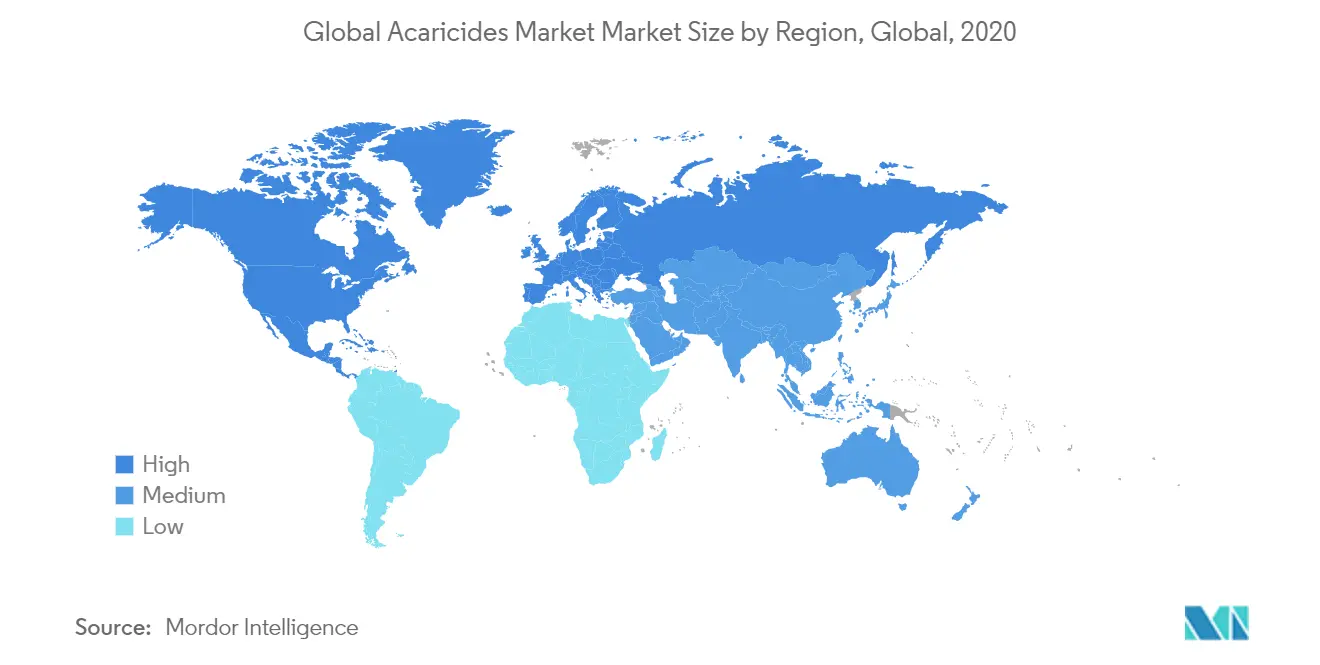 To understand geography trends, Download Sample Report
Panorama competitivo
El mercado de acaricidas agrícolas está consolidado, con unos pocos jugadores importantes que ocupan la mayor parte del mercado. Los participantes clave en el mercado de acaricidas agrícolas son BASF SE, UPL, Bayer CropScience, FMC Corporation y Nissan Chemical Industries Ltd. El mercado aquí está experimentando un rápido crecimiento en términos de innovación de productos, con un enfoque en aumentar la disponibilidad minorista de varios productos acaricidas.
Principales actores
Corteva Agriscience

Nissan Chemical Industries Ltd

BASF SE

FMC Corporation

Bayer CropScience
*Disclaimer: Major Players sorted in no particular order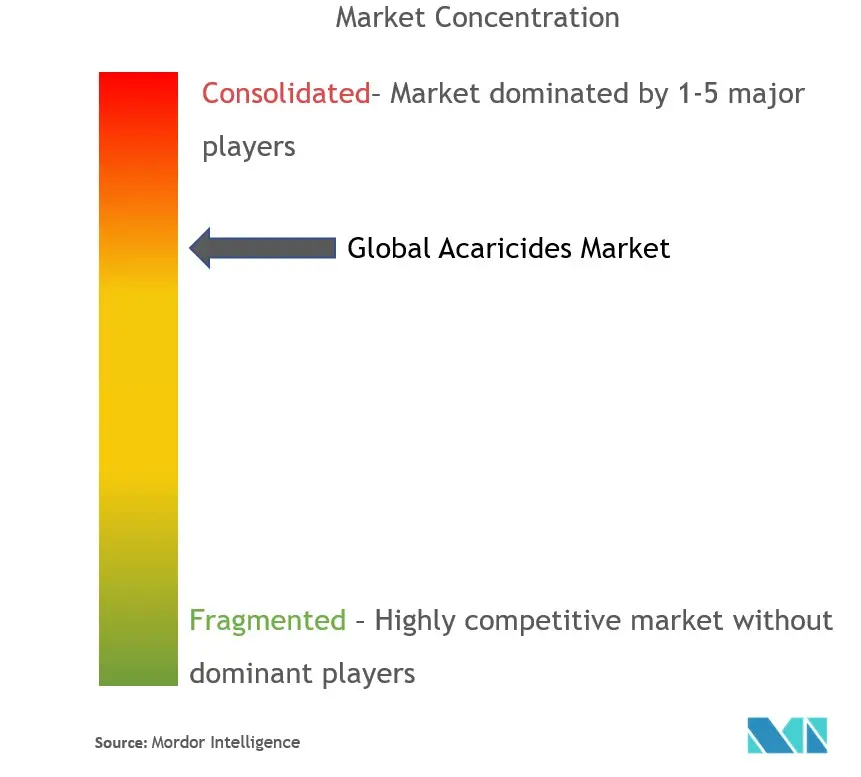 Recent Developments
In 2020, BASF launched a new acaricide Nealta based on the new active ingredient cyflumetofen, which is obtained from a unique group of insecticides, Group 25. It will also kill all stages of the mites' life cycle, eggs, immature stages, and adults while being compatible with beneficial mites and other insects such as bees. It is developed for use in apples, ornamentals, and protected strawberry crops.
In 2020, Oro Agri launched its new insecticide/acaricide, Oroganic, at HortiContact in Gorinchem, the Netherlands. This is a phytosanitary product obtained from 6% orange oil, with insecticidal, acaricidal, and fungicidal properties at the same time, which fights diseases and pests such as powdery mildew, mildew, or thrips efficiently and sustainably. The product was authorized for use on different types of crops, which include vegetables, top fruits, and vines.
In January 2019, UPL Spain recently launched Polithiol and Vondozeb for fruit trees. Polithiol is an effective acaricide and insecticide with anti-cryptogamic benefits, and Vondozeb is an effective fungicide. Polithiol is a contact insecticide based on highly refined paraffinic mineral oil. It is effective against scale insects and mite eggs and also has an ovicidal and anti-hatching action.
Table of Contents
1. INTRODUCTION

1.1 Study Assumptions and Market Definition

1.2 Scope of the Study

2. RESEARCH METHODOLOGY

3. EXECUTIVE SUMMARY

4. MARKET DYNAMICS

4.1 Market Overview

4.2 Market Drivers

4.3 Market Restraints

4.4 Porter's Five Forces Analysis

4.4.1 Bargaining Power of Suppliers

4.4.2 Bargaining Power of Buyers

4.4.3 Threat of New Entrants

4.4.4 Threat of Substitutes

4.4.5 Competitive Rivalry

5. MARKET SEGMENTATION

5.1 By Chemical Type

5.1.1 Organophosphates

5.1.2 Carbamates

5.1.3 Organochlorines

5.1.4 Pyrethrins

5.1.5 Pyrethroids

5.1.6 Other Chemical Types

5.2 By .Application

5.2.1 Spray

5.2.2 Dipping

5.2.3 Hand Dressing

5.2.4 Other Applications

5.3 Geography

5.3.1 North America

5.3.1.1 United States

5.3.1.2 Canada

5.3.1.3 Mexico

5.3.1.4 Rest of North America

5.3.2 Europe

5.3.2.1 Germany

5.3.2.2 United Kingdom

5.3.2.3 Spain

5.3.2.4 France

5.3.2.5 Italy

5.3.2.6 Russia

5.3.2.7 Rest of Europe

5.3.3 Asia-Pacific

5.3.3.1 China

5.3.3.2 India

5.3.3.3 Japan

5.3.3.4 Australia

5.3.3.5 Rest of Asia-Pacific

5.3.4 South America

5.3.4.1 Brazil

5.3.4.2 Argentina

5.3.4.3 Rest of South America

5.3.5 Africa

5.3.5.1 South Africa

5.3.5.2 Rest of Africa

6. COMPETITIVE LANDSCAPE

6.1 Most Adopted Strategies

6.2 Market Share Analysis

6.3 Company Profiles

6.3.1 Corteva Agriscience

6.3.2 Nissan Chemical Industries Ltd

6.3.3 BASF SE

6.3.4 Bayer CropScience

6.3.5 FMC Corporation

6.3.6 Syngenta International AG

6.3.7 UPL Limited

*List Not Exhaustive

7. MARKET OPPORTUNITIES AND FUTURE TRENDS

8. IMPACT OF COVID-19 ON THE MARKET
**Subject to Availability
Frequently Asked Questions
¿Cuál es el período de estudio de este mercado?
El mercado de acaricidas se estudia desde 2018 - 2028.
¿Cuál es la tasa de crecimiento del mercado acaricidas?
El mercado de acaricidas está creciendo a una CAGR del 5 % en los próximos 5 años.
¿Que region tiene la tasa de crecimiento mas alta en el mercado Acaricidas?
Asia Pacífico está creciendo a la CAGR más alta entre 2018 y 2028.
¿Que region tiene la mayor participacion en Acaricidas Market?
Asia Pacífico tiene la mayor participación en 2021.
¿Quiénes son los jugadores clave que operan en el mercado Acaricidas?
Corteva Agriscience, Nissan Chemical Industries Ltd, BASF SE, FMC Corporation, Bayer CropScience son las principales empresas que operan en el mercado de acaricidas.
80%

of our clients seek made-to-order reports. How do you want us to tailor yours?