Momentaufnahme des Acetylenmarktes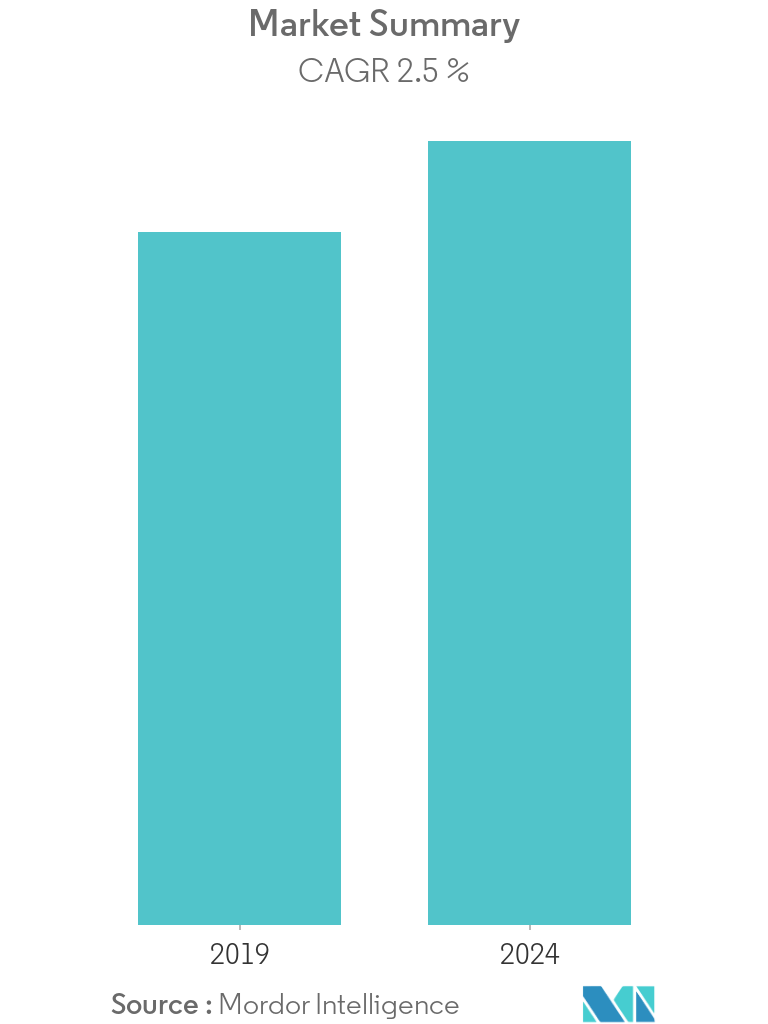 Study Period:
2016 - 2026
Base Year:
2021
Fastest Growing Market:
Asia Pacific
Largest Market:
Asia Pacific
CAGR:

>

2.5 %
Need a report that reflects how COVID-19 has impacted this market and its growth?
Marktübersicht
Der Acetylenmarkt wird im Prognosezeitraum voraussichtlich eine CAGR von über 2,5 % verzeichnen. Der wichtigste Faktor, der den untersuchten Markt antreibt, ist die wachsende Nachfrage aus der Energie- und Chemieindustrie. Es wird jedoch erwartet, dass Umweltvorschriften das Wachstum des untersuchten Marktes behindern.
Die metallverarbeitende Industrie dominierte den globalen Marktanteil, und es wird erwartet, dass sie im Prognosezeitraum aufgrund der Zunahme der metallverarbeitenden Aktivitäten auf der ganzen Welt wachsen wird.
Der asiatisch-pazifische Raum dominierte den Markt auf der ganzen Welt, mit dem größten Verbrauch aus Ländern wie China und Indien.
Umfang des Berichts
Der Bericht über den globalen Acetylenmarkt umfasst:
Application
Metal Working
Chemical Raw Materials
Lamps
Other Applications
Geography

Asia-Pacific
China
India
Japan
South Korea
Rest of Asia-Pacific

North America
United States
Canada
Mexico

Europe
Germany
United Kingdom
Italy
France
Rest of Europe

South America
Brazil
Argentina
Rest of South America

Middle East & Africa
Saudi Arabia
South Africa
Rest of Middle East & Africa
Wichtige Markttrends
Metallverarbeitende Industrie, um den Markt zu dominieren
Acetylen wird hauptsächlich zum Autogenschneiden, Wärmebehandeln und Schweißen verwendet. Acetylen in großen Mengen wird auch als Rohstoff in der chemischen verarbeitenden Industrie zur Herstellung von organischen Verbindungen, einschließlich Acetaldehyd, Essigsäure und Essigsäureanhydrid, verwendet.
Acetylen hat aufgrund seiner Dreifachbindungsstruktur die höchste Flammentemperatur. Acetylen erreicht eine Flammentemperatur von 3090 °C (5594 °F) und setzt bei der Verbrennung mit Sauerstoff 54,8 kJ/Liter Energie frei. Diese höchste Flammentemperatur ermöglicht die Verwendung von Acetylen in Metallbearbeitungsanwendungen wie Schneiden, Schweißen, Löten und Hartlöten.
Die oben erwähnten Anwendungen von Acetylen werden in vielen Endverbraucherindustrien wie der Automobil-, Luft- und Raumfahrt-, Metallverarbeitungs-, Pharma-, Glas- und anderen Endverbraucherindustrien verwendet.
Mit den wachsenden Metallbearbeitungsanwendungen wird der Markt für Acetylen im Prognosezeitraum voraussichtlich zunehmen.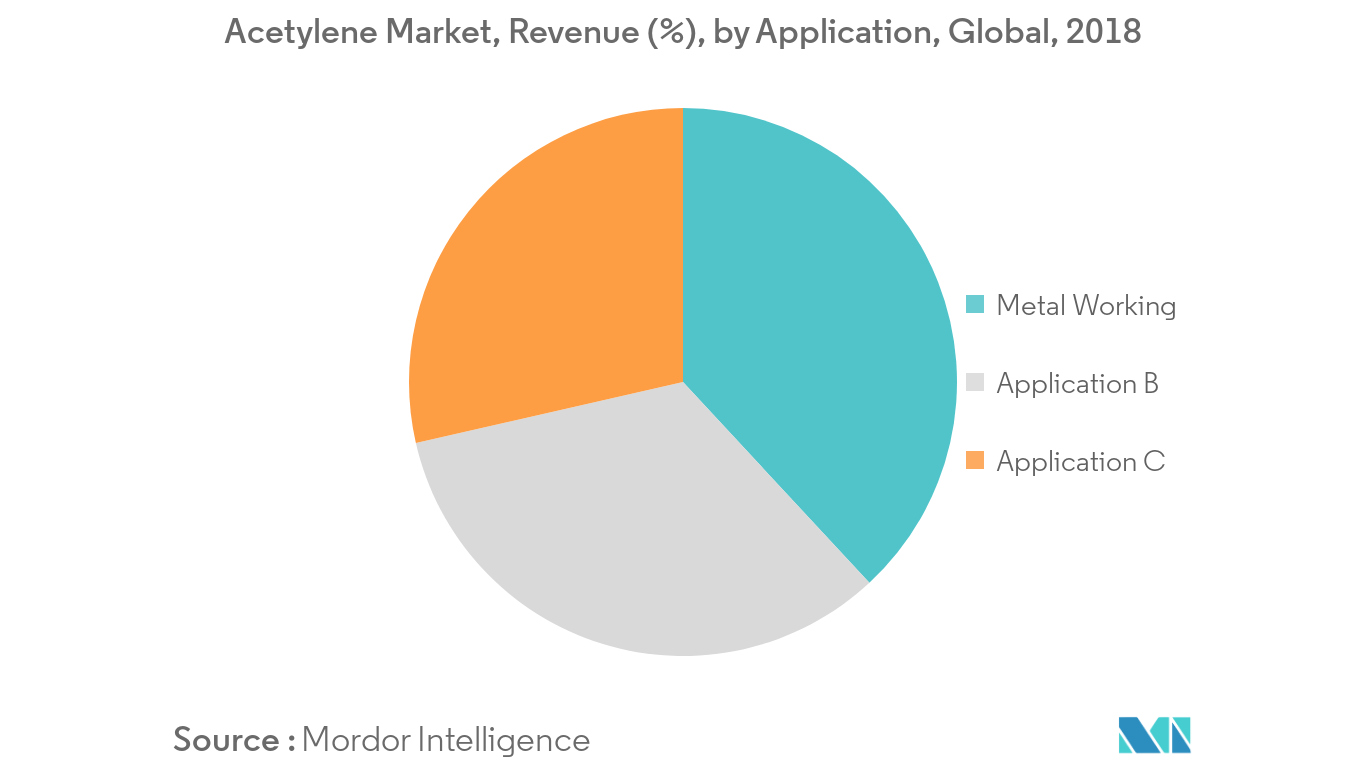 To understand key trends, Download Sample Report
Asien-Pazifik-Region soll den Markt dominieren
Asien-Pazifik dominierte den globalen Marktanteil. Mit wachsenden Transportaktivitäten in Ländern wie China und Japan nimmt die Verwendung von Acetylen (Metallverarbeitung) in der Region zu.
Acetylen wird auch zur Herstellung vieler wichtiger Chemikalien verwendet, wie z. Unter anderem Vinylchloridmonomer, Acrylnitril, Vinylacetat, Vinylether, Acetaldehyd, 1,2-Dichlorethan, 1,4-Butindiol, Acrylatester, Polyacetylen und Polydiacetylen. Da der asiatisch-pazifische Raum auch den bedeutendsten Markt für die chemische Industrie hat, zeigt dies einen enormen Spielraum für den Acetylenmarkt.
In den letzten Jahren verzeichneten die gesamten Immobilieninvestitionen in China einen Anstieg. Immobilieninvestitionen, die sich hauptsächlich auf den Wohnsektor konzentrieren, umfassen auch den Bau von Gewerbe- und Büroflächen und sind der Haupttreiber für das Wachstum des Bausektors in China.
China ist der größte Automobilhersteller der Welt. Der Automobilsektor des Landes hat sich auf die Produktentwicklung vorbereitet, wobei sich das Land auf die Herstellung von Produkten konzentriert, um Kraftstoffeinsparung zu gewährleisten und Emissionen zu minimieren (aufgrund wachsender Umweltbedenken, die eine Folge der zunehmenden Umweltverschmutzung im Land sind).
Mit dem Wachstum verschiedener Industrien in der Region wird der Markt für Acetylen im Prognosezeitraum voraussichtlich stark ansteigen.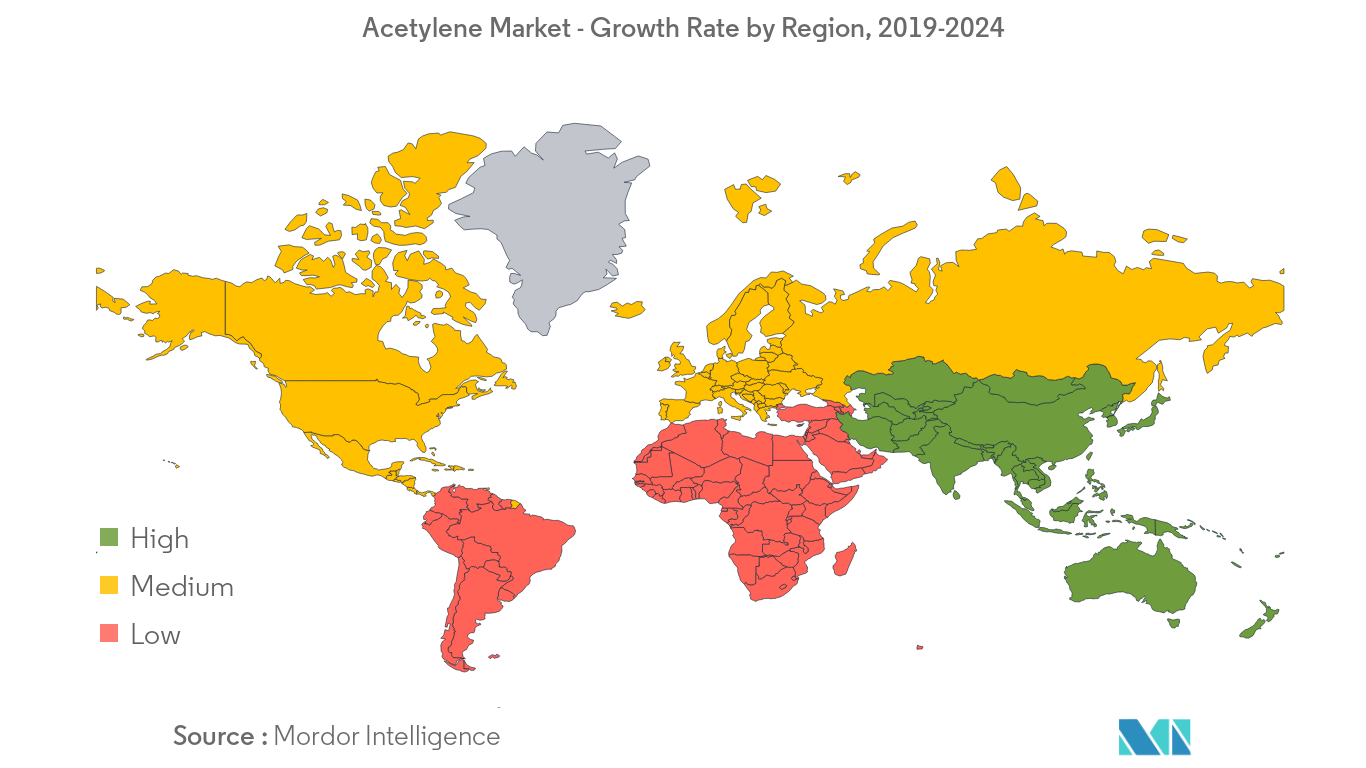 To understand geography trends, Download Sample Report
Wettbewerbslandschaft
Der Acetylenmarkt ist von Natur aus fragmentiert. Zu den großen Unternehmen gehören unter anderem BASF SE, Gulf Cryo, The Linde Group, SINOPEC und Praxair Technology, Inc.
Table of Contents
1. INTRODUCTION

1.1 Study Deliverables

1.2 Study Assumptions

1.3 Scope of the Study

2. RESEARCH METHODOLOGY

3. EXECUTIVE SUMMARY

4. MARKET DYNAMICS

4.1 Drivers

4.1.1 Continuous Demand in Metal Working Industries across the World

4.1.2 Increasing Demand in Chemical Production

4.1.3 Other Drivers

4.2 Restraints

4.2.1 Stringent Environment Regulations

4.2.2 Harmful effects of Acetylene at higher concentrations

4.2.3 Other Restraints

4.3 Industry Value-Chain Analysis

4.4 Porter's Five Forces Analysis

4.4.1 Bargaining Power of Suppliers

4.4.2 Bargaining Power of Consumers

4.4.3 Threat of New Entrants

4.4.4 Threat of Substitute Products and Services

4.4.5 Degree of Competition

5. MARKET SEGMENTATION

5.1 Application

5.1.1 Metal Working

5.1.2 Chemical Raw Materials

5.1.3 Lamps

5.1.4 Other Applications

5.2 Geography

5.2.1 Asia-Pacific

5.2.1.1 China

5.2.1.2 India

5.2.1.3 Japan

5.2.1.4 South Korea

5.2.1.5 Rest of Asia-Pacific

5.2.2 North America

5.2.2.1 United States

5.2.2.2 Canada

5.2.2.3 Mexico

5.2.3 Europe

5.2.3.1 Germany

5.2.3.2 United Kingdom

5.2.3.3 Italy

5.2.3.4 France

5.2.3.5 Rest of Europe

5.2.4 South America

5.2.4.1 Brazil

5.2.4.2 Argentina

5.2.4.3 Rest of South America

5.2.5 Middle East & Africa

5.2.5.1 Saudi Arabia

5.2.5.2 South Africa

5.2.5.3 Rest of Middle East & Africa

6. COMPETITIVE LANDSCAPE

6.1 Mergers & Acquisitions, Joint Ventures, Collaborations, and Agreements

6.2 Market Share/Ranking Analysis**

6.3 Strategies Adopted by Leading Players

6.4 Company Profiles

6.4.1 BASF SE

6.4.2 TOHO ACETYLENE Co. Ltd

6.4.3 Suzhou Jinhong Gas Co. Ltd

6.4.4 Praxair Technology, Inc.

6.4.5 The Linde Group

6.4.6 ILMO Products Company

6.4.7 Gulf Cryo

6.4.8 China Petrochemical Corporation

6.4.9 CHENGDU XINJU CHEMICAL CO. LTD

*List Not Exhaustive

7. MARKET OPPORTUNITIES AND FUTURE TRENDS
**Subject to Availability
You can also purchase parts of this report. Do you want to check out a section wise price list?
Frequently Asked Questions
Was ist der Untersuchungszeitraum dieses Marktes?
Der Markt für Acetylen-Markt wird von 2016 bis 2026 untersucht.
Wie hoch ist die Wachstumsrate des Acetylen-Marktes?
Der Acetylen-Markt wächst in den nächsten 5 Jahren mit einer CAGR von >2,5 %.
Welche Region hat die höchste Wachstumsrate auf dem Acetylen-Markt?
Der asiatisch-pazifische Raum wächst zwischen 2021 und 2026 mit der höchsten CAGR.
Welche Region hat den größten Anteil am Acetylen-Markt?
Asien-Pazifik hält 2021 den höchsten Anteil.
Wer sind die wichtigsten Hersteller auf dem Acetylen-Markt?
BASF SE, The Linde Group, Praxair Technology, Inc., Gulf Cryo und China Petrochemical Corporation sind die wichtigsten Unternehmen, die auf dem Acetylenmarkt tätig sind.
80%

of our clients seek made-to-order reports. How do you want us to tailor yours?