Over the last few years, the trend in the US power EPC market is the replacement of equipment for enhanced efficiency, increased power plant capability to handle multiple fuel types, introduction of carbon capture systems to meet the environmental regulations, and enhanced cooling systems for improving the overall efficiency. The dependency on coal has declined from 47% in 2005 to 31% in 2016. Further, the country has almost stopped the construction of coal-based power plant and the focus is more on plant upgrades for existing plants.
Increase in Natural Gas-fired Generating Capacity
The country is phasing out coal-based power plants and replacing them with natural gas-fired power plants. The replacement is in response to the low cost of natural gas and implementation of environmental regulations. The cost of natural gas delivered to power generators declined from an average price of USD 5.00 per million Btu (MMBtu) in 2014 to USD 3.23/MMBtu in 2015, and averaged USD 2.78/MMBtu from January 2016 through October 2016. The nation is planning to increase the natural gas-fired generation capacity by 20 GW in 2018. After 2020, 70% of all new power generation capacity is expected to come from natural gas-fired power plant. The replacement trend is expected to drive the demand for power EPC in the country.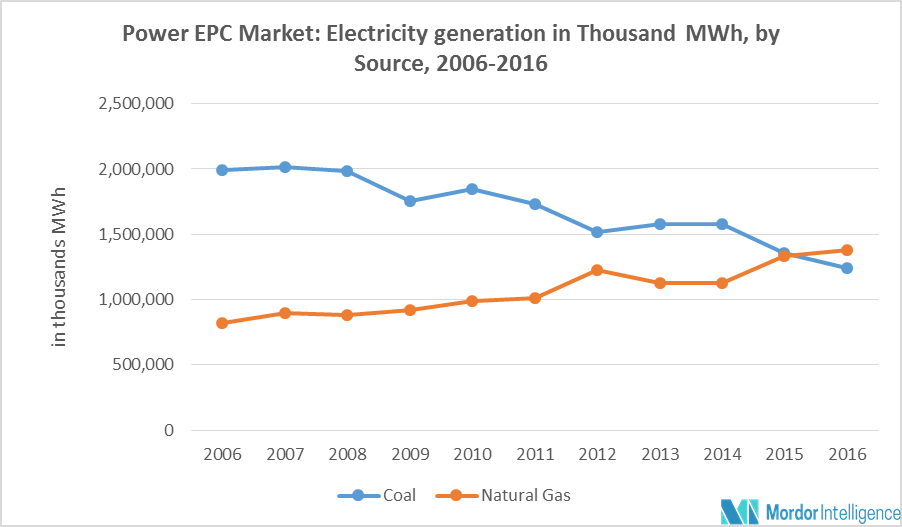 Increasing Share of Renewable – Accelerates Growth
In March 2017, for the first tome wind and solar accounted for 10% of electricity generation in the country, with wind comprising 8% and solar 2%. In 2016, total share of wind and solar was 7%. While fossil fuel still dominates the total energy production in the United States, solar and wind production are on a growth trajectory. It is estimated that electricity generation from renewables in 2017 increased by 13%. According to EIA, the solar capacity is expected to increase from 43 GW in 2017 to 49 GW in 2018 and 65 GW by 2019. Similarly for large-scale wind capacity is expected to increase from 88 GW in 2017 to 96 GW in 2018, and 104 GW by 2019. As a result the demand for power EPC for solar and wind installation is expected to increase.
Nuclear Project Running Far Over-budget and Behind Schedule
The nuclear power plant projects in the United States have been running far over-budget and behind schedule. Utilities facing difficulties to come up with financing after the major engineering company Westinghouse, declared bankruptcy in 2017. The biggest source of delay is expected to be the AP1000's innovative design and challenges owing to the untested approach. Also, the construction of a Georgia nuclear power plant was paused for eight months due to delay in right signature and paperwork needed to ship a section of the plant from a factory hundreds of miles away. As a result, financial problems for nuclear power plant and delay in projects have been restraining the US EPC market.
Notable Developments in the Market
January 2018: Fluor completed its contract with the US Army Corps of Engineers (USACE) to help repair and restore the power grid in Puerto Rico. It has completed work on two 115kv transmission lines between substations in Sabana Llana and Canóvanas in Puerto Rico.
October 2017: Wood Group completed the acquisition of Amec Foster Wheeler. The acquisition is expected to create a global leader for EPC services in energy and industrial markets.
KEY PLAYERS: Fluor Corporation, Wood Group, Bechtel Corporation, Siemens AG, JGC Corp, Aecom, and Jacobs Engineering Group Inc.
Reasons to Purchase This Report
Effect of electricity demand supply scenario, evolving technology and government regulations in the power industry.
Analyzing various perspectives of the market with the help of PESTLE analysis.
Identify the application dominating the market.
Identify the latest developments, market shares, and strategies employed by the major market players.
3 months of analyst support along with the Market Estimate sheet (in excel).
Customization of the Report
This report can be customized to meet your requirements. Please connect with our representative, who will ensure you to get a report that suits your needs.
1. Executive Summary
2. Research Methodology
3. Market Overview
3.1 Introduction
3.2 Market Size and Demand Forecast until 2023
3.3 Government Policies and Regulations
3.4 Recent Trends and Developments
4. Market Dynamics
4.1 Drivers
4.2 Restraints
4.3 Opportunities
5. PESTLE Analysis
6. US Power EPC Market Analysis, by Type
6.1 Thermal
6.1.1 Overview
6.1.2 Key Projects
6.1.2.1 Projects in Pipeline
6.1.2.2 Upcoming Projects
6.2 Renewables
6.2.1 Overview
6.2.2 Key Projects
6.2.2.1 Projects in Pipeline
6.2.2.2 Upcoming Projects
6.3 Others
6.3.1 Overview
6.3.2 Key Projects
6.3.2.1 Projects in Pipeline
6.3.2.2 Upcoming Projects
7. Key Company Analysis* (Overview, Products & Services, Financials**, Recent Developments, and Analyst View)
7.1 Fluor Corporation
7.2 Wood Group
7.3 Bechtel Corporation
7.4 Siemens AG
7.5 JGC Corp
7.6 Aecom
7.7 Jacobs Engineering Group Inc.
8. Competitive Landscape
8.1 Mergers and Acquisitions
8.2 Joint Ventures, Collaborations, and Agreements
8.3 Market Share Analysis
8.4 Strategies Adopted by Leading Players
9. Appendix
9.1 Contact Us
9.2 Disclaimer
*List not exhaustive
**Subject to Availability on Public Domain