Market Snapshot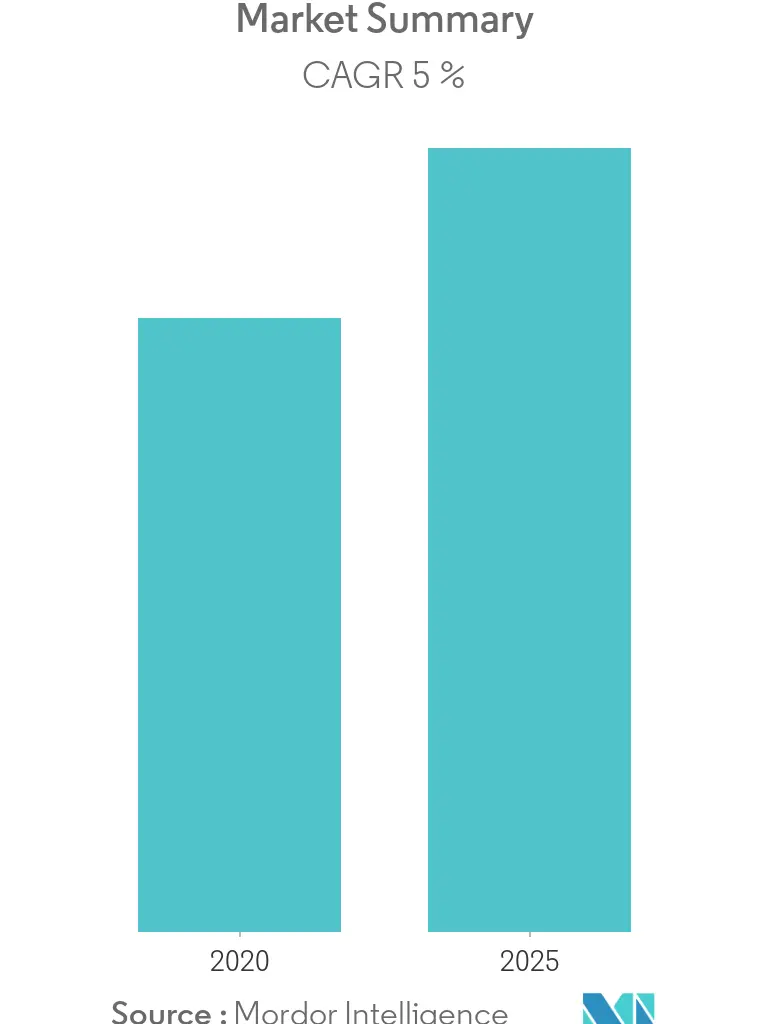 Study Period:
2016 - 2026
Base Year:
2020
CAGR:
5 %
Need a report that reflects how COVID-19 has impacted this market and its growth?
Market Overview
The market for Commercial Construction in Turkey is estimated to be valued at more than USD XX billion and is estimated to grow at a CAGR of more than 5% during the forecast period.
As per the Turkey Govt., Turkey ranks 3rd globally for the Public-Private Partnership (PPP) projects, having put in a total investment of 127 billion USD as contract value, and having successfully completed 175 projects from 2003 to 2018, in a diversified portfolio of infrastructure assets. With the Turkish Economy exhibiting a strong growth of 5.5 % on an average, addition of around 1 Million to the pro-urbanization population of 82 Million each year, growing international trade volume, strategic location lying at the heart of the Belt and Road initiative (BRI), ever improving healthcare services hosting around 600,000 new foreign patients every year in order to catch up with the standards laid down by OECD, and with ample opportunities available in the infrastructure pipeline, commercial construction market, is in an accelerating growth run. This growth is likely to be supported by the favourable investment legislation for PPP investments that may be realized through various models, such as build-operate, build-operate-transfer, transfer of operational rights, etc besides various forms of support and incentives given by the Turkish Govt. to accelerate the project development, domestic and international laws that protect investments and provide international arbitration, and Turkey's macroeconomic policies, investments, and more importantly, strong public finance management, which support PPP investments that require guaranteed purchase.
Despite the economic slowdown world-over, and decreasing investor interest due to uncertainty over the solution to the pandemic, addition of strong commercial construction projects amounting to 44,300 new hospitals across the country, and strengthening hospitality, retail sector shows a positive approach of public as well as private investors towards the commercial infrastructure upgradation. Asian Infrastructure Development bank, European Bank, Khazana Nasional, Astaldi, International Finance Corporation, and Meridiam have all been contributing and showing keen interest in future investment into the commercial construction sector. Green Building technology has been a key market trend in the Commercial Construction domain, ever since the construction of first Leadership in Energy and environmental Design, LEED, compliant building, in the suburbs of Ankara, in 2016. With the number increasing to around 300 in just two years viz. 2018, Multi-national companies have proven to be the key investor in the Green building technology.
Hence, though Pandemic bestows short term effects on the tourism, hospitality industry and more so on the commercial construction market, with its favourable location, existing potential, mega projects, and ambitious targets set for 2023, the tourism commercial construction sector continues to grow at a rapid rate.
Scope of the Report
A complete background analysis of the Turkey Commercial Construction market, which includes an assessment of the economy, market overview, market size estimation for key segments, and emerging trends in the market, market dynamics, and key company profiles are covered in the report.
Key Market Trends
Turkey, an attractive place for Business development and hence, commercial space market thriving, despite short term disruptions due to COVID-19
Istanbul, being the economic and cultural hub in the region, besides having strong industrial sector, manufacturing a wide range of products including textiles, leather, chemicals, electronics, oil products, machinery, glass, olive oil and alcoholic drinks, has a thriving commercial space market. The prime reason for this being the strategic location, a maritime hub, transcontinental city, straddling both Europe and Asia, with the Bosporus Strait separating the two parts, around two thirds of the population reside in the European section, and one third in the Asian portion, making it a hub for trade. As such, Istanbul is one of the fastest growing office space markets with the biggest growth in the Europe, Middle East, and Africa (EMEA) region. Maslak, Levent, and Kadikoy regions of Istanbul have been thriving in the commercial space construction, absorption and rentals have had a steady growth, reflecting the bright coming time of the region. In terms of future developments, the construction of the Istanbul International Financial Centre is set to boost the city's chances of becoming one of the top 20 financial centres in the world and attract further investment and multinational corporations. It is bound to host the head offices of the country's financial market governing bodies, state-owned and private banks, and related businesses. Hence, the investment planned by the centre and regulations eased in favour of attracting hefty investments from the foreign lenders, is bound to help Turkey recover from the short term stagnation the commercial construction is facing and the impending losses to the exchequer.
With commercial malls, giving a net turnover of around 24 Billion USD, in Turkey, demand and as such construction of new commercial shopping space does not see any stagnation, although short term pandemic effects cannot be neglected, resulting in huge losses. The 436 shopping malls in Turkey, with a rentable space of 13.2 million square meters, is bound to increase to around 445 by the end of 2020.By 2019 year-end, the existing Grade A office stock in Istanbul had surpassed 5.7 million square meters. Annual gross leasable area growth in the office market has been around 42 % on average from 2010 -19. There is more than 1.7 million square meters of office supply under construction, and it is expected that the total grade A office supply will reach almost 7.4 million square meters gross leasable area by the end of 2023. 126 shopping centres in Istanbul with a total gross leasable area of 4.8 million square meters represent 37 percent of the total leasable shopping centre area in Turkey. Despite the growth in recent years, Turkey is still below the average of total leasable area per person compared to the European average. This indicates potential for further retail growth in Turkey. ​​​
The 2 months of recession and shear inefficiency, pertaining to COVID-19 pandemic, is now being considered to be the past as people in Turkey have adjusted to the new normal. Though, GDP-2020 estimations have been revised, and currency volatility, inflation is predominant, but the lower oil prices and weakening demand in the present time is supporting stability. In the time to follow, it is anticipated by the experts, that a steady comeback of the economy, financial statements of the competitors and commercial infrastructure as such, is bound to happen. The only consequence and what can be said to be a bonus outcome of the pandemic in the strategically located and bright commercial construction market of Turkey, is being considered as the growth in demand of healthy green building environment already on a upsurge in the nation marking transition between the two big continents. This is set to increase the number of LEED compliant buildings in the coming time enormously.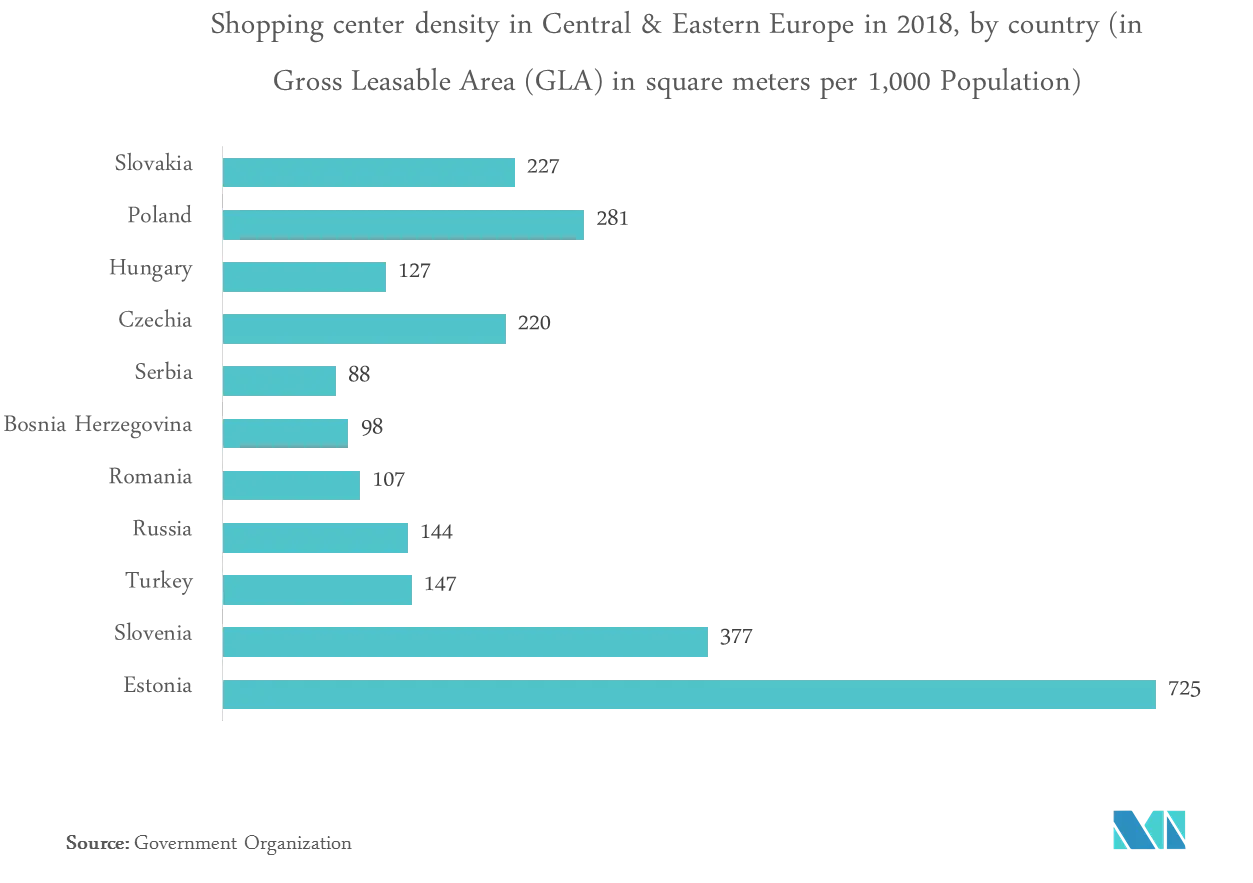 To understand key trends, Download Sample Report
Investments in the Commercial construction market set to rise due to Government's foresightedness, despite the 2019-20 economic slowdown and the pandemic.
Turkey's impressive growth performance and structural reforms implemented over the past decade have landed it on the radar of many international investors. According to Turkey Govt., it became the 7th most popular FDI destination in Europe (2018), when the country was home to 261 projects, up 14 % y-o-y, and enjoyed a 4 % share in all FDI projects across Europe, attracting around 209 billion USD of FDI during the 2003-2018 period. The sectors of investment, including construction have been growing in terms of the net share of FDI, in line of the VISION 2023, set by the Government of Turkey.
Netherlands, USA, Gulf, UK, Luxembourg, Spain, Germany, Belgium, Azerbaijan, Russia, UAE, Japan are the leading investors in the nation and have shown increased interest due to the prime location and competitiveness of the area. Another important statistic which has shown a major jump in the past decade is the number of companies holding foreign capital, rising from around 5600 in 2002 to 65,533 in 2018 end. With a population count of around 77.7 Million, Turkey has an ever-growing demand for investment in Infrastructure, which is estimated to be among the top in the developing nations in the region. 102 Billion USD, worth of investment has already been added to the infrastructure pipeline, in past 5 years, with commercial construction being a major part, due to the increasing tendency of the population towards modern commercial outlook. 49.2 Billion USD, worth of investment, out of this figure has been through private competitors and not from the Govt. tax and revenue exchequer. Another good example of the improved Govt. policies and diluted regulations is the insurance of greenfield infrastructure giving rise to positive sentiment among the investors of the country as well as foreign investors. The European Bank for Reconstruction and Development (EBRD) and the World Bank's Multilateral Investment Guarantee Agency (MIGA), developed this innovative instrument for risk mitigation which enabled the issuance of Turkey's first-ever greenfield infrastructure project bond. Under this instrument, two international financial Institutions could be used to enhance the credit in the form of risk mitigation, and henceforth, due to its widespread potential applicability for emerging market infrastructure, the product attracted widespread attention in the sector. With a 20-year maturity, the bond had the longest maturity for the Turkish Integrated Health Campuses PPP Programme. It had a strong potential to be repeated in markets where certain underlying project risks are not able to be fully borne by capital markets and investors.
The change in regulations, 2012, pertaining to the cancellation of the law of reciprocity between Turkey and other countries, has resulted in a favourable environment, for the investors, already in search of due diligence regarding the feasibility and profitability of investment in foreign land. The immediate result of this attractiveness is the amount of investment being put into the hospitality as well as Institutional commercial construction which is evident from the 24 new hotel launches and addition of 4000 new rooms to the inventory, in 2020, though the launch could see a little delay due to the slowness induced in the market by the pandemic. 4.5 Million USD, being invested into the restoration of the iconic Sansaryan Han into a 5-star facility is another good example. Hence, the industry's growth will be driven by the Government's plan to increase the share of retail and institutional commercial construction in the country, much trustable from the stats in TurkStat, showing increased investment and construction of hospitality, retail, as well institutions across the country.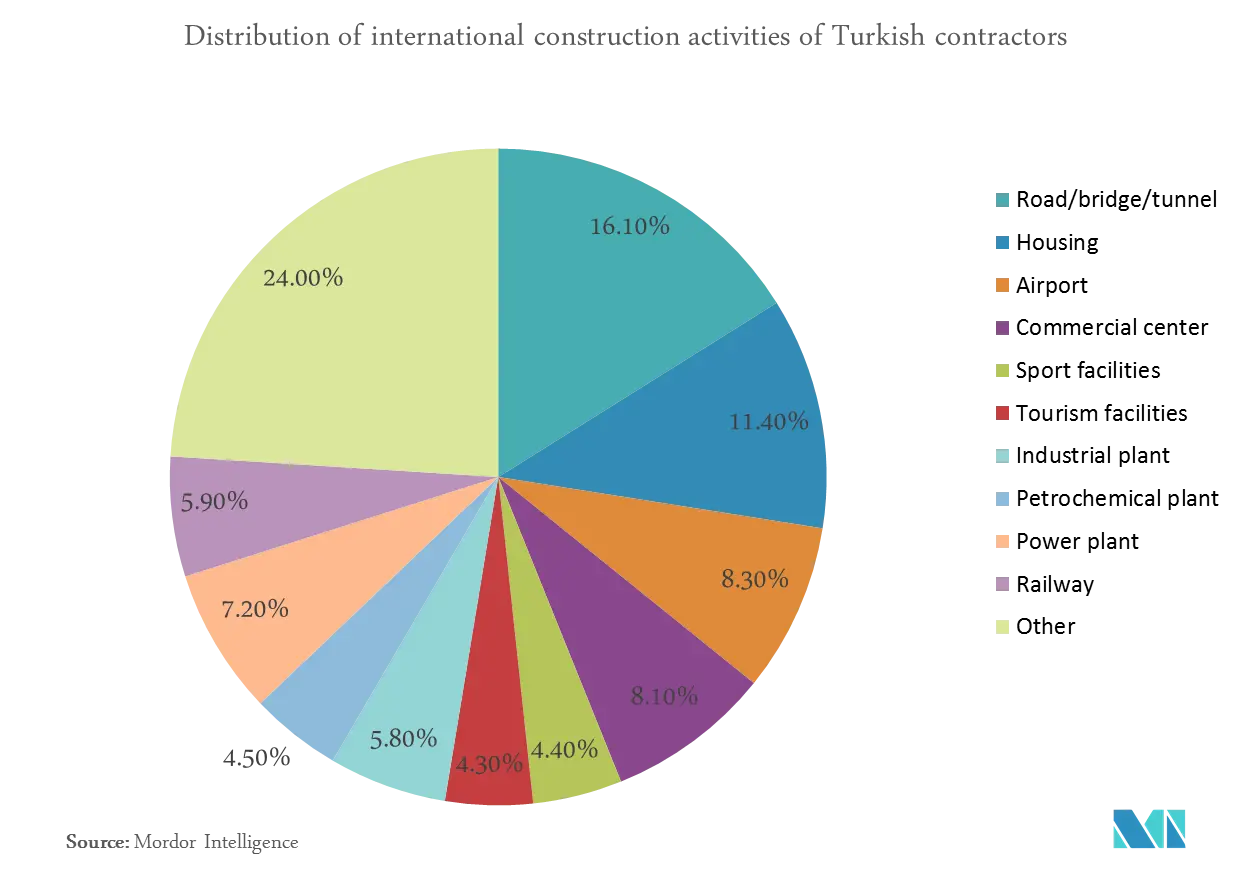 Competitive Landscape
The Turkey construction market is quite competitive, despite the major local and international players have created enough competitive environment in the sector. Still, the market opens opportunities for small and medium players due to increasing govt investments in the sector. The Turkey commercial construction market presents opportunities for growth during the forecast period, which is expected to further drive market competition. With large players competing with others for a significant share leaves the Turkey commercial construction market with no observable levels of consolidation.
A few key players in the market include ENKA Insaat ve Sanayi A.S., GAP Insaat, Yapi Merkezi Holding, Ronesans Holding, Albayrak Group, Yenigun Construction, and YDA Group. With loads of private/Public companies competing in the liberal regulatory environment of the construction sector, it is quite easy for any player, local, national or multi national to enter the market with ease and create its own share.
Table of Contents
1. INTRODUCTION

1.1 Study Assumptions

1.2 Scope of the Study

2. RESEARCH METHODOLOGY

2.1 Analysis Methodology

2.2 Research Phases

3. EXECUTIVE SUMMARY

4. MARKET INSIGHTS

4.1 Current Market Scenario

4.2 Technological Trends

4.3 Government Regulations

4.4 Value Chain / Supply Chain Analysis

4.5 Overview of Commercial Construction Market in Turkey

4.6 Brief on Construction Costs (average cost, office and retail space, per sq feet)

4.7 Insights into the newly office space completions (sq. feet)

4.8 Impact of COVID-19 on Turkey Commercial Construction Market (Analyst View)

5. MARKET DYNAMICS

5.1 Drivers

5.2 Restraints

5.3 Opportunities

5.4 Industry Attractiveness - Porter's Five Forces Analysis

5.4.1 Bargaining Power of Suppliers

5.4.2 Bargaining Power of Consumers

5.4.3 Threat of New Entrants

5.4.4 Threat of Substitutes

5.4.5 Intensity of Competitive Rivalry

6. MARKET SEGMENTATION

6.1 By End Use

6.1.1 Office Building Construction

6.1.2 Retail Construction

6.1.3 Hospitality Construction

6.1.4 Institutional Construction

6.1.5 Others

7. COMPETITIVE LANDSCAPE

7.1 Market Concentration Overview

7.2 Company Profiles

7.2.1 ENKA İnsaat ve Sanayi A.S.

7.2.2 GAP Insaat

7.2.3 Yapı Merkezi Holding

7.2.4 Rönesans Holding

7.2.5 Albayrak Group

7.2.6 Yenigün Construction

7.2.7 YDA Group

7.2.8 Zorlu Group

7.2.9 Umut Construction Tourism Industry. ve Tic. Inc.

7.2.10 Sinpas GYO İstanbul Sarayları

8. MARKET OPPORTUNITIES AND FUTURE TRENDS

9. APPENDIX

9.1 Macroeconomic Indicators (GDP Distribution by Activity, Contribution of Commercial Construction to economy)

9.2 Insights on Capital Flows (investments in Commercial Construction Sector)
You can also purchase parts of this report. Do you want to check out a section wise price list?
Frequently Asked Questions
What is the study period of this market?
The Trukey Commercial Construction Market - Growth, Trends, Forecasts (2020 - 2025) market is studied from 2016 - 2026.
What is the growth rate of Trukey Commercial Construction Market - Growth, Trends, Forecasts (2020 - 2025)?
The Trukey Commercial Construction Market - Growth, Trends, Forecasts (2020 - 2025) is growing at a CAGR of 5% over the next 5 years.
Who are the key players in Trukey Commercial Construction Market - Growth, Trends, Forecasts (2020 - 2025)?
ENKA İnsaat ve Sanayi A.S., GAP Insaat, Yapı Merkezi Holding, Rönesans Holding, Albayrak Group , Yenigün Construction , YDA Group, Zorlu Group, Umut Construction Tourism Industry. ve Tic. Inc. , Sinpas GYO İstanbul Sarayları are the major companies operating in Trukey Commercial Construction Market - Growth, Trends, Forecasts (2020 - 2025).
80%

of our clients seek made-to-order reports. How do you want us to tailor yours?