Styrene isoprene butylene styrene (SIBS) is a biostable thermoplastic elastomer, with physical properties that overlap silicone rubber and polyurethane. SIBS polymer contains block segments of styrene monomers and rubber monomer units similar to other styrene block copolymers (SBC). However, SIBS also contains unsaturated elastomers or rubber units having isoprene and butadiene. SIBS in general, is a single formulation combining the properties of SBC's - Styrene Isoprene Styrene (SIS) and Styrene Butadiene Styrene (SBS). Polymer has been replacing the use of metals in medical devices and other sectors, which is anticipated to drive the demand for the SIBS market in the coming years. Additionally, the increasing demand for adhesive and sealants is also likely to have positive influence on the SIBS market, owing to its application in pressure-sensitive adhesives.
Increasing Demand for Adhesives and Sealants
SIBS is among the most preferred polymers for producing adhesives. It provides excellent balance of tack, peel, and shear adhesion to the adhesives labels. SIBS helps to improve the performance of pressure-sensitive adhesives (PSA) Label Adhesive. It is widely used in the production of PSA, which are developed for label applications, as it exhibits proper adhesion, better clarity, lower gels in hot-melt adhesives, and improved low-temperature performance.
The demand for pressure-sensitive adhesive tapes and labels has been increasing, owing to its increasing industrial applications. The demand for tapes in the automobile industry has been increasing in order to enhance the performance and aesthetics. Moreover, the growth in construction activities, primarily in the Asia-Pacific region is likely to drive the demand for PSA tapes and labels. Additionally, continuous growth in the demand for PSA tapes and labels from the packaging industry is likely to boost the demand for adhesives and sealants. This is further likely to provide a positive influence in the demand for the SIBS market.
Packaging Industry Witnessing Strong Growth
SIBS are used widely to make economically attractive packaging tapes and labels. E-commerce and E-retail have boosted the growth of the packaging industry. Packaging requirements have increased noticeably for dispatching the products from one place to another. With the growing e-retail business across the world and increasing demand for packaging, the SIBS market is likely to witness growth in its demand from the packaging industry in over the forecast period.
Asia-Pacific expected to Lead the Market
Asia-Pacific is likely to witness fastest growth during the forecast period owing to the increasing construction activities, rising demand for packaging, and growth in electrical & electronics industry. China & India is likely to witness fastest growth in the region. North America & Europe is likely to witness stable growth, considering the matured healthcare industry. The growth in these regions are expected to be driven by shift from heavy metals to light polymers in medical devices, tools and other medical instruments. In the United States, manufacturing sector is likely to witness rebound which is expected to increase the demand for SIBS based products, such as adhesives, tapes, labels, machines and others.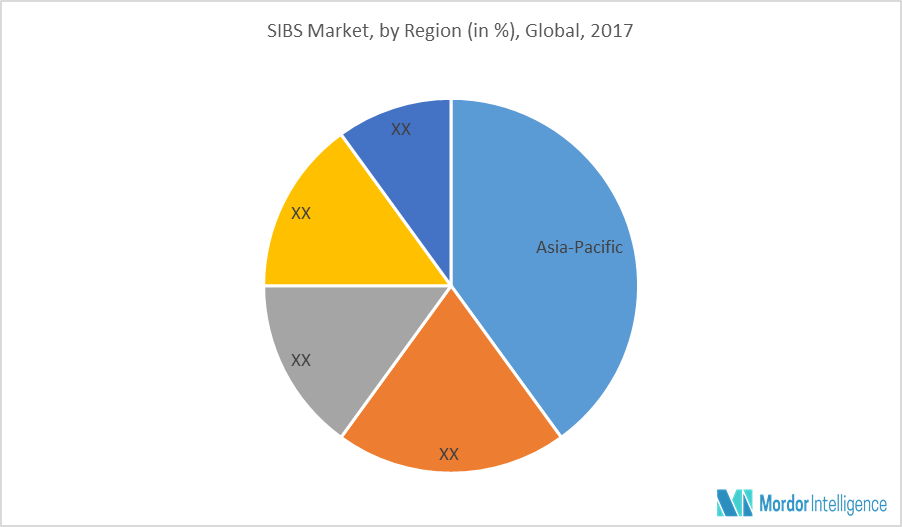 Key Developments
March 2017: Kraton Corporation announced the next generation in rosin ester tackifiers. SYLVALITE 9000 tackifier is a bio-based material for use in formulating premium-packaging hot-melt adhesives.
Major Players: Kraton Polymers, Eastman Chemical Company, Zeon Chemicals LP, TSRC Corporation, Lanxess, and JSR Corporation, among others.
Reasons to Purchase this Report
Impact of growth in the adhesives & sealants market on the SIBS market
Analyze various perspectives of the market with the help of Porter's five forces analysis
Identify the form and product type that is expected to dominate the market
Know about the regions that are expected to witness the fastest growth during the forecast period
Identify the latest developments, market shares, and strategies employed by major market players
3 months analyst support, along with the Market Estimate sheet in excel
Customization of the Report
This report can be customized to meet your requirements. Please connect with our analyst, who will ensure you get a report that suits your needs.
1. Introduction
1.1 Research Phases
1.2 Study Deliverables
1.3 Scope of the Report
2. Executive Summary
3. Market Insights
3.1 Industry Value Chain Analysis
3.2 Industry Attractiveness - Porter's Five Forces Analysis
3.2.1 Bargaining Power of Suppliers
3.2.2 Bargaining Power of Buyers
3.2.3 Threat of New Entrants
3.2.4 Threat of Substitute Products
3.2.5 Degree of Competition
4. Market Dynamics
4.1 Drivers
4.1.1 Shift from Metallic Devices to Polymer Devices in the Medical Industry
4.1.2 Rising Demand as Replacement for PVC in Various Applications
4.2 Restraints
4.2.1 High-Price of Product Compared to Other Thermoplastics
4.3 Opportunities
4.3.1 Growing Demand from Heathcare Industry in Emerging Markets
5. Market Segmentation and Analysis
5.1 By Form
5.1.1 Pastille Shape
5.1.2 Flakes
5.2 By Product Type
5.2.1 Type I
5.2.2 Type II
5.2.3 Type III
5.3 By End-user Industry
5.3.1 Building & Construction
5.3.2 Footwear and Leather
5.3.3 Adhesives & Sealants
5.3.4 Packaging
5.3.5 Healthcare
5.3.6 Electrical & Electronics
5.3.7 Others (Including Laminating, Nonwovens, etc.)
6. Regional Market Analysis (Market Size, Growth and Forecast)
6.1 Asia-Pacific
6.1.1 China
6.1.2 India
6.1.3 Japan
6.1.4 South Korea
6.1.5 Taiwan
6.1.6 Australia & New Zealand
6.1.7 ASEAN Countries
6.1.8 Rest of APAC
6.2 Europe
6.2.1 Germany
6.2.2 UK
6.2.3 France
6.2.4 Italy
6.2.5 Spain
6.2.6 Russia
6.2.7 The Netherlands
6.2.8 Rest of Europe
6.3 North America
6.3.1 USA
6.3.2 Canada
6.3.3 Mexico
6.3.4 Rest of North America
6.4 South America
6.4.1 Brazil
6.4.2 Argentina
6.4.3 Columbia
6.4.4 Rest of South America
6.5 Middle East & Africa
6.5.1 Nigeria
6.5.2 South Africa
6.5.3 Saudi Arabia
6.5.4 UAE
6.5.5 Rest of Middle East & Africa
7. Future of the Market
8. Competitive Landscape
8.1 Mergers & Acquisitions, Joint Ventures, Collaborations, and Agreements
8.2 Market Share Analysis**
8.3 Strategies Adopted by Leading Players
9. Company Profiles (Overview, Financials**, Products & Services, Recent Developments)
9.1 Eastman Chemical Company
9.2 Kraton Polymers
9.3 TSRC Corporation
9.4 ZEON CHEMICALS L.P.
9.5 LANXESS
9.6 JSR Corporation
9.7 RCMA Rubber
9.8 Kraton
9.9 LCY Chemical Corp.
9.10 Shandong Jusage Technology Co.,Ltd.
9.11 NINGBO ORETEL POLYMER CO., LTD
9.12 En Chuan Chemical Industries Co., Ltd.
*List Not Exhaustive
10. Disclaimer
**Subject to Availability on Public Domain