The Global Specialty Surfactants Market is estimated to register a significant CAGR during the forecast period. Asia-Pacific is expected to hold the largest share of the market, owing to the healthy growth of personal care industry.
Growing Personal Care Industry in Asia-Pacific is set to propel growth of the Specialty Surfactants Market
Personal care is one of the major end-users for specialty surfactants. Surfactants are used as ingredients in a variety of products in the personal care segment, such as foaming agents, dispersants, emulsifiers, solubilizing agents, cleansers, and conditioners, among others. The personal care industry accounted for a healthy share of the global market, in 2017. The tier-2 markets, such as South Korea, are expected to witness a rapid rise in the demand for personal care products. Moreover, China, and India are also likely to experience good opportunities for the personal care market. Increasing awareness about the advantages of multi-functional surfactants is expected to boost the demand for specialty surfactants during the forecast period.
Household Soap & Detergent to Hold the Largest Share of End-user Segment
Household soaps & detergents account for over 50% of the total share of the market in 2017. The primary function of a surfactant in detergent is to remove soil from fabrics and to suspend the soil in the wash water. Surfactants in dishwasher detergents are used for wetting surfaces to help soil removal. The surfactant level in automatic dishwasher detergents is lower than in hand dishwash detergents to minimize foaming in the dishwasher. The major surfactants used are LAS, alcohol ethoxysulfates (AES).
Asia-Pacific is set to Dominate the Region During the Forecast Period
China was the largest consumer of surfactants in 2017 and the country is likely to continue its dominance during the forecast period. Continuous growth in population is a factor fuelling the demand for cosmetics in the country. China is one of the top ten markets for cosmetics export from developed economies, such as the United States. The growth of population, which lies in the ages between 20 and 30 years, is the major factor contributing for the increasing cosmetics demand in China. This scenario is estimated to continue during the forecast period, which in turn, is expected to propel the demand for surfactants in the cosmetics industry in China.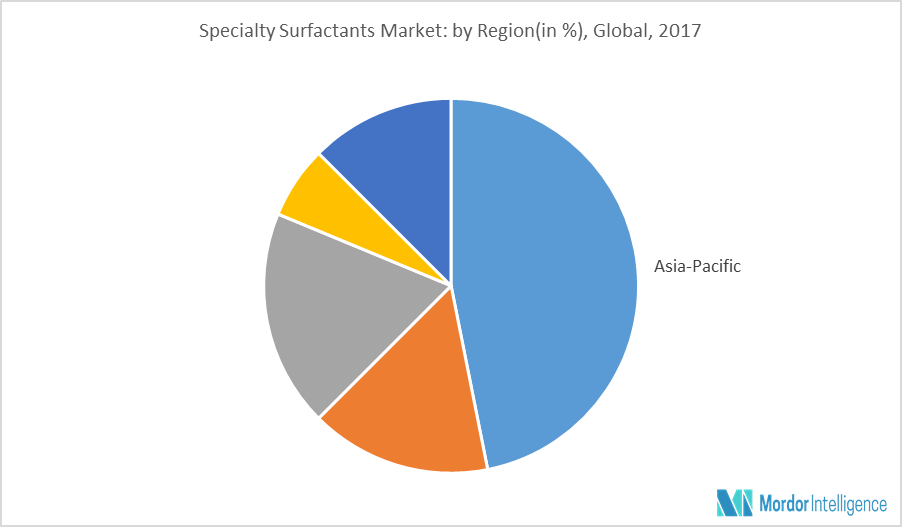 Notable Developments in the Market
June 2017: Stepan to acquired surfactant production facility and portion of associated surfactant business in Mexico from BASF Mexicana, S.A. DE C.V
Major Players: BASF SE, Stepan Co., DowDuPont, Kao Corporation, and 3M, among others.
Reasons to Purchase this Report
How the growing personal care industry in Asia-Pacific will drive the market
Analyzing various perspectives of the market with the help of Porter's five forces analysis
Which type, origin, and application is expected to dominate the market
Which region is expected to witness fastest growth during the forecast period
Identifying the latest developments, market shares and strategies employed by the major market players
3-month analyst support, along with the Market Estimate sheet in excel
Customization of the Report
This report can be customized to meet your requirements. Please connect with our representative, who will ensure you to get a report that suits your needs
1. Introduction
1.1 Scope of the Report
1.2 Research Phases
1.3 Study Deliverables
2. Executive Summary
3. Market Insights
3.1 Industry Value Chain Analysis
3.2 Industry Attractiveness – Porter's Five Forces Analysis
3.2.1 Bargaining Power of Suppliers
3.2.2 Bargaining Power of Consumers
3.2.3 Threat of New Entrants
3.2.4 Threat of Substitute Products and Services
3.2.5 Degree of Competition
4. Market Dynamics
4.1 Drivers
4.1.1 Growing Personal Care Industry In Asia-pacific
4.1.2 Growth Of The Oleo chemicals Market Driving Bio-based Surfactants
4.2 Restraints
4.2.1 Increasing Focus On Environmental Regulations
4.2.2 Other Restraints
4.3 Opportunities
4.3.1 Expansion of Application Base For Bio surfactants
4.3.2 Other Opportunities
5. Market Segmentation and Analysis - (Market size, Growth, and Forecast)
5.1 By Type
5.1.1 Anionic Surfactants
5.1.2 Cationic Surfactants
5.1.3 Non-ionic Surfactants
5.1.4 Amphoteric Surfactants
5.1.5 Silicone Surfactants
5.1.6 Others
5.2 By Application
5.2.1 Household Soap and Detergent
5.2.2 Personal Care
5.2.3 Lubricants and Fuel Additives
5.2.4 Industry & Institutional Cleaning
5.2.5 Food Processing
5.2.6 Oilfield Chemicals
5.2.7 Agricultural Chemicals
5.2.8 Textile Processing
5.2.9 Others
5.3 By Origin
5.3.1 Synthetic Surfactants
5.3.2 Bio-based Surfactants
6. Regional Market Analysis (Market size, Growth, and Forecast)
6.1 North America
6.1.1 United States
6.1.2 Canada
6.1.3 Mexico
6.1.4 Rest of North America
6.2 Europe
6.2.1 Germany
6.2.2 United Kingdom
6.2.3 Italy
6.2.4 France
6.2.5 Spain
6.2.6 Russia
6.2.7 Rest of Europe
6.3 Asia-Pacific
6.3.1 China
6.3.2 India
6.3.3 Japan
6.3.4 South Korea
6.3.5 ASEAN Countries
6.3.6 Rest of Asia-Pacific
6.4 South America
6.4.1 Brazil
6.4.2 Argentina
6.4.3 Rest of South America
6.5 Middle East & Africa
6.5.1 Saudi Arabia
6.5.2 United Arab Emirates
6.5.3 South Africa
6.5.4 Rest of Middle East & Africa
7. Future of the Market
8. Competitive Landscape
8.1 Mergers & Acquisitions, Joint Ventures, Collaborations and Agreements
8.2 Market Share Analysis**
8.3 Strategies Adopted by Leading Players
9. Company Profiles (Overview, Financials**, Products & services, Recent Developments, and Analyst View)
9.1 3M Company
9.2 Akzo Nobel N.V.
9.3 Arkema
9.4 Ashland
9.5 BASF SE
9.6 Bayer AG
9.7 Clariant
9.8 Croda International
9.9 Elementis Specialties
9.10 Emery Oleochemicals
9.11 Evonik Industries AG
9.12 Galaxy Surfactants
9.13 Geo Specialty Chemicals
9.14 Godrej Industries
9.15 Huntsman International LLC
9.16 Innospec
9.17 Kao Corporation
9.18 KLK Oleo
9.19 Lonza
9.20 Mitsui Chemicals
9.21 P & G Chemicals
9.22 Reliance Industries Ltd.
9.23 DowDuPont
9.24 Sanyo Chemical Industries
9.25 Sasol
9.26 Sinopec Jinling Petrochemical Co., Ltd
9.27 Solvay
9.28 Stepan Co.
9.29 Sumitomo Chemicals
9.30 Taiwan NJC Corporation
...List not exhaustive
10. Disclaimer
**Subject to availability of public domain