The global patient registry software market was valued at around USD 900 billion in 2017 and is projected to witness a CAGR of 10% during the forecast period of 2018–2023.
Increasing Adoption of Electronic Health Records
In the United States, the Health Information Technology for Economic and Clinical Health (HITECH) Act, 2009, was introduced to increase the rate of integration of electronic health records (EHRs). EHRs have since become an integral part of healthcare, but historically they have often presented problems in installation and implementation. The HITECH Act prompted healthcare organizations to implement EHR systems by offering an incentive program to eligible, short-term acute care hospitals. The HITECH Act of 2009 was an ambitious policy effort to increase the adoption of EHRs. According to research estimates the annual rate of EHR adoption for eligible hospitals increased from 3.2% before the Act to 14.2% after. Ineligible hospitals also saw an increase from 0.1% to 3.3%. Consequently, the increasing adoption has led to the growth of the global patient registry software market.
Others factors, like increasing use of patient registry data for post-marketing surveillance and the push to reduce healthcare costs are also driving the growth of this market.
Concerns Relating to Privacy and Data Security
Concerns relating to privacy breach and issues like theft of data are associated with all forms of medical information technology (IT). Similar issues exist with the use of patient registry software. Widespread adoption of registry software has been restrained due to data security issues. Intensification of security checks is an achievable task for vendors supplying these services, but these security checks come at the cost of ease of operation, thereby compromising on the efficiency of the platform. Further, in the absence of network security, the interoperability of registry data is compromised, and its use is limited to the platform responsible for the collation of data and cannot be shared and accessed across other systems. Therefore, concerns relating to privacy and data security is inhibiting the growth of global patient registry software market. Also, the lack of trained and skilled professionals is limiting the market.
Integrated Software Leads the Market in Software
The global patient registry software market is segmented into stand-alone and integrated software, by software type. Although niche stand-alone software find extensive application in the healthcare industry for collection and assessment of various types of registries, yet the largest market share is still occupied by integrated software, which provides multiple modules offering comprehensive range of features normally available in stand-alone software. Integrated software is being increasingly used in hospital settings where multiple registries need to be recorded in different departments, and cross-sharing of this data across department is crucial.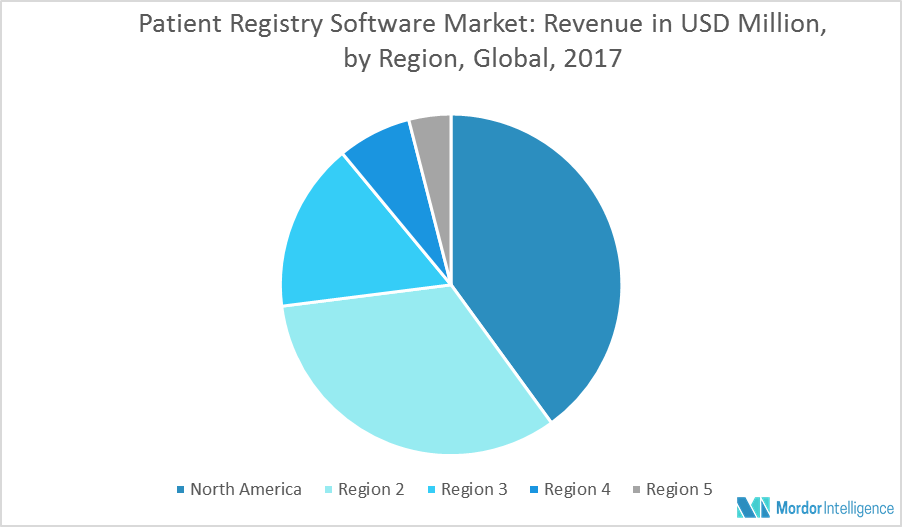 Key Developments in the Market
January 2018: Dacima Software, Inc. (Dacima), a leading innovator in EDC technology, announced that it has been awarded an RFP, and has signed a contract with the Derby Teaching Hospital – NHS Foundation Trust, in the United Kingdom for the use of Dacima's Electronic Data Capture (EDC) software, Dacima Clinical Suite.
The major players include Dacima Software Inc., Evado Pvt Ltd, FIGmd Inc., Global Vision Technologies, Inc., ifa Systems AG, Image Trend, Inc., Syneos Health, Liasion Technologies, McKesson Corporation, Phytel, Inc., Quintiles IMS Holdings, Inc. and Velos Inc., among others.
Reasons to Purchase the Report
Follow the current and future patient registry software market in the developed and emerging markets.
Analyzing various perspectives of the market with the help of Porter's
Five Forces Analysis.
Identify the segment that is expected to dominate the market.
Identify the regions that are expected to witness the fastest growth during the forecast period.
Identify the latest developments, market shares, and strategies employed by the major market players.
3-month analyst support along with the Market Estimate sheet (in Excel).
Customization of the Report
This report can be customized to meet your requirements. Please connect with our representative, who will ensure you get a report that suits your needs.
1. Introduction
1.1 Market Definition
2. Research Methodology
3. Executive Summary
4. Key Inferences
5. Market Overview
5.1 Current Market Scenario
5.2 Porter's Five Forces Analysis
5.2.1 Bargaining Power of Suppliers
5.2.2 Bargaining Power of Consumers
5.2.3 Threat of New Entrants
5.2.4 Threat of Substitute Products and Services
5.2.5 Competitive Rivalry within the Industry
6. Drivers, Restraints, Opportunities, and Challenges Analysis (DROC)
6.1 Drivers
6.1.1 Implementation of Government Initiatives to Build Patient Registries
6.1.2 Drive to Reduce Healthcare Costs and Improve Quality of Care
6.1.3 Inreasing Adoption of Electronic Health Records (EHR)
6.1.4 Increasing Use of Patient Registry Data for Post-marketing Surveillance
6.2 Restraints
6.2.1 Concerns Relating to Privacy and Data Security
6.2.2 Lack of Trained and Skilled Professionals
6.3 Opportunities
6.4 Key Challenges
7. Market Segmentation
7.1 By Type of Registry
7.1.1 Disease Registries
7.1.1.1 Diabetes Registries
7.1.1.2 Cardiovascular Registries
7.1.1.3 Cancer Registries
7.1.1.4 Rare Disease Registries
7.1.1.5 Chronic Kidney Disease Registries
7.1.1.6 Orthopaedic Registries
7.1.1.7 Other Registries
7.1.2 Health Service Registries
7.1.3 Product Registries
7.1.3.1 Medical Device Registries
7.1.3.2 Drug Registries
7.2 By Type of Software
7.2.1 Stand-alone Software
7.2.2 Integrated Software
7.3 By Pricing Model
7.3.1 Subscription Model
7.3.2 Ownership Model
7.4 By Deployment Model
7.4.1 On-premise Model
7.4.2 Cloud-based Model
7.5 By Functionality
7.5.1 Population Health Management (PHM)
7.5.2 Patient Care Management
7.5.3 Health Information Exchange
7.5.4 Point-of-care
7.5.5 Product Outcome Evaluation
7.5.6 Medical Research and Clinical Studies
7.6 By End User
7.6.1 Government Organizations and Third Party Administrators (TPAs)
7.6.2 Hospitals
7.6.3 Pharmaceutical, Biotechnology, and Medical Device Companies
7.6.4 Research Centers
7.7 By Geography
7.7.1 North America
7.7.1.1 United States
7.7.1.2 Canada
7.7.1.3 Mexico
7.7.1.4 Rest of North America
7.7.2 Europe
7.7.2.1 United Kingdom
7.7.2.2 Germany
7.7.2.3 France
7.7.2.4 Italy
7.7.2.5 Spain
7.7.2.6 Rest of Europe
7.7.3 Asia-Pacific
7.7.3.1 China
7.7.3.2 Japan
7.7.3.3 India
7.7.3.4 Australia
7.7.3.5 South Korea
7.7.3.6 Rest of Asia-Pacific
7.7.4 Middle East & Africa
7.7.4.1 GCC
7.7.4.2 South Africa
7.7.4.3 Rest of Middle East & Africa
7.7.5 South America
7.7.5.1 Brazil
7.7.5.2 Argentina
7.7.5.3 Rest of South America
8. Competitive Landscape
8.1 Mergers & Acquisition Analysis
8.2 Agreements, Collaborations, and Partnerships
8.3 New Products Launches
9. Key Players
9.1 Dacima Software Inc.
9.2 Evado Pvt Ltd
9.3 FIGmd, Inc.
9.4 Global Vision Technologies, Inc.
9.5 ifa Systems AG
9.6 Image Trend, Inc.
9.7 Liasion Technologies
9.8 McKensson Corporation
9.9 Phytel, Inc.
9.10 Quintiles IMS Holdings, Inc.
9.11 Syneos Health
9.12 Velos Inc.
*List not Exhaustive
10. Future of the Market
11. Disclaimer