North America Polyurethane market is estimated to register a CAGR of 5.60% during the forecast period, 2018 to 2023. Building and Construction is expected to be the largest end-user segment followed by automotive and furniture & interiors. Increasing usage of durable plastics in construction is driving the market for polyurethane in the region.
Increasing Emphasis on Recycling Driving the Market
Increasing concerns related to environmental pollution and VOC emissions from waste plastics has been driving the attention of the North American governments toward recycling needs. Two purposes can be served through recycling; reduction in wastage of the materials as well as reduction of waste and pollution. Polyurethane finds numerous applications in various end-user industries, such as automotive, construction, furniture and interiors, electronics and appliances, footwear, and packaging, among others, which signifies huge demand, globally.
Foams Application is Expected to Hold the Largest Share of Application Segment
Rigid polyurethane and polyisocyanurate (polyiso) foams create one of the world's most popular, energy-efficient, and versatile insulations. According to the US Department of Energy, heating, and cooling account for approximately 55% of the energy used in a typical US home, making it the largest energy expense for most homes. To maintain uniform temperature and lower noise levels in homes and commercial properties, builders turn to rigid polyurethane and polyisocyanurate foams. These foams are effective insulation materials that can be used in roof and wall insulation, insulated windows, doors, and air barrier sealants.
United States is expected to hold the major of the market in the region
Building and construction accounted for approximately 35% of the consumption of polyurethanes in the United States, making it the largest end-user market for polyurethane materials. The environmental benefits of rigid polyurethane foam are significant. They include increased energy efficiency and reduced project weight and are expected to register a significant rate during the forecast period.
Transportation also accounts for a significant share of the total polyurethane consumption. Advent of sustainable polymeric formulations for vehicle weight reduction and decreased fuel consumption for environmental safety are the main drivers of the polyurethane market in the U.S.
Apart from the aforementioned end-users, paints & coatings, along with furniture also find applications from polyurethane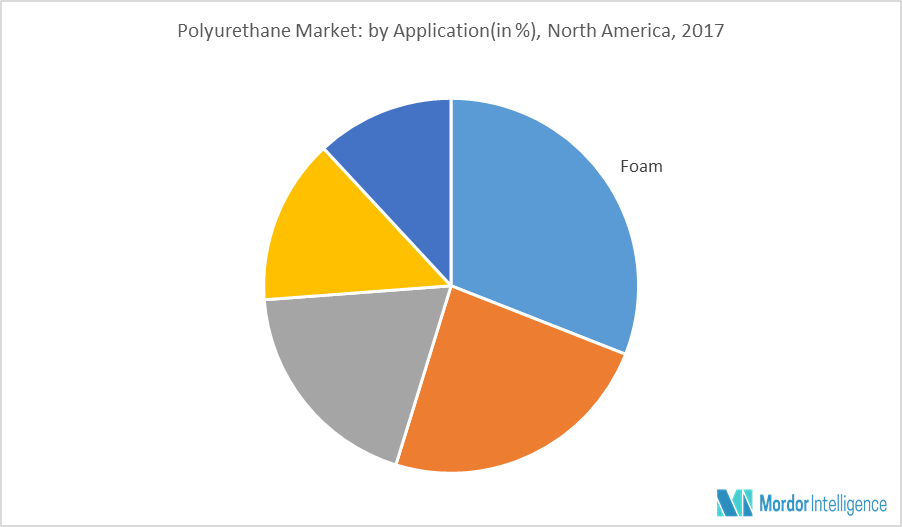 Notable Developments
January, 2018: Huntsman Acquired Demilec, a Leading North American Spray Polyurethane Foam Insulation Manufacturer
Major Players: BASF SE, Huntsman International LLC and DowDupont, among others.
North America Polyurethane Market Report Summary
| | |
| --- | --- |
| Metrics | Details |
| Industry | North America Polyurethane Market |
| Study Period | (2016-2023) |
| Key Developments | Huntsman Acquired Demilec, a Leading North American Spray Polyurethane Foam Insulation Manufacturer |
| Companies Covered | Covestro, Huntsman International, DowDupont, BASF SE and Mitsui Chemicals, Inc., etc. |
Reasons to Purchase this Report
To understand the impact of accelerating demand from automotive industry on the market.
Analyzing various perspectives of the market with the help of Porter's five forces analysis
To understand the dominating end-user in the market
Countries expected to witness the fastest growth during the forecast period
Identifying the latest developments, market shares, and strategies employed by the major market players
3-month analyst support, along with the Market Estimate sheet in excel
Customization of the Report
This report can be customized to meet your requirements. Please connect with our representative, who will ensure you to get a report that suits your needs
1. Introduction
1.1 Scope of the Report
1.2 Study Assumptions
1.3 Study Deliverables
1.4 Research Phases
2. Executive Summary
3. Market Insights
3.1 Industry Value Chain Analysis
3.2 Industry Attractiveness – Porter's 5 Force Analysis
3.2.1 Bargaining Power of Suppliers
3.2.2 Bargaining Power of Consumers
3.2.3 Threat of New Entrants
3.2.4 Threat of Substitute Products and Services
3.2.5 Degree of Competition
3.3 Raw Material Analysis
4. Market Dynamics
4.1 Drivers
4.1.1 Extensive demand from automotive industry
4.1.2 Increasing Usage of Durable Plastics in Construction
4.1.3 Increasing Emphasis on Recycling
4.2 Restraints
4.2.1 Volatile raw Material Prices
4.2.2 Competition from polystyrene and polypropylene foam
4.3 Opportunities
4.3.1 Increasing demand for Bio-Based
5. Market Segmentation and Analysis (Market size, Growth and forecast)
5.1 By Application
5.1.1 Foams
5.1.1.1 Rigid Foam
5.1.1.2 Flexible Foam
5.1.2 Coatings
5.1.3 Adhesives, Sealants, and Binders
5.1.4 Elastomers
5.1.5 Others
5.2 By End-user Industry
5.2.1 Furniture & interiors
5.2.2 Building & Construction
5.2.3 Electronics & Appliances
5.2.4 Automotive and
5.2.5 Packaging
5.2.6 Others
6. Regional Market Analysis (Market size, growth and forecast)
6.1 United States
6.2 Canada
6.3 Mexico
6.4 Rest of North America
7. Future of the Market
8. Competitive Landscape
8.1 Mergers & Acquisitions, Joint Ventures, Collaborations and Agreements
8.2 Market Share Analysis**
8.3 Strategies Adopted by Leading Players
9. Company Profiles (Overview, Financials**, Products & services, Recent Developments)
9.1 BASF SE
9.2 China Petrochemical Corp. (Sinopec Group)
9.3 Covestro AG
9.4 DowDuPont
9.5 Fujian Southeast Electrochemical Co. Ltd.
9.6 Huntsman International LLC
9.7 LANXESS
9.8 Mitsui Chemicals Inc.
9.9 Perstorp
9.10 Tosoh Corp.
10. Disclaimer
**Subject to availability of public domain