North America & Europe Vending Machine Market Size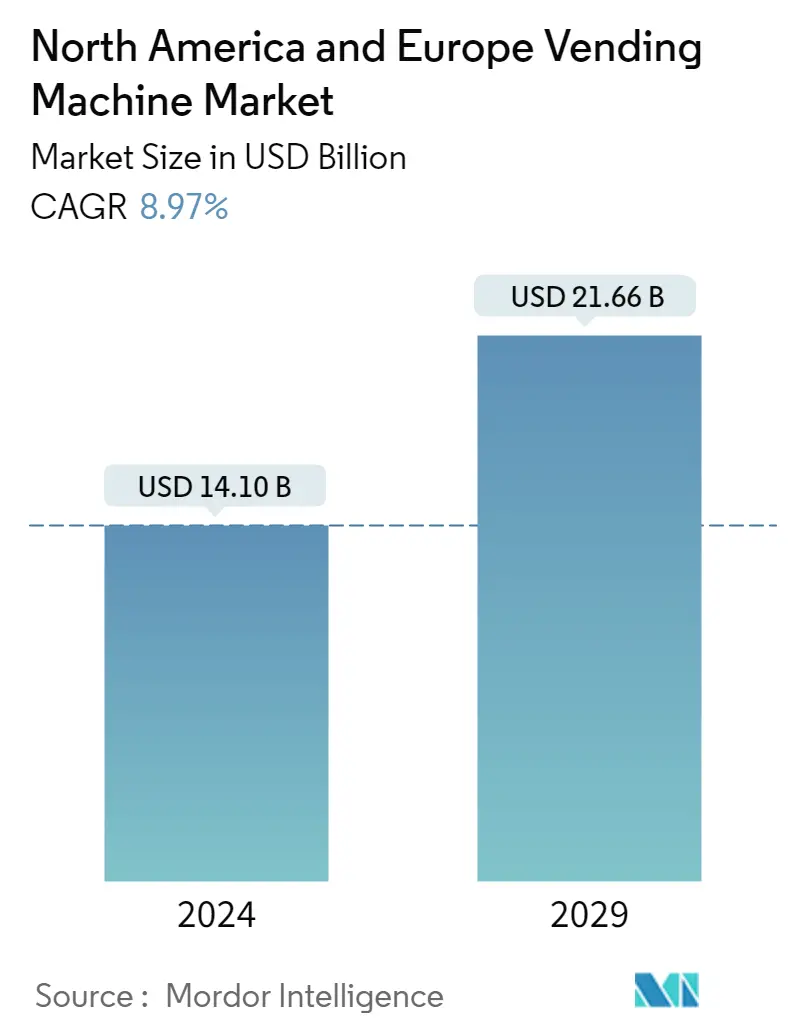 Study Period
2018 - 2028
Base Year For Estimation
2022
CAGR
9.70 %
Fastest Growing Market
Europe
Largest Market
North America
Market Concentration
Low

Major Players

*Disclaimer: Major Players sorted in no particular order
Need a report that reflects how COVID-19 has impacted this market and its growth?
North America & Europe Vending Machine Market Analysis
North America and Europe's Vending Machine Market are expected to register a CAGR of 9.7% during the forecast period (2022-2027). The ease of access to products catering to the rising population is significantly driving the growth of the studied market.
According to Census.gov, estimates of retail and foodservice sales in the United States for December 2021, adjusted for seasonality, USD 626.8 billion was spent on variations, holidays, and trading days, but not on pricing modifications, a drop of 1.9% (0.5%) from the previous month, but an increase of 16.9% (0.9% ) from the previous year. The deadline is December 2020. Total sales for the first twelve months of 2021 were up 19.3% (0.5%) over the same period in 2020. Total sales increased 17.1% (0.7%) from October 2021 to December 2021 compared to a year ago. Such spending on food is likely to significantly drive the studied market.
Vending machine products with diverse characteristics are being introduced by specialty retailers, attracting customers and moving the market forward. Furthermore, the specialty retail business is expected to have erratic growth due to macroeconomic variables such as consumer spending and increasing disposable income. When buying products at convenience stores, customers are more concerned with the complete shopping experience. Vending machine product sales are predicted to increase due to attractive displays and affordable prices in retail outlets. As a result, the widespread creation of convenience stores creates the profitable potential for the growth of the offline sales channel in the market.
One of the key factors contributing to the market's favorable outlook is significant growth in the retail industry around the world. Furthermore, the growing need for automated product distribution systems in airports, hospitals, school canteens, railway and gasoline stations, and industrial sites is propelling the industry forward. For instance, as of January 2022, Farmer's Fridge, a Chicago-based company, installed 178 machines vending salads, bowls other healthier fare in hospitals and airports. It has 118 machines in hospitals and 60 in airports. Still, one would think salads and vending machines mixes like oil and water. However, Farmer's Fridge monitors the temperature of items and locks food that is past its prime. It also monitors sales and collects customer feedback. Resultantly, the company minimizes food waste by adjusting its stocking algorithms. Further, the company's items are cheaper than their airport and hospital cafeteria counterparts. Most meals cost USD 10 or less.
Other growth-inducing elements include technology improvements such as the creation of reverse vending machines (RVM). In exchange for a reward, customers can insert old or empty plastic containers and aluminum cans into these machines. Manufacturers are also releasing new models with touch-screen panels, gesture-, video-, audio-, and scent-based interactions, as well as cashless payment capabilities. In accordance with this, self-service technology's widespread acceptance across industries also boosts the market.
Moreover, in a world increasingly technological and characterized by investment in smart cities, artificial intelligence, and home delivery through orders made by mobile devices, many companies install vending machines to improve the customer experience and their interactions. For instance, various governments in the American region are also promoting the adoption of smart cities. For instance, Las Vegas is testing three pilot projects, with the government allocating USD 500 million to find ways to connect the entire city by 2025.
The pandemic has also increased the self-checkout during the pandemic, resulting in the demand for vending machines. According to a Shekel BrainweighLtd poll, 87 % prefer to purchase in stores that offer touchless or robust self-checkout options. According to a poll conducted in the United States, more than two-thirds of consumers now use self-checkout, touchless self-checkout, or frictionless micro-markets to pay for groceries.
North America & Europe Vending Machine Industry Segmentation
The vending machine is an automated machine that carries consumer products and unpacked/packaged food items. Each item in a vending machine has its selection number or corresponding button. Customers make their payment, choose the corresponding item number or button and then wait for their chosen product to be dispensed. A vending machine is an alternative solution for a 24x7 shop and also offers a quick grab without hustling through the retail stores or cafes. North America and Europe Vending Machine Market is segmented by Type (Beverage, Package Food), Location (Office/ Commercial), and Geography.
By Type
Beverage
Packaged Food
Others
By Location
Office/Commercial
Institutional
Others (Healthcare Facilities, Amusement Parks, Sports Venues,Transportation Facilities etc.)
By Geography

North America
United States
Canada

Europe
United kingdom
Germany
Rest of Europe
North America & Europe Vending Machine Market Trends
This section covers the major market trends shaping the North America & Europe Vending Machine Market according to our research experts:
Food Vending Machines are Expected to Witness a High Market Growth.
After the Covid-19 outbreak, the need to decrease touch-points for a consumer has been driving demand for a mobile, touch-less, and app-less experience across unmanned food retail. Owing to this, several players in the market are innovating new products and processes to expand their footprint in the food segment.
For instance, in April 2022, a machine called RoboBurger was installed inside the Newport Centre Mall in Jersey City, New Jersey. The vending machine offers a complete contactless ordering and delivery experience via a chute at the front of the machine. Customers can add toppings to their burger using a touch screen while the robot grills the patty and delivers it around six minutes later. The machine accepts cards, Apple Pay, and Google Pay.
The continuous innovations in the food industry due to the consumers increasingly adopting easily accessible food solutions and ready-to-eat products are driving the demand for food vending machines.
For instance, in March 2022, Andouillette, foie gras, or even ris de veau, a restaurant in a Charente town, France, set up a vending machine to facilitate its customers to buy fresh gourmet dishes to go. Faced with a drop in customers due to Covid, the managers of the restaurant La Cour in Ruelle invested EUR 27,000 to be able to distribute fresh, homemade dishes. The vending machine employed by the restaurant has a capacity of 40 fresh racks and offers four to six different dishes a day.
Moreover, flexible, 24/7, scalable food & beverage options cater beautifully to the new hybrid working models across companies in the North American and European markets. With solid partnerships with the A-brands in food, beverages, and machine technologies, the market players can build a robust foundation for sustainable future growth. For instance, Selecta Group, a Food Tech company with a significant route-based, self-service distribution network in Europe, offering innovative convenience food services and world-class quality coffee brands in the workplace and public spaces, reported a gradual recovery of sales in 2021 in Europe as key markets wind down work-from-home policies and Covid-19 trading restrictions ease. They are reporting its full-year results on 31 December 2021. The coffee and food vending machine operator posted revenues of EUR 1.04 billion, an increase of 3.2% compared to the same period in 2020. The company serves Starbucks, Nescafé, Pelican Rouge, Lavazza and Miofino branded self-serve coffee machines across Europe. It maintains a presence across workplaces, healthcare facilities, transport hubs, service stations, and retail and leisure locations.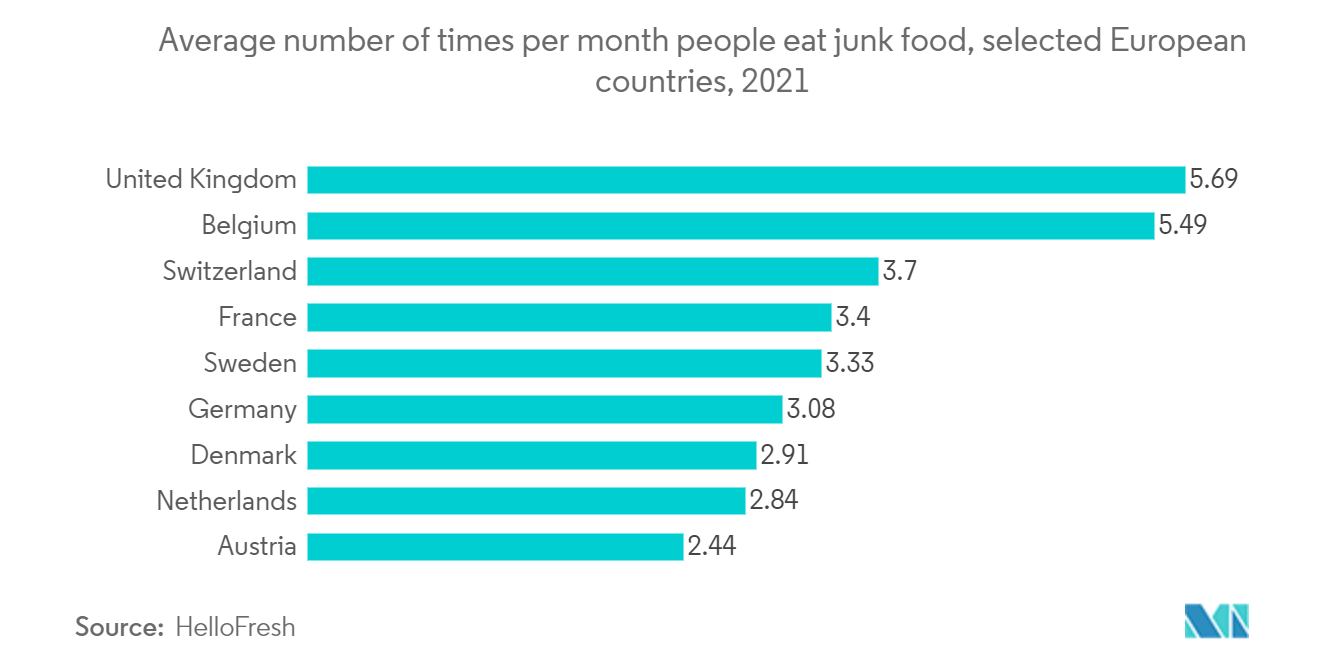 To understand key trends, Download Sample Report
The United States is Expected to Hold a Major Market Share.
The US vending machine market is expected to grow throughout the forecast period, owing to the rising number of food chain centers and public utilities, including airports and seaports, which are adopting these vending machines. Vending machines also enable improving the checkout experience by reducing the queues.
According to a Barbecue lab survey in June 2022, most Americans consume fast food 1-3 times a week. On any one day, 13% of Americans consume fast food. At least once a week, 83% of American households dine at fast food outlets. Fast food accounts for 10% of the average American household's annual income. Given the current scenario, the vending machines dispensing junk food are anticipated to hold a significant market share in the region during the forecast period.
Regional companies collaborate with universities to promote their brand image and customer base. For Instance, in May 2022, Coca-Cola is in the final stages of negotiations with the University of Arkansas to become the university's official non-alcoholic cold beverage sponsor and provider. The university recently sent Coca-Cola written notice of its intent to award the contract, pending fulfilling a mutually acceptable agreement. The proposed agreement will last for ten years and go into effect on July 1. Coca-Cola was the university's beverage source for many decades before the current agreement with PepsiCo, which ends on June 30, 2022. Coca-Cola products will be sold in Razorback Athletics arenas, campus dining facilities, and vending machines.
In November 2021, OpulenceMDBeauty, a premium eye-focused beauty company founded by a board-certified ophthalmologist, announced a special collaboration with Dana Evans, WNBA Champion, and All-Rookie Team Player. The agreement will strengthen the brand's dedication to confidently assisting women of all ages in presenting themselves while prioritizing their eye and vision health. It will also fund the rollout of game-changing lash vending machines on college campuses across the country, beginning with Evans' alma mater, the University of Louisville.
According to the Centers for Disease Control and Prevention report, In 2021, over 3.7 million babies will be born in the United States, which is around 46,000 higher than in 2020. Vending machine demand for baby items is also increasing. A baby vending machine can be extremely beneficial to a parent who runs out of diapers or formula while out with their infant.
The trend in the vending machine industry is greater payment security, driven by the option of cashless payment. Although swiping your card satisfies everyone's desire for speed and convenience, it isn't always the safest option. Due to data breaches and scams, the vending industry is collaborating with financial institutions to maintain the highest level of security. Trends like this will drive the studied market in the region.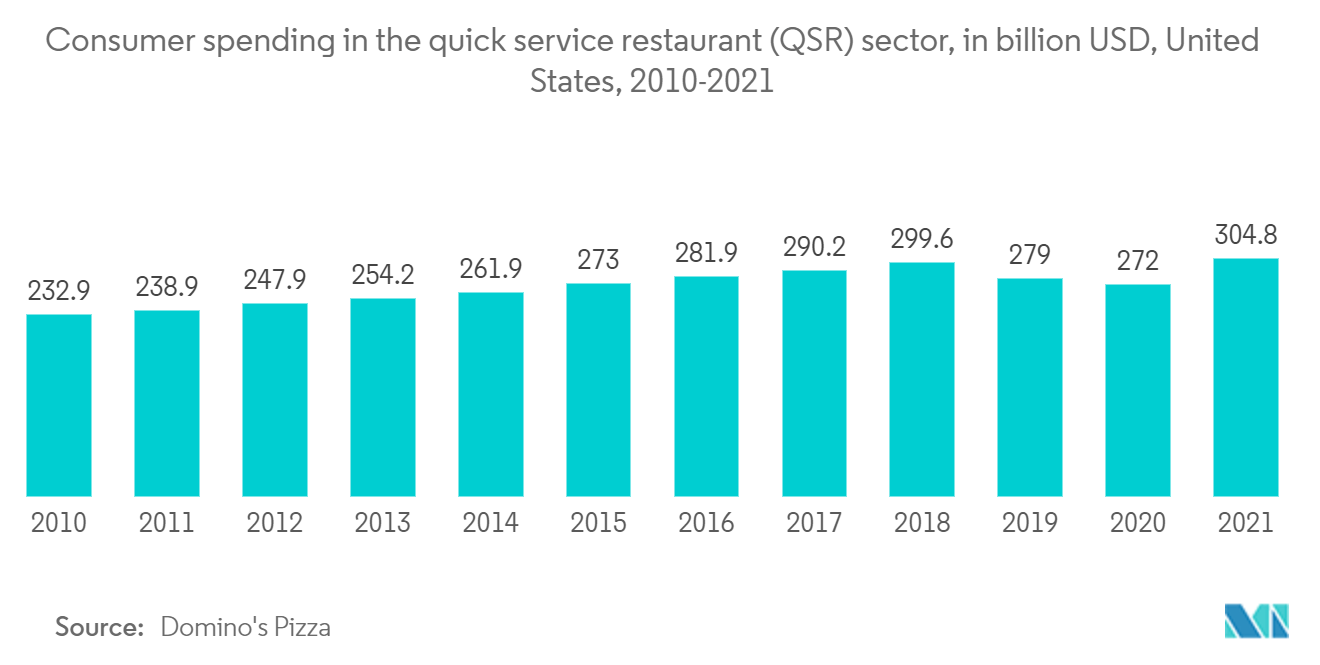 To understand geography trends, Download Sample Report
North America & Europe Vending Machine Industry Overview
North America and Europe Vending Machine Market is a competitive market with prominent players like American Vending Machines, Fuji Electric Co. Ltd., Bulk Vending Systems, Automated Merchandising Systems, etc. To stay relevant and competitive, the players in the market are innovating advanced products and processes to cater to their consumers' evolving and complex needs.
September 2021 - Danfoss, a manufacturer of power sustaining products like motors, compressors, valves, pumps, and drives, has installed a second Orsymatvending machine from Würth IndustrieService GmbH & Co. at its Parchim, Germany factory. The OrsymatWGT dispenses personal protective equipment and complements the machines already used at the site. The unit's weighing system detects the removal of an item using integrated weighing cells and allows individual items to be removed without packaging.
July 2021 - Coca-Cola owned coffee chain Costa Coffee commenced the trials of its new hot and iced beverage self-serve machines in Bristol, UK. The new Costa Express hot and iced beverage machines can serve a selection of more than 500 hot and iced beverages, including cappuccino, iced vanilla Latte, and iced fruit cordials. According to a company, The Coffee Express Hot & Iced Drinks Machine is the world's first integrated self-serve coffee machine delivering hot and iced drinks.
North America & Europe Vending Machine Market Leaders
Aramark Corporation

Fuji Electric Co. Ltd.

American Vending Machines

Bulk Vending Systems Ltd.

Continental Vending, Inc.
*Disclaimer: Major Players sorted in no particular order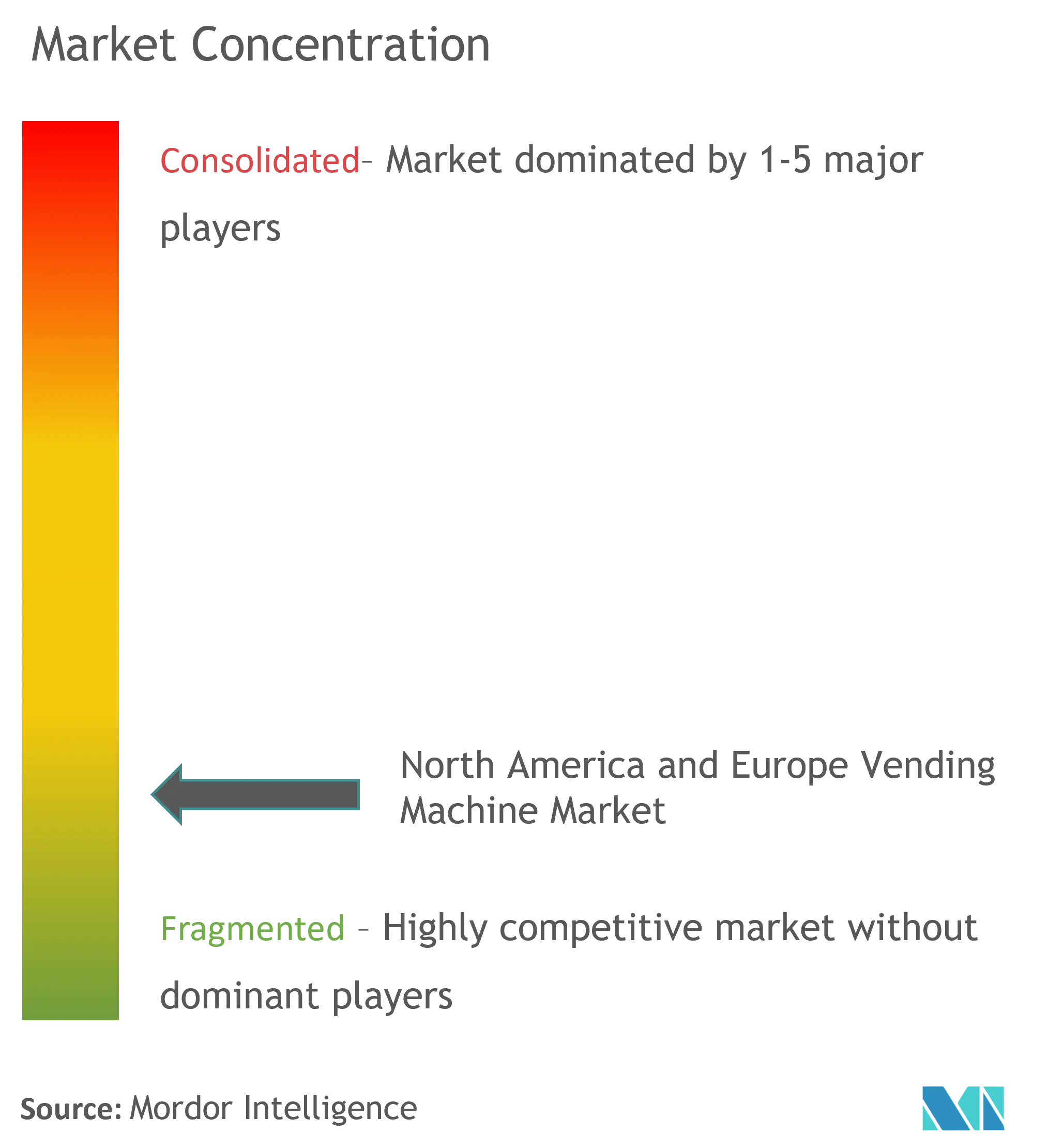 North America & Europe Vending Machine Market News
April 2022 - Lush, the British cosmetics company, established a 24-hour vending machine where customers can buy its goods anytime or at night. The vending machine is located in London's Coal Drop's Yard, just a ten-minute walk from King's Cross Station, one of the city's busiest rail stations.
September 2021 - Global technology company Glory announced the launch of an Internet-of-Things enabled vending solution with Germany's largest railway operator Deutsche Bahn. Passengers at two busy stations in the Munich area would be able to select fresh, locally sourced produce in advance via a web app accessible through their smartphone or directly at the machine. With augmented consumer interest in understanding more about their food choices, details of ingredients, allergens, and the source of the available items are displayed through the app and via a large screen on the machine.
North America & Europe Vending Machine Market Report - Table of Contents
1. INTRODUCTION

1.1 Study Deliverables

1.2 Study Assumptions

1.3 Scope of the Study

2. RESEARCH METHODOLOGY

3. EXECUTIVE SUMMARY

4. MARKET INSIGHTS

4.1 Market Overview

4.2 Industry Attractiveness - Porter's Five Forces Analysis

4.2.1 Bargaining Power Of Suppliers

4.2.2 Bargaining Power Of Buyers

4.2.3 Threat Of New Entrants

4.2.4 Threat Of Substitutes

4.2.5 Intensity Of Competitive Rivalry

4.3 Market Drivers (ease of access to product, catering to rising population)

4.4 Market Challenges (security concerns related to theft and physical damage,increasing use of digital money)

4.5 Industry Value Chain

4.6 Unique Vending Machines Across the Countries

4.7 Impact of COVID-19 on the Market

5. MARKET SEGMENTATION

5.1 By Type

5.1.1 Beverage

5.1.2 Packaged Food

5.1.3 Others

5.2 By Location

5.2.1 Office/Commercial

5.2.2 Institutional

5.2.3 Others (Healthcare Facilities, Amusement Parks, Sports Venues,Transportation Facilities etc.)

5.3 By Geography

5.3.1 North America

5.3.1.1 United States

5.3.1.2 Canada

5.3.2 Europe

5.3.2.1 United kingdom

5.3.2.2 Germany

5.3.2.3 Rest of Europe

6. COMPETITIVE LANDSCAPE

6.1 Company Profiles

6.1.1 American Vending Machines

6.1.2 Fuji Electric Co. Ltd.

6.1.3 Azkoyen Vending Systems

6.1.4 Aramark Corporation

6.1.5 Azkoyen Group

6.1.6 Bulk Vending Systems

6.1.7 Continental Vending

6.1.8 Crane Merchandising Systems Inc

6.1.9 Evoca Group

6.1.10 Automated Merchandising Systems

6.1.11 Sanden Holdings Corporation

6.1.12 Honeywell International Inc.

6.1.13 Selecta, Compass Group

6.1.14 CompassGroup,Plc

*List Not Exhaustive

7. INVESTMENT IN THE MARKET

8. MARKET FUTURE OUTLOOK
North America & Europe Vending Machine Market Research FAQs
What is the current North America and Europe Vending Machine Market size?
The North America and Europe Vending Machine Market is projected to register a CAGR of 9.7% during the forecast period (2023-2028).
Who are the key players in North America and Europe Vending Machine Market?
Aramark Corporation, Fuji Electric Co. Ltd., American Vending Machines, Bulk Vending Systems Ltd. and Continental Vending, Inc. are the major companies operating in the North America and Europe Vending Machine Market.
Which is the fastest growing region in North America and Europe Vending Machine Market?
Europe is estimated to grow at the highest CAGR over the forecast period (2023-2028).
Which region has the biggest share in North America and Europe Vending Machine Market?
In 2023, the North America accounts for the largest market share in the North America and Europe Vending Machine Market.
North America and Europe Vending Machine Industry Report
Statistics for the 2023 North America and Europe Vending Machine market share, size and revenue growth rate, created by Mordor Intelligence™ Industry Reports. North America and Europe Vending Machine analysis includes a market forecast outlook to 2028 and historical overview. Get a sample of this industry analysis as a free report PDF download.
North America and Europe Vending Machine Report Snapshots
80%

of our clients seek made-to-order reports. How do you want us to tailor yours?