Market Snapshot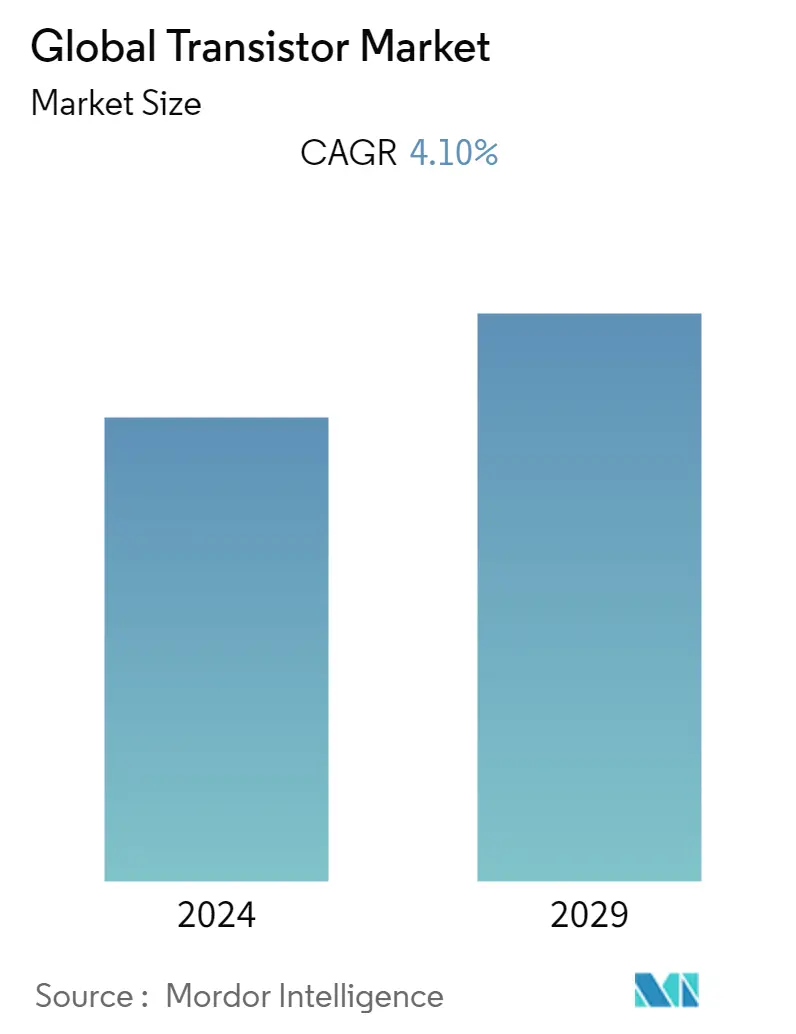 Study Period:
2020-2027
Base Year:
2021
Fastest Growing Market:
Asia-Pacific
Largest Market:
North America
CAGR:
4.1 %
Need a report that reflects how COVID-19 has impacted this market and its growth?
Market Overview
The global transistor market is growing at a CAGR of 4.1% during the forecast period (2020-2027). Due to the rising transistors in various electronic devices such as computer memory chips, solid-state multimedia storage devices for electronic games, cameras, MP3 players, and microprocessors, the market is witnessing demand. Some of the factors which are fostering the market growth are:
The manufacturers are focusing on developing more power-efficient devices with better functioning to meet the customers' demand and have a competitive edge over others. The advancement in technology for these transistors is evolving by building them with 2-D layers of tungsten diselenide (WSe2) and tin diselenide (SnSe2). These two semiconducting materials are few nanometres and are invisible to the human eyes.
In this era of Industrial automation and Industry 4.0, electronic equipment used in the plants is increased. Previously the bipolar junction transistor was the most used. Even after MOSFETs became available, the BJT remained the transistor of choice for digital and analog circuits because of their ease of manufacture and speed. However, the MOSFET has several desirable properties for digital circuits, and significant advancements in digital circuits have pushed MOSFET design to be used commonly for both analog and digital functions.
The increase in demand for electric vehicles is also boosting the market growth of transistors. Various types of transistors are used in the manufacturing process of EVs.According to the International Energy Agency (IEA), in 2021, electric car sales will more than double compared to 2020 and reach 6.6 million. Electric cars represented nearly 9% of the global car market in 2021, with more than tripling the market share from two years earlier.
The rising trend of miniaturization of electronic products and scaling down the size of the transistors while maintaining the high-performance efficiency of the components is the biggest challenge for the market players. There will be a requirement for new technology implementation in the manufacturing processes to achieve all functionality, such as electron beam or x-ray technology. Advance fabrication plants need to be set up, which will cost huge for the manufacturers with huge cost association.
The covid 19 pandemic has negatively impacted the transistor market by reducing the total global consumption of electronic devices. Due to supply chain disruptions, the pandemic has severely affected the global manufacturing sector. It has affected various end-users of transistors by downsizing their businesses. But MOSFET's market growth is noticeable after the pandemic with a huge recovery due to an increase in demand for computing and consumer electronics which contributes nearly 37% of silicon MOSFET revenues.
Scope of the Report
A transistor is a semiconductor device that regulates current or voltage flow and acts as a switch or gate for electronic signals. A transistor can amplify the power or signals to get more output than input. It can be packaged individually and can be embedded in integrated circuits.
By Types
Bipolar Junction Transistor

Field Effect Transistor
Metal oxide semiconductor Field-Effect Transistor (MOSFET)
Junction Field-effect Transistor (JFET)
By End-Users
Consumer Electronics
Communication and Technology
Automotive
Manufacturing
Energy and Power
Geography
North America
Europe
Asia Pacific
Latin America
Middle-East and Africa
Key Market Trends
Proliferation of Consumer Electronics market and Increase in Use of Electronics in the Industrial Sector
The demand for consumer electronic products and the usage of electronics across industries has been increasing, directly or indirectly impacting the transistor market to growth. Transistors are used throughout consumer electronics applications such as reverse battery protection, switching power from different sources like an AC adapter and batteries, and turning offloads like backlighting when they are not needed.
MOSFET is the most common type of transistor in digital circuits, with the potential to be integrated into a memory chip or microprocessor. MOSFET transistors are also commonly used in voltage-controlled circuit switches and have a high switching speed and a switching time in order of nanoseconds. It also has applications in low-power high-frequency converters. In addition to this, MOSFET can be used in amplifying circuits and in chopper circuits. In addition, it can be used as an inverter in electronic circuits.
Advance medical devices are the key to modernizing the quality of care for patients. With the increase of the health care market, super-specialty hospitals are using ultra-modern reliable equipment in their treatment process. Non-intrusive imaging of the body empowers the specialist to perform operations while minimizing harm to neighboring tissue and organs. MOSFETs have been utilized in CT and MRI scanners to control the gantry on which the patient is leaning. They are also used in the power supply for X-ray and ultrasound machines.
As the automobile industry has increasingly used electronic components and systems in recent years to make car bodies that are lighter in weight and achieve fuel efficiency, the use of electronic control units (ECUs) has advanced. The transition from power steering systems that use conventional oil pressure control to DC motors that use ECU and similarly in transitioning halogen bulbs to discharge bulbs that now use electronically ballast devices are also making the MOSFETs market grow because MOSFETs are used as the switching device in ECUs. Additionally, the trend of hybrid vehicles, Electric vehicles, and fuel-cell vehicles is indirectly making the transistor market grow.
The current trend of miniaturization in size has led to an increase in the device density and upgraded the functional capacity of the chip. The ability to increase the number of devices in the chip influences the performance of the complete system while reducing the cost of each transistor. The decreased channel length of a smaller MOSFET can achieve lower equivalent resistance and higher current flow. MOSFET manufacturers utilize the copper clip gull-wing package technology to achieve a smaller size while maintaining maximum functionalities. These advanced MOSFETs are generally used in solenoid control, motor control, and DC/DC power conversion, with the 80V portfolio aimed explicitly at engine management and LED lighting applications.
The MOSFET revolutionized the world during the information age. Its high density enables a computer to exist on a few small IC chips rather than filling a room and later making possible digital communications technology such as smartphones. The increase in demand for smaller IC chips for hardware manufacturers and the need for updated smartphones and laptops drive the MOSFET market to grow.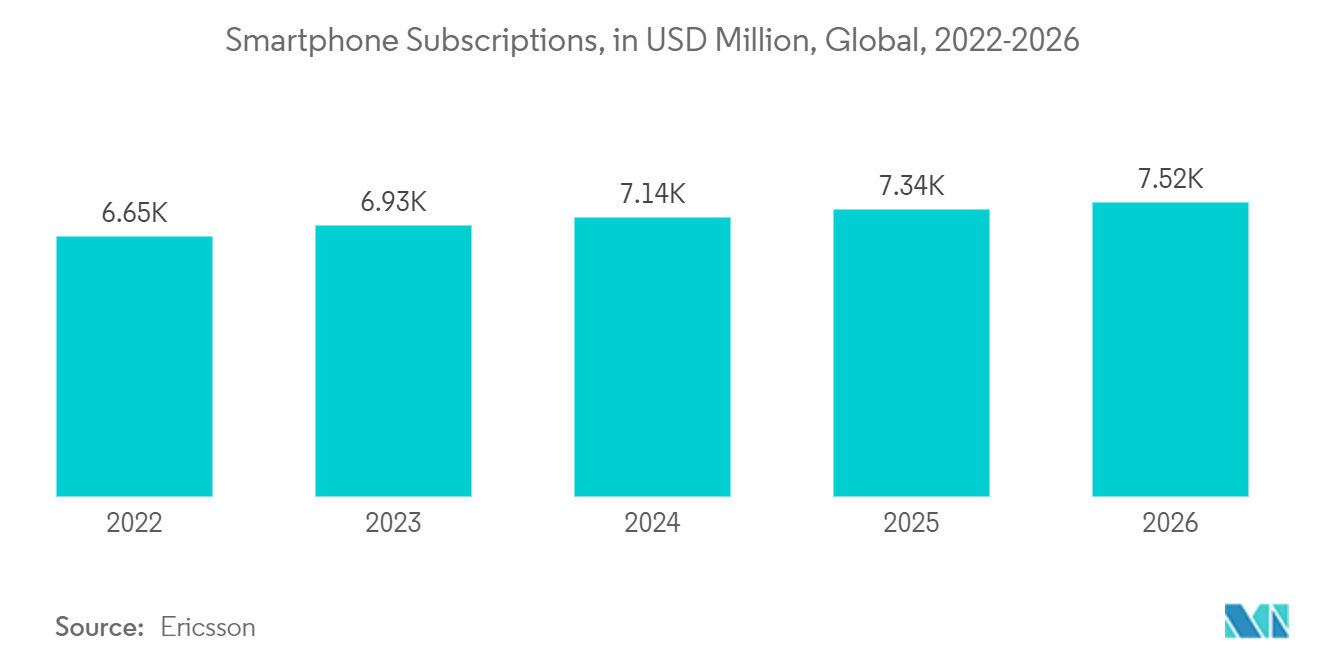 To understand key trends, Download Sample Report
Asia-Pacific to Witness a Significant Growth
Asia-Pacific is the fastest growing market for transistors because of the region's developing economy. China, Japan, South Korea, and India are the major stakeholders in this growing market. An increase in demand for consumer electronics, electric vehicles, smart devices, and wearables in the region is driving the growth of the transistors market.
China accounts for 30% of global manufacturing because more than 50 000 companies' have tier-1 suppliers in China. With the global demand for electronic products, the demand will increase for the entire supply chain. Because of this, the transistor market in China will grow.
In order to increase the EV charging network, the central government has allocated Rs 1,300 crore in the FAME (Faster Adoption and Manufacturing of Hybrid and Electric Vehicles) scheme. Further, the government has proactively amended guidelines for charging infrastructure development. This will create a positive impact on the transistor market to grow because of the need for electronic devices in the infrastructural development for EV service stations.
As factories become increasingly automated, robotic solutions are finding usage across the full spectrum of applications. Japanese industrial robot maker Fanuc will make its most significant investment in China, pouring 26 billion yen ($240 million) into fortifying its Shanghai plant. The outlay will be made through a joint venture operated with local player Shanghai Electric Group. This automation will also indirectly help the transistors market to grow in the region.
In addition, the Make in India program has attracted many global electronics companies to set up manufacturing plants in India. The Indian government confirmed it had received proposals from five companies to establish electronic chip and display manufacturing plants with an investment of INR 1.53 trillion. This will make India a global producer of transistors-embedded electronic chips. By this, the transistor market will grow in the APAC region.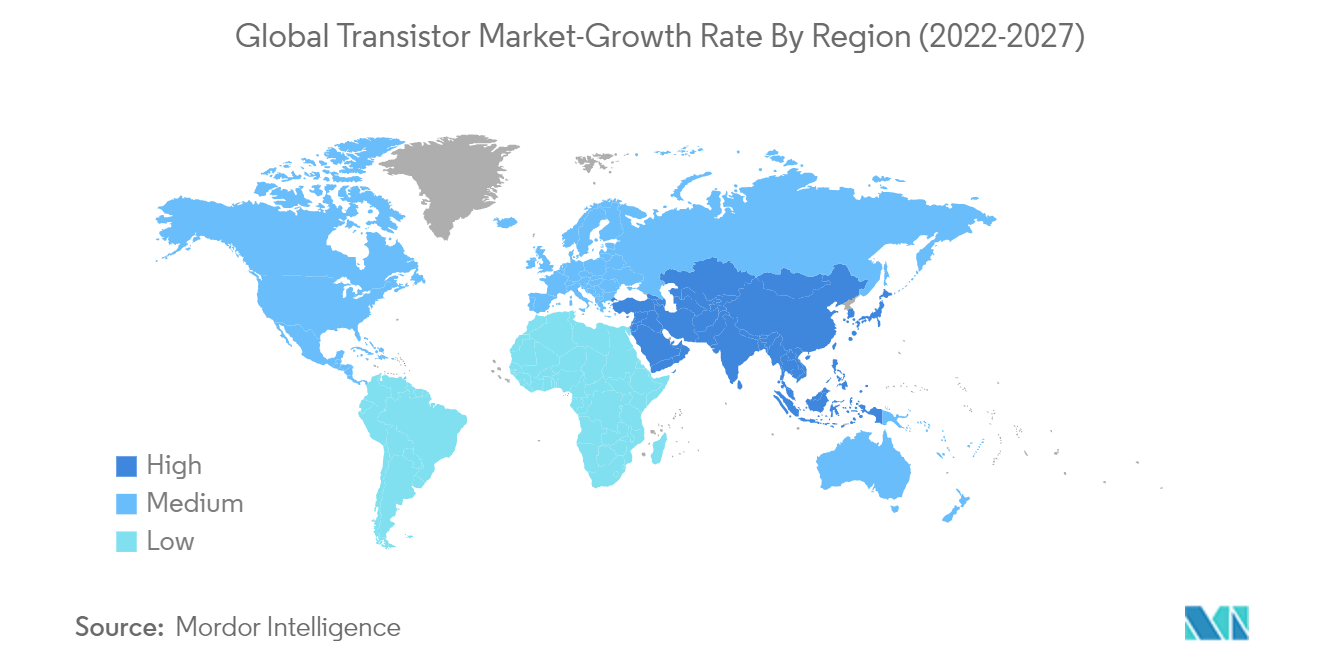 To understand geography trends, Download Sample Report
Competitive Landscape
The transistor market is fragmented and competitive in nature, owing to many small and large players. The players are expanding their portfolio, which caters to the intense rivalry among the players. As a result, OEMs are enjoying significant buying power with the leverage to choose a transistor manufacturer that best fits their business model and, more importantly, one that can adequately balance quality and price.
May 2022-Infineon Technologies AG has launched the new TRENCHSTOP™ 1700 V IGBT7 chip. In the standard industrial package, EconoDUAL™ 3 product family. With this new chip technology, the EconoDUAL 3 provides a leading current of 900 A and 750 A, improving the power range for inverters. Compared to modules with the previous IGBT4 chipset, the TRENCHSTOP IGBT7 chip enables up to 40 percent higher inverter output current in the same package size.
MAR 2022- NXP Semiconductors has announced a new series of RF power discrete solutions for 32T32R active antenna systems, using its latest proprietary gallium nitride technology (GaN). The new series of GaN discrete solutions are designed for 10 W average power at the antenna, targeting 320 W radio units, with up to 58% drain efficiency. It includes driver and final-stage transistors and leverages NXP's highly linearizable RF GaN technology manufactured in NXP's new GaN fab in Arizona.
Recent Development
Dec 2021: ROHM group has announced a new production facility at its manufacturing subsidiary in Malaysia called RWEM to increase the production capacity of analog LSIs and transistors due to growing demands. The construction of the new building will increase the overall production capacity of RWEM by approximately 1.5 times.
Jan 2022- Harvard University researchers have designed and simulated the first topological acoustic transistors with sound waves instead of electrons and proposed a connection architecture to form a universal logic gate that can switch the flow of sound on and off.
Table of Contents
1. INTRODUCTION

1.1 Study Deliverables

1.2 Study Assumptions

1.3 Scope of the Study

2. RESEARCH METHODOLOGY

3. EXECUTIVE SUMMARY

4. MARKET DYNAMICS

4.1 Market Overview

4.2 Market Drivers

4.2.1 Increase In Demand of Power Efficient Electronic Devices is Driving The Transistor Market to Grow

4.2.2 Proliferation of Consumer Electronics and Increased Use of Electronics in the Industrial Sector will Drive the Demand

4.3 Market Restraints

4.3.1 Scaling Down the Size of Transistors and Simultaneously maintaining High Performance is a Biggest Restraint for the Market

4.4 Value Chain / Supply Chain Analysis

4.5 Porter's Five Forces Analysis

4.5.1 Threat of New Entrants

4.5.2 Bargaining Power of Buyers/Consumers

4.5.3 Bargaining Power of Suppliers

4.5.4 Threat of Substitute Products

4.5.5 Intensity of Competitive Rivalry

4.6 COVID-19 Impact on the Market

5. MARKET SEGMENTATION

5.1 By Types

5.1.1 Bipolar Junction Transistor

5.1.2 Field Effect Transistor

5.1.2.1 Metal oxide semiconductor Field-Effect Transistor (MOSFET)

5.1.2.2 Junction Field-effect Transistor (JFET)

5.2 By End-Users

5.2.1 Consumer Electronics

5.2.2 Communication and Technology

5.2.3 Automotive

5.2.4 Manufacturing

5.2.5 Energy and Power

5.3 Geography

5.3.1 North America

5.3.2 Europe

5.3.3 Asia Pacific

5.3.4 Latin America

5.3.5 Middle-East and Africa

6. COMPETITIVE LANDSCAPE

6.1 Company Profiles

6.1.1 Semiconductor Components Industries, LLC

6.1.2 Infineon Technologies AG

6.1.3 STMicroelectronics

6.1.4 Diodes Incorporated

6.1.5 NXP Semiconductors

6.1.6 Renesas Electronics Corporation

6.1.7 Linear Systems

6.1.8 Texas Instruments Incorporated

6.1.9 Vishay Intertechnology Inc.

6.1.10 ROHM CO

*List Not Exhaustive

7. Investment Analysis

8. Future of the Market
You can also purchase parts of this report. Do you want to check out a section wise price list?
Frequently Asked Questions
What is the study period of this market?
The Global Transistor Market market is studied from 2020 - 2027.
What is the growth rate of Global Transistor Market?
The Global Transistor Market is growing at a CAGR of 4.1% over the next 5 years.
Which region has highest growth rate in Global Transistor Market?
Asia-Pacific is growing at the highest CAGR over 2021- 2026.
Which region has largest share in Global Transistor Market?
North America holds highest share in 2021.
Who are the key players in Global Transistor Market?
Diodes Incorporated, Infineon Technologies AG, ROHM Co. Ltd, NXP Semiconductors NV, Vishay Inter technology Inc.nology are the major companies operating in Global Transistor Market.
80%

of our clients seek made-to-order reports. How do you want us to tailor yours?