The global crystal oscillator market was valued at USD 2.62 billion in 2017, and is expected to reach a value of USD 3.42 billion by 2023, at a CAGR of 4.56%, during the forecast period (2018 - 2023). The scope of the report is segmented by type, such as frequency-controlled crystal oscillator, voltage-controlled crystal oscillator, temperature-compensated crystal oscillator, simple-packaged crystal oscillator, and the end-user industries are limited to consumer electronics, industrial, military & aerospace, automotive, and healthcare & medical equipment. While the regions considered in the scope of the report include North America, Europe, Asia pacific, Middle East & Africa, and Latin America.
Rising Demand for High-End Automobiles
Automotive is one of the fastest growing markets for crystal oscillator. Due to the increasing purchasing power of the millennial population, there is a continuous demand for passenger cars. According to OICA, global passenger was estimated to be 72.10 million units in 2016, and the demand is expected to continue during the forecast period.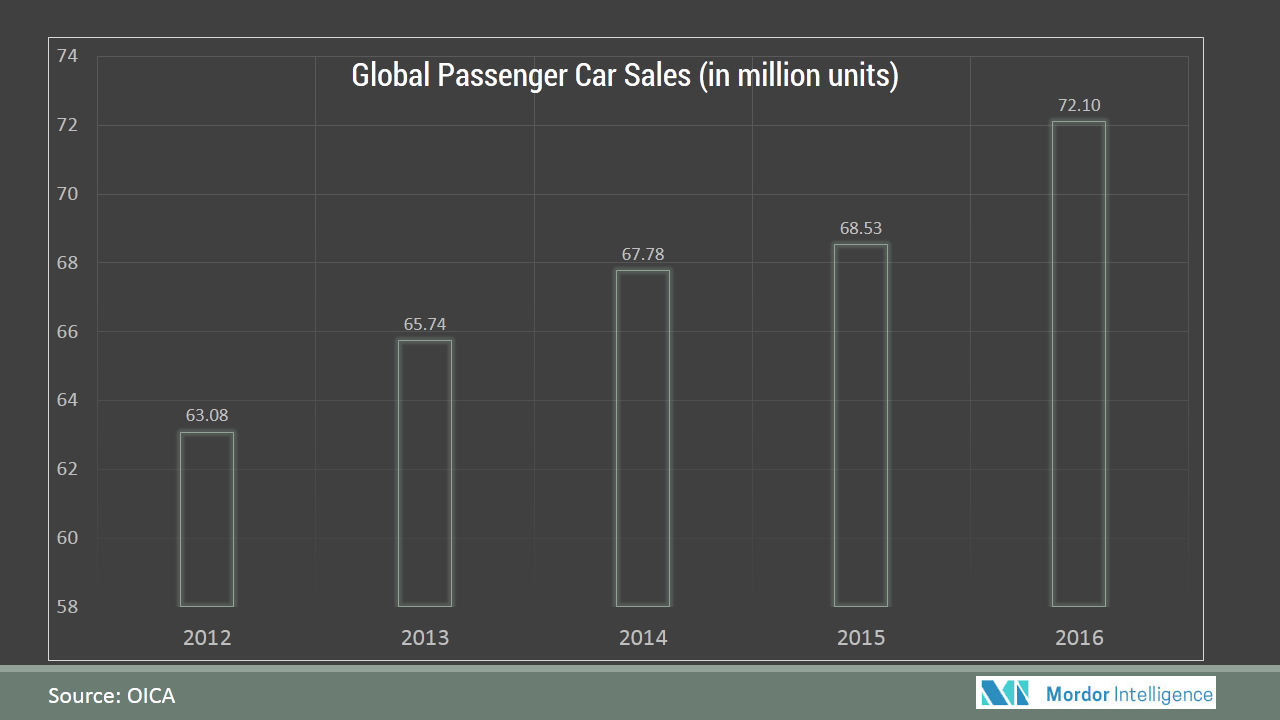 Crystal oscillators are widely deployed in safety applications, such as anti-blocking system; break control, airbag and Tire Pressure Monitoring Systems (TPMS). The demand for higher accuracy, coupled with the growing requirements for safety applications, and the necessity for fast data transmission are driving the adoption of crystal units and oscillators. Increasing demand for convenience is driving the application of wireless interconnections, such as remote keyless entry. Crystal devices, such as quartz crystal units and crystal oscillators have high stability against environment changes. Therefore, they are used as frequency control devices in electronic circuits. The application of crystal units and crystal oscillators in automobiles is expected to grow during the forecast period.
Consumer Electronics Segment Held a Major Share in the Application Segment of the Market
The quartz crystal units and quartz crystal oscillators are used in various consumer electronic devices. These crystal units and quartz oscillators are widely used to generate accurate reference frequency in electronic systems. The increasing popularity of smartphones is expected to drive the consumer electronics segment. In addition, technological advancements, such as the quartz MEMS technology are further driving the demand for the global crystal oscillators market in the consumer electronics segment. The crystal oscillator growth is increasing with the use of Wi-Fi and Bluetooth combo chipset in smart-phone applications. Considering the increasing number of applications, the consumer electronics segment is expected to see a strong potential growth during the forecast period.
Asia-Pacific Dominated the Market
Further, the demand is followed by North America and Europe. The North America global crystal oscillator market is poised to witness the highest growth rate during the forecast period. Latest technological breakthroughs have assisted the advancements in new crystal oscillators that can make the overall processes more efficient and significantly improve accuracy in various applications. There have been a series of new product launches, mergers, and acquisitions in Asia-Pacific to take advantage of this opportunity. The major driver behind the investments has been the continuous evolution and application of new technologies to unlock enormous volumes that were previously considered non-commercial. With these series of investments, consumer electronics, and industrial and automotive applications, Asia-Pacific is set to boom in the coming years.
Key Developments in the Market
September 2017: Nihon Dempa Kogyo Co., Ltd. (NDK) has developed the NT1210AA – the world's smallest 1210size low-power-consumption TCXO. This product matches the performance of NDK's conventional 1612 size products while also being smaller, lower in profile and lighter, making it ideal for GNSS-enabled hand-held terminals, such as smartphones, tablet computers and wearable devices. Today's hand-held terminals are smaller, lower in profile and lighter than ever before. Increasingly low power consumption for extended-period usage of GNSS-based positional information
Major Players: Miyazaki Epson Corporation, Nihon Dempa Kogyo (NDK) Co., Ltd., TXC Corporation, KYOCERA Crystal Device Corporation, Daishinku Corporation, Vectron International, Siward Crystal Technology Co., Ltd., Rakon Limited, River Eletec Corporation and Mercury Electronic Ind Co., Ltd., amongst others.
Reasons to Purchase this Report
Rising demand for high-end automobiles act as a driver to the global market scenario
Analyzing various perspectives of the market with the help of Porter's five forces analysis
Regions which are expected to witness fastest growth during the forecast period
Identify the latest developments, market shares, and strategies employed by the major market players
3-month analyst support, along with the Market Estimate sheet in excel
Customization of the Report
This report can be customized to meet your requirements. Please connect with our representative, who will ensure you get a report that suits your needs
1. Introduction
1.1 Scope of the Study
1.2 Executive Summary
2. Research Methodology
2.1 Study Deliverables
2.2 Study Assumptions
2.3 Analysis Methodology
2.4 Research Phases
3. Market Insights
3.1 Market Overview
3.2 Porter's Five Forces Model – Industry Attractiveness
4. Market Dynamics
4.1 Market Drivers
4.1.1 Rising Demand for High-end Automobiles
4.2 Market Restraints
4.2.1 Dearth of Improvements and the Technology Getting Obsolete
5. Technology Snapshot
6. Global Crystal Oscillator Market Segmentation - By Type
6.1 Frequency-Controlled Crystal Oscillator
6.2 Voltage-Controlled Crystal Oscillator
6.3 Temperature-Compensated Crystal Oscillator
6.4 Simple-Packaged Crystal Oscillator
6.5 Others
7. Global Crystal Oscillator Market Segmentation - By Application
7.1 Consumer Electronics
7.2 Industrial
7.3 Military & Aerospace
7.4 Automotive
7.5 Healthcare & Medical Equipment
7.6 Others
8. Global Crystal Oscillator Market Segmentation - By Region
8.1 North America
8.1.1 US
8.1.2 Canada
8.2 Europe
8.2.1 United Kingdom
8.2.2 Germany
8.2.3 France
8.2.4 Rest of Europe
8.3 Asia-Pacific
8.3.1 China
8.3.2 Japan
8.3.3 India
8.3.4 Rest of Asia-Pacific
8.4 Middle East & Africa
8.4.1 UAE
8.4.2 Saudi Arabia
8.4.3 South Africa
8.4.4 Rest of Middle East & Africa
8.5 Latin America
8.5.1 Mexico
8.5.2 Argentina
8.5.3 Brazil
8.5.4 Rest of Latin America
9. Global Crystal Oscillator Market, Competitive Intelligence - Company Profiles
9.1 Miyazaki Epson Corporation
9.2 Nihon Dempa Kogyo (NDK) Co., Ltd.
9.3 TXC Corporation
9.4 KYOCERA Crystal Device Corporation
9.5 Daishinku Corporation
9.6 Vectron International
9.7 Siward Crystal Technology Co., Ltd.
9.8 Rakon Limited
9.9 River Eletec Corporation
9.10 Mercury Electronic Ind Co., Ltd.
*List not Exhaustive
10. Investment Analysis
11. Future Outlook of Crystal Oscillator Market