The global lab automation in analytical chemistry market is expected to register a CAGR of 5.70 %, over during the forecast period (2018 - 2023). The emergence of robotics has transformed the typical workday for scientists around the world. With the advent of automation techniques, scientists are now able to set up, run, and analyze the results of experiments in a fraction of the time they needed in the past. In today's world, pulling maximum efficiency out of every department, including the R & D labs, is a major issue.
Automation of routine laboratory procedures, by the use of dedicated work stations and software to program instruments, allows associate scientists and technicians to think creatively about the implications of their experiments, and to design effective follow-up projects or develop alternative approach to their work instead of spending their days repeating tedious tasks.
Digital Transformation for Laboratories with IoT is augmenting Market Growth
Technological innovations have improved productivity of clinical labs. With the increasing reliance on technology based systems and drastic growth of internet driven processes is driving the need for automation. Digital transformation - connecting devices with internet ensures remote monitoring, alerts, remote control, and notifications for everything (from temperature to threats). Using manual systems always exposes to the risk of errors, these systems collect data digitally and accurately, which would reduce the time by 60 percent. Using IoT provides with capabilities such as data collection and analysis, which has huge potential impact as the data can be monitored according to the actual consumption (quantitative and qualitative perspective), hence, providing quality management. Laboratories can maintain data through high levels of security while providing accurate and unhampered data through IoT.
Automated Plate Handlers Holds Largest Market Share
Spectroscopy is one of the key techniques used in analytical chemistry. Instruments like HPLCs coupled with MS, GCs coupled with MS and atomic absorption spectrometers perform spectroscopy. Automation plays an important role in these instruments, ensuring that results obtained are consistent and accurate in nature. As the number of liquid entities, like reagents and samples is very high, liquid handling is a prime area of concern. And, there is a huge demand for automated liquid handling equipment in the analytical chemistry laboratory. In the modern era, the need of automated liquid handling has proved to be a boon for various applications, which increase efficiency. The newer equipment introduced to the market will be consistently performing to reduce fatigue. They increase the throughput, while ensuring accuracy.
North America Holds the Largest Market Share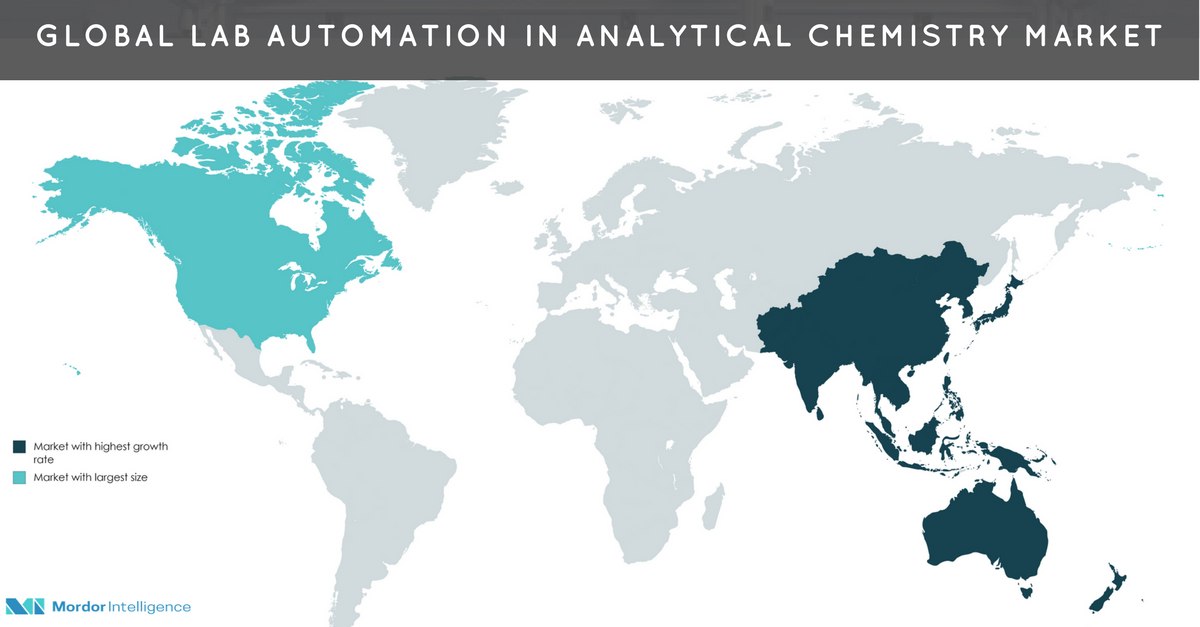 The market landscape in North America is extremely dynamic, with a high level of merger and acquisition activities. Both, manufacturers and clinical laboratories are increasingly vying for smaller specialized niche technology solutions to increase their market share. Further, the rise in the number of clinical or pre-clinical studies has increased the demand for efficient and cost-effective solutions, such as lab automation, required for the analysis of samples, thus propelling the growth of the market. Improvement in the operational efficiency at lower cost is the key factor driving the United States market.
Key Developments in the Market
September 2017 - Agilent announced a platinum sponsorship agreement with LabCentral, biotech innovation hub based in Cambridge, Massachusetts. As a platinum sponsor, Agilent will provide LabCentral's shared laboratory workspace with a variety of Agilent technology
July 2017 - Thermo Fisher Scientific announced two innovative technologies (ISQ EC Single Quadrupole mass spectrometer, MAbPac RP 1mm columns). These are expected to increase analytical analysis
June 2017 - Roche announced that it would be showcasing new solutions for lab innovation and leadership at the 22nd IFCC–EFLM European Congress of Clinical Chemistry and Laboratory Medicines (EuroMedLab) in Athens. The congress will offer the opportunity to experience first-hand Roche's latest technological advancements in diagnostics technology and solutions, including the Roche Integrated Core Lab (ICL)
Major Players: Thermo Fisher Scientific, Beckman Coulter, Hudson Robotics, Becton Dickinson, Synchron Lab Automation, Agilent Technologies, Siemens Healthcare, Tecan Group Ltd, Perkinelmer, Bio-Rad, Roche Holding AG, Eppendorf AG, Shimadzu Corp. and Aurora Biomed, amongst others.
Reasons to Purchase this Report
Current and future lab automation in analytical chemistry market outlook in the developed and emerging markets
Analyzing various perspectives of the market with the help of Porter's five forces analysis
The segment that is expected to dominate the market
Regions that are expected to witness fastest growth during the forecast period
Identifying the latest developments, market shares and strategies employed by the major market players
3-month analyst support, along with the Market Estimate sheet in excel
Customization of the Report
This report can be customized to meet your requirements. Please connect with our representative, who will ensure you get a report that suits your needs.