The computed tomography (CT) market is expected to register a CAGR of 5.4% during the forecast period of 2018–2023. CT is used to take the images of internal body organs.
Increasing Incidences of Cancer and Chronic Diseases
Chronic diseases, such as heart disease, cancer, diabetes, stroke, and arthritis have long lasting effects, persisting for more than three months. Cardiovascular diseases account for 17.5 million deaths annually, followed by cancers (8.2 million). To prevent the impact of chronic diseases on individuals and the society, a lot of research is being carried out to find drugs that can cure such disorders. Thus, there is an increase in the demand for CT scans.
It is estimated that nearly 550,000 new cases of head & neck cancer are diagnosed globally each year. According to the American Cancer society nearly 40,000 people in the United States are diagnosed with head & neck cancer, out of which 12,000 were supposed to die in 2014. This number is estimated to increase if serious measures are not taken. Head & neck cancer accounts for nearly 5-6% of the cancer cases in the United States alone. In 2010, the total annual incremental cost of health due to pain was approximately USD 560 billion to USD 635 billion in the United States, which includes the medical cost of pain care and the economic cost related to disability days. With increasing incidences of cancer, the market for CT scans is forecasted to increase simultaneously. The other major drives for the computed tomography (CT) market include the increase in the global aging population, technological advances, and growing public awareness for healthcare.
Reimbursement Issues
CT reimbursements have been cut substantially. Imaging facilities are squeezing more life from their CT scanners in response to lower reimbursement. For instance, Centers for Medicare & Medicaid Services recently declared a reduced reimbursement for CT by 21% and MRI by 12% respectively. The cost of any treatment in the public sector is determined by the set scale of fees for individual cost operations and by a sliding scale of reimbursement. However, in the private sector, the cost of treatment is highly unchecked. This adds to the patients' expenditure as only a fixed amount or a part of expenses are reimbursed, which is a major restraint for the market. The other restraint for the computed tomography (CT) market is the expensive procedures and equipment.
North America Leads the Market
The North American CT market held the largest market share in 2017 due to the high adoption to new technologies and spending capacity.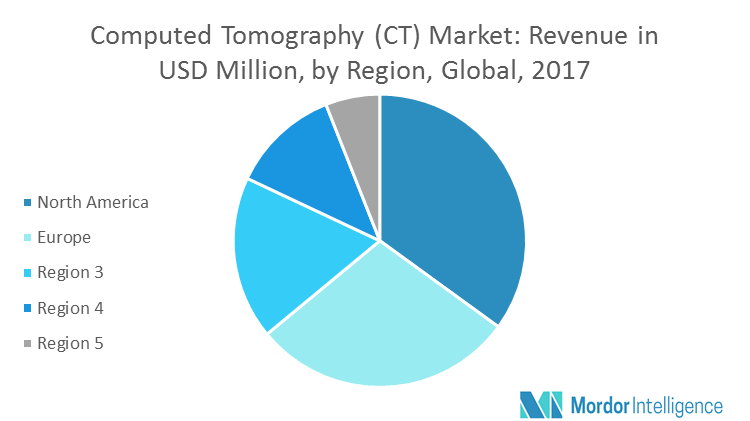 Key Developments
Feb 2018: Arterys receives its first FDA clearance for oncology imaging suite with deep learning.
Dec 2017: Siemens partnered with Amazon for developing industrial software.
Aug 2017: Siemens updated its medical scanner software which can deal with Windows bugs.
The major players include Fujifilm, GE Healthcare, Hitachi Healthcare Systems, NeuroLogica Corporation, Neusoft Medical Systems Co. Ltd, Phillips, Samsung, Shenzhen Anke High-Tech Co., Siemens, and Toshiba Medical Systems, among others.
Reasons to Purchase the Report
Follow the current and future CT market
Analyzing various perspectives of the market with the help of Porter's five forces analysis
The segment that is expected to dominate the market
Regions that are expected to witness fastest growth during the forecast period
Identify the latest developments, market shares and strategies employed by the major market players.
3 months analyst support along with the Market Estimate sheet (in excel).
Customization of the Report
This report can be customized to meet your requirements. Please connect with our representative, who will ensure you to get a report that suits your needs.
1. Introduction
1.1 Market Definition
2. Research Methodology
3. Executive Summary
4. Key Inferences
5. Market Overview
5.1 Current Market Scenario
5.2 Porter's Five Forces Analysis
5.2.1 Bargaining Power of Suppliers
5.2.2 Bargaining Power of Consumers
5.2.3 Threat of New Entrants
5.2.4 Threat of Substitute Product and Services
5.2.5 Competitive Rivalry within the Industry
6. Drivers, Restraints, Opportunities and Challenges Analysis (DROC)
6.1 Market Drivers
6.1.1 Increasing Incidences of Cancer & Chronic diseases
6.1.2 Increase in the Global Aging Population
6.1.3 Technological Advancement
6.1.4 Growing Public Awareness for Healthcare
6.2 Market Restraints
6.2.1 Reimbursement Issues
6.2.2 Expensive Procedures & Equipment
6.3 Opportunities
6.4 Key Challenges
7. Market Segmentation
7.1 By Type
7.1.1 Low Slice
7.1.2 Medium Slice
7.1.3 High Slice
7.2 By Application
7.2.1 Oncology
7.2.2 Neurology
7.2.3 Cardiovascular
7.2.4 Diagnostics
7.2.5 Others
7.3 By End User
7.3.1 Hospitals
7.3.2 Clinics
7.3.3 Diagnostic Services
7.3.4 Others
7.4 By Geography
7.4.1 North America
7.4.1.1 United States
7.4.1.2 Canada
7.4.1.3 Mexico
7.4.2 Europe
7.4.2.1 France
7.4.2.2 Germany
7.4.2.3 United Kingdom
7.4.2.4 Italy
7.4.2.5 Spain
7.4.2.6 Rest of Europe
7.4.3 Asia-Pacific
7.4.3.1 China
7.4.3.2 Japan
7.4.3.3 India
7.4.3.4 Australia & New Zealand
7.4.3.5 South Korea
7.4.3.6 Rest of Asia-Pacific
7.4.4 Middle East & Africa
7.4.4.1 GCC
7.4.4.2 South Africa
7.4.4.3 Rest of the Middle East & Africa
7.4.5 South America
7.4.5.1 Brazil
7.4.5.2 Argentina
7.4.5.3 Rest of South America
8. Competitive Landscape
8.1 Mergers & Acquisition Analysis
8.2 Agreements, Collaborations, and Partnerships
8.3 New Products Launches
9. Key Players
9.1 Fujifilm
9.2 GE Healthcare
9.3 Hitachi Healthcare Systems
9.4 NeuroLogica Corporation
9.5 Neusoft Medical Systems Co. Ltd
9.6 Phillips
9.7 Samsung
9.8 Shenzhen Anke High-Tech Co.
9.9 Siemens
9.10 Toshiba Medical Systems
*List not exhaustive
10. Future of the Market