The Cloud Network Security Software Market was valued at USD 6,587.2 million in 2017, and is expected to reach USD 14,450.5 million by 2023, at a CAGR of 14.2% over the forecast period (2018-2023).The scope of the report includes insights on the solutions offered by major players, including providers of professional services and implementation-related solutions. The regions included in this study are North America, Europe, Asia-Pacific, Latin America, and Middle East & Africa. The study also offers insights on various end user-based applications, such as manufacturing, government, healthcare, aerospace and defense, entertainment & media, and retail, etc.
Benefits of Early Stage Implementation is Driving the Market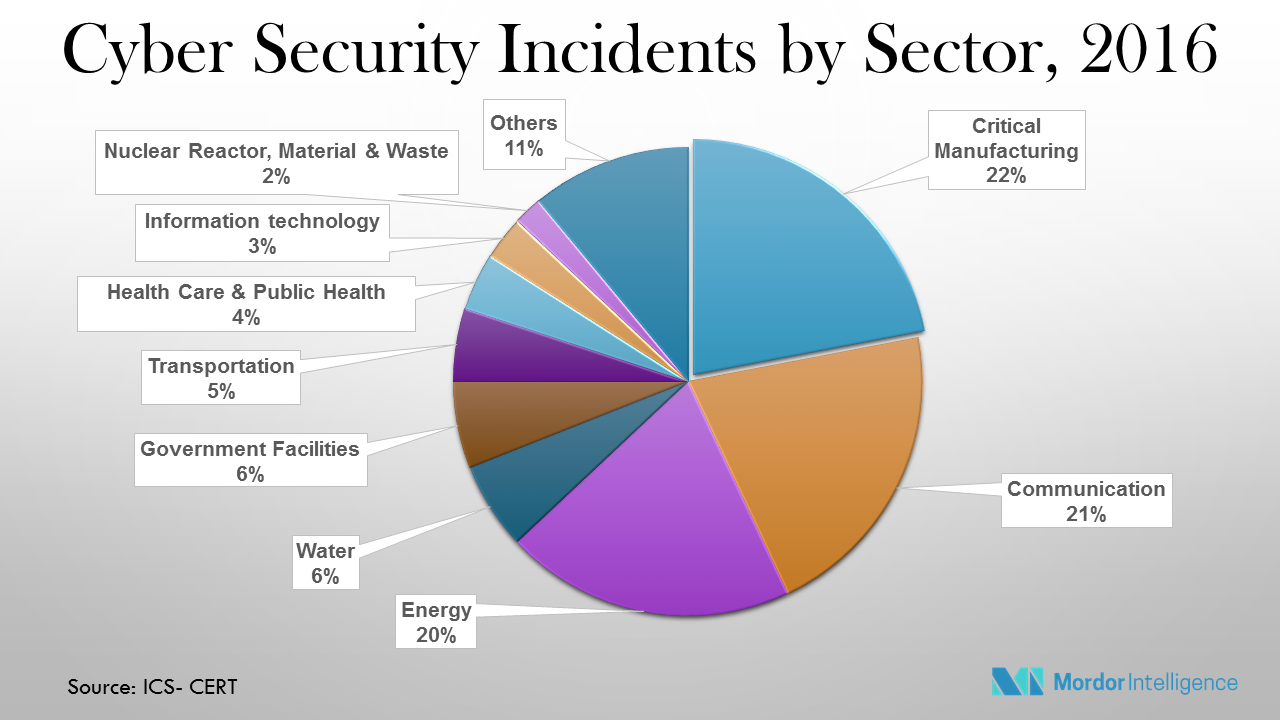 The year 2017 shows new threats like Petya, Wannacry, Skype, Fireball, Delta Charlie, and others coming into action and threating to destroy all data if some ransom money to recover the data is not paid. Many individuals and organizations fell in this trap. Protection against cyber-attacks is becoming more important for industrial companies. Therefore, industries now consider its implementation right at the development stage for new machines, and throughout the entire life cycle. It becomes essential in this regard to perform regular plan-do-check-act (PDCA) cycles, as prescribed in standard IEC 62443. During the specification, design, and development stages, industries concentrate on potential points of attack and draft protection mechanisms. Then, in the marketing phase, they actively look after protecting their products with information and updates.
Products Suit the Application-based Classification for Residential & Commercial Use
The application-based segmentation and product availability has also served for the positive demand for cloud network security software-based products in the market. Organizations opt for data encryption or other available means to safeguard information. Commercial usage varies from the military grade product and services used in defense, industry grade product, and services for the financial businesses to public usage products and services. Some network applications require uninterrupted connectivity vital for the operation of the business, while others require the network to be operated continuously with a tolerance to disruption allowed. These factors decide the application-based implementation and usage of the product and drive the market in their respective segments. A failure of communication can be catastrophic and huge in terms of finances in the aviation & defense sectors, driving the demand for top-end products.
Key Developments in the Market
March 2018 - Sophos announced the expansion of its Sophos Phish Threat phishing attack simulator and training solution to Europe and Asia.
February 2018 - Sophos announced Sophos Mobile 8, the latest version of its Unified Endpoint Management (UEM) and mobile security solution. This new version lets system administrators manage and secure corporate-owned and personal Mac, Windows, and mobile endpoints in the cloud-based Sophos Central management platform to deliver a simpler management strategy for businesses of any size.
The major players include -
IBM Corporation, Intel Corporation, Trend Micro Inc., Palo Alto Networks Inc., Cisco Systems Inc., Check Point Software Technologies Ltd, Fortinet Inc., Huawei Technologies Co. Ltd, F5 Networks Inc, Juniper Networks, Pulse Secure LLC, and Sangfor Technologies Inc. among others
among others.
Reasons to Purchase the Report
Current and future global cloud network security software market analysis
Performance of various segments in the market
Analyzing different perspectives of the market with the help of Porter's five forces analysis
Segments and sub-segments expected to dominate the market
Regions expected to witness expedited growth during the forecast period
Latest developments, market shares, and strategies employed by the major market players
3 month analyst support, along with the Market Estimate sheet (in Excel)
Customization of the Report
This report can be customized to meet your requirements. Please connect with our representative, who will ensure you get a report that suits your needs.
1. Introduction
1.1 Key Study Deliverables
1.2 Study Assumptions
1.3 Market Definition
2. Research Approach and Methodology
2.1 Analysis Methodology
2.2 Research Phases
3. Executive Summary
4. Market Dynamics
4.1 Market Overview
4.2 Introduction to Drivers & Restraints
4.3 Market Drivers
4.3.1 Growing Adoption of Cloud-based Services
4.3.2 Growing Number of Network-based Attacks
4.4 Market Restraints
4.4.1 High Vulnerability of Cloud to Attacks
4.5 Porter's Five Forces Analysis
5. Global Cloud Network Security Software Market Segmentation By Size of Organisation
5.1 Small and Medium Enterprises
5.2 Large Organisation
6. Global Cloud Network Security Software Market Segmentation By Type of Solution
6.1 Firewall
6.2 Secure Sockets Layer Virtual Private Networking (SSL VPN)
6.3 Intrusion Detection System (IDS) & Intrusion Prevention System (IPS)
6.4 Others
7. Global Cloud Network Security Software Market Segmentation By End-User Vertical
7.1 Government
7.2 BFSI
7.3 Healthcare
7.4 Manufacturing
7.5 Education
7.6 Service Provider
7.7 Others
8.Global Cloud Network Security Software Market Segmentation By Geography
8.1 North America
8.1.1 US
8.1.2 Canada
8.2 Europe
8.2.1 UK
8.2.2 Germany
8.2.3 France
8.2.4 Russia
8.2.5 Rest of Europe
8.3 Asia-Pacific
8.3.1 China
8.3.2 India
8.3.3 Japan
8.3.4 Singapore
8.3.5 South Korea
8.3.6 Rest of Asia-Pacific
8.4 Latin America
8.4.1 Brazil
8.4.2 Mexico
8.4.3 Argentina
8.4.4 Rest of Latin America
8.5 Middle East & Africa
8.5.1 UAE Saudi Arabia
8.5.2 Saudi Arabia
8.5.3 South Africa
8.5.4 Rest of Middle East & Africa
9. Competitive Intelligence - Company Profiles
9.1 IBM Corporation
9.2 Intel Corporation
9.3 Trend Micro Inc.
9.4 Palo Alto Networks Inc.
9.5 Cisco Systems Inc.
9.6 Check Point Software Technologies Ltd
9.7 Fortinet Inc.
9.8 Huawei Technologies Co. Ltd
9.9 F5 Networks Inc
9.10 Juniper Networks
9.11 Pulse Secure LLC
9.12 Sangfor Technologies Inc.
10. Investment Analysis
11. Future of Global Cloud Network Security Software Market