The global fluoro elastomers market is expected to witness a CAGR of approximately 7% during the forecasted period, majorly driven by growing demand from automotive and process industries, where the heat and chemical resistance properties of fluoro elastomers under harsh conditions are appreciated.
O-rings, Seals and Sealants are the Major Application
Fluoro Elastomers are widely used as O-rings, seals and sealants. The high fluorine to hydrogen content makes them resistant to high temperature and oils. The usage of these in automotive, aerospace, and process industries is expected to grow significantly in the future, due to the rising consumer demand for high performance products.
Automotive as one of the Major End-user Industries
Fluoro Elastomers are expected to be widely used in automotive industry due to their sealing properties. These synthetic rubber compounds can withstand harsh conditions, like temperature extremes, and resistance to oil, and other chemicals. These properties make it invaluable in automotive applications, like valves, diaphragms, O-rings, and other seals and joints. The growing automotive industry, especially in emerging economies like China and India is expected to be a major driver for the market.
Asia Pacific a Major User of Fluoro Elastomers
Asia-Pacific currently leads the consumption of Fluoro Elastomers due to their usage in automotive, electronics, and process industries. Asia-Pacific is a hub for manufacturing, and these end-user industries are growing at a significant rate due to the increasing local demand and export markets. The higher pricing of fluoro elastomers is a deterrent in this market. However, the growing consumer preference for high performance products is overcoming the price sensitivity, and this region is also expected to be fastest growing market for fluoro elastomers.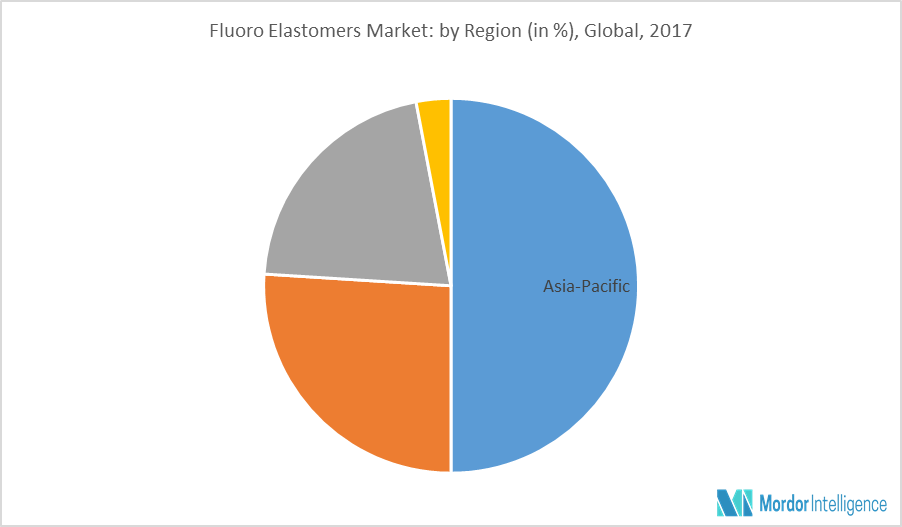 Notable Developments
In February 2018 Eagle elastomer Inc, planned to expand after it has achieved 24% growth in the past year, following a drop in 2015 and 2016. Extruded products have been the largest growth driver for the company
Major Players: 3M Company, Asahi Glass, Daikin Industries, Dongyue Group, DuPont, Eagle Elastomer, Halopolymer, Honeywell International, Lanxess, Shanghai 3F New Material Co., and Solvay, amongst others.
Reason to Purchase this Report
To understand the impact of various product type in the market
Analyzing various perspectives of the market with the help of Porter's five forces analysis
To understand the dominating product type, end-user Industry, and application in the market
Countries expected to witness the fastest growth during the forecast period
Identify the latest developments, market shares, and strategies employed by the major market players
3-month analyst support, along with the Market Estimate sheet in excel
Customization of the Report
This report can be customized to meet your requirements. Please connect with our analyst, who will ensure you get a report that suits your needs
1. Introduction
1.1 Scope of the Report
1.2 Research Phases
1.3 Study Deliverables
2. Executive Summary
3. Market Insights
3.1 Industry Value Chain Analysis
3.2 Industry Attractiveness – Porter's Five Forces Analysis
3.2.1 Bargaining Power of Suppliers
3.2.2 Bargaining Power of Consumers
3.2.3 Threat of New Entrants
3.2.4 Threat of Substitute Products and Services
3.2.5 Degree of Competition
3.3 Raw Material Analysis
4. Market Dynamics
4.1 Drivers
4.1.1 Rising Usage in Sealing Applications
4.1.2 Rising Demand from Asia-pacific
4.2 Restraints
4.2.1 Constraints in Processing and Compounding
4.2.2 Issues in Thermal Performance
4.2.3 Premium Pricing
4.3 Opportunities
4.3.1 Novel Applications of Per fluorocarbon Elastomers
4.3.2 Scope for Vertical Integration
5. Market Segmentation and Analysis - (Market size, Growth, and Forecast)
5.1 By Product Type
5.1.1 Fluorocarbon Elastomers
5.1.2 Fluorosilicone Elastomers
5.1.3 Perfluorocarbon Elastomers
5.1.4 Others
5.2 By End-user Industry
5.2.1 Automotive
5.2.2 Aerospace
5.2.3 Process Industries
5.2.4 Energy & Power
5.2.5 Electronics (Superconductors)
5.2.6 Healthcare
5.2.7 Others
5.3 By Application
5.3.1 Diaphragms
5.3.2 Valves
5.3.3 O-rings, Seals, and Sealants
5.3.4 Others (Optical jacketing, Contaminant solutions, etc.)
6. Regional Market Analysis (Market size, Growth, and Forecast)
6.1 Asia-Pacific
6.1.1 China
6.1.2 India
6.1.3 Japan
6.1.4 South Korea
6.1.5 Rest of Asia-Pacific
6.2 North America
6.2.1 United States
6.2.2 Canada
6.2.3 Mexico
6.2.4 Rest of North America
6.3 Europe
6.3.1 Germany
6.3.2 United Kingdom
6.3.3 Italy
6.3.4 France
6.3.5 Rest of Europe
6.4 Rest of the World
6.4.1 Brazil
6.4.2 Saudi Arabia
6.4.3 South Africa
6.4.4 Rest of the Countries
7. Future of the Market
8. Competitive Landscape
8.1 Mergers & Acquisitions, Joint Ventures, Collaborations and Agreements
8.2 Market Share Analysis**
8.3 Strategies Adopted by Leading Players
9. Company Profiles (Overview, Financials**, Products & services, Recent Developments, and Analyst View)
9.1 3M Company
9.2 Accutrex Products
9.3 All Seals Inc.
9.4 Ames Rubber Manufacturing Company
9.5 Asahi Glass Co. Ltd
9.6 Chambers Gasket & Manufacturing Co.
9.7 Chenguang Fluoro & Silicone Elastomers Co., Ltd.
9.8 Daikin Industries
9.9 Dongyue Group Ltd
9.10 DowDuPont
9.11 Eagle Elastomer Inc.
9.12 Garlock
9.13 Halopolymer Ojsc
9.14 Hennig Gasket & Seals Inc.
9.15 Honeywell International Inc.
9.16 I. G. Marston Co. Inc.
9.17 IGS Industries
9.18 Lanxess AG
9.19 Lauren manufacturing
9.20 Mikron Rubber
9.21 Minor Rubber Co. Inc.
9.22 Northwest Rubber Extruders Inc.
9.23 Omni Seals Inc.
9.24 Precision Associates
9.25 Shanghai 3F New Material Co., Ltd.
9.26 Shanghai Fluoron Chemicals Co. Ltd.
9.27 Solvay SA
9.28 Standard Rubber Products Co.
9.29 Stockwell Elastomerics Inc.
9.30 Tompkins Industries
9.31 Trp Polymer Solutions Limited
9.32 Vanguard Products Corp.
9.33 Zeon Corporation
9.34 Zhonghao Chenguang Research Institute of Chemical Industry
9.35 Zrunek Gummiwaren GmbH
10. Disclaimer
**Subject to availability of public domain