Europe is one of the largest markets for the oil & gas industry. The region, after being hit by low crude oil price in the past, showed signs of revival in 2017, in response to crude oil price recovery. Production from two main countries, the United Kingdom and Norway, has increased after years of decline. Several new fields have started production and several upcoming big projects, such as Norway's Johan Sverdrup field, are further expected to increase well intervention activity.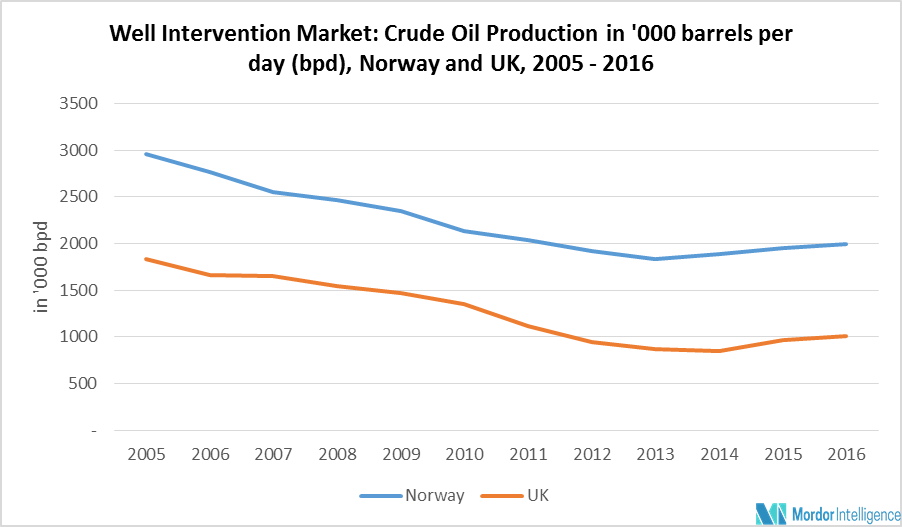 End of Sharp Reduction in Expenditure in UKCS - Driving the Market
The upward trend in crude oil production in the United Kingdom Continental Shelf continued in 2017. The production, in 2017, was supported by nine greenfield start-ups, one more than in 2016. Production was also boosted by restart of Schiehallion and Loyal fields, which were to reach plateau production before the end of 2017. UKCS witnessed an end to the sharp reduction in capital expenditure, seen in the past two years. The total UKCS expenditure is estimated to be GBP 17 billion in 2017. The outlook for 2018 is expected to be more positive, as projects, operated by Shell, Alpha Petroleum, and other companies, were in the final stages of approval process in December 2017. Further, the country had 16 development wells in September 2017, which are expected to start production in the near future. As a result, with increase in production activity in UKCS, the demand for well intervention is expected to increase.
Increase in Offshore Well Plug and Abandonment - Supporting the Market
Well intervention activities include hole cleaning, well stimulation, plug and abandonment (P&A), etc. North Sea is expected to see a large number of offshore platforms getting plugged and abandoned in the coming years, due to aging infrastructure, mature fields, and technical limits on further recovery. In North Sea, around 2,500 wells are expected to be plugged and abandoned between 2017 and 2025. P&A activity is expected to be higher in United Kingdom Continental Shelf (UKCS). Over the next five years, annual expenditure for decommissioning in UKCS is expected to be GBP 1.7-2.0 billion. As a result, the large number of P&A activity is expected to drive the market.
Increasing in Production - Driving the Market
The United Kingdom and Norway are the two major players in the region. Both the countries experienced decline in crude oil production, since the start of the century. But in 2015, the trend changed and increase in production was witnessed in both the countries. In 2016, production in the United Kingdom increased by 18%, and in Norway by 5.6% from 2014. Further, the production is expected to ramp up in Norway, after the Johan Sverdrup field, considered one of the major fields, starts production in 2020. The increasing production activity and upcoming of new wells are expected to increase well intervention activities, and hence, drive the market.
Notable Developments in the Market
January 2017: Schlumberger acquired Peak Well System, which is a specialist in the design and development of advanced downhole tools for well intervention, flow control, and well integrity.
August 2017: Expro has received a contract from Maersk Oil for provision of subsea and well test services in the North Sea, on two offshore units. The contract will extend till 2020, for well abandonment services on two rigs.
Major Players: Schlumberger Limited, Weatherford International PLC, Baker Hughes A GE Co., Halliburton Company, National Oilwell Varco, Superior Energy Services Inc., Aker Solutions, Archer, Expro Group, ALTUS Intervention, among others.
Reasons to Purchase This Report
Current and future Europe well intervention market outlook in the developed and emerging markets
Analyzing various perspectives of the market with the help of Porter's five forces analysis
Segment that is expected to dominate the market
Regions that are expected to witness the fastest growth during the forecast period
Identify the latest developments, market shares, and strategies employed by the major market players
3 months analyst support, along with the Market Estimate sheet (in excel)
Customization of the Report
This report can be customized to meet your requirements. Please connect with our representative, who will ensure you to get a report that suits your needs.
1. Executive Summary
2. Research Methodology
3. Market Overview
3.1 Introduction
3.2 Market Size and Demand Forecast until 2023
3.3 Recent Trends and Developments
4. Market Dynamics
4.1 Drivers
4.2 Restraints
4.3 Opportunities
5. Supply Chain Analysis
6. Industry Attractiveness - Porter's Five Force Analysis
6.1 Bargaining Power of Suppliers
6.2 Bargaining Power of Consumers
6.3 Threat of New Entrants
6.4 Threat of Substitutes
6.5 Intensity of Competitive Rivalry
7. Market Segmentation and Analysis (Overview, Market Size and Demand Forecast until 2023)
7.1 By Location
7.1.1 Onshore
7.1.2 Offshore
8. Regional Market Analysis (Overview, Market Size and Demand Forecast until 2023)
8.1 Russia
8.2 Norway
8.3 United Kingdom
8.4 Rest of Europe
9. Key Company Analysis* (Overview, Products & Services, Financials**, Recent Development, and Analyst View)
9.1 Schlumberger Limited
9.2 Weatherford International PLC
9.3 Baker Hughes A GE Co
9.4 Halliburton Company
9.5 National Oilwell Varco
9.6 Superior Energy Services Inc.
9.7 Aker Solutions
9.8 Archer
9.9 Expro Group
9.10 ALTUS Intervention
10. Competitive Landscape
10.1 Mergers and Acquisitions
10.2 Joint Ventures, Collaborations, and Agreements
10.3 Strategies Adopted by Leading Players
11. Appendix
11.1 Contact Us
11.2 Disclaimer
*List not Exhaustive
**Subject to availability on public domain