Cybersecurity Market Size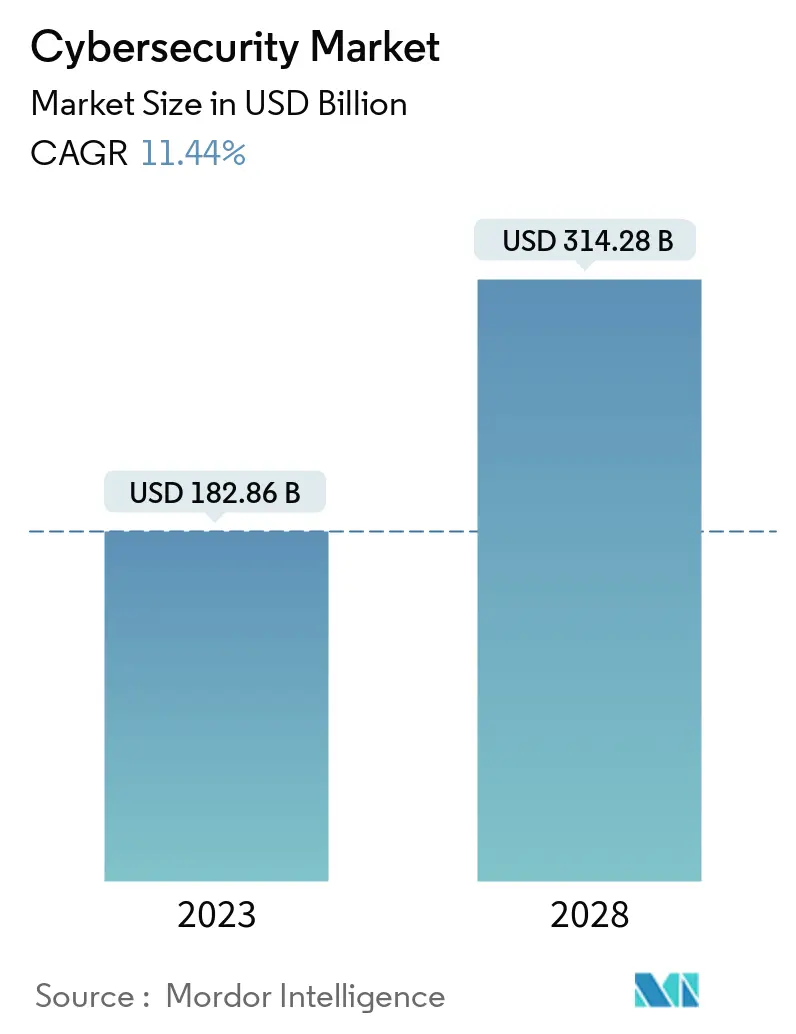 Study Period
2018 - 2028
Base Year For Estimation
2022
CAGR
11.44 %
Fastest Growing Market
Asia-Pacific
Largest Market
North America
Market Concentration
Low

Major Players

*Disclaimer: Major Players sorted in no particular order
Need a report that reflects how COVID-19 has impacted this market and its growth?
Cybersecurity Market Analysis
The Cybersecurity Market size is estimated at USD 182.86 billion in 2023, and is expected to reach USD 314.28 billion by 2028, growing at a CAGR of 11.44% during the forecast period.
Cybersecurity protects the network, information, and personal data from cyberattacks. The trends of BYOD, AI, IoT, and machine learning in cybersecurity are rapidly growing. For instance, machine learning offers advantages in outlier detection, which benefits cybersecurity.
The cybersecurity industry ecosystem comprises several regional clusters of cybersecurity firms contributing to global market dynamics. In the current market scenario, the cybersecurity industry operates in three distinct mega-clusters: the San Francisco Bay Area (SFBA), Metropolitan Washington, DC, and Israel.
The three cybersecurity mega-clusters share two essential characteristics. The first is that the startup and high-tech innovation culture is a significant growth driver for all three ecosystems. SFBA and Israel have thriving startup ecosystems with a substantial associated flow of risk capital. They are heavily focused on products, while Washington exhibits a higher proportion of service-based firms (in Washington, only 11% of cybersecurity firms are focused solely on products). The second characteristic is the link between human capital and national security.
Ransomware attacks have ravaged many state and local public sector agencies. In some cases, entire local governments were forced to declare an emergency due to massive leaks of sensitive data and loss of services. For instance, in June 2021, JBS Foods, the world's leading meatpacking enterprise, declared that it had paid a USD 11 million ransom to REvil ransomware threat actors following a cyberattack that forced the company to shut down production at several sites worldwide, including its production facilities in United States, Australia, and Canada.
One of the major causes of growing cyberattacks is the lack of skilled cybersecurity personnel in each industry. The number of experienced cybersecurity professionals, especially in Europe, Asia-Pacific, Latin America, and Middle-East are low compared to the need for security professionals to handle cyber threats for financial institutes, government organizations, and private sector/industrial businesses.
Due to the ongoing COVID-19 pandemic, countries worldwide have implemented preventive measures. With schools being closed and communities being asked to stay at home, multiple organizations have found a way to enable their employees to work from their homes. This has, thus, resulting in a rise in the adoption of video communication platforms.
Cybersecurity Market Statistics
Cybersecurity Market growth is not evenly distributed across regions. The US, China, Germany, the UK, and Japan are the largest country markets for Cybersecurity, however, many smaller country market segments are expected to register much higher growth compared to these giants. For example, Japan is one of the top five Cybersecurity Markets but lags behind emerging economies such as India and Brazil in terms of future growth.
Get 10-year market size data by segments and in-depth analysis on specific countries. Contact us now.
Cybersecurity Market Trends
The Cloud Segment to Witness Significant Growth
The increasing realization among enterprises about the importance of saving money and resources by moving their data to the cloud instead of building and maintaining new data storage drives the demand for cloud-based solutions. Owing to multiple benefits, cloud platforms and ecosystems are anticipated to serve as a launchpad for the explosion in the pace and scale of digital innovation over the next few years.
Cloud-based solutions also benefit from lower capital expenditure requirements, making them much more compelling. Deploying cloud-based services can significantly reduce the Capex requirements as companies need not invest in hardware components. Cloud solutions also enable better prediction of the cost of an application, and companies don't incur much upfront cost to incorporate the technology. Also, the hardware and IT support savings make cloud-based solutions much more affordable.
Companies that are considering moving from on-premise software to cloud-based solutions are primarily checking the potential solutions for their key security features, including standards compliance and intrusion prevention and detection.
In October 2022, Google Cloud declared a significant expansion of its trusted cloud ecosystem. It highlighted new integrations and offerings with more than twenty partners, focusing on enabling greater data sovereignty controls, supporting Zero Trust models, unifying identity management, and improving endpoint security for global businesses.
Cloud technology provides organizations with the flexibility they need to increase and decrease their bandwidth with the needs of their operations. This approach can cut costs and give businesses an edge over the competition.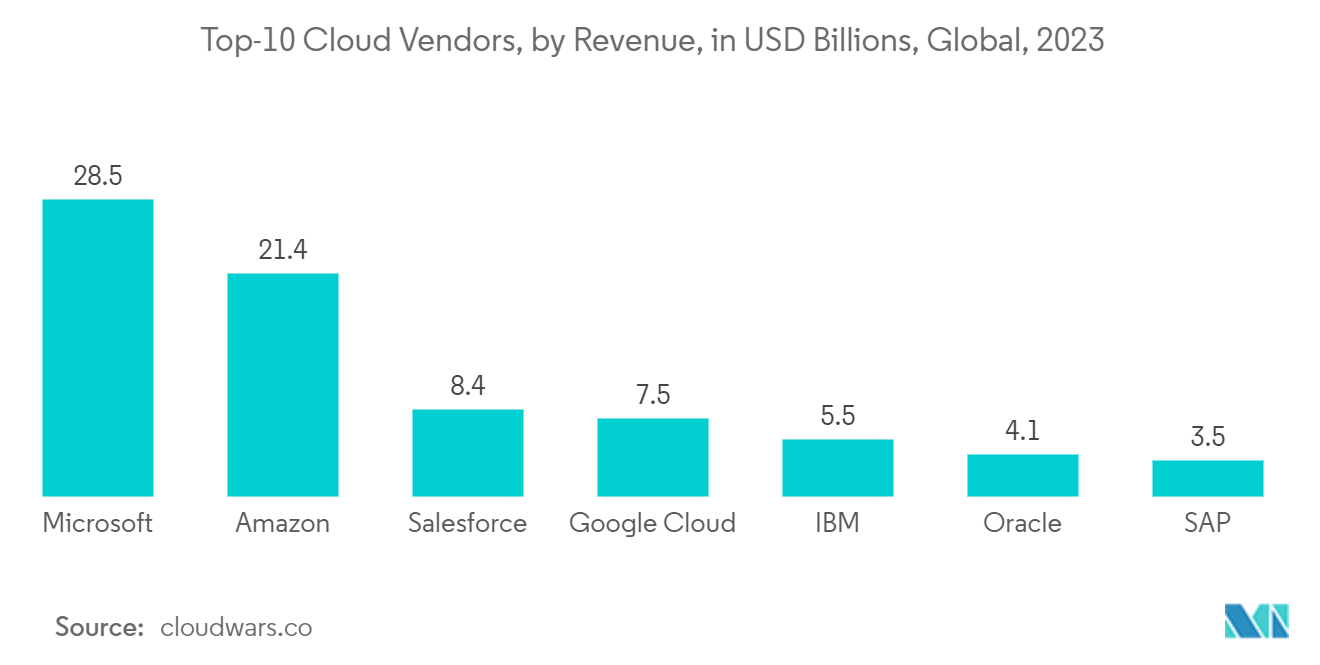 To understand key trends, Download Sample Report
North America is Expected to Hold Major Market Share
Cybersecurity has become an increasingly important area of focus in the United States in recent years due to the growing number of cyber threats and attacks that organizations and individuals face. According to the Identity Theft Resource Center, the number of data compromises and individuals impacted in the United States in 2022 was 1,802 and 422.14 million, respectively.
The increasing frequency and sophistication of cyber-attacks are driving the adoption of cybersecurity solutions in the United States. Moreover, the growing regulatory requirement leads many organizations to adopt and invest in cybersecurity solutions, as many industries in the United States are subject to regulations such as HIPPA, GDPR, and PCI DSS.
Education, the public sector, universities, healthcare, and municipalities were among the major sectors affected by cyber-attacks in terms of data breaches and ransomware in the United States in 2022. There has been significant investment in cybersecurity research and development in the United States. The United States government is allocating a large number of funds. For instance, in April 2022, the United States Department of Energy (DOE) announced that it would invest USD 12 million in six new research, development, and demonstration (RD&D) projects to develop innovative cybersecurity technology to ensure that energy delivery systems are designed, installed, operated, and maintained to survive and recover quickly from cyberattacks.
In Canada, cybercrime is rapidly gaining traction, and the impact is increasing alarmingly. According to the Ministry for Government Digital Transformation, Quebec, around 3,992 provincial government websites, including those related to health, education, and public administration, can be at risk.
In order to support the development of a strong national cyber security ecosystem, the Minister of Innovation, Science and Industry announced that the National Cybersecurity Consortium (NCC) received up to USD 80 million to lead the Cyber Security Innovation Network (CSIN) in February 2022. This funding was crucial to foster a strong national cyber security ecosystem in Canada and position the country as a global leader in cyber security.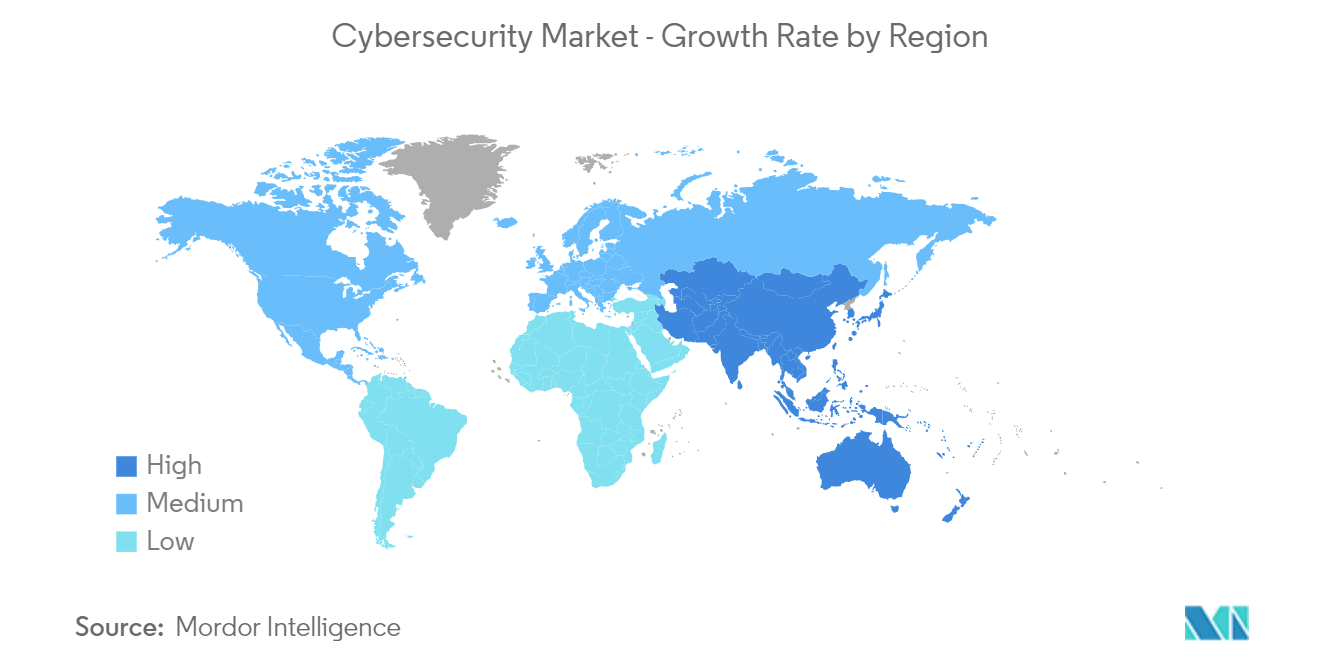 To understand geography trends, Download Sample Report
Cybersecurity Industry Overview
The cybersecurity market comprises several global and regional players vying for attention in a fairly contested market space. Although the market poses high barriers to entry for new players, several new entrants have been able to gain traction. Crowdstrike Holdings Inc., Check Point Software Technologies Ltd, Cisco Systems Inc., Cyberark Software Ltd, and Dell Technologies Inc. are major players in the market.
In February 2023, Check Point Software Technologies Ltd announced the introduction of Check Point Horizon XDR/XPR, a cooperative cybersecurity solution. It effectively protects organizations against developing cyber threats by smartly correlating data and trying to thwart attacks across all vectors, reducing the impact of threats and making it simple for supervisors and analysts to comprehend and respond to incidents.
In December 2022, CrowdStrike announced the development of the CrowdStrike Falcon platform to give the sector's finest adversary-driven external attack surface management (EASM) solution for better adversary intelligence and real-time internet access detection. CrowdStrike Falcon Surface, a standalone module featuring abilities from the recent acquisition of Reposify, was announced as part of the platform update.
Cybersecurity Market Leaders
CrowdStrike Holdings, Inc.

Check Point Software Technologies Ltd

Cisco Systems Inc.

CyberArk Software Ltd

Dell Technologies Inc.
*Disclaimer: Major Players sorted in no particular order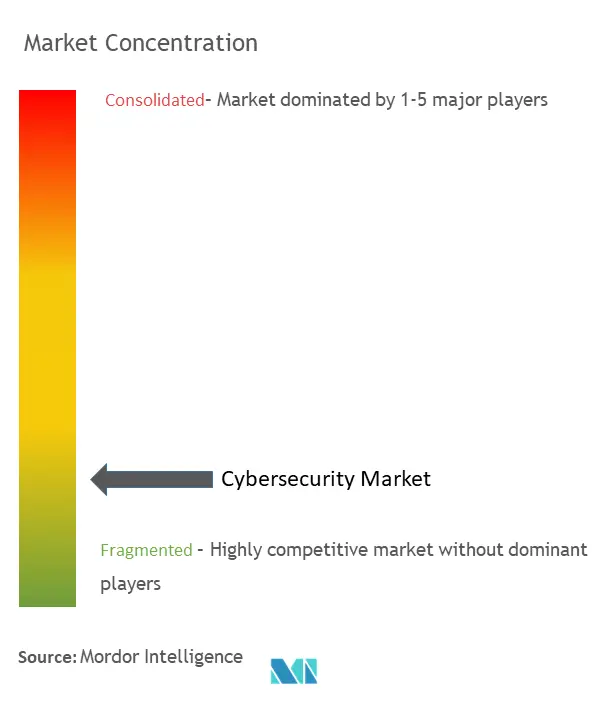 Cybersecurity Market News
In March 2023, CrowdStrike and Dell Technologies announced a new partnership agreement to provide enterprises with seamless and affordable products to help them avoid, detect, and respond to cyber-attacks. The partnership includes focused services for companies of all sizes. Due to the new strategic alliance, organizations can manage cyber threats and safeguard their cloud workloads, endpoints, identities, and data.
In March 2023, Infinity Global Services, a comprehensive security solution that can enable businesses of all sizes to protect their systems, from the cloud to the network to the endpoint, was presented by Check Point Software Technologies Ltd. The new service is expected to increase Check Point's end-to-end security offerings across thirty categories, enabling businesses to develop and improve their cybersecurity procedures and systems and show their level of cyber resilience.
Cybersecurity Market Report - Table of Contents
1. INTRODUCTION

1.1 Study Assumptions and Market Definition

1.2 Scope of the Study

2. RESEARCH METHODOLOGY

3. EXECUTIVE SUMMARY

4. INDUSTRY ECOSYSTEM ANALYSIS

5. MARKET DYNAMICS

5.1 Current Market Scenario and Evolution of Cybersecurity Related Practices

5.2 Market Drivers

5.2.1 Rapidly Increasing Cybersecurity Incidents and Regulations Regarding their Reporting

5.2.2 Growing M2M/IoT Connections Demanding Strengthened Cybersecurity in Enterprises

5.3 Market Challenges

5.3.1 Lack of Cybersecurity Professionals

5.3.2 High Reliance on Traditional Authentication Methods and Low Preparedness

5.4 Market Opportunities

5.5 Industry Attractiveness - Porter's Five Forces Analysis

5.5.1 Bargaining Power of Suppliers

5.5.2 Bargaining Power of Consumers

5.5.3 Threat of New Entrants

5.5.4 Competitive Rivalry within the Industry

5.5.5 Threat of Substitutes

6. ANALYSIS OF MAJOR SECURITY BREACHES AT A GLOBAL AND REGIONAL LEVEL

7. IMPACT OF COVID-19 ON THE CYBERSECURITY MARKET

8. MARKET SEGMENTATION

8.1 By Product Type

8.1.1 Solutions

8.1.1.1 Application Security

8.1.1.2 Cloud Security

8.1.1.3 Consumer Security Software

8.1.1.4 Data Security

8.1.1.5 Identity and Access Management

8.1.1.6 Infrastructure Protection

8.1.1.7 Integrated Risk Management

8.1.1.8 Network Security Equipment

8.1.1.9 Other Solutions

8.1.2 Services

8.1.2.1 Professional

8.1.2.2 Managed

8.2 By Deployment

8.2.1 On-premise

8.2.2 Cloud

8.3 By End-user Industry

8.3.1 BFSI

8.3.2 Healthcare

8.3.3 Aerospace and Defense

8.3.4 IT and Telecommunication

8.3.5 Government

8.3.6 Retail

8.3.7 Manufacturing

8.3.8 Other End-user Industries

8.4 By Geography

8.4.1 North America

8.4.1.1 United States

8.4.1.2 Canada

8.4.2 Europe

8.4.2.1 United Kingdom

8.4.2.2 Germany

8.4.2.3 France

8.4.2.4 Italy

8.4.2.5 Spain

8.4.2.6 The Netherlands

8.4.2.7 Nordic Region

8.4.2.8 Poland

8.4.2.9 Russia

8.4.3 Asia Pacific

8.4.3.1 China

8.4.3.2 South Korea

8.4.3.3 Japan

8.4.3.4 India

8.4.3.5 Singapore

8.4.3.6 Malaysia

8.4.3.7 Australia

8.4.3.8 Indonesia

8.4.4 Latin America**

8.4.4.1 Brazil

8.4.4.2 Mexico

8.4.4.3 Colombia

8.4.4.4 Argentina

8.4.5 Middle East and Africa**

8.4.5.1 Saudi Arabia

8.4.5.2 United Arab Emirates

8.4.5.3 GCC***

8.4.5.4 South Africa

8.4.5.5 Egypt

8.4.5.6 Morocco

9. VENDOR MARKET SHARE ANALYSIS

10. COMPETITIVE LANDSCAPE

10.1 Company Profiles*

10.1.1 CrowdStrike Holdings Inc.

10.1.2 Check Point Software Technologies Ltd

10.1.3 Cisco Systems Inc.

10.1.4 CyberArk Software Ltd

10.1.5 Dell Technologies Inc.

10.1.6 Mandiant Inc.

10.1.7 Fortinet Inc.

10.1.8 IBM Corporation

10.1.9 Imperva Inc.

10.1.10 Intel Security (Intel Corporation)

10.1.11 Palo Alto Networks Inc.

10.1.12 Proofpoint Inc.

10.1.13 Rapid7 Inc.

10.1.14 NortonLifelock Inc.

10.1.15 Trend Micro Inc.

11. INVESTMENT ANALYSIS

12. FUTURE OF THE MARKET
**Latin America and Middle East and Africa included within 'Rest of the World' in the final report; ***GCC - excluding Saudi Arabia and United Arab Emirates
Cybersecurity Industry Segmentation
Cybersecurity solutions help an organization monitor, detect, report, and counter cyber threats, which are internet-based attempts to damage or disrupt information systems and hack critical information using spyware and malware, and phishing to maintain data confidentiality. The study tracks the market based on the spending by the end-users on cybersecurity solutions, as listed in the scope of the study.
The cybersecurity market is segmented by product type (solutions (application security, cloud security, consumer security software, data security, identity and access management, infrastructure protection, integrated risk management, network security equipment), services (professional, managed)), by deployment (on-premise, cloud), by end-user industry (BFSI, healthcare, aerospace and defense, IT and telecommunication, government, retail, manufacturing), by geography (North America (United States, Canada), Europe (United Kingdom, Germany, France, Italy, Spain, The Netherlands, Nordics Region, Poland, Russia), Asia-Pacific (China, South Korea, Japan, India, Singapore, Malaysia, Australia, Indonesia), and Rest of the World (Latin America (Brazil, Mexico, Colombia, Argentina), Middle East and Africa (GCC (Saudi Arabia, United Arab Emirates, Rest of GCC), Africa (South Africa, Egypt, Morocco))). The market sizes and forecasts are provided in terms of value in USD billion for all the above segments.
By Product Type

Solutions
Application Security
Cloud Security
Consumer Security Software
Data Security
Identity and Access Management
Infrastructure Protection
Integrated Risk Management
Network Security Equipment
Other Solutions

Services
Professional
Managed
By Deployment
On-premise
Cloud
By End-user Industry
BFSI
Healthcare
Aerospace and Defense
IT and Telecommunication
Government
Retail
Manufacturing
Other End-user Industries
By Geography

North America
United States
Canada

Europe
United Kingdom
Germany
France
Italy
Spain
The Netherlands
Nordic Region
Poland
Russia

Asia Pacific
China
South Korea
Japan
India
Singapore
Malaysia
Australia
Indonesia

Latin America**
Brazil
Mexico
Colombia
Argentina

Middle East and Africa**
Saudi Arabia
United Arab Emirates
GCC***
South Africa
Egypt
Morocco
Cybersecurity Market Research FAQs
What is the study period of this market?
The Cybersecurity Market is studied from 2018 - 2028.
What is the growth rate of Cybersecurity Market?
The Cybersecurity Market is growing at a CAGR of 11.44% over the next 5 years.
What is Cybersecurity Market size in 2028?
The Cybersecurity Market is valued at 314 Billion USD in 2028.
Which region has highest growth rate in Cybersecurity Market?
Asia-Pacific is growing at the highest CAGR over 2018 - 2028.
Which region has largest share in Cybersecurity Market?
North America holds highest share in 2022.
Who are the key players in Cybersecurity Market?
CrowdStrike Holdings, Inc. , Check Point Software Technologies Ltd, Cisco Systems Inc., CyberArk Software Ltd, Dell Technologies Inc. are the major companies operating in Cybersecurity Market.
Cybersecurity Industry Report
Statistics for the 2023 Cybersecurity market share, size and revenue growth rate, created by Mordor Intelligence™ Industry Reports. Cybersecurity analysis includes a market forecast outlook to for 2023 to 2028 and historical overview. Get a sample of this industry analysis as a free report PDF download.
Cybersecurity Market Report Snapshots
80%

of our clients seek made-to-order reports. How do you want us to tailor yours?