The GCC compound feed market is expected to register a CAGR close to 3% during the forecast period, 2018 to 2023. Feed is the largest and most important component for ensuring safe, abundant, and affordable animal proteins. This growth is largely fuelled by the rise in meat consumption, increasing disposable income, increase in mass production of meat, and recent livestock disease outbreaks. Rising concerns over the quality and safety of meat products have been making compound feed a better choice for livestock, when compared to the traditional fodder. The primary restraint identified in this report is the rising cost of raw materials, which is resulting in increased imports.
Increased Use of Biotechnology
The increased cost of feed ingredients requires an improvement in the feed utilization. R&D in Biotechnology has been the most feasible way to improve the nutrient content of the feed. There is a significant usage of biotechnology in animal production, especially for animal nutrition. The advancement of biotechnology has permitted the useage of non-toxic fungi, to improve fibrous feeds, like that of straw or poor quality roughages. Therefore, a wide variety of feed additives are known to modify rumen fermentation. They include components that help reduce methanogens, enhance propionic acid production, protein degradation, and improve microbial protein synthesis and inhibit protozoa. Among such additives, the commonly used supplements are antibiotics, microbes, and specific substrates like that of oligosaccharides. Also, effective enzyme preparations are produced in large quantities, at a more practical cost.
Poultry Feed to Dominate the Market
Poultry meat production is expected to register a CAGR around 7% during the forecast period. The major reason for the surge in demand and consumption of poultry meat is the increased consumption of processed poultry in the GCC countries. It is identified that the poultry feed market had the largest market share of 68.3% in 2016, due to high slaughter headcount, resulting from increasing preference towards poultry, across all parts of the region.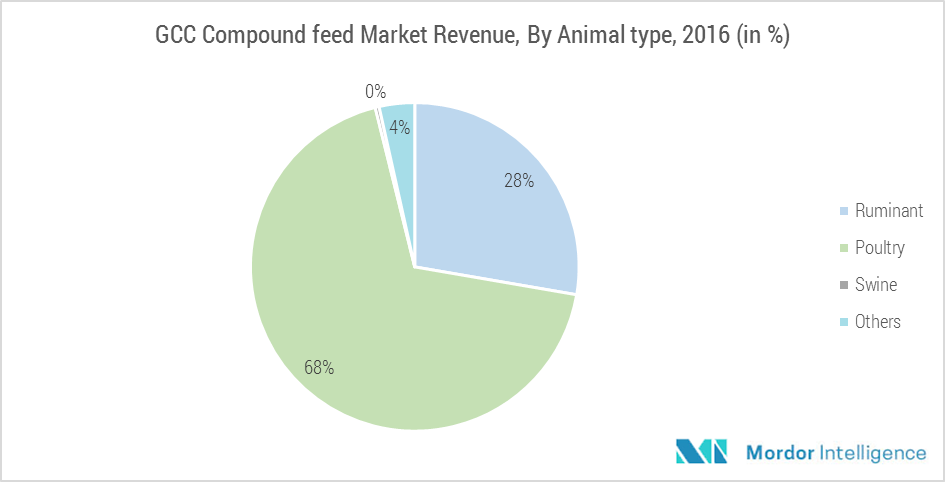 Source: Mordor Intelligence
Key Developments in the Market
January 2018: Agthia Group launched AL AIN VITAMIN D, the world's only Vitamin D water, at the International Water Summit.
January 2017: Trouw Nutrition launched fortified Sprayfo formula with health support package.
Major players: Evonik Industries AG, BASF SE, Cargill Inc., Agthia Group, Arasco, Trouw Nutrition, and Acolid
Reasons to Purchase the Report
Analyze the soaring costs of the poultry feed and the high-mortality rates in Saudi poultry farms that will impact the GCC compound feed market
Analyze various perspectives of the market, with the help of Porter's five forces analysis
The product type that is expected to dominate the market
The regions that are expected to witness the fastest growth during the forecast period
Identify the latest developments, market shares, and strategies employed by the major market players
3-month analyst support, along with the market estimate sheet (in excel)
Customization of the Report
This report can be customized to meet your requirements. Please connect with our analyst, who will ensure you get a report that suits your needs.
1. Introduction
1.1 Research Methodology
1.2 General Study Assumptions
2. Research Methodology
2.1 Introduction
2.2 Analysis Methodology
2.3 Study Assumptions
2.4 Econometric Forecast Model
3. Executive Summary
4. Market Overview and Technology Trends
4.1 Current Market Scenario
4.2 Technology Trends
4.3 Porter's Five Forces Analysis
4.3.1 Bargaining Power of the Suppliers
4.3.2 Bargaining Power of the Consumers
4.3.3 Threat of New Entrants
4.3.4 Threat of Substitute Products and Services
4.3.5 Competitive Rivalry within the Industry
5. Market Dynamics
5.1 Drivers
5.1.1 Increasing Disposable Incomes and Meat Consumption
5.1.2 Demand for High-Value Animal Protein
5.1.3 Quality of the Dairy and Meat Products Produced
5.2 Restraints
5.2.1 Dependency on Imports
5.2.2 Increase in the Demand for Feed Additives as Alternatives to Antibiotics
5.3 Opportunities
6. GCC Compound Feed Market, Segmented by Animal Type
6.1 Ruminant
6.2 Poultry
6.3 Swine
6.4 Fish
6.5 Others
7. GCC Compound Feed Market, Segmented by Ingredients
7.1 Cereals
7.2 Fish Meal and Fish Oil
7.3 Oilseeds
7.4 Mollases
7.5 Others
8. Gcc Compound Feed Market, Segmented by Supplements
8.1 Antibiotics
8.2 Vitamins
8.3 Antioxidants
8.4 Amino Acids
8.5 Feed Enzymes
8.6 Feed Acidifiers
8.7 Others
9. GCC Compound Feed Market, Segmented by Geography
9.1 UAE
9.2 Saudi Arabia
9.3 Oman
9.4 Bahrain
9.5 Kuwait
9.6 Qatar
10. Competitive Landscape
10.1 Introduction
10.2 Market Share Analysis
10.3 Key Players and Developments
11. Company Profiles
11.1 Arasco
11.2 Trouw Nutrition
11.3 Agthia
11.4 Fujairah Feed Factory
11.5 Iffco
11.6 Ghurair Foods
11.7 Exeed
11.8 Parabel
11.9 Al-Sayer Group
11.10 Hassad
11.11 Delmon Poultry Company
11.12 Oman Flour Mills Company
11.13 Omani National Livestock Development Co.
12. Future of the Market
13. Disclaimer