Market Trends of Bulgaria E-commerce Industry
This section covers the major market trends shaping the Bulgaria E-commerce Market according to our research experts:
Food and Personal Care market on rise in the country
Food and personal care e-commerce remained one of the prominent performance categories of Bulgarian e-commerce in 2021. During the reporting period before the pandemic, the growing demand for a busy lifestyle and convenience was the main driver of Bulgarian food and beverage e-commerce. On the other hand, Bulgarian online grocery stores have grown by more than 100% after orders have increased since the pandemic.
More online grocery retailers compete in high-speed commerce and are often affiliated with high-speed delivery apps. For example, Glovo, a local partner of the German hypermarket Kaufland, acquired food panda in Bulgaria and Romania, a delivery service previously owned by Delivery Hero.
Companies in the country are focused on expanding the e-commerce market through investments and collaborations. In April 2022, Bulgarian funding agency HR Capital invested EUR 250,000 in the local online grocery store eBag.bg through subscribing for 730 everyday stocks from the capital growth of the local agency Convenience. Further, in 2022, HR Capital will strictly adhere to its publicly introduced funding policy - participation in transformative generation companies and growing its interest with maximum success investments.
According to the European Cosmetics industry, the cosmetics and personal care market is thriving in Bulgaria, growing over 6%, primarily due to increased consumer power. New product launches, increased brand availability, updated marketing campaigns, and more westernization have dramatically changed attitudes and demand for higher-end, specialty cosmetics, with many adopting mobile phones. Highly digitized, it is revitalizing the e-commerce market.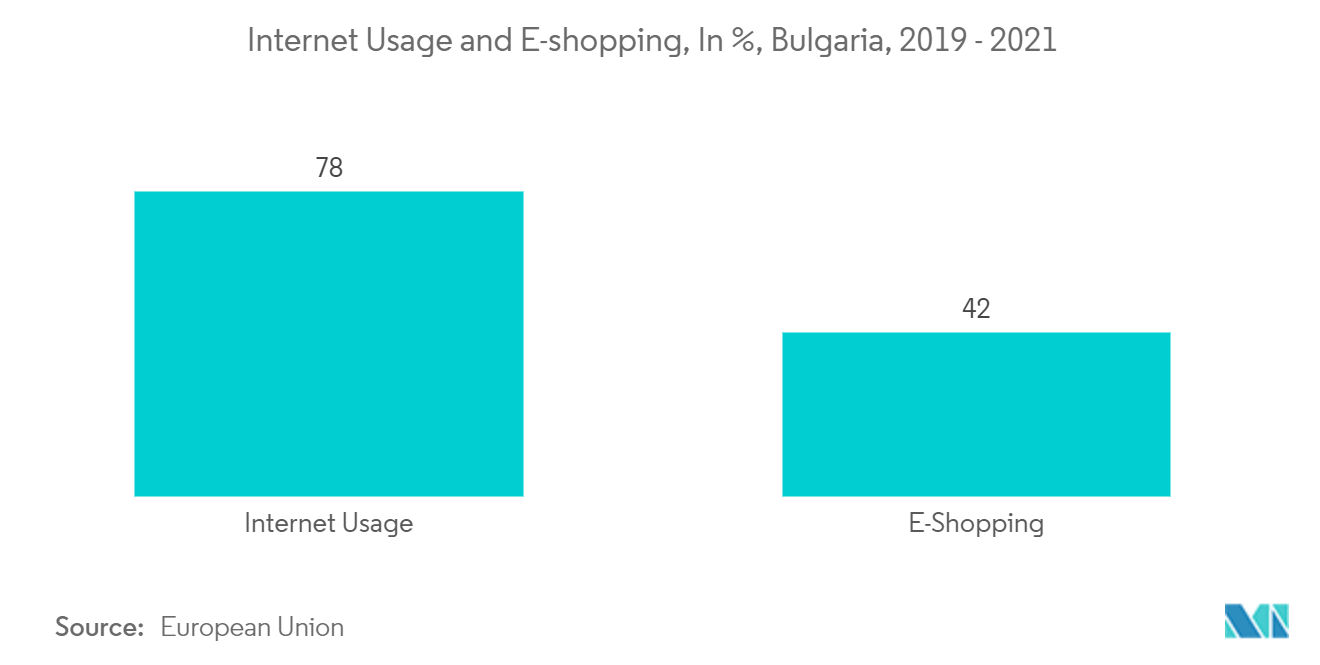 To understand key trends, Download Sample Report
Growth of Internet and Online Payments during COVID-19 Pandemic
In Bulgaria, pandemics have exponentially increased digital shopping and consumption, involving users previously excluded from this trend. This decline in business was partially offset by the massive adoption and demand for card payments online and in-store, within the limits of international travel, which contributes significantly to transactions worldwide. Users were looking for a safer, faster, and more convenient way to pay for goods, where COVID-19 dominates.
In March 2021, Norwegian financial technology group Settle entered the Bulgarian market by launching an instant mobile payment application in Bulgaria. The Settle Group will operate through Settle Bulgaria, a local entity established as a joint venture with a local strategic partner. Bulgaria is the third country where the Settle Group will appoint an entity and the 22nd market in Europe where the Settle application works. With this application, individual users can instantly send, receive and manage money from their mobile phones.
Similarly, in July 2021, Paysafe, a UK-based online payment company, announced that it opened a new office in Varna, Bulgaria. About 40 employees are already working in the new location. The company plans to increase the number of employees by placing 40 new employees in the office. These expansions by online payments companies are majorly aimed at meeting the rising demand in the country.
As indicated in the graph below, the frequency of shopping has significantly increased. Further, the fashion sector has seen some improvements, especially concerning homeware, but demand for other types of shoes and garments remains low. However, most respondents pointed out that the accelerated digitization of businesses in Europe due to the COVID-19 pandemic led to continued growth in the e-commerce sector, which companies and consumers similarly promote. This leverages the e-commerce market in the country as well.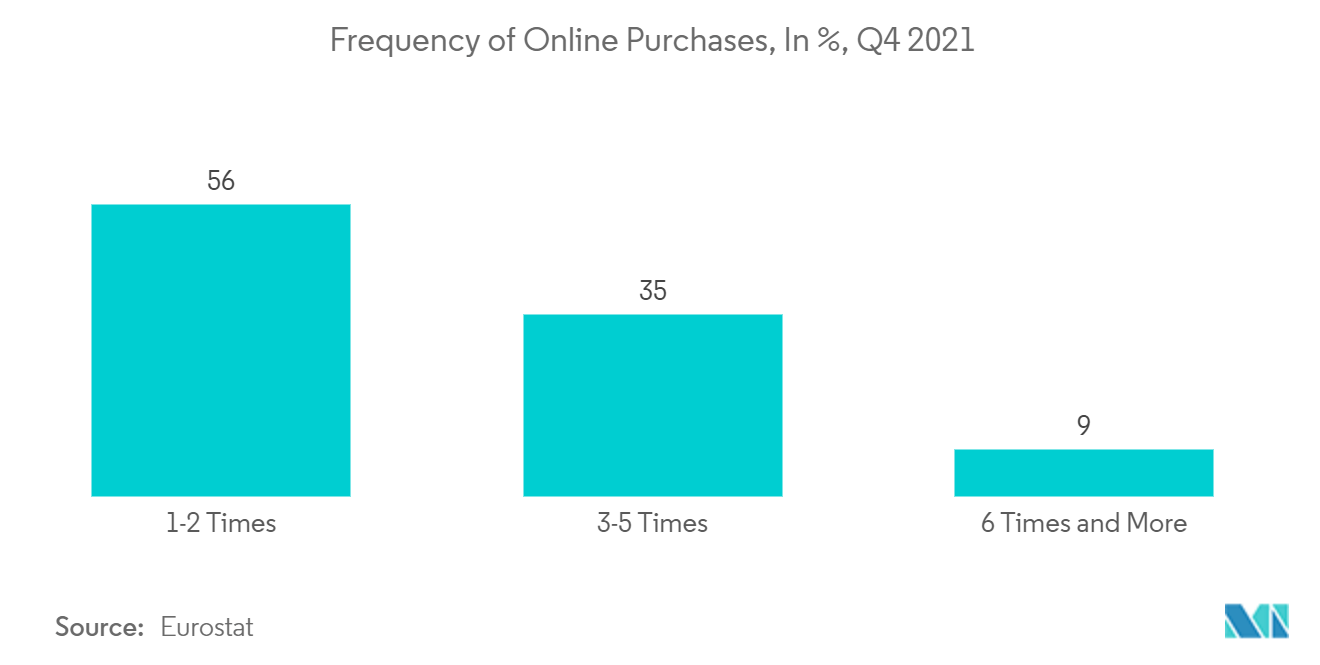 Bulgaria E-commerce Report Snapshots