The caprolactam market is expected to witness a moderate CAGR during the forecast period (2019 - 2024). The major factors driving the market are an increase in demand for Nylon 6 and an increase in demand for lightweight vehicles in automobile industry.
Increasing Demand from Automotive Industry
Nylon 6 fibers are increasingly used in the automotive sector in tire cord manufacturing, engine covers, gears, and bearings, owing to their intrinsic properties, such as great tensile strength, durability, and fatigue resistance. Caprolactam is increasingly replacing metals in various automotive applications, such as air intake manifolds in the nylon 6 resin. Therefore, the growing automotive sector is expected to drive the industrial yarns market, which in turn, will drive the caprolactam market.
Nylon Fibers Segment to Dominate the Market
Tcaprolactamtum market is segmented on the basis of raw materials, end-product, application, and end-user industry. Based on the end-product, Nylon 6 fibers are the major end-products and have an approximately 53% market share. Owing to the superior chemical as well as physical characteristics of caprolactam, such as lightweight and high tensile strength, nylon 6 fibers are increasingly used in various textile and carpets applications.
Asia-Pacific Showing a Positive Growth
Asia-Pacific is the largest market for caprolactam and it accounts to more than 65% of the global market, in terms of demand. This is due to a strong need from the engineering plastics and textiles industries. China is the world's largest market for caprolactam. Asia-Pacific is expected to show a positive growth during the forecasted period due to a rise in the textile and automotive industries in the region.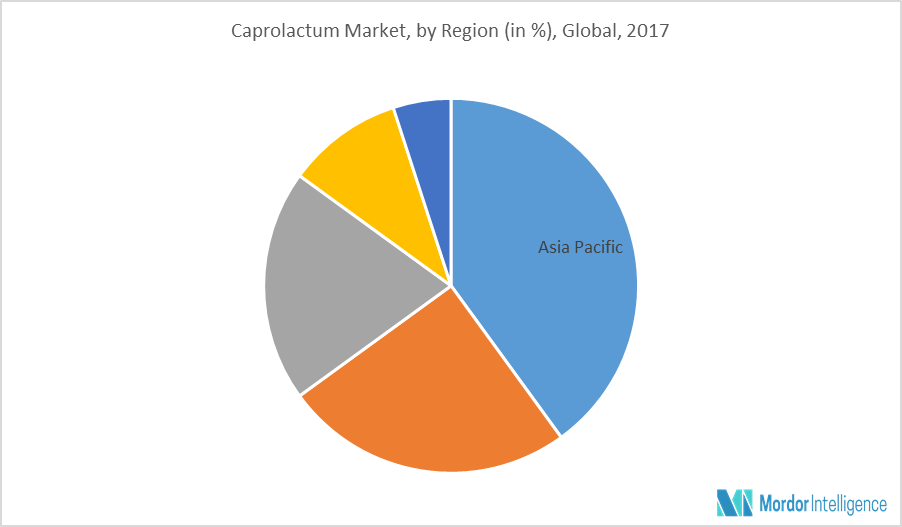 Key Developments
March 2018: Genomatica and Aquafil have collaborated to commercialize a Genomatica process for making caprolactam derived from renewable feedstocks rather than from petroleum.
Major Players: BASF SE, China Petroleum and Chemical Corporation, Honeywell Chemical Intermediates, and Sumitomo Chemical Company, among others.
Reason to Purchase this Report
To understand the impact of various end-product on the market.
Analyzing various perspectives of the market with the help of Porter's five forces analysis
To understand the dominating application and end-user industry in the market
To identify the countries that are expected to witness the fastest growth during the forecast period
Identify the latest developments, market shares, and strategies employed by the major market players
3-month analyst support, along with the Market Estimate sheet (in Excel)
Customization of the Report
This report can be customized to meet your requirements. Please connect with our representative, who will ensure you get a report that suits your needs.
1. Introduction
1.1 Scope of the Report
1.2 Study Assumptions
1.3 Study Deliverables
1.4 Research Phases
2. Executive Summary
3. Market Insights
3.1 Industry Value Chain Analysis
3.2 Industry Attractiveness – Porter's Five Forces Analysis
3.2.1 Bargaining Power of the Suppliers
3.2.2 Bargaining Power of the Consumers
3.2.3 Threat of New Entrants
3.2.4 Threat of Substitute Products and Services
3.2.5 Degree of Competition
4. Market Dynamics
4.1 Drivers
4.1.1 Increase in Demand for Nylon 6
4.1.2 Increase in Demand for Lightweight Vehicles in Automobile Industry
4.2 Restraints
4.3 Opportunities
4.3.1 Increasing Focus on Recycling the Caprolactam
4.3.2 Other Opportunities
5. Market Segmentation and Analysis (Market Size, Growth, and Forecast)
5.1 By Raw Material
5.1.1 Phenol
5.1.2 Cyclohexane
5.2 By End-product
5.2.1 Nylon 6 Resins
5.2.2 Nylon 6 Fibers
5.2.3 Others
5.3 By Application
5.3.1 Engineering Resins & Films
5.3.2 Industrial Yarns
5.3.3 Textiles & Carpets
5.3.4 Others
5.4 By End-user Industry
5.4.1 Automotive Industry
5.4.2 Carpet Industry
5.4.3 Textile Industry
5.4.4 Others
6. Regional Market Analysis (Market size, Growth, and Forecast)
6.1 Asia-Pacific
6.1.1 China
6.1.2 India
6.1.3 Japan
6.1.4 South Korea
6.1.5 Rest of Asia-Pacific
6.2 North America
6.2.1 United States
6.2.2 Canada
6.2.3 Mexico
6.2.4 Rest of North America
6.3 Europe
6.3.1 Germany
6.3.2 United Kingdom
6.3.3 Italy
6.3.4 France
6.3.5 Rest of Europe
6.4 South America
6.4.1 Brazil
6.4.2 Argentina
6.4.3 Rest of South America
6.5 Middle-East & Africa
6.5.1 South Africa
6.5.2 Saudi Arabia
6.5.3 Rest of Middle East & Africa
7. Competitive Landscape
7.1 Mergers, Acquisitions, Joint Ventures, Collaborations, and Agreements
7.2 Market Share Analysis
7.3 Strategies Adopted by Leading Players
8. Company Profiles (Overview, Financials**, Products & services and Recent Developments)
8.1 Advansix Inc.
8.2 Alpek S.A.B. de C.V.
8.3 BASF SE
8.4 Capro Corp
8.5 DOMO Caproleuna GmbH
8.6 Fertilizers & Chemicals Travancore Ltd
8.7 Juhua Group Corp.
8.8 Lanxess AG
8.9 Ojsc Kuibyshevazot
8.10 Sumitomo Chemical Co. Ltd
8.11 Toray Industries, Inc.
8.12 UBE Industry Group
*List not exhaustive
9. Disclaimer
**Subject to availability of public domain