Instantánea del mercado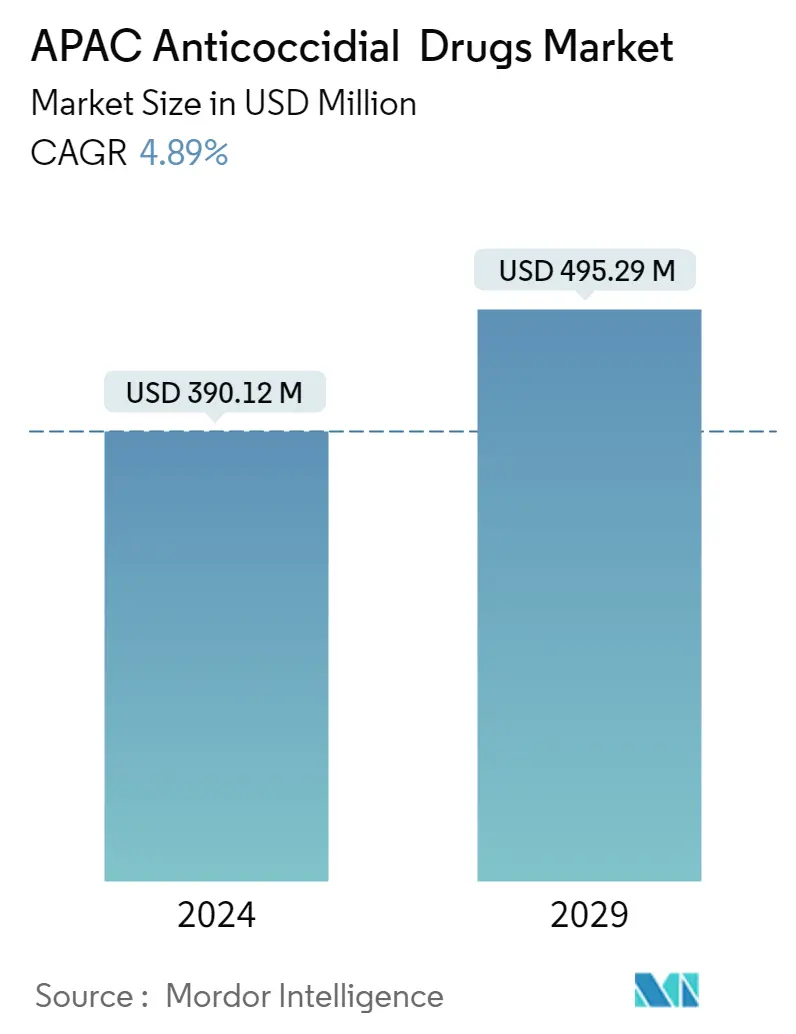 Study Period:
2018 - 2026
CAGR:
4.4 %

Major Players

*Disclaimer: Major Players sorted in no particular order
Need a report that reflects how COVID-19 has impacted this market and its growth?
Visión general del mercado
Se espera que el mercado de medicamentos anticoccidiales de Asia y el Pacífico registre una CAGR del 4,4 % durante el período de pronóstico. La coccidiosis es una infección parasitaria del tracto intestinal de los animales causada por protozoos coccidios. La enfermedad se propaga de un animal a otro por medio de heces infectadas o por ingestión de tejido infectado. Para superar esta condición, los fármacos anticoccidiales juegan un papel clave en el tratamiento y prevención de la coccidiosis.
Según el informe del estudio en Science Daily 2019, se afirma que desde el año 2000, la producción de carne ha aumentado en más del 60 % en África y Asia, y en un 40 % en América del Sur, a medida que los países pasaron de dietas bajas a altas en proteínas, por lo tanto, impulsando el crecimiento del mercado. Más de la mitad de los pollos y cerdos del mundo se encuentran en Asia.
Los principales factores que impulsan el crecimiento del mercado en la región de Asia se deben a la creciente incidencia de coccidiosis en animales productores de alimentos y animales de compañía, el aumento de la demanda de proteínas cárnicas en países como China, India, Malasia, etc.
Sin embargo, es probable que el uso de tratamientos alternativos, como vacunas y remedios a base de hierbas, para tratar la coccidiosis obstaculice el crecimiento del mercado de fármacos anticoccidiales.
Scope of the report
Coccidiosis is one of the most frequent and prevalent parasitic diseases among domesticated animals and its symptoms include weight loss, mild intermittent to severe diarrhea, feces containing mucus or blood, dehydration, and decreased breeding. Any drug used to combat the progression of coccidiosis in birds or animals, both food-producing and non-food producing, is termed as an anticoccidial. The Asia-Pacific Anticoccidial Drugs Market is segmented by drug type, animal, and geography.
Tendencias clave del mercado
Se espera que el segmento anticoccidial ionóforo domine el mercado de fármacos anticoccidiales durante el período de pronóstico
Estos medicamentos son ampliamente utilizados para la prevención de la coccidiosis, debido a su actividad de amplio espectro contra la mayoría de las especies patógenas de coccidios y la falta de desarrollo de resistencia a los medicamentos. Cada uno tiene un modo de acción diferente y no se ha desarrollado una resistencia significativa. Estos medicamentos se agregan comúnmente a los alimentos de inicio y crecimiento, pero no a los alimentos de finalización o retiro.
Durante muchos años, los ionóforos han sido la elección para controlar la coccidiosis porque la resistencia se desarrolla lentamente porque no suprimen por completo el desarrollo del parásito, lo que permite el desarrollo de inmunidad en el huésped después de la primera exposición.
En Australia, Elanco ofrece "Maxiban", un producto combinado único para la prevención de la coccidiosis en pollos de engorde. Por lo tanto, debido a los factores anteriores, se espera que el segmento crezca durante el período de pronóstico.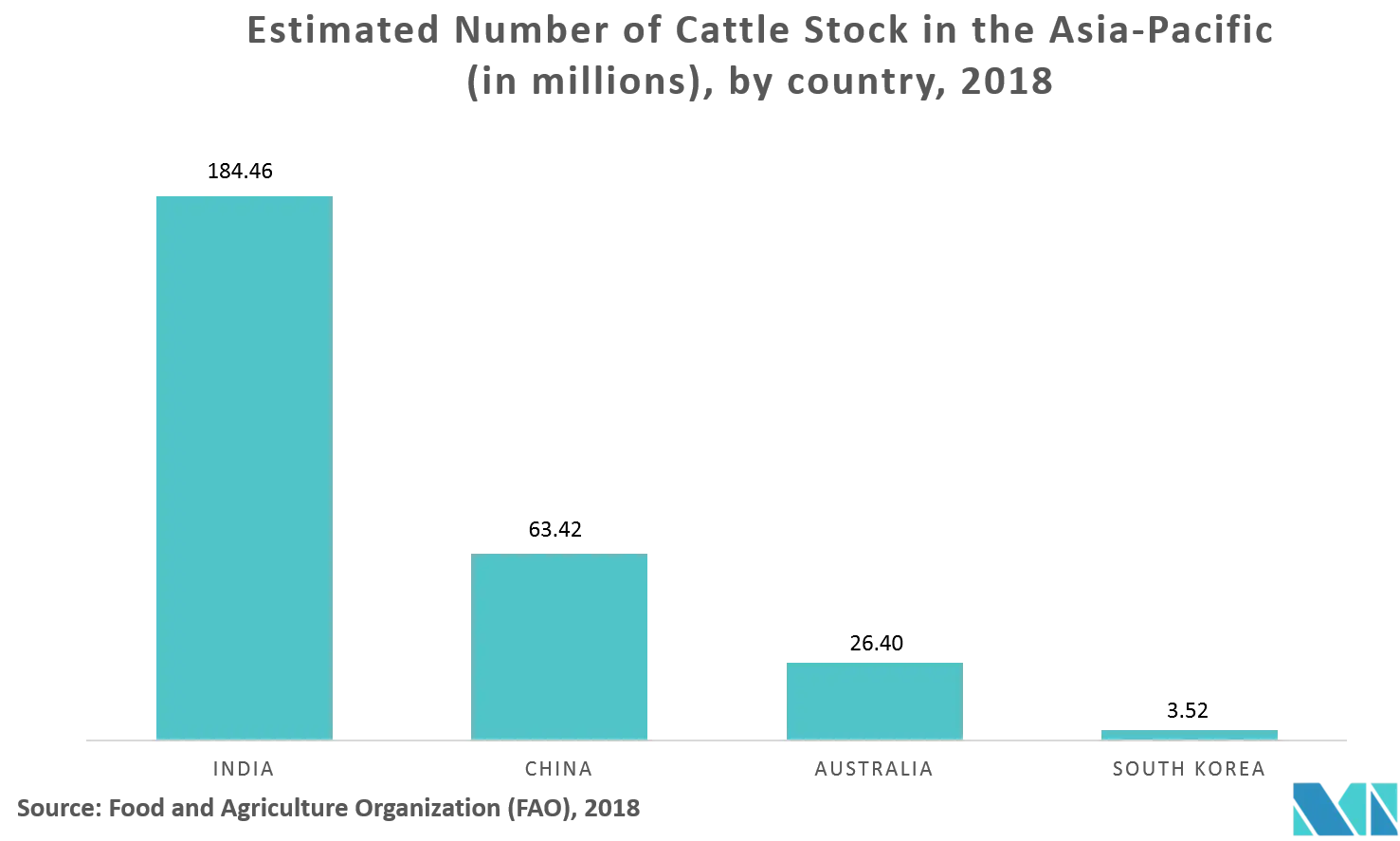 To understand key trends, Download Sample Report
Panorama competitivo
El mercado anticoccidial de Asia-Pacífico es competitivo. Los principales actores del mercado se centran principalmente en el desarrollo continuo de productos, mientras adoptan estrategias de crecimiento, como fusiones, adquisiciones y asociaciones con otros actores del mercado. Los principales actores incluyen Bayer Animal Healthcare, Boehringer Ingelheim, Elanco Animal Health, Merck, Virbac y Zoetis Animal Healthcare, entre otros.
Principales actores
Elanco

Vetoquinol SA

Huvepharma

Virbac

Zoetis Animal Healthcare
*Disclaimer: Major Players sorted in no particular order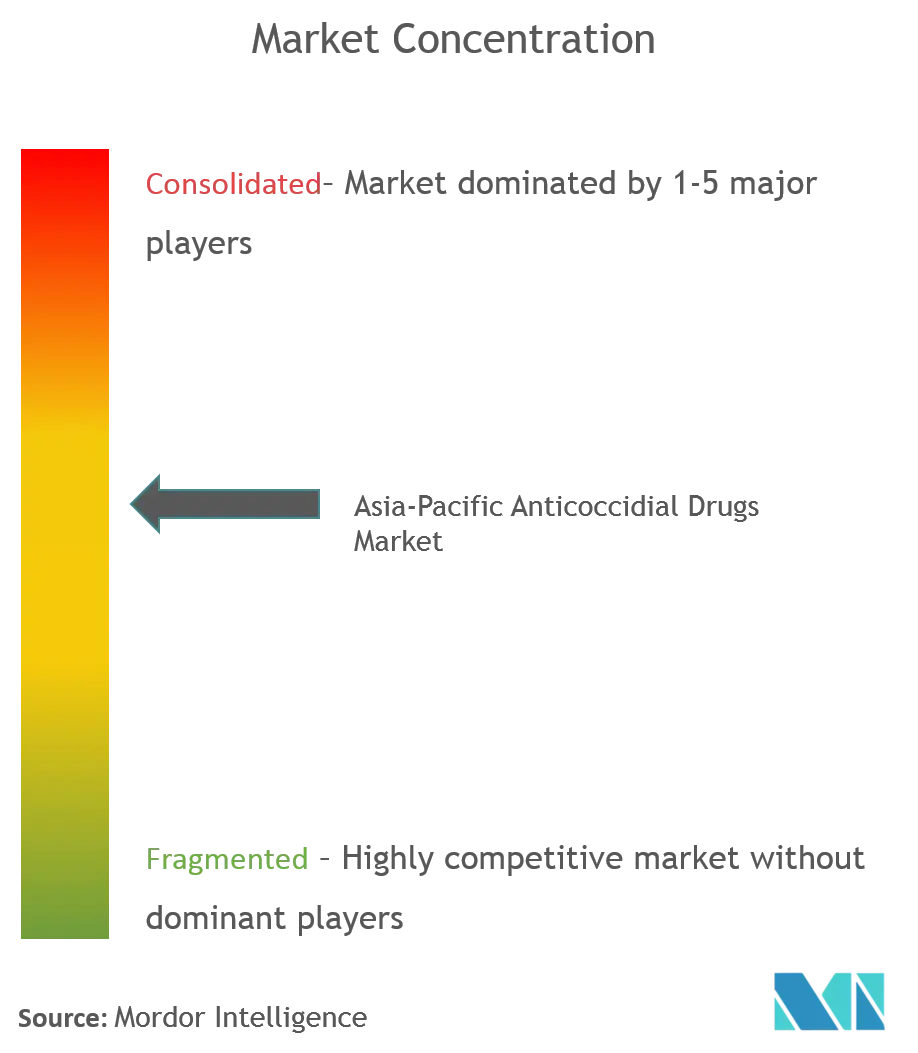 Table of Contents
1. INTRODUCCIÓN

1.1 Supuestos de estudio

1.2 Alcance del estudio

2. METODOLOGÍA DE INVESTIGACIÓN

3. RESUMEN EJECUTIVO

4. DINÁMICA DEL MERCADO

4.1 Visión general del mercado

4.2 Indicadores de mercado

4.2.1 Aumento de la incidencia de coccidiosis

4.2.2 Avances en la atención médica veterinaria

4.3 Restricciones del mercado

4.3.1 Disponibilidad de Opciones de Tratamiento Alternativo en el Mercado

4.4 Análisis de las cinco fuerzas de Porter

4.4.1 Amenaza de nuevos participantes

4.4.2 Poder de negociación de los compradores/consumidores

4.4.3 El poder de negociacion de los proveedores

4.4.4 Amenaza de productos sustitutos

4.4.5 La intensidad de la rivalidad competitiva

5. SEGMENTACIÓN DE MERCADO

5.1 Por tipo de droga

5.1.1 Anticoccidiales ionóforos

5.1.2 Anticoccidianos Derivados Químicos

5.2 por animales

5.2.1 Aves de corral

5.2.2 Cerdo

5.2.3 Pez

5.2.4 Vacas

5.2.5 Animales de compañía

5.3 Geografía

5.3.1 Asia-Pacífico

5.3.1.1 China

5.3.1.2 Japón

5.3.1.3 India

5.3.1.4 Australia

5.3.1.5 Corea del Sur

5.3.1.6 Resto de Asia-Pacífico

6. PANORAMA COMPETITIVO

6.1 Perfiles de la empresa

6.1.1 Elanco

6.1.2 Vetoquinol SA

6.1.3 huvefarma

6.1.4 Virbac

6.1.5 Cuidado de la salud animal de Zoetis

6.1.6 MSD Salud Animal

6.1.7 Boehringer Ingelheim International GmbH

6.1.8 Ceva Salud Animal Inc

6.1.9 Bayer AG

7. OPORTUNIDADES DE MERCADO Y TENDENCIAS FUTURAS
**Competitive Landscape covers- Business Overview, Financials, Products and Strategies, and Recent Developments
Frequently Asked Questions
¿Cuál es el período de estudio de este mercado?
El mercado de medicamentos anticoccidiales de Asia y el Pacífico se estudia desde 2018 hasta 2028.
¿Cuál es la tasa de crecimiento del mercado Medicamentos anticoccidiales de Asia y el Pacífico?
El mercado de fármacos anticoccidiales de Asia-Pacífico está creciendo a una CAGR del 4,4 % en los próximos 5 años.
¿Quiénes son los principales fabricantes en el mercado de Asia-Pacífico Medicamentos anticoccidiales?
Elanco, Vetoquinol SA, Huvepharma, Virbac, Zoetis Animal Healthcare son las principales empresas que operan en el mercado de medicamentos anticoccidiales de Asia-Pacífico.
80%

of our clients seek made-to-order reports. How do you want us to tailor yours?