Instantánea del mercado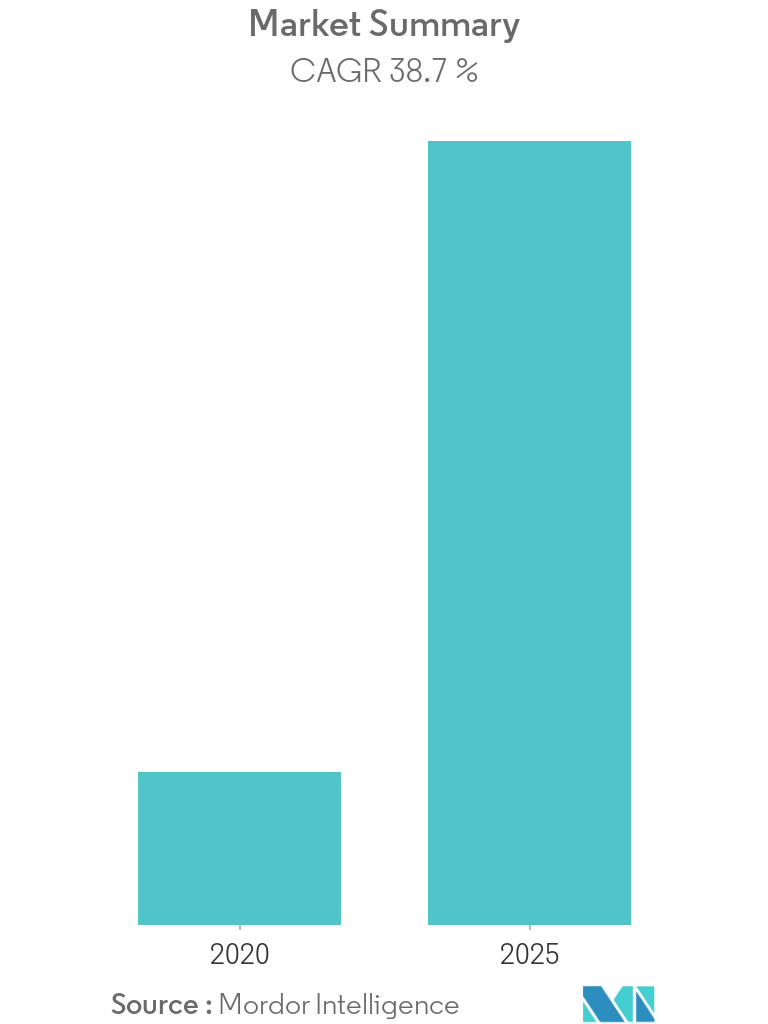 Study Period:
2018 - 2026
Fastest Growing Market:
Asia Pacific
Largest Market:
North America
CAGR:
38.7 %

Major Players

*Disclaimer: Major Players sorted in no particular order
Need a report that reflects how COVID-19 has impacted this market and it's growth?
Visión general del mercado
Se espera que el mercado de vallas virtuales 3D registre una CAGR del 38,7 % durante el período de pronóstico (2021 - 2026). Las tendencias actuales en la renovación de las fronteras sugieren su transformación hacia dispositivos flexibles, sofisticados y móviles capaces de rastrear, filtrar y excluir.
El aumento del riesgo de terrorismo e infiltración es el principal motor de crecimiento del mercado. Por ejemplo, en abril de 2019, Estados Unidos declaró a Maulana Masood Azhar como terrorista global después del ataque terrorista contra el convoy CRPF en el distrito de Pulwama en Cachemira. Estados Unidos también declaró la fuerza de Irán como una organización terrorista extranjera. Esto apunta hacia la creciente amenaza terrorista hacia el mundo.
También ha habido regulaciones gubernamentales con respecto a la seguridad del perímetro. La agencia del gobierno de EE. UU. llamada FEMA proporciona fondos a los solicitantes elegibles para la instalación de mejoras de seguridad en el perímetro que protegen a los empleados, visitantes y funciones y servicios del edificio de amenazas externas. En el Reino Unido, el gobierno desarrolló PAS 68, una especificación disponible públicamente para barreras de seguridad de vehículos, desarrollada en asociación con fabricantes de seguridad perimetral. Se ha convertido en el estándar del Reino Unido y el punto de referencia de la industria de la seguridad para equipos de mitigación de vehículos hostiles (HVM).
Sin embargo, los altos costes de mantenimiento y restauración son los factores que dificultan la instalación de vallas virtuales 3D. El Departamento de Seguridad Nacional de EE. UU. canceló un proyecto para construir una valla virtual en la frontera suroeste, entre Estados Unidos y México, porque el costo del proyecto aumentó de USD 67 millones iniciales a USD 1000 millones finales (aunque para una valla virtual más larga) .
Alcance del Informe
El objetivo principal de una valla virtual en 3D es manipular el paisaje de miedo de humanos o animales para crear áreas que se perciben como más aterradoras que otras. Esto se logra simulando la presencia de eventos aterradores o desagradables, como alarmas, angustia, etc. Ha habido un uso creciente de cámaras virtuales 3D y sistemas de detección de movimiento por video 3D en varias estrategias de seguridad. Verticales como Industria Ganadera, BFSI y Defensa son los principales usuarios de esta tecnología.
By Type
3D Video Motion Detection System
3D Virtual Cameras
By End-user Industry

Logistics
Warehouse Logistics
Transportation Based Logistics

Agriculture
Banking
Security
Construction
Geography
North America
Europe
Asia-Pacific
Latin America
Middle East & Africa
Tendencias clave del mercado
Sector de seguridad para impulsar el crecimiento del mercado
Ha habido una creciente necesidad de seguridad perimetral debido al creciente número de ataques terroristas. Uno de los países afectados por el terrorismo, India, lanzó en 2018 el proyecto "Smart Fence" a lo largo de la frontera entre India y Pakistán, que incluye la instalación de sensores, radares, cámaras de visión diurna y nocturna.
Suecia también introdujo geo-cercas digitales a prueba de terroristas debido a la creciente amenaza del terrorismo radical y el crimen organizado. La nueva generación de sensores que se utilizan en el proyecto piloto es capaz de detectar e identificar la ubicación de sonidos, como disparos, explosiones y cristales rotos, y reportarlos a las estaciones centrales de monitoreo de la policía en tiempo real.
Además, ataques como los de Ester en Sri Lanka en 2019 y los disparos abiertos en el mercado navideño de Estrasburgo, Francia, en 2018 indican que están surgiendo nuevas caras del terrorismo, que requieren tecnologías avanzadas para abordarlas, lo que impulsa la necesidad de una cerca inteligente y virtual. .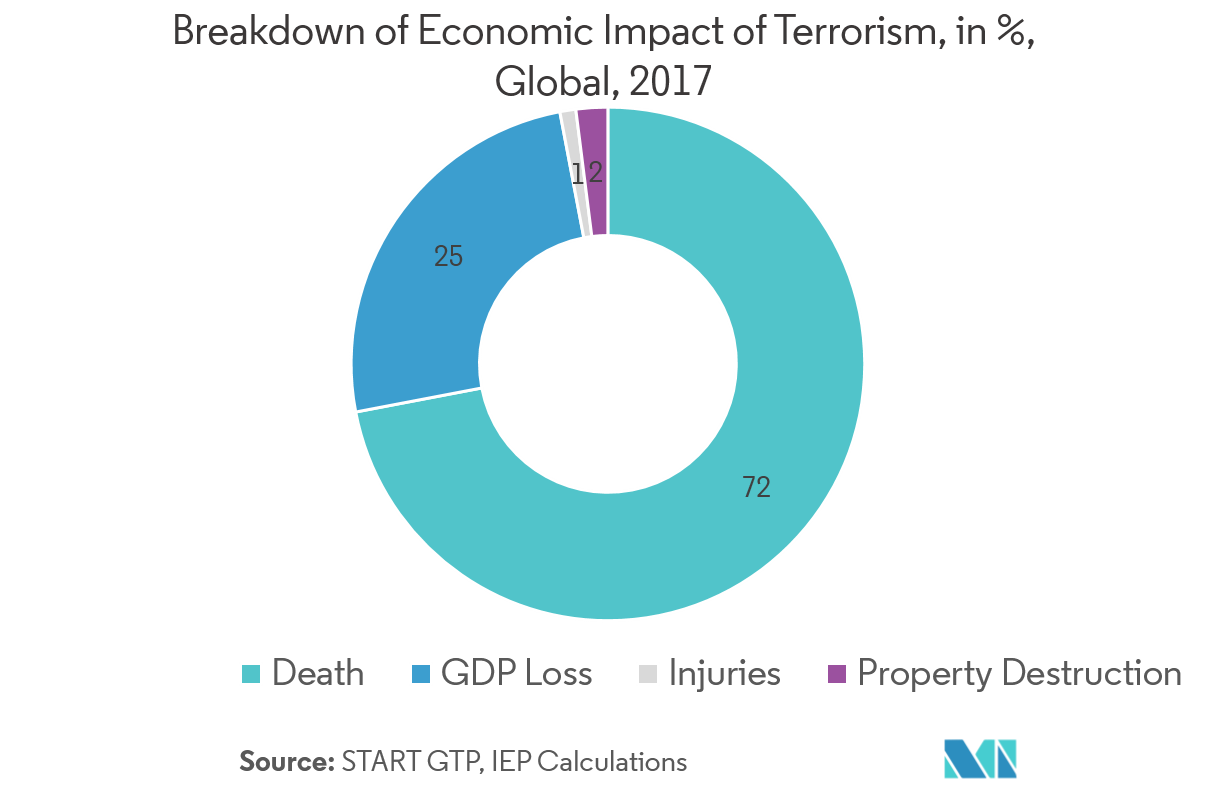 To understand key trends, Download Sample Report
Asia-Pacífico será testigo del mayor crecimiento
Según el Instituto Australiano de Política Estratégica, mientras que las muertes globales por terrorismo cayeron un 27 % en 2018, aumentaron un 30 % en Asia-Pacífico. El aumento se ha centrado en tres países: Filipinas, Myanmar y Tailandia juntos han experimentado casi 4.000 ataques en los últimos cinco años.
Este aumento se ha correspondido en términos generales con la expansión de las franquicias terroristas transnacionales, como al-Qaeda y el Estado Islámico, en la región.
La participación de elementos religiosos absolutistas hace que estos grupos sean difíciles de eliminar. Por lo tanto, los países de la región están invirtiendo significativamente en seguridad fronteriza y nacional.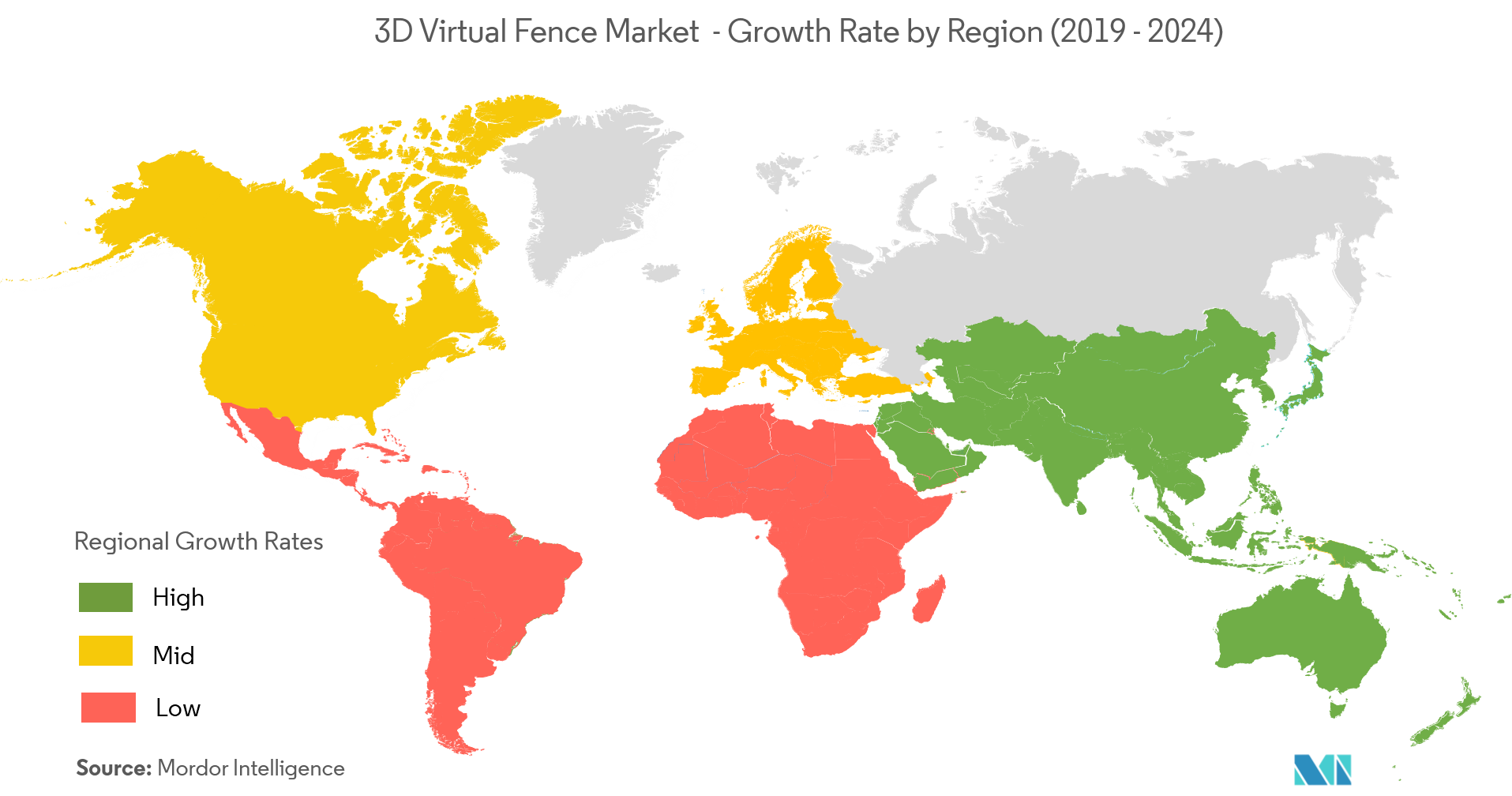 To understand geography trends, Download Sample Report
Panorama competitivo
El mercado de cercas virtuales en 3D está emergiendo y la mayoría de los jugadores traen nuevas tecnologías para atender a varios segmentos. Proveedores como CONTROP Precision Technologies Ltd. y G&A Surveillance ofrecen servicios limitados que tienen mucha demanda.
Marzo de 2019: Agersens y la Universidad Estatal de Ohio firmaron un memorando de entendimiento (MoU) que allana el camino para que las dos organizaciones implementen ensayos de investigación para determinar la eficacia y la economía del sistema eShepherd para las condiciones locales. eShepherd es un sistema de collar inteligente para ganado, que permite a los productores de ganado crear "cercas virtuales"
Octubre de 2018: Nofence lanzó un sistema de vallado virtual para ayudar a mantener a los animales dentro de un pastizal definido, con la ayuda de un collor alimentado por energía solar.
Principales actores
CONTROP Precision Technologies Ltd.

Vigilancia G&A

Agersens Pty Ltd

Laboratorios Huper Co. Ltd.

Sistemas de Seguridad Perimetral RBtec
*Disclaimer: Major Players sorted in no particular order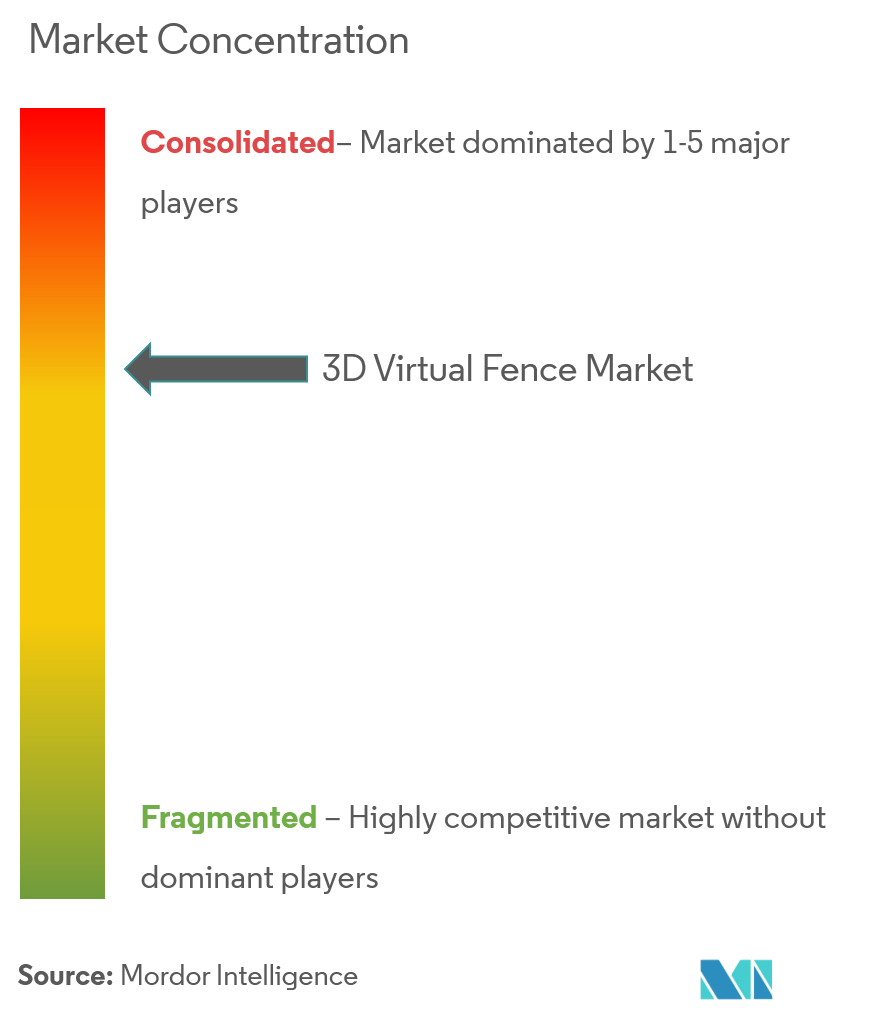 Table of Contents
1. INTRODUCTION

1.1 Study Deliverables

1.2 Study Assumptions

1.3 Scope of the Study

2. RESEARCH METHODOLOGY

3. EXECUTIVE SUMMARY

4. MARKET OVERVIEW

5. MARKET DYNAMICS

5.1 Introduction to Market Drivers and Restraints

5.2 Market Drivers

5.2.1 Increasing Risk of Terrorism and Infiltration is the Major Market Growth Driver

5.2.2 Government Regulations Regarding Perimeter Security is Expanding the Market

5.3 Market Restraints

5.3.1 High installation and Maintenance Cost is Hindering the Market Growth

5.4 Value Chain / Supply Chain Analysis

5.5 Industry Attractiveness - Porter's Five Force Analysis

5.5.1 Threat of New Entrants

5.5.2 Bargaining Power of Buyers/Consumers

5.5.3 Bargaining Power of Suppliers

5.5.4 Threat of Substitute Products

5.5.5 Intensity of Competitive Rivalry

6. MARKET SEGMENTATION

6.1 By Type

6.1.1 3D Video Motion Detection System

6.1.2 3D Virtual Cameras

6.2 By End-user Industry

6.2.1 Logistics

6.2.1.1 Warehouse Logistics

6.2.1.2 Transportation Based Logistics

6.2.2 Agriculture

6.2.3 Banking

6.2.4 Security

6.2.5 Construction

6.3 Geography

6.3.1 North America

6.3.2 Europe

6.3.3 Asia-Pacific

6.3.4 Latin America

6.3.5 Middle East & Africa

7. COMPETITIVE LANDSCAPE

7.1 Company Profiles

7.1.1 Controp Precision Technologies, Ltd

7.1.2 G&A Surveillance

7.1.3 Huper Laboratories Co. Ltd

7.1.4 Rbtec Perimeter Security Systems

7.1.5 Senstar Corporation

7.1.6 Schneider Electric

7.1.7 Tyco International PLC

7.1.8 Anixter International Inc.

*List Not Exhaustive

8. INVESTMENT ANALYSIS

9. MARKET OPPORTUNITIES AND FUTURE TRENDS
**Subject to Availability
Frequently Asked Questions
¿Cuál es el período de estudio de este mercado?
El mercado de la cerca virtual 3D se estudia a partir de 2018 - 2028.
¿Cuál es la tasa de crecimiento del mercado Valla virtual 3D?
El mercado de vallas virtuales 3D está creciendo a una CAGR del 38,7 % en los próximos 5 años.
¿Qué región tiene la tasa de crecimiento más alta en el mercado Valla virtual 3D?
Asia Pacífico está creciendo a la CAGR más alta entre 2018 y 2028.
¿Qué región tiene la mayor participación en el mercado Valla virtual 3D?
América del Norte tiene la participación más alta en 2021.
¿Quiénes son los jugadores clave que operan en el mercado Valla virtual 3D?
CONTROP Precision Technologies Ltd., G&A Surveillance, Agersens Pty Ltd, Huper Laboratories Co. Ltd, RBtec Perimeter Security Systems son las principales empresas que operan en el mercado de vallas virtuales 3D.
80%

of our clients seek made-to-order reports. How do you want us to tailor yours?