市场快照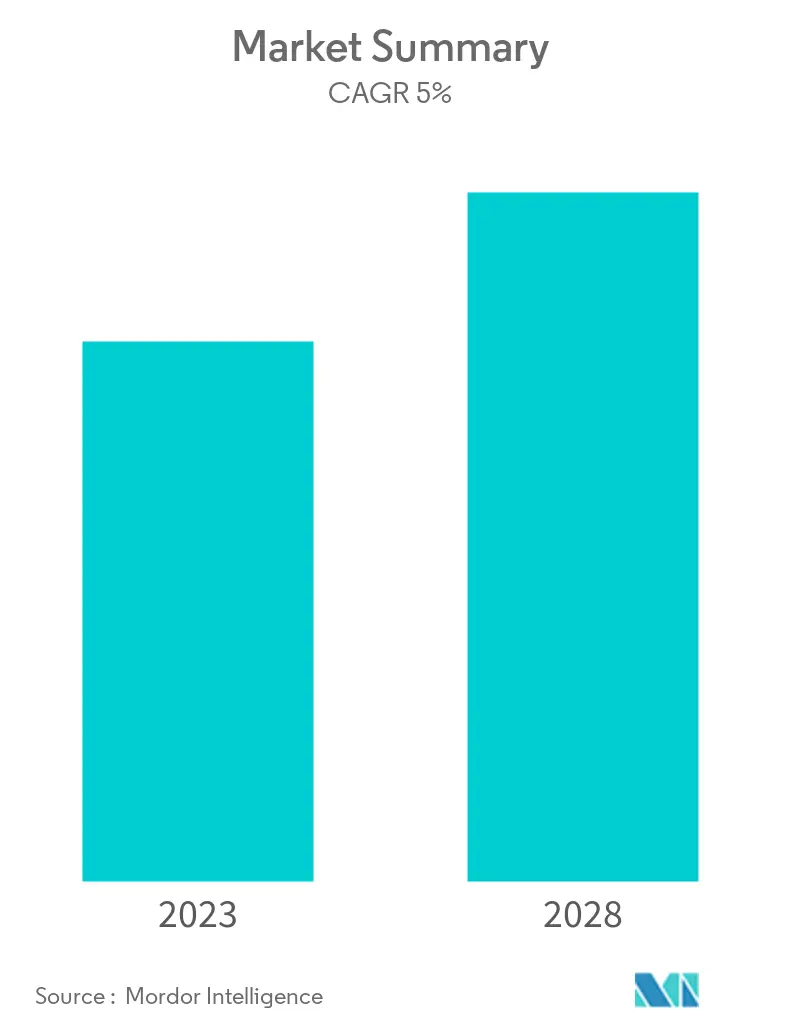 Study Period:
2016 - 2026
Base Year:
2021
Fastest Growing Market:
Asia Pacific
Largest Market:
Asia Pacific
CAGR:

>

5 %
Need a report that reflects how COVID-19 has impacted this market and its growth?
市场概况
预计 PVC 稳定剂市场在预测期内的复合年增长率约为 6%。PVC管材、管件和管材在建筑行业应用中提供的经济效益可能会推动全球市场对PVC的需求,进而有望推动未来PVC稳定剂的需求。
此外,全球市场对 PVC 生产和 COVID-19 大流行的影响日益增长的健康和环境问题预计将阻碍所研究市场的增长。
亚太地区占全球 PVC 稳定剂市场的最大份额,其中大部分市场来自中国、印度和东盟国家等。
报告范围
PVC 稳定剂市场报告的范围包括:
Type
Calcium-based
Lead-based
Tin-based
Barium-based
Other Types
End-user Industry
Building and Construction
Automotive
Electrical and Electronics
Packaging
Footwear
Other End-user Industries
Geography

Asia-Pacific
China
India
Japan
South Korea
Rest of Asia-Pacific

North America
United States
Canada
Mexico

Europe
Germany
United Kingdom
France
Italy
Rest of Europe

South America
Brazil
Argentina
Rest of South America

Middle-East and Africa
Saudi Arabia
South Africa
Rest of Middle-East and Africa
主要市场趋势
主导市场的建筑和建筑
Polyvinyl chloride (PVC) is a strong and lightweight structure, durable to weathering, chemical corrosion, and abrasion. It offers fire resistance. PVC is widely used in the building and construction industry for various applications, such as pipes, windows, flooring, roofing, and lighter structures. Calcium, lead, and tin stabilizers dominate the construction industry.​
PVC pipes are being used in construction for over 60 years. PVC offers valuable energy savings during production, low cost, and maintenance-free with life-time service compared to traditional materials. PVC pipes are widely used for water, waste, and sewage systems. PVC pipes suffer no build-up, scaling, corrosion, and provides smooth surfaces that provide a frictionless free flow. In residential and other applications, the PVC pipes in water and sewage applications account for about 75% of the total applications. Moreover, PVC pipes can be joined easily using various solvent cement, heat-fused, or by permanent joints that are impervious to leakage.​
PVC flooring has been in use for over 50 years. It provides highly effective and cost-efficient flooring solutions in various private and public sectors, which include homes, offices, hotels, schools, and commercial spaces. The PVC flooring is durable, a wide range of aesthetic effects, ease of installation, variable thickness, and easy recyclability. Moreover, complex and 3D designs are possible to print and the smooth, tough surface of upper wear layer prevents the build-up of dirt, which prevents microbes and keeps areas sterile for applications in hospitals and clinics.​
PVC has been in use for fabricating window frames. PVC windows are tough and durable. They have a lifetime of over 35 years. The growing demand for new windows from increasing new construction and replacement of the existing windows are likely to drive the market studied. PVC sheets are used in roofing and coverings, like railway platforms, air base shed, and nurseries. PVC roofing are easy to install and have low-maintenance requirements.​
The construction activities in Europe is dominated by the growing residential construction and increasing hotel construction fueled by the growing tourism in the country. In 2019, around 270 new hotels were opened, and over 700 projects are being planned, with many under construction expected to become operational by the end of 2022. The United Kingdom and Germany are the leading countries in terms of new hotel construction, as the number of tourists visiting these countries are growing rapidly. There are about 390 new hotels and 353 new hotels in the United Kingdom and Germany, respectively, that are being developed and will provide over 100 thousand rooms.​
The growing construction activities across the world, mostly dominated by Asia-Pacific, owing to increasing, disposable middle-class incomes, and urbanization. The construction activity in Asia-Pacific is dominated by China and India, followed by the growing infrastructure projects to provide sustainable infrastructure is expected to drive the market. ​

The Chinese government rolled out massive construction plans, including making provisions for the movement of 250 million people to its new megacities, over the next ten years creating a major scope for prefabricated building systems for the fasted and cheapest means in meeting the requirement over the coming years. The growing demand for housing is likely to drive the residential construction in the country both in the public and private sectors. The new hotels projects in the country increased by about 15% in 2019. The increase in construction of tall buildings and hotels is driving the market studied.​
The Indian government is actively boosting housing construction, as it aims to provide home to about 1.3 billion people. The country is likely to witness around USD 1.3 trillion of investment in housing over the next seven years. It is likely to witness the construction of 60 million new homes in the country. ​

The accelerated construction of high-rise buildings, malls, and hotels in the Middle East are likely to drive the market. The increasing residential construction in the United States and Canada is dominating the demand for PVC in the region, which is expected to drive the market studied during the forecast period.​

The United States has one of the world's largest construction industry, and it recorded an annual revenue of USD 1,306 billion in 2019. ​According to US Census Bureau, the total residential housing units authorized by building permits in March were at a seasonally adjusted annual rate of 1,353,000, representing 5% growth over March 2019 rate of 1,288,000. The total number of privately owned housing in March were at a seasonally adjusted annual rate of 1,216,000, representing a 1.4% growth over March 2019 rate of 1,199,000.​

Despite the growth of construction activities, the negative impact of the COVID-19 pandemic halted the production facilities for several months. As the lockdown was implemented, the supply chain throughout the world was fractured, which will result in hampered growth in construction on a short-term basis before stabilizing.​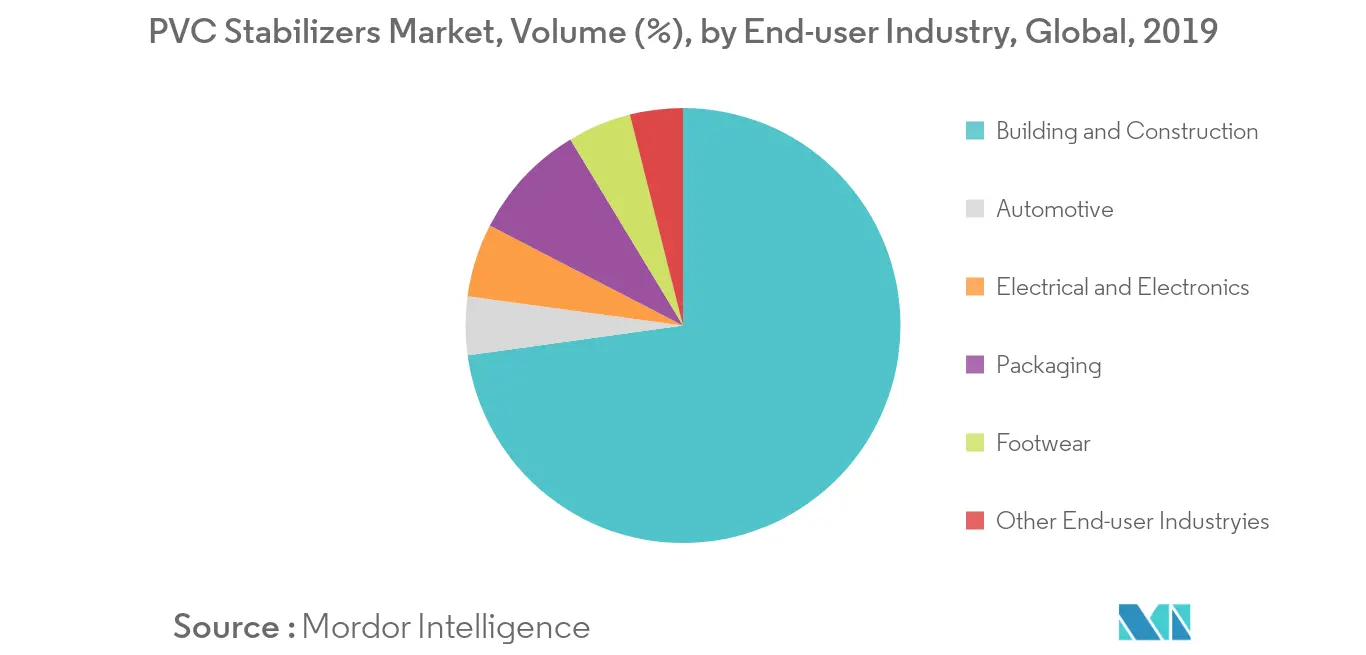 To understand key trends, Download Sample Report
中国将主导亚太市场
In the Asia-Pacific region, China is the largest economy in terms of GDP.  In 2019, the country witnessed about 6.1% growth in its GDP, despite facing disturbances caused due to its trade war with the United States. Currently, the Chinese economy has been severely hit by the COVID-19 pandemic. The country was among the worst affected, during the initial spread of the virus. All the major manufacturing industries have experienced a severe blow.​
According to the National Bureau of Statistics of China, during the first three months of 2020, the country's GDP declined by 6.8%, marking the first decline in about 44 years. According to the International Monetary Fund (IMF), the real annual change in the GDP percentage of China is projected to be 1.2% in 2020, and the country is expected to witness a growth rate of 9.2% in 2021, subject to the post-pandemic global economic recovery. ​
As PVC is strong, light in weight, durable against weathering, rotting, chemical corrosion, and abrasion, versatile, and easy to use, as it can be cut, shaped, welded, and joined in any style. Such characteristics make it an ideal option for many applications, such as pipes, windows, flooring, and roofing, in the construction industry. ​
The Chinese construction industry has a prominent role in the growth of the country's economy, and it is one of the largest industries in the country. This sector witnessed significant growth even in the middle of an economic crisis. This is due to the government's belief that investment in infrastructure is an option to boost economic growth during a period of slowdown. Similar investments are expected in the construction industry, to push the economy. Construction activities in the country resumed in April.​
In 2019, the Chinese government approved of 26 infrastructural projects, with an estimated investment of USD 142 billion. These projects are expected to be completed by 2023, according to the National Development and Reform Commission. The increasing demand for housing is likely to drive residential construction in the country, both in the public and the private sectors. The number of new hotel projects in the country increased by about 15% in 2019. This is also driving the market studied.​
PVC is widely used in the automotive industry. Its thermoplastic properties reduce weight and allow for lower costs during manufacturing. The Chinese automotive manufacturing industry is the largest in the world, having registered a production share of just over 28% in 2019. The industry witnessed a slowdown in 2018, wherein the production and sales declined. A similar trend continued in 2019, when the production declined to 25.7 million vehicles, having dropped by about 7.5% Y-o-Y.​
According to the China Association of Automobile Manufacturers (CAAM), automotive production is expected to decline by about 2% in 2020. Due to the Coronavirus pandemic and the implementation of a strict lockdown, the automotive manufacturing units had been shut down during the first quarter. ​
The growing production of motor vehicles and the expanding construction industry are expected to support the consumption of PVC stabilizers in multiple applications. This is a positive factor that is expected to drive the market, in the coming years.​
PVC is used in packaging applications, as it is flexible, cost-effective, lightweight, transparent, and safe to use. PVC also requires fewer materials, like fuel, to be manufactured and transported, as compared to other packaging materials, such as glass and metal. It protects against contamination, by preventing the spread of germs during manufacture, distribution, and display. ​
Increasing demand from the e-commerce and food delivery sectors is expected to drive the packaging industry, thereby driving the market studied. China's e-commerce market is dominated by Alibaba, whose industrial share is around 59%. The company's annual revenue in FY 2019 witnessed a growth of 51% Y-o-Y. The growing e-commerce industry requires packaging solutions, and this is expected to drive the market during the forecast period. 
PVC has excellent electrical insulation properties, coupled with higher fire resistance, due to which it is widely used in applications, such as electric cables for residential buildings, vehicles, household electrical appliances, cable coverings, insulating tapes, switch boxes, wire coverings, and protective tubes for power and telecommunications cables.​
China is the largest consumer of electric vehicles. In 2019 alone, there were about 1.2 million new electric vehicle registrations, which was up by 3% from the number registered in 2018. There are about 2,000 fuel cell electric vehicles (FCEVs) in China, by the end of 2019. The Chinese government is planning to have a minimum of 5,000 fuel cell electric vehicles on the roads by 2025, and one million by 2030. ​
However, due to the COVID-19 pandemic, the economic and industrial manufacturing activities have been significantly affected. In mid-2020, the IMF predicted that China is likely to register a GDP growth of about 1.2% by the end of the year, which will reflect a significant decline from 6.1% in 2019.​
In March 2020, the nationwide lockdown was lifted and various industrial operations resumed across the country. Hence, from the above-mentioned factors, it can be understood that the demand for PVC stabilizers in China is likely to remain unaffected in the short run. However, the industrial demand is expected to normalize the market demand for PVC stabilizers in 2021.​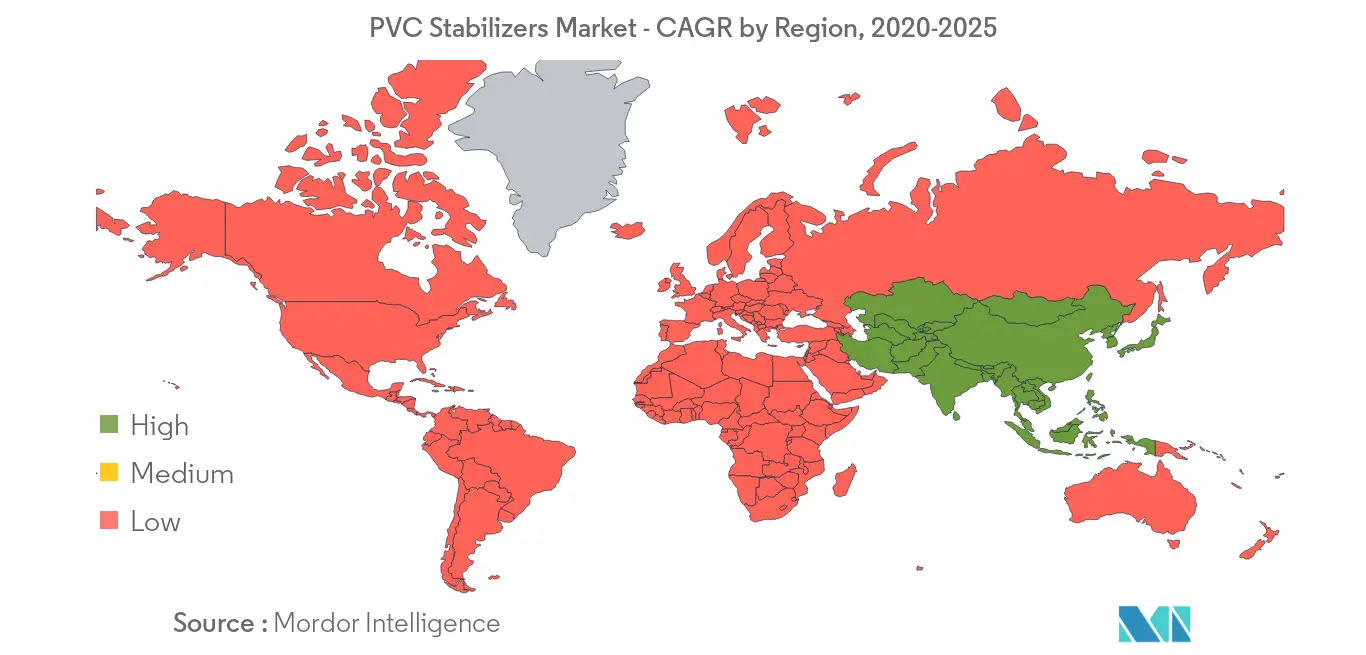 To understand geography trends, Download Sample Report
竞争格局
全球 PVC 稳定剂市场行业由多个市场参与者主导,市场份额很大。市场高度分散且以需求为导向,其主要最终用户包括建筑和包装行业。主要公司包括 Baerlocher GmbH、Songwon、Adeka Corporation、Reagens SPA 和 Galata Chemicals 等。
Table of Contents
1. INTRODUCTION

1.1 Study Assumptions

1.2 Scope of the Study

2. RESEARCH METHODOLOGY

3. EXECUTIVE SUMMARY

4. MARKET DYNAMICS

4.1 Drivers

4.1.1 Economic Benefits Provided by PVC Pipes, Tubing, and Fittings​

4.1.2 Increasing Usage of Methyl Tin Stabilizer in Packaging Applications

4.2 Restraints

4.2.1 Health and Environmental Concerns and Restrictions on Specific Organizations​

4.2.2 Impact of COVID–19 on the Market​

4.3 Industry Value-Chain Analysis

4.4 Porter's Five Forces Analysis

4.4.1 Bargaining Power of Suppliers

4.4.2 Bargaining Power of Consumers

4.4.3 Threat of New Entrants

4.4.4 Threat of Substitute Products and Services

4.4.5 Degree of Competition

5. MARKET SEGMENTATION

5.1 Type

5.1.1 Calcium-based

5.1.2 Lead-based

5.1.3 Tin-based

5.1.4 Barium-based

5.1.5 Other Types

5.2 End-user Industry

5.2.1 Building and Construction

5.2.2 Automotive

5.2.3 Electrical and Electronics

5.2.4 Packaging

5.2.5 Footwear

5.2.6 Other End-user Industries

5.3 Geography

5.3.1 Asia-Pacific

5.3.1.1 China

5.3.1.2 India

5.3.1.3 Japan

5.3.1.4 South Korea

5.3.1.5 Rest of Asia-Pacific

5.3.2 North America

5.3.2.1 United States

5.3.2.2 Canada

5.3.2.3 Mexico

5.3.3 Europe

5.3.3.1 Germany

5.3.3.2 United Kingdom

5.3.3.3 France

5.3.3.4 Italy

5.3.3.5 Rest of Europe

5.3.4 South America

5.3.4.1 Brazil

5.3.4.2 Argentina

5.3.4.3 Rest of South America

5.3.5 Middle-East and Africa

5.3.5.1 Saudi Arabia

5.3.5.2 South Africa

5.3.5.3 Rest of Middle-East and Africa

6. COMPETITIVE LANDSCAPE

6.1 Mergers and Acquisitions, Joint Ventures, Collaborations, and Agreements

6.2 Market Ranking Analysis

6.3 Strategies Adopted by Leading Players

6.4 Company Profiles

6.4.1 Adeka Corporation

6.4.2 Baerlocher GmbH

6.4.3 Chemson Polymer Additive AG

6.4.4 Galata Chemicals

6.4.5 Jiangsu Uniwel Chemistry Co. Ltd​

6.4.6 KD Chem Co. Ltd​

6.4.7 Kemipex

6.4.8 Pau Tai Industrial Corporation​

6.4.9 PMC Group Inc.

6.4.10 PT TIMAH Tbk

6.4.11 Reagens SpA​

6.4.12 Shital Industries Pvt. Ltd​

6.4.13 SONGWON

6.4.14 Sun Ace Kakoh (Pte.) Ltd​

6.4.15 Valtris Specialty Chemicals​

6.4.16 Vikas Ecotech Ltd​

*List Not Exhaustive

7. MARKET OPPORTUNITIES AND FUTURE TRENDS

7.1 Replacement of Lead-based Stabilizers with Tin-based Stabilizers​
**Subject to Availability
You can also purchase parts of this report. Do you want to check out a section wise price list?
Frequently Asked Questions
What is the study period of this market?
The PVC Stabilizers Market market is studied from 2016 - 2026.
What is the growth rate of PVC Stabilizers Market?
The PVC Stabilizers Market is growing at a CAGR of >5% over the next 5 years.
Which region has highest growth rate in PVC Stabilizers Market?
Asia Pacific is growing at the highest CAGR over 2021- 2026.
Which region has largest share in PVC Stabilizers Market?
Asia Pacific holds highest share in 2021.
Who are the key players in PVC Stabilizers Market?
Baerlocher GmbH, Songwon, Adeka Corporation, Reagens SPA, Galata Chemicals are the major companies operating in PVC Stabilizers Market.
80%

of our clients seek made-to-order reports. How do you want us to tailor yours?