市场快照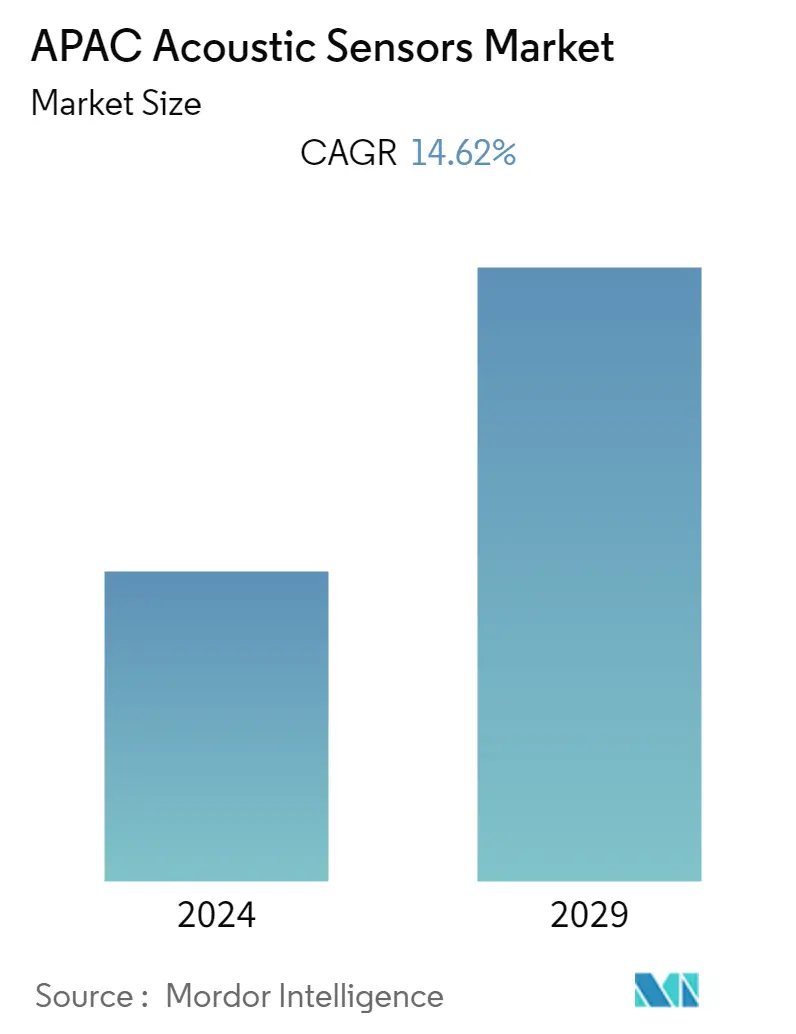 Study Period:
2019-2026
Base Year:
2021
CAGR:
14.62 %
Need a report that reflects how COVID-19 has impacted this market and its growth?
市场概况
预计亚太地区声学传感器市场在预测期内(2021 - 2026 年)将以 14.62% 的复合年增长率增长。声波传感器在基于声波的 MEMS 器件中的使用创造了一个可用于广泛应用的有前途的技术平台。这些设备具有高灵敏度并且可以无线操作。
由于表面波声传感器在电视发射器和无线电中的实施以产生广播信号,因此预计在预测期内将有高速增长。SAW器件在射频应用中作为滤波器必不可少,是卫星通信终端和基站中必不可少的组件。
对开发支持 5G 技术的基础设施的投资日益受到关注,预计将推动整个地区对射频半导体的需求。根据 GSMA 的数据,预计 2020 年至 2025 年间,亚太地区的移动运营商将在其网络上投资超过 4000 亿美元,其中 3310 亿美元将用于 5G 部署。
该地区还主导着全球汽车 MEMS 传感器市场。电动汽车市场在该地区是一个巨大的机会。2019 年中国电动汽车销量保持不变,约为 120 万辆(比上一年增长 3%)。
2020年6月,中国电动汽车(EV)生产商比亚迪为其子公司比亚迪半导体获得第二轮融资,以增加其产量。该公司有兴趣开发可以提高电动汽车电动机效率的半导体。通过这些提高该地区制造能力的举措,预计对 SAW 器件的需求将会增加。
在 COVID-19 的初始阶段,由于全国范围内的封锁和许多制造能力的关闭,所研究的市场见证了供应链的中断。然而,在 2020 年第二季度之后,市场开始见证需求和生产的复苏,半导体行业的趋势也反映在所研究的市场中。
Scope of the report
Acoustic wave sensors are a division of micro-electromechanical systems that work on modulating surface acoustic waves that sense the physical phenomenon. They are used to convert electrical signals into mechanical waves. They are used in various fields such as signal processing, sensing, and others. The Acoustic Wave Sensors are expected to replace the conventional product in various applications due to their passive nature, wireless operation, and lesser response time.
By Wave Type
Surface Wave
Bulk Wave
By Sensing Parameter
Temperature
Pressure
Torque
Mass
Humidity
Viscosity
Chemical Vapor
By Application
Automotive
Aerospace and Defense
Consumer Electronics
Healthcare
Industrial
Other Applications
By Country
India
China
Japan
South Korea
Australia
Rest of Asia Pacific
主要市场趋势
电信应用推动市场增长
电信行业是声学传感器的最大消费者,主要由智能手机和基站驱动。随着电信公司建立越来越多的信号塔来支持不断增长的客户群,基站也在增加。
此外,由于可支配收入的增加和低预算的智能手机,人们,尤其是发展中国家的人们购买智能手机。
此外,大多数电话设备和其他类似的小工具已经安装了麦克风/扬声器,它们以相对较低的部署成本支持声学传感应用。
全球 LTE 和 4G 技术的基础设施发展不断增长,发达国家对 5G 技术的基础设施投资不断增加,这极大地推动了声学传感器(SAW 滤波器)的增长。
由于智能手机、平板电脑和其他电子设备在中国、韩国、日本和印度等发达和发展中经济体的使用量不断增加,预计声学传感器在预测期内将出现增长。
To understand key trends, Download Sample Report
消费电子市场占有率最高
由于智能手机销量的增加以及新兴射频技术在消费电子产品中的日益普及,声学传感器和其他相关设备的销量大幅增长,从而扩大了所研究的市场范围。
LTE、4G 和 5G 设备,尤其是 5G 智能手机的产量不断增长,也为 SAW 技术提供商创造了巨大的增长机会。射频滤波器正在成为这些设备中的标准组件,因为它们将无线电信号与各种智能手机用来接收和传输信息的不同频段隔离开来。新的高级 SAW 滤波器提供了比在 2.7 GHz 以下频率范围内竞争 BAW 滤波器更高性能的解决方案,因此随着 5G 技术的出现具有更高的增长机会。
大多数知名智能手机制造商在其最新的 5G 智能手机中采用射频滤波器;其中,LG 和三星是少数。与原始设备制造商 (OEM) 具有相似性能指标的竞争商业解决方案相比,SAW 传感器的进步还能够以更低的成本在 5G 和 4G 多模移动设备中实现更节能的射频路径。
许多研究人员也在探索 SAW MEMS 麦克风的范围,该麦克风也可用作无线无源加速度计和压力传感器。到 2024 年,全球 MEMS 麦克风市场预计将超过 16.7 亿美元。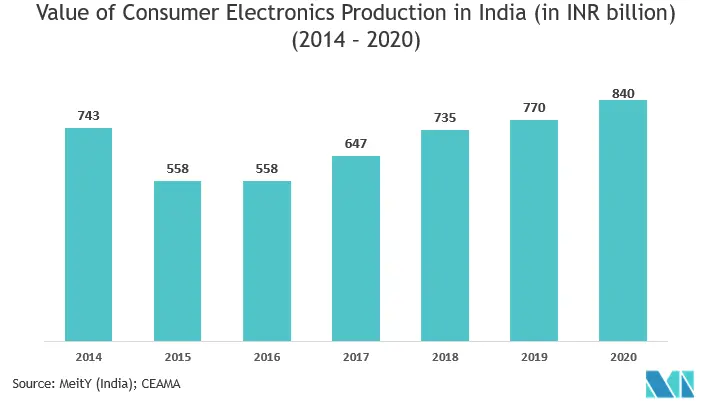 To understand geography trends, Download Sample Report
竞争格局
声学传感器是一种制造起来相对简单的设备。因此,市场高度分散,许多全球和本地制造商为市场动态做出了贡献。MEMS 市场正在稳步增长,但企业不得不面对导致价格暴跌和利润率低的激烈竞争。市场不断增加新的进入者。
2020 年 6 月——中国电动汽车 (EV) 生产商比亚迪为其子公司比亚迪半导体获得第二轮融资,以提高其产量。该公司有兴趣开发能够提高电动汽车电动机效率的半导体。通过这些提高该地区制造能力的举措,预计对声学传感器的需求将会增加。
竞争格局
声学传感器是一种制造起来相对简单的设备。因此,市场高度分散,许多全球和本地制造商为市场动态做出了贡献。MEMS 市场正在稳步增长,但企业不得不面对导致价格暴跌和利润率低的激烈竞争。市场不断增加新的进入者。
2020 年 6 月——中国电动汽车 (EV) 生产商比亚迪为其子公司比亚迪半导体获得第二轮融资,以提高其产量。该公司有兴趣开发可以提高电动汽车中电动机效率的半导体。通过这些提高该地区制造能力的举措,预计对声学传感器的需求将会增加。
Table of Contents
1. INTRODUCTION

1.1 Study Assumptions and Market Definition

1.2 Scope of the Study

2. RESEARCH METHODOLOGY

3. EXECUTIVE SUMMARY

4. MARKET DYNAMICS

4.1 Market Overview

4.2 Market Drivers

4.2.1 Growth of Telecommunications Market

4.2.2 Low Manufacturing Costs

4.3 Market Restraints

4.3.1 Technical Challenges Associated with Acoustic Sensors

4.4 Value Chain / Supply Chain Analysis

4.5 Porter's Five Forces Analysis

4.5.1 Threat of New Entrants

4.5.2 Bargaining Power of Buyers

4.5.3 Bargaining Power of Suppliers

4.5.4 Threat of Substitute Products

4.5.5 Intensity of Competitive Rivalry

4.6 Assessment of the Impact of COVID-19 on the market

5. MARKET SEGMENTATION

5.1 By Type

5.1.1 Wired

5.1.2 Wireless

5.2 By Wave Type

5.2.1 Surface Wave

5.2.2 Bulk Wave

5.3 By Sensing Parameter

5.3.1 Temperature

5.3.2 Pressure

5.3.3 Torque

5.3.4 Mass

5.3.5 Humidity

5.3.6 Viscosity

5.3.7 Chemical Vapor

5.4 By Application

5.4.1 Automotive

5.4.2 Aerospace and Defense

5.4.3 Consumer Electronics

5.4.4 Healthcare

5.4.5 Industrial

5.4.6 Other Applications

5.5 By Country

5.5.1 India

5.5.2 China

5.5.3 Japan

5.5.4 South Korea

5.5.5 Australia

5.5.6 Rest of Asia Pacific

6. COMPETITIVE LANDSCAPE

6.1 Company Profiles*

6.1.1 API Technologies Corp.

6.1.2 ASR&D Corporation

6.1.3 Boston Piezo-optics Inc.

6.1.4 Ceramtec

6.1.5 CTS Corporation

6.1.6 ECS Inc. International

6.1.7 Epcos

6.1.8 Epson Toyocom

6.1.9 Honeywell International Inc.

6.1.10 Kyocera

6.1.11 Murata Manufacturing Co. Ltd.

6.1.12 Panasonic Corp.

6.1.13 Phonon Corporation

6.1.14 Rakon

6.1.15 Raltron Electronics Corporation

6.1.16 Senseor

6.1.17 Shoulder Electronics Ltd.

6.1.18 Teledyne Microwave Solutions

6.1.19 Triquint Semiconductor, Inc.

6.1.20 Vectron International

7. INVESTMENT ANALYSIS

8. FUTURE OF THE MARKET
**Subject to Availability
You can also purchase parts of this report. Do you want to check out a section wise price list?
Frequently Asked Questions
What is the study period of this market?
The APAC Acoustic Sensors Market market is studied from 2019 - 2026.
What is the growth rate of APAC Acoustic Sensors Market?
The APAC Acoustic Sensors Market is growing at a CAGR of 14.62% over the next 5 years.
Who are the key players in APAC Acoustic Sensors Market?
API Technologies Corp., Boston Piezo-Optics Inc., CeramTec, CTS Corporation, ECS, Inc. International are the major companies operating in APAC Acoustic Sensors Market.
80%

of our clients seek made-to-order reports. How do you want us to tailor yours?