Market Snapshot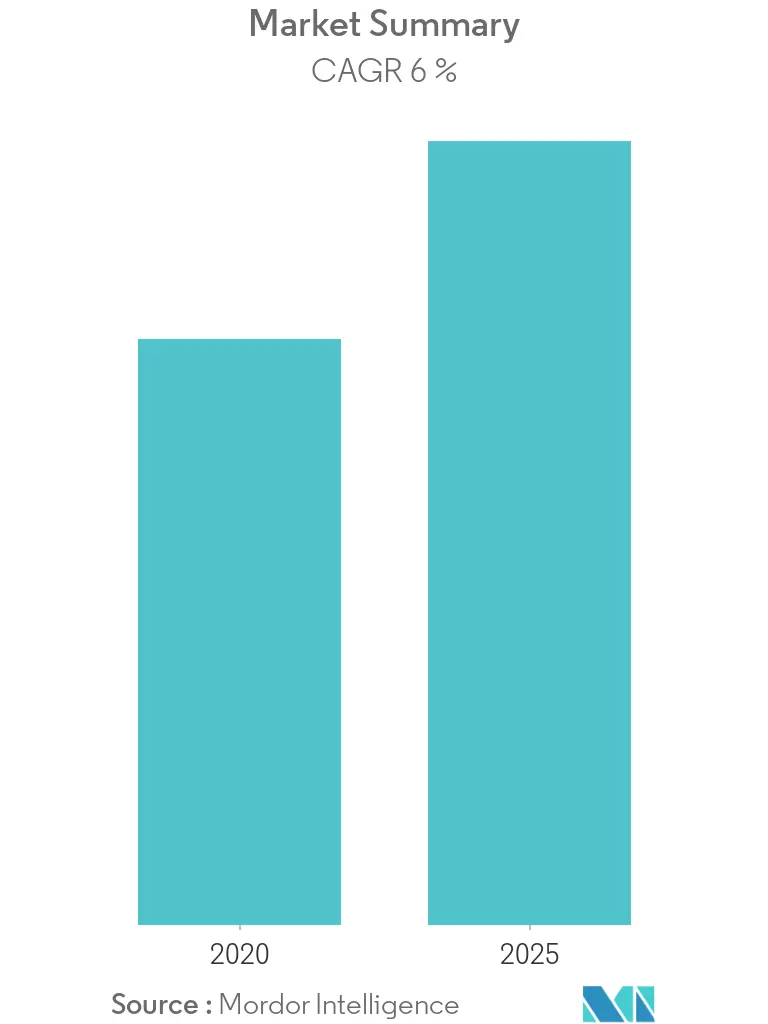 Study Period:
2016 - 2026
Base Year:
2021
CAGR:
6 %
Need a report that reflects how COVID-19 has impacted this market and its growth?
Market Overview
The market for Commercial Construction in United States is estimated to be valued at more than USD XX billion and is estimated to grow at a CAGR of more than 6% during the forecast period.
Construction is a major contributor to the U.S. economy with commercial construction as one of the prime sub sector. The industry has more than 680,000 employers with over 7 million employees and creates nearly 1.3 trillion USD worth of structures each year. Construction is one of the largest customers for manufacturing, mining and a variety of services. Revenue in Construction industry amount to 8828 Million USD in 2020, as against 7746 Million USD in 2016. The annual growth rate in revenue from 2016-2020 has been 8.47%, 5.15%, 3.43%, 2.66%, and 2.07%. There has been a clear decline in the growth rate of construction industry as a whole, with further impacts of COVID-19 clearly coming into picture in Q2, 2020, which would obviously be following the trend. At the same time, specialized construction activities are expected to depict a rise of 2.1 % in 2020 as against 8.47% reported in 2016.
As per the Government statistics, during 2016-2019, per capita income of the country has increased in the forecast period (pre-COVID) by approximately 2%, and thereby, disposable income also. This has led to increased spending and hence growth in the services as well as construction industry due to increased demand. The decreased unemployment rate, improving business sentiment, and constant interest rates have led to the increase in workload as well as revenue. But, revenue growth in the commercial construction market has faced a setback during the COVID-19 period, due to decrease in business activity across the country. Following a short fall in revenue, in 2019, amounting to 85.25 Billion USD, the pandemic has struck the market during the time of depriciating market. The production capacity has reduced, primarily as a result of the reduced labour hours during pandemic, and hence, the input costs are set to increase, due to commercial construction being integrated into the global supply chain, depending upon costs of construction materials as well as services of the skilled/unskilled workforce. Apart from production, consumer market has also seen a steep decline and resulted in stock up of completed projects, which could serve as a buffer during the economic slowdown.
Office space construction market has shown high space utilization for cities like Manhattan, Seattle, San Francisco, Washington D.C. and Dallas with 43.29 Million Square feet of built up area coming up in 2017 itself. In 2018, the total commercial office space with an Energy Star or LEED certification in Manhattan reached around 200.8 million square feet, which represented around 49 percent of the net rentable office area. Only 167 million square feet of office space was certified in Chicago, however, this represented about 71 percent of the net rentable area. Green Commercial space construction has shown a positive trend ever since. As per the Economic Census, 2017, the number of shopping malls stood at 116 thousand as against 37 thousand in 1970. With Billions of USD getting invested in forecast period on construction of retail space, this number is bound to show a tremendous increase in next Economic census scheduled in 2022. Among the challenges the industry faces are sustained cost pressures, ongoing labor shortages that affect productivity, and trends toward fixed-bid projects that often demand a level of pricing and operations precision that is difficult to obtain with traditional systems. While the industry still trails broader digital adoption maturity, the continued adoption of digital technologies could alleviate some of these issues. It can also present additional hurdles in terms of successful implementations and upskilling the workforce to absorb the technologies.
Now, in the post COVID-19 era, steps taken by the policymakers, Contractors, Builders, would play a major role in deciding the fate of this for now small bump in the good growth projecting industry. Even in this pandemic time, though the growth has displayed a falling growth, but projects worth millions are on the verge of completion showing the positive outset and frame of mind of the construction fraternity. Smaller groups like AEPA Architects and Engineers Firm, Master crafts Builders group, Preit Services, Gateway development are showing keen interest in commercial space development besides the major companies like Turner construction Tutor Perini. It is worth mentioning that actual effects and disruption caused by the COVID-19 is still very uncertain, and requires an in-depth knowledge and monitoring of the fiscal health, policy, economic and financial disruption in the coming time. Hence, the trends are bound to change, concentrate or dilute, and would be updated in short intervals.
Scope of the Report
A complete background analysis of the Unites States Commercial Construction market, which includes an assessment of the economy, market overview, market size estimation for key segments, and emerging trends in the market, market dynamics, and key company profiles are covered in the report.
Key Market Trends
Commercial Space construction and absorption at lowest in the forecast period
The structural changes as a part of the impact the pandemic leaves, post stabilization of the economy would be a key parameter, which in turn depends upon the policymakers and on the commercial space contractors, lenders, themselves. Commercial space occupancy has shown a decline in growth, after a consistent increase until 2019. Asking rent growth has been consistent with the previous years, despite leased space showing lowest trends over the past 5 years.
Technology companies share a major proportion (approximately, a quarter) of the commercial property absorption/consumer base. Financial services & Insurance, Education, healthcare & Lifesciences, Business services, Government & non-profit organizations, Manufacturing &Transportation, Creative industries, Legal and Energy sectors besides technology decide the changes/ disruption which would entail in the commercial construction sector post COVID era. Austin, San Jose, Salt Lake City, San Francisco and Nashville, have shown positive trends for the commercial construction market due to dominance of the tech giants in the region and hence, increasing commercial infrastructure. Co-working spaces are bound to increase and hence drive Commercial office space construction market.
Retail space is bound to show disruption even post COVID era, as it will take time to stabilize and then drive growth in construction. The post Millennium Generation is more shopping centre pro and is driving growth in the retail space market. It is expected that Mall and other retail assets are not going to be affected in the long run, instead, they are forecasted to drive the market. The logistics domain though has been affected by the pandemic, but e-commerce is still set to thrive, driving demand for logistic space and commercial construction. Total construction activity for April 2020 (1.35 Trillion USD) was 2.9 percent (+/-0.8 percent) below the revised March 2020 (1.39 Trillion USD). Total value of Non Residential Building Construction (including the cost of labour and materials, cost of architectural and engineering work, overhead costs, interest and taxes paid during construction, and contractor's profits), put in place, for the month of April in 2020, has been reported to be 467.3 Billion USD. This is much higher as compared to April 2019 (462), April 2018 (455.9), April 2017 (447.5), and April 2016 (435.1). It clearly shows an increasing trend of the investment on ground in the recent years.
Commercial Construction Industry though facing a low, still has projects worth millions of USD, expected to be completed in the late 2020. Some of the upcoming Mega Hotel and motel projects include The American Dream Miami Mall and Theme Park, Parrish Farms, Springfield Town Centre, Atlantis Co Olina, International Air and Space Museum, Marriott Marquis Miami World Centre, the Loss Angeles Convention Centre (Redevelopment), and Westchester Bioscience and Technology centre. Besides, retail and shopping centre construction projects, like John F. Kennedy International Airport Terminal Four expansion, West second Street District Development, Hollywood Park Tomorrow, are showing potential of commercial construction even during hard pandemic times.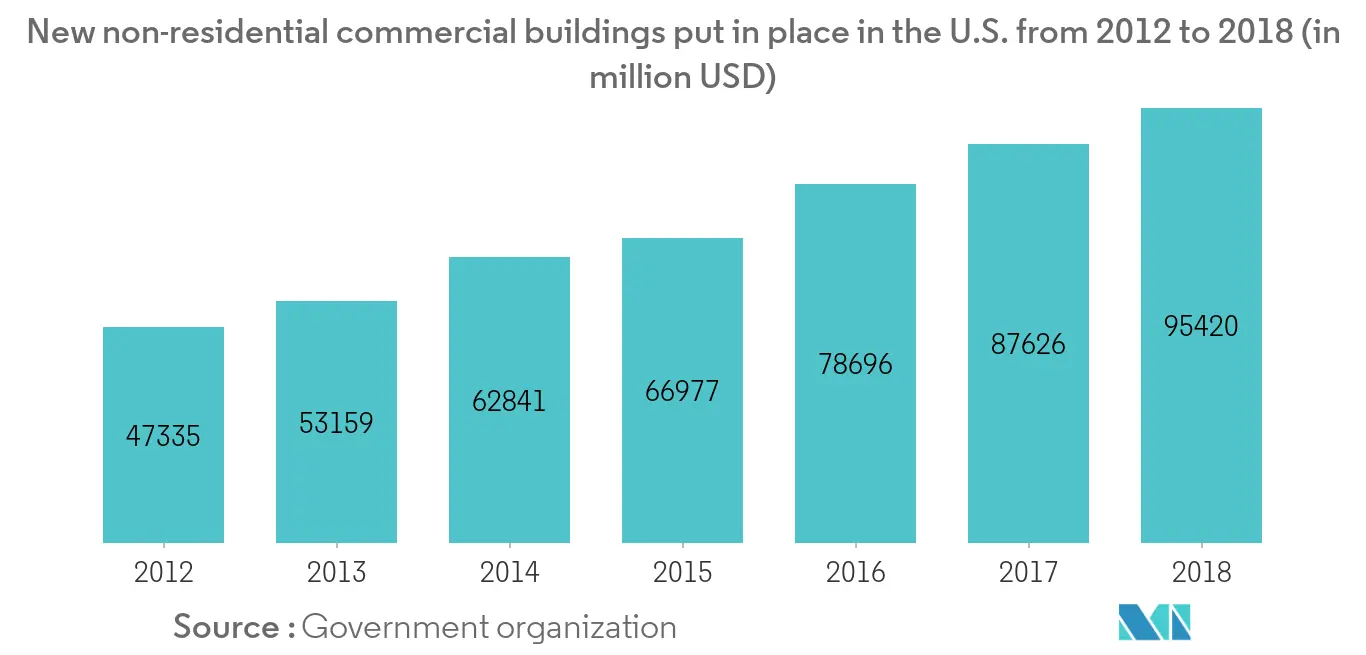 To understand key trends, Download Sample Report
Commercial Slowdown and its impact on the construction industry
After a noticeable drop in the U.S. commercial construction market during the 2008 Recession, the value of commercial construction that has been put in place has recovered to pre-Recession figures, reaching 85.25 billion U.S. dollars in 2019. The value of construction starts in the U.S. is projected to reach some 135 billion U.S. dollars in 2022 . At the beginning of 2019, private offices were the most common types of commercial construction starts in the United States. The popularity of private offices is projected to remain high over the next few years, along with warehouses and shopping/retail facilities .
After a prolonged double digit growth in the commercial space construction market, a decrease in the annualized growth rate is anticipated, despite increased interest in the co-working space market and increasing technology sector's presence which is prime source of demand in the industry. This is primarily due to the increased financial structure of the market and piling up of the material costs resulting in the decreased margin to the construction industry. The decreased commercial activity as a consequence of decreased revenue in the Pandemic, is the major restraint in the commercial construction domain at present.
Co-working spaces are bound to increase and hence drive Commercial office space construction market.
As per the Bureau of Labour statistics, the non-residential building construction, or office space construction to be specific, has shown an increase in the Producer Price Index (PPI), from 140.7 in Jan 2019 to 145.3 in Jan 2020 and is further projected to have increased to 146.1 in May 2020, against 142.2 during the same time last year. This clearly shows the increasing burden over the builders, contractors and construction firms over the past 1 year. Slowdown in the commercial construction market is bound to decrease the growth in several related professions like wholesaling industries (viz. Lumber wholesaling, NAICS 42331, Stone, concrete and clay wholesaling industry, NAICS 42332, Roofing, Sliding and Insulation wholesaling 42333, Tool and Hardware wholesaling, NAICS 42371, Construction and Mining Equipment Wholesaling Industry, NAICS 42381, as the amount of material input requirement and machinery like cranes, hydraulic pumps, would decrease proportionally), speciality trade contractors (viz. Concrete Contractors, NAICS 23811, Steel Framing, NAICS 23812, Electricians, NAICS 23821, Roofing Contractors, NAICS 23816, Carpenters, NAICS 23835, Plumbers, NACIS 23822B, as they undertake the speciality construction works at the end of commercial construction projects and hence are directly affected). The corresponding affects in the input prices, as presently monthly by the PPI show a tremendous increase in 2020 and hence, decreasing demand due to higher output costs.
It is worth mentioning that actual effects and disruption caused by the COVID-19 is still very uncertain, and requires an in-depth knowledge and monitoring of the fiscal health, policy, economic and financial disruption in the coming time. Hence, the trends are bound to change, concentrate or dilute, and would be updated in short intervals.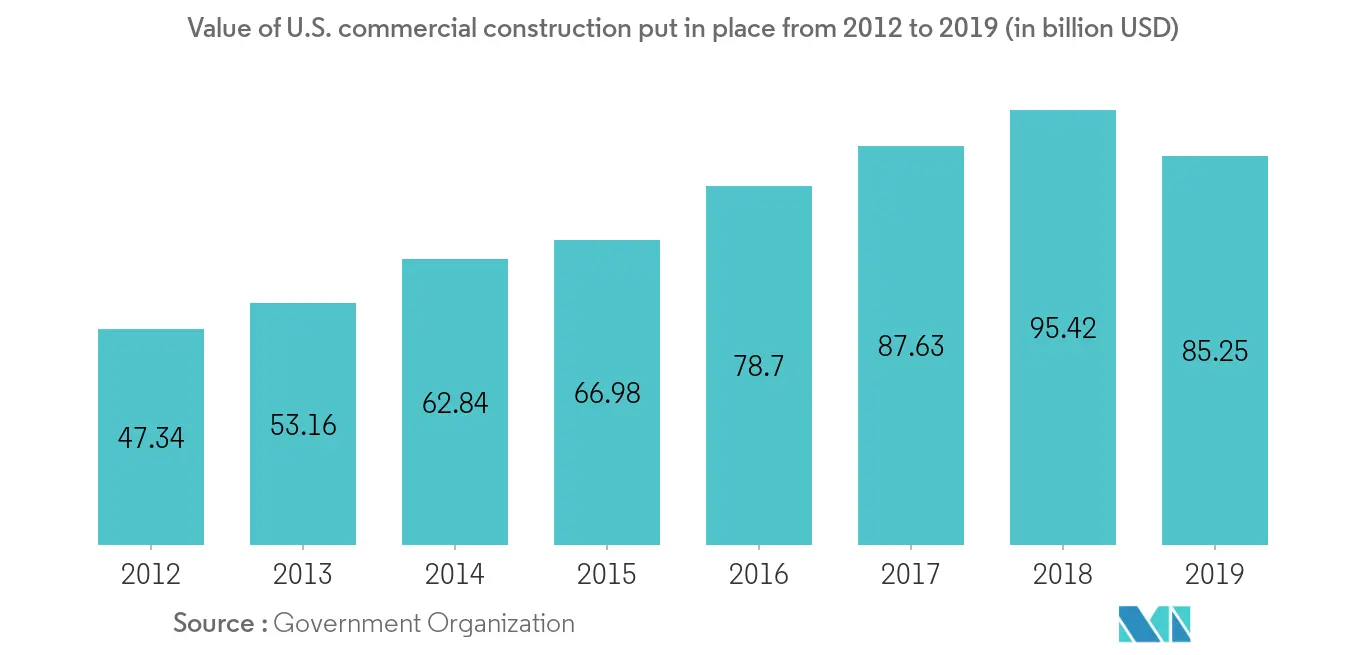 Competitive Landscape
The United States commercial construction market is highly competitive, with the major local and international players having created enough competitive environment in the sector. Still, the market opens opportunities for small and medium players due to increasing govt investments in the sector. The market presents opportunities for growth during the forecast period, which is expected to further drive market competition. With large players competing others for a significant share leaves the industry with no observable levels of consolidation.
A few key players in the market include Gilbane Building Company, MA Mortenson Company, Balfour Beatty LLC, Hensel Phelps Construction Co., McCarthy Holdings Inc. and Tutor Perini Corporation.
Table of Contents
1. INTRODUCTION

1.1 Study Assumptions

1.2 Scope of the Study

2. RESEARCH METHODOLOGY

2.1 Analysis Methodology

2.2 Research Phases

3. EXECUTIVE SUMMARY

4. MARKET INSIGHTS

4.1 Current Market Scenario

4.2 Technological Trends

4.3 Government Regulations

4.4 Value Chain / Supply Chain Analysis

4.5 Overview of Commercial Construction Market in United States

4.6 Brief on Construction Costs (average cost, office and retail space, per sq feet)

4.7 Insights into the newly office space completions (sq. feet)

4.8 Impact of COVID-19 on United States Commercial Construction Market (Analyst View)

5. MARKET DYNAMICS

5.1 Drivers

5.2 Restraints

5.3 Opportunities

5.4 Industry Attractiveness - Porter's Five Forces Analysis

5.4.1 Bargaining Power of Suppliers

5.4.2 Bargaining Power of Consumers

5.4.3 Threat of New Entrants

5.4.4 Threat of Substitutes

5.4.5 Intensity of Competitive Rivalry

6. MARKET SEGMENTATION

6.1 By End Use

6.1.1 Office Building Construction

6.1.2 Retail Construction

6.1.3 Hospitality Construction

6.1.4 Institutional Construction

6.1.5 Others

7. COMPETITIVE LANDSCAPE

7.1 Market Concentration Overview

7.2 Company Profiles

7.2.1 Kiewit Corporation

7.2.2 Hochteif Construction

7.2.3 The Turner Corporation

7.2.4 Gilbane Building Company

7.2.5 MA Mortenson Company

7.2.6 Balfour Beatty LLC

7.2.7 Hensel Phelps Construction Co.

7.2.8 McCarthy Holdings Inc.

7.2.9 Tutor Perini Corporation

7.2.10 Skanska USA Building Inc.

8. MARKET OPPORTUNITIES AND FUTURE TRENDS

9. APPENDIX

9.1 Insights on the Wage Statistics, 2016-2019

9.2 Insights on the Number of Businesses, 2016-2019

9.3 Insights on the Financial Benchmarks, Commercial Construction

9.4 Insights on the Labor Statistics, 2016-2019

9.5 Macroeconomic Indicators (GDP Distribution by Activity, Contribution of Commercial Construction to economy)

9.6 Insights on the Industrial Benchmarks, Commercial Construction

9.7 Insights on Capital Flows (investments in Commercial Construction Sector)
You can also purchase parts of this report. Do you want to check out a section wise price list?
Frequently Asked Questions
What is the study period of this market?
The United States Commercial Construction Market - Growth, Trends, Forecasts (2020 - 2025) market is studied from 2016 - 2026.
What is the growth rate of United States Commercial Construction Market - Growth, Trends, Forecasts (2020 - 2025)?
The United States Commercial Construction Market - Growth, Trends, Forecasts (2020 - 2025) is growing at a CAGR of 6% over the next 5 years.
Who are the key players in United States Commercial Construction Market - Growth, Trends, Forecasts (2020 - 2025)?
Kiewit Corporation, Hochteif Construction , The Turner Corporation , Gilbane Building Company , MA Mortenson Company , Balfour Beatty LLC , Hensel Phelps Construction Co. , McCarthy Holdings Inc. , Tutor Perini Corporation , Skanska USA Building Inc. are the major companies operating in United States Commercial Construction Market - Growth, Trends, Forecasts (2020 - 2025).
80%

of our clients seek made-to-order reports. How do you want us to tailor yours?