The Saudi Arabia automotive sensors market is expected to register a high CAGR during the forecast period (2018 - 2023).
Market Scenario
MEMS sensor market for automotive could be used in a number of applications, such as tire pressure monitoring systems, oil pressure sensing, pedestrian protection, and in exhaust gas recirculation. The market serves a range of verticals in industries, from very small consumer electronic devices, to very large automotive manufacturers. MEMS sensor market for automotive provides various advantages of high efficiency, small size, and low cost.
Market Dynamics
The increasing demand for safety and security in the automobiles is the main factor that is playing a vital role for the growth of this market. The automotive MEMS sensors play an important role in providing safety to the vehicles, which would act as a catalyst for the growth of this market. The two big trends for vehicles are electrification and automation, currently. There is rapid integration of high value sensing modules like RADAR, imaging, and LIDAR in automotive systems. As a result, the average growth rate in MEMS sensors sales volumes is expected to be significant over the forecast period.
The advent of electrical vehicles will greatly change the amount and the distribution of pressure and magnetic sensors within the car, in the long term. More electric cars will mean fewer pressure sensors and a surge in magnetic sensors for battery monitoring and various positioning, and detection of moving pieces.
Saudi Arabia Automobile Sector
The Saudi Arabia automobile sector is dynamic and one of the fastest growing sectors, primarily owing to factors, such as growing population, high disposable income, significant upcoming infrastructure developments, and availability of attractive financing options in the region.
Saudi Arabia's 2018 budget was expansionary in nature, envisaging ending oil dependency by 2020 and raising revenue from non-oil activities. The Saudi Electricity Company (SEC) signed an agreement with the Japanese firms Tokyo electric power company, Nissan motor company and Tecaoca Coco Energy Solutions Company, to implement an electric vehicle pilot project in Saudi Arabia. There is greater demand for freight, particularly from small and medium-sized enterprises involved in e-commerce. Saudi Arabia has recently lifted driving ban on women, which is expected to improve female participation in the workforce to 30% by 2030, up from less than 20% at present, boosting demand for cars for commuting purposes. Ford's local dealers already plan to sell more compact cars, which are popular among women. All the aforementioned developments is expected to increase automotive sensors market, which is highly correlated to auto sector.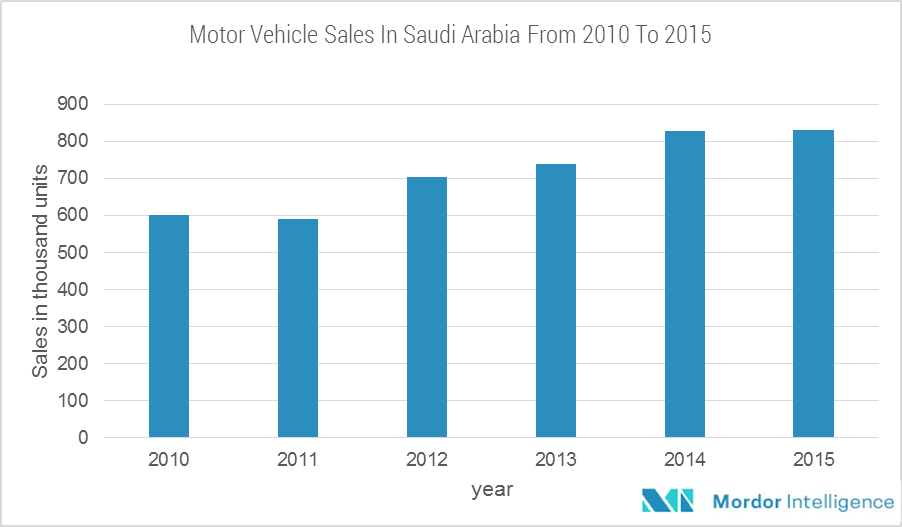 Source: Mordor Intelligence
Key Developments in the Market
March 2017: Analog Devices completed acquisition of linear technology
Major players: Denso Corporation, Hitachi Automotive Systems, Infineon Technologies, Bosch, Texas Instruments, Sensata Technologies, Delphi Automotive, Analog Devices, and Continental Automotive
Reasons to Purchase the Report
Analyze Saudi Arabia's quest for diversifying economy that impacts the automotive sensors market
Analyze various perspectives of the market, with the help of Porter's five forces analysis
The report covers the sensor type that is expected to dominate the market.
Identify the latest developments, market shares, and strategies employed by the major market players
3 month analyst support, along with the market estimate sheet (in excel)
Customization of the Report
This report can be customized to meet your requirements. Please connect with our analyst, who will ensure you get a report that suits your needs.